Searching for things to do in Anacortes on your next vacation? Look no further, as littered in this post are undoubtedly the best things to do in Anacortes.
Halfway between Seattle and Vancouver lies the beautiful seaside town of Anacortes, Washington.
It's located on Fidalgo Island in Skagit County, right in the Banana Belt.
As the main port and terminal for ferries to the San Juan Islands, the city is best known as the gateway to the Pacific Northwest archipelago.
But it's a great destination in its own right, with plenty of natural attractions, festivals, and man-made destinations.
Its name comes from Amos Bowman's wife, Anne Curtis Bowman, and both were among the early settlers of the locality.
From the time they arrived, their settlement developed into the idyllic and vibrant port city it is today.
So when you're planning a quick weekend trip, make this your top choice.
Don't miss a thing as you follow our guide on things to do in Anacortes:
Fun Things to Do in Anacortes
1. Don't Miss the Shipwreck Day
Every third Saturday in July, several city streets are closed off and transformed into a large garage sale/flea market event.
Crowds of people come to see the various products on display, most of which are related to the city's fishing industry.
With over 200 stalls set up during the event, you're sure to find something you won't find anywhere else.
From weathered but durable fishing gear to interior furniture, from beautiful artwork to practical tools, there's just so much to choose from!
Shipwreck Day also involves a number of stalls selling satisfying snacks and drinks for those who need to refuel in search of a valuable item.
2. Participate in the Rambunctious Oyster Run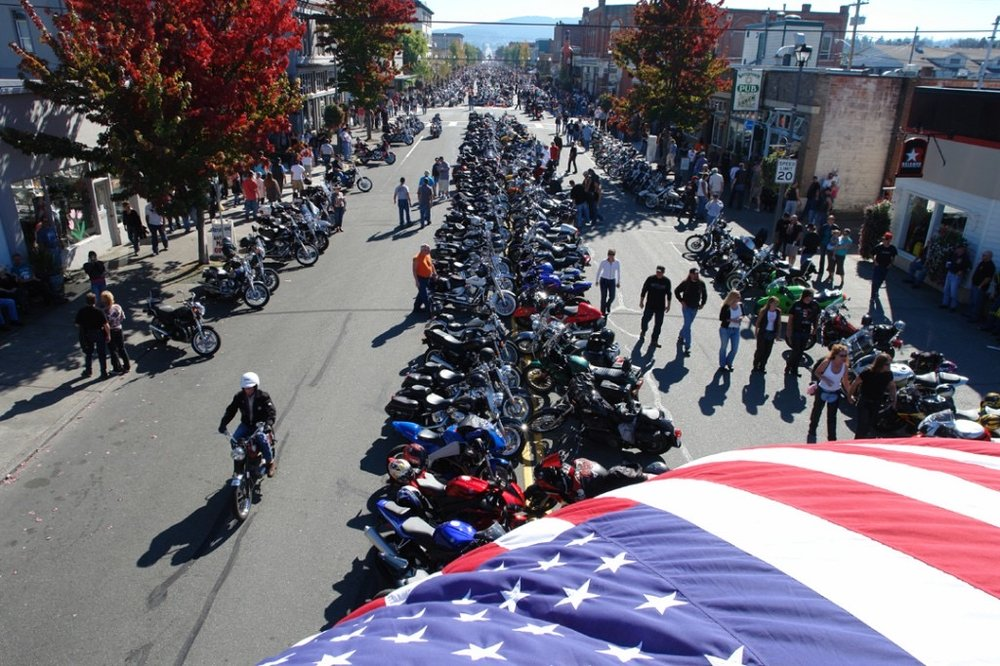 As the largest motorcycle race in the Pacific Northwest, the Oyster Run is an event not to be missed, especially if you are a rider.
The event had its roots in 1981 when a group of friends traveled from California to Edison for oysters.
Little did they know that people would love this wild idea so much that over 20,000 bikers are said to have participated in previous years.
The one-day ride takes place every September, and that's when the routes and timetables were set.
But due to a large number of participants, the organizers removed the starting places and required routes to accommodate everyone.
However, the endpoint is still Anacortes, where vendors wait to treat riders to the freshest oysters and other seafood.
One of the best aspects of the rally is the diverse group of people who participate.
You would find costumed riders, hardcore motorcycle enthusiasts, and other performers doing stunts on motorbikes.
Whether you participate or just watch, you are guaranteed an exciting experience.
3. Don't Miss a Thing at Predators Of The Heart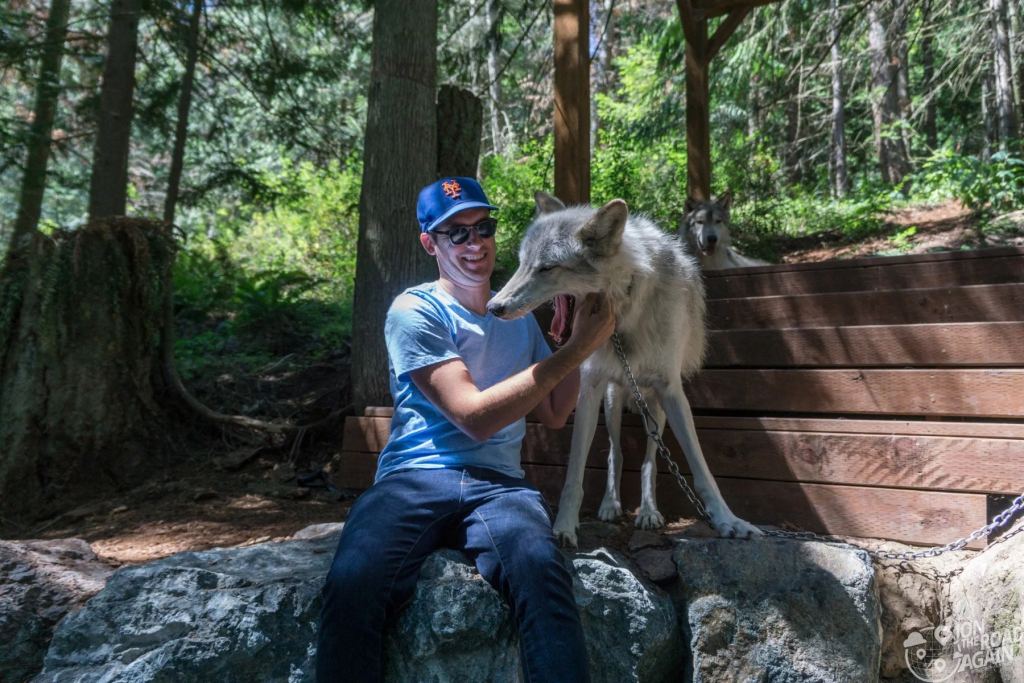 Don't let the name put you off – Predators Of The Heart is one of the healthiest places to visit in Anacortes.
This is not your typical zoo; it is a rescue and rehabilitation center where animals are taken care of, especially if they can no longer go out into the wild.
Most of the local species, therefore, come from the region.
The staff is passionate about these animals, so they are pampered and given the utmost attention for their comfort and happiness.
One of the popular activities here is Wolf Encounters, where you have the opportunity to meet these majestic creatures up close and personal.
You can hug them, pet them, take a selfie, or just enjoy their friendly behavior.
It's a rare experience that really makes your trip to the city worthwhile.
Things to Do in Anacortes at Night
1. Relax and Spend a Night at Swinomish Casino and Lodge
Swinomish Casino & Lodge in Anacortes, Washington, is a Pacific Northwest retreat perched on a bluff above Padilla Bay.
It provides the best entertainment, accommodation, gambling, and dining options.
The 98 large suites in the comfortable Lodge are ideal for relaxing and recharging after a long day.
Each room at the hotel features traditional Native American features and artwork from the area. AND
All rooms have floor-to-ceiling windows that let in plenty of sunlight with stunning views of the San Juan Islands, Mount Baker, and the Swinomish Channel.
This property features entertainment facilities and a 24-hour casino.
It also has a fitness center and entertainment center, a casual restaurant and sports bar, and RV parking.
2. Have Dinner at Anthony's at Cap Sante Marina
Anthony's at Cap Sante Marina is a delightful chain that operates dozens of restaurants and casual dining locations throughout the Puget Sound area, including The Cabin at Cap. Sante Marina, which opened in 2016.
Guests can enjoy delicious entrees made with fresh seafood and Northwest produce, including favorites such as tempura shrimp, Dungeness crab cakes, Penn Cove scallops and chips, and signature Alaskan lingcod and chips.
Along with appetizers, a selection of craft Washington wines and microbrews are available for a happy hour twice daily.
After a meal, guests can play on the two outdoor regulation-size bocce ball courts or relax by the fireplace on the restaurant's year-round covered outdoor patio.
3. Don't Miss a Thing at Swinomish Sports Bar and Grill
The Swinomish Sports Bar and Grill is the signature restaurant of the Swinomish Casino and Lodge, known for its immersive sports design and hearty American-style entrees.
Diners can enjoy local pub food inspired by local restaurants for lunch, dinner, and late-night service, from personal 10-inch gourmet pizzas to house-made pulled pork, beef brisket, and pecan-roasted rib-eye barbecue bowls.
Creative burgers and sandwiches include pork belly bánh mis, Philly cheesesteaks, and short grilled cheese sandwiches.
Guests can also share inventive appetizers like Dungeness crab artichoke dip or choose from land and sea specialties like shrimp diablo or fish and chip plates.
The full-service restaurant's bar is open 24/7 and serves draft beers, Pacific Northwest wines, and fine cocktails.
Things to Do in Anacortes For Couples
1. Spend Some Time at Washington Park
West of the city proper lies a picturesque outdoor destination popular for its views of the San Juan Islands: Washington Park.
This 220-acre attraction abounds with wooded trails, high-elevation meadows, mountain views, and campsites.
You can explore the 2.3-mile hiking loop that goes around the park.
It will take you to the best places to see the archipelago or the snow-capped Olympic mountains.
There are also picnic areas with shaded areas and equipment, perfect for a day visit.
But if you want to stay a little longer and stargaze in Washington's night sky, you can set up camp in a designated RV or traditional tent area.
It is a paradise for nature lovers who still want to stay close to civilization and modern conveniences.
2. Shop at Anacortes Farmers Market
Head to the Anacortes Farmers Market when you're looking for the freshest vegetables, fruits, and other produce during your visit.
The weekly event takes place every Saturday in the city center and runs from May to October.
Here you'll find streets lined with stalls selling the bounty of Fidalgo Island and the Skagit Valley.
Shop for various fruit cultivars, seasonal vegetables, fresh root vegetables, and other products from the area.
There are also locally produced products such as cured meats, freshly baked goods, artwork, and specialty foods sold by local businesses.
And since Anacortes is a seaside town, the market has stalls offering the harvest of seafood.
Here you will find crabs, a wide variety of fish, shellfish, shrimp, and many other animals freshly caught from the surrounding waters.
3. Appreciate Indigenous Art at Anacortes Arts Festival
This is one of the largest and oldest festivals in the Northwest.
Participating in a wide range of artistic activities throughout the year is possible thanks to the active involvement of several cultural groups in the area.
The city's streets, waterfronts, parks, and forests have significant collections of public art that contribute to the city's overall aesthetic.
The festival is usually held every August.
The Port Event Center on Guemes Channel hosts a museum-quality fine art exhibit and 200 artisan booths.
Music performances will be held on three stages adjacent to beer and wine gardens serving local Northwest beers and wine (and other spirits).
Explore the Working Studios section, where artists showcase classical, modern, and folk art styles.
Things to Do in Anacortes For Kids
1. Go Jogging With the Kids Along Tommy Thompson Trail
This unique paved walkway crosses Fidalgo Bay on a land bridge.
While the route is only 3.3 miles long, it winds through Anacortes and surrounding areas.
This easy journey takes approximately 1 hour and 35 minutes.
Still, you can get away from the crowds if you go off-peak.
You can take your dogs along the trail, but ensure they are always on a lead.
2. Let Them Play at John Storvik Park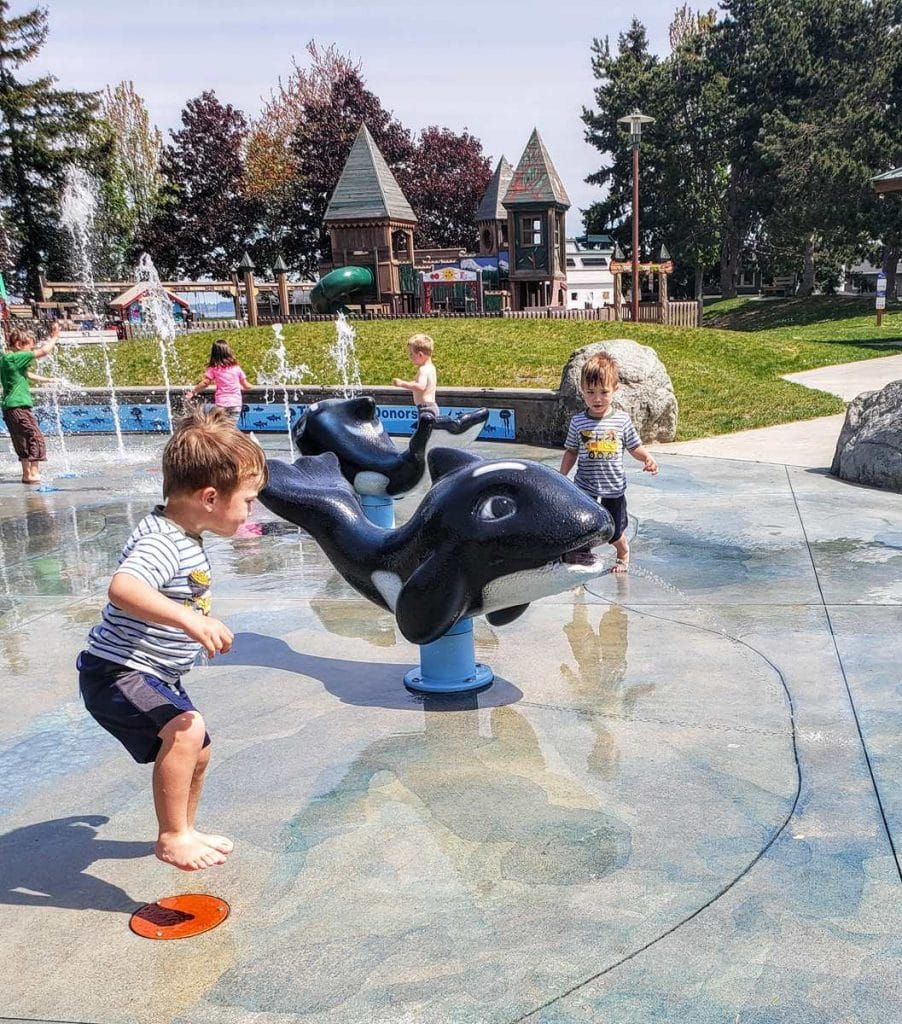 Located on 32nd Street near Commercial Avenue, the charming park is known for its imaginative community playground designed with the help of campus children.
Nautical and nautical-themed play equipment includes suspension bridges and toy ferries, complete with fantasy-themed elements such as climbing castle towers and a stage for children to play on.
A marine adventure-themed splash pad, installed in 2017, is open during summer. Other attractions include two basketball courts, a multi-purpose youth soccer field, and day picnic areas.
3. Take Them to Rosario Beach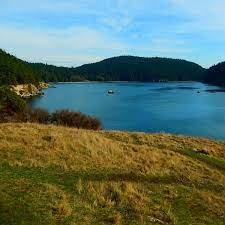 The beach is very rocky, which is ultimately a good thing. Kids love exploring rocks and throwing them in the water. The sound the water makes as it ripples out is very relaxing.
Continue walking along the beach to the tide pool area. Yellow ropes guide you around the tide pools as some of the tide pools have been damaged by too much traffic.
The area you can explore is quite small, but it's teeming with life and worth exploring.
After the beach, return to the huge carving of Ko–Kwal-Elwood, the Maiden of Deception Pass, and read the story of Samish printed on the sign in front of the statue.
We like to continue uphill on the Rosario Head Loop hike. The loop is perfect for young hikers at about 1.5 miles, and the views at the top are amazing.
Indoor Activities To Do In Anacortes For Adults
1. Don't Miss a Show at The Business
From its early beginnings as a retail store to Washington's best vinyl store, The Business has gone through many changes during its run.
Today it is the premier concert venue and music recording studio on this side of the state.
Some of Washington's famous musicians, such as Karl Blau and Phil Elverum, first began recording and producing their music here.
Today, The Business fiercely promotes the music of independent artists and bands to help them thrive and gain recognition.
You can catch live performances of these acts at the venue as The Business also has concert facilities.
It's the perfect way to discover new music and artists that might appeal to your taste.
2. Visit the Maritime Heritage Center & W.T. Preston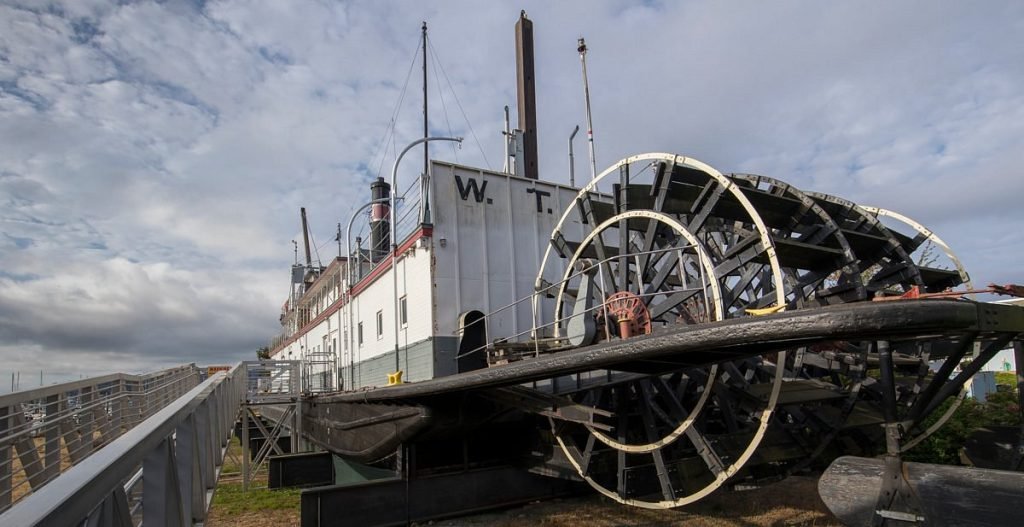 The Maritime Heritage Center provides an exciting insight into the city's maritime past.
The Anacortes Open Air Museum is a treat with exhibits and displays highlighting the city's maritime economy, shipping and milling history, and transportation.
It contains a variety of antiques and relics, including pictures, old equipment, and reproductions of bicycles and ships.
If you want to see what an old ship looks like, check out W.T. Preston sternwheeler alongside.
The Corps of Engineers decommissioned her in 1981 and requested the possibility of keeping the interceptor boat.
The National Register of Historic Places included W.T. Preston on its list in 1979.
3. Grab a Meal at Rockfish Grill
Rockfish Grill is a family-owned bar and gastropub in Anacortes' Old Town district, known for its high-quality bars and delicious brick-oven pizzas.
Guests can enjoy delicious Northwest cuisine daily for lunch and dinner, including large wood-fired pizzas prepared with toppings such as pineapple, roasted garlic, Gorgonzola cheese, and smoked salmon.
An excellent creative selection of burgers is also served, along with traditional pub starters such as shepherd's pie and a wide range of shareable starters.
A full slate of craft beers is brewed on-site year-round, from traditional favorites like Annie's Amber Ale to experimental beers like Cream Bee, brewed with local Pacific Northwest honey.
The restaurant hosts weekly live music performances featuring the best national and regional artists.
Romantic Things To Do In Anacortes
1. Enjoy Some Peace and Serenity at Skagit Island Marine State Park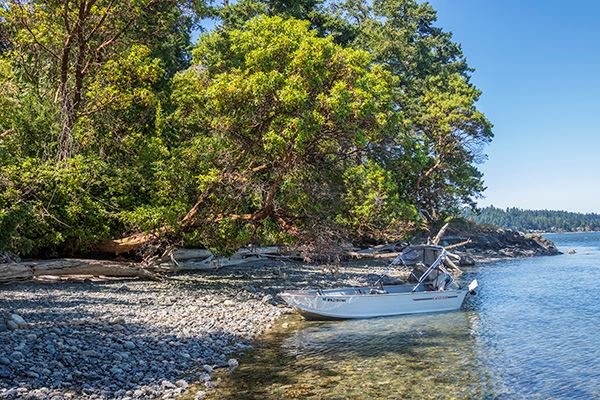 This challenging destination lies in the waters north of Fidalgo Island and is only accessible by boat or kayak in favorable conditions.
On the 25-acre islands, you'll enjoy wooded areas, rugged coastlines, and the atmosphere of the San Juan Islands without being in one.
Many places make for a great camping experience, especially on sheltered beaches.
You can stay overnight and experience isolation like no other while still being close to Anacortes.
During the day, you can go deeper into the island's forested areas and observe the birds and small mammals that have found their way here.
It's a good way to disconnect from busy lives and peacefully commune with nature.
2. Explore the Mosaics of Causland Memorial Park
After you've visited the Anacortes Museum, why not visit the adjacent Causland Memorial Park?
This urban green space has verdant plots, small pockets of trees, and an amphitheater that serves as a venue for local events.
But the most striking monuments of this park are the colorful mosaics used on the perimeter wall and the main gazebo.
These decorative works of art are made of stones and pebbles of different colors, shapes, and textures.
All combine to create abstract patterns and images with a fluid quality that resembles plants and flowers.
Because of this unusual sight, many visitors visit the site for pictures and general appreciation of the mosaics.
So, after visiting the Anacortes Museum, be sure to stop by and check out these amazing exhibits.
3. Watch Orcas at the San Juan Islands
It's mentioned often in this list, so you may wonder why the San Juan Islands are such a famous attraction.
It is an archipelago northeast of Anacortes and accessible by short ferries from the city.
In addition to the picturesque island landscape and charming communities, the archipelago is known for its orca sightings.
Visiting here during the high season will guarantee a close encounter with the terrifying but beautiful marine predators.
Free Things To Do In Anacortes
1. Don't Miss a Thing at Cap Sante Park
Cape Sante Park is located on the cape of the same name, a promontory jutting out into the waters on the city's northern edge.
It is an excellent location for those who want a quick escape from the city noise below, as it is relatively isolated, elevated, and wooded.
While here, you would have a view of Anacortes Harbor, the surrounding islands, and Fidalgo Bay.
The park's rocky clearings are the best vantage points, and you can even take amazing photos of the surrounding landscape.
For those feeling a bit adventurous, you can explore the trails that lead deeper into the forests and to other viewpoints.
You may even spot a small but friendly deer population that calls the park home.
Just don't try to feed them because these wild animals are not used to human food and processed ingredients.
2. Explore the Strait of Juan de Fuca
The Strait of Juan de Fuca neatly divides this region's US and Canadian borders.
On the north side lies the picturesque Vancouver Island, and the Olympic Mountains are on the opposite side.
Known as a habitat for fish native to the Pacific Northwest, this strait is popular for its calm waters and abundant wildlife.
Anacortes has many local charters and experienced anglers that offer day trips to parts of the strait closer to the islands.
Bring your family or friends and enjoy relaxing by the sea.
There is plenty of fish to catch, such as salmon, sea bass, halibut, and cod.
Whale watching is an excellent alternative for those who don't want to go fishing.
3. Go Hiking Along the Anacortes Community Forest Lands
The forest lands south of the city are aptly called the Anacortes Community Forest Lands and are a great addition to outdoor adventures.
If you're wondering why it's called the "Community Forest," it's because the funding to protect the area comes in part from contributions from the Anacortes community.
Realizing the importance of protecting the forests, logging was prevented, and recreational activities were encouraged.
Today, the natural destination includes many lakes, rivers, hills, and other beautiful attractions, all surrounded by dense pine forests.
Little Cranberry Lake is the body of water closest to town, a popular spot for its tree-lined shores, mirror-like surface, and abundant wildlife.
During the warmer months, you can swim, walk the trails along the shores of the lake, or go deeper into the surrounding forests and encounter wildlife.
Cheap Things to Do in Anacortes
1. Climb to the Summit of Mount Erie
The most prominent natural feature of the Anacortes Community Forest Lands is Mount Erie, and it deserves its own place on the list.
It's an iconic destination, rising above the tree line to dominate the landscape on this side of Anacortes.
And as the highest point on the island, it is a popular climbing attraction.
The Mount Erie Trail Summit is easy enough for beginners, with moderately strenuous slopes and well-paved paths that make for a quick trek in the summer months.
Once you reach the top, you'll be treated to a 360-degree view of the surrounding areas: the San Juan Islands glistening under the Washington sky, the Olympic Mountains glowing white on the southwest horizon, and the lakes of Fidalgo Island shimmering in the soft light breeze.
It is an unforgettable experience that you should definitely not miss!
2. Learn Local History at Anacortes Museum
The maritime and local history of the city and all of Fidalgo Island are presented and preserved in the charming Anacortes Museum.
So if you're interested in the city's fabled past, make a quick stop at this picturesque destination.
On the shelves, you will find displayed artifacts, photographs, and other items that all come together to tell the city's story.
Even life-sized boats were commonly used for fishing before motorized vessels became the dominant mode of transportation.
Overall, it's an informative and engaging destination, a place to gain more context about the city's heritage and traditions.
3. Hike Along the Trails of Deception Pass State Park
The Deception Pass State Park is an expansive outdoor destination that consists of old-growth forests, fast-flowing streams, tidal pools, and hiking trails.
The most striking feature here is the Deception Pass Bridge, a scenic crossing connecting Whidbey and Fidalgo Island.
From the banks of the park, you can get an amazing view of the bridge for amazing landscape photos.
Cool Places To Visit In Anacortes
1. Ship Harbor Interpretive Preserve
The Ship Harbor Interpretive Preserve offers 2,000 square feet of sandy beach and intertidal eels in addition to 25 acres of freshwater wetlands.
There is a well-defined trail system that protects vulnerable regions while educating visitors about the importance of the beach and wetlands.
There are other sections on the Samish people and Europeans.
Exhibits also include the significant history of salmon fishing and canning on Fidalgo Island.
At the end of the informative walk, visitors can relax on a 2,000-foot-long beach with tidal beds filled with eels and a variety of marine life.
2. Calico Cupboard Cafe and Bakery
Calico Cupboard Café and Bakery is an excellent micro-restaurant chain with several locations throughout Northwest Washington State, including the Anacortes location, originally opened in 1992 by baker and chef Linda Freed.
The charming, home-style restaurant makes all of its traditional entrees in-house and uses freshly ground organic flour and grains in all of its baked goods.
Hearty focaccia and deli sandwiches are served during the afternoon, made with fresh produce, locally sourced meats, and healthy toppings and condiments.
The breakfast menu highlights favorites like scrambled eggs, creative hash bowls, burritos, and old-fashioned Irish oatmeal.
All meals are served with a selection of Pacific Northwest wines, microbrews, and brunch beverages such as mimosas and espresso.
3. Little Cranberry Lake
Little Cranberry Lake is a scenic lake on Fidalgo Island located in the 2,800-acre Anacortes Community Forest Lands.
Anchoring a 10-mile wilderness corridor in the beautiful city, the lake was originally just a small pond but was deepened twice by damming in the early 1900s.
Today, it has become a popular natural swimming spot in northwest Washington state, best known for hosting the annual summer music festival What the Heck Fest.
More than 20 miles of wilderness trails are accessible near the lake, ideal for hiking and mountain biking in beautiful second-growth forest terrain and spotting rare varieties of orchids.
Conclusion
So if you want to enjoy the rugged atmosphere of the Pacific Northwest with good weather, then Anacortes is the place to be.
Don't miss a thing in this amazing city; go with this guide of things to do in Anacortes, and you can be sure to have the time of your life. Happy travels!