Sometimes taking a vacation could be what you need to get yourself back. If you let us help you choose the perfect destination, we'd say try Ardmore, Oklahoma.
Many consider Ardmore a hidden gem and an unexplored town in Oklahoma.
The town is tucked in the middle of Carter County's famous Adventure Road.
"Ardmore" is named after the historic PRR Main Line stop in Ardmore, Pennsylvania, along with the prosperous suburb of Philadelphia.
It translates as "hills or ridges." It is also popularly referred to as "Chickasaw Country" by local residents.
Ardmore city is among the most oil-rich regions in the United States.
From pristine gardens and historic buildings to quirky cafes and more, the city boasts something for every traveler.
Read on as we take you through so many things to do in Ardmore (OK):
Fun Things to Do in Ardmore (OK)
1. Don't Miss a Thing at Turner Falls Park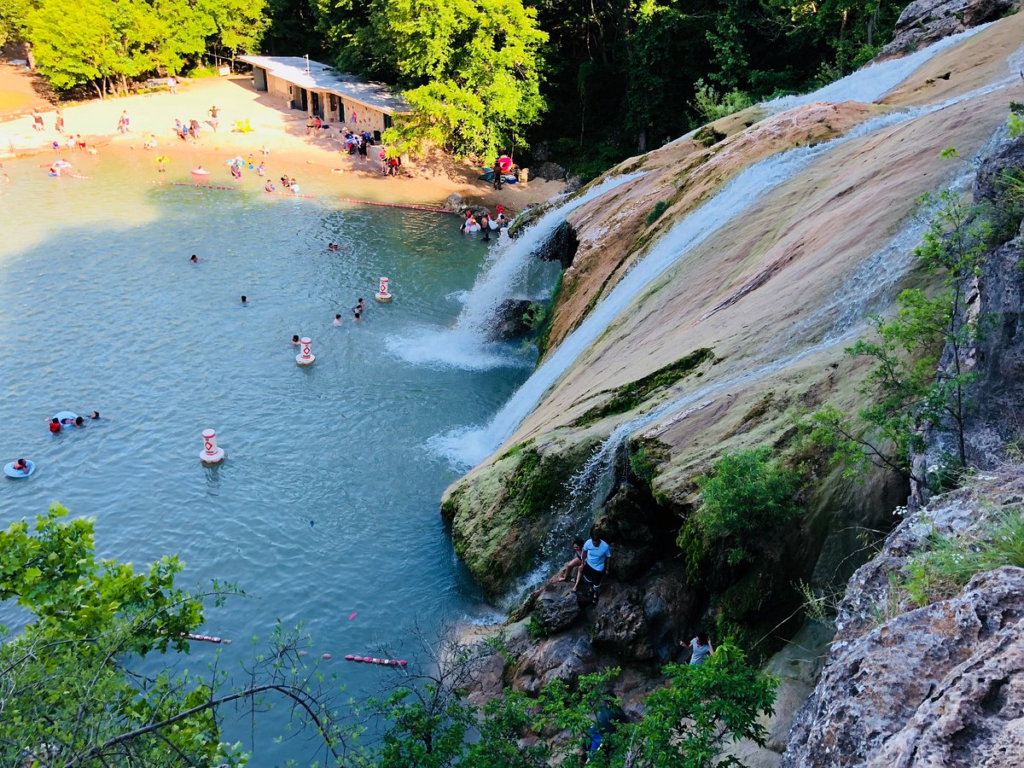 Home to Turner Falls, the park offers tranquil views of the natural landscape and is a good spot for picnics, walks, or even hiking.
Nestled in the Arbuckle Mountains, the park is the oldest in all of Oklahoma.
Turner Falls Park consists of natural caves, walking and hiking trails, and a stone castle.
It also allows swimming in the natural pool created by the waterfall, exploring the caves, and visiting the rock castle.
You can also stay here in cabins or engage in camping, hiking, and other activities.
2. Visit the Clubhouse – City of Ardmore
Located in Ardmore Regional Park, the clubhouse is a new family entertainment center offering great entertainment for visitors to Ardmore.
The clubhouse has an arcade area, social rooms/treehouses, Clubhouse Cafe, indoor and outdoor dining, softball, etc.
Other features at the clubhouse include Eagles Landing challenge courses, go-karts, Flight Line Zip, Water Wars, and a seasonal skating rink area.
3. Go Gaming at Gold Mountain Casino
Tourists looking for some gaming action should visit Gold Mountain Casino as it is the best gaming outfit in Ardmore.
Gold Mountain Casino is owned by the Chickasaw Nation and houses more than 8 acres of gaming space with more than 270 electronic gaming machines.
The best thing about the casino is that it is open all day, all week long, so you can play to your heart's content when you visit.
Things to Do in Ardmore (OK) at Night
1. Grab Some Beer at Red Dirt Brewhouse
Located on Mill Street, Red Dirt Brewhouse is one of the best places in Ardmore to enjoy delicious American food, locally brewed beer, and more.
Red Dirt Brewhouse is one of the few places in the city where you can enjoy food along with live music.
The brewery serves as a live music venue, where a number of local and international artists perform regularly.
The informal atmosphere of the brewery is a bonus.
Their menu consists of typical pub favorites like cheese fries, beer battered shrimp, black rib eye sandwiches, etc.
You should try their famous grilled sirloin steaks, which can be paired with their house-brewed drinks, coleslaw, fries, or onion rings.
2. Spend a Night at GrandPappy Point Marina
GrandPappy Point Marina is the best place in Ardmore to enjoy boating and other such activities.
From pontoon boats to powerboats and more, the marina offers rentals for visitors to venture out onto the pristine lake.
In addition, for an even more unique GrandPappy Point marina experience, visitors can also take advantage of lodging facilities and spend the night near the lake.
The pavilions and restaurants here are great, where you can indulge in delicious food and drink while enjoying the view of the lake.
3. Go On a Movie Date at Cinemark 339
Among the more lively and unique places to visit to spend some time in Ardmore is Cinemark 339.
Cinemark is one of the largest cinemas in the region and is home to 12 auditoriums.
The theater is also one of the few to screen first-run feature films through digital projection or Real 3D. Can you beat that?
Cinemark 339 is best known for its stadium-like seating and private party rooms.
You can also play a few arcade games or tuck into some food and drink.
Things to Do in Ardmore (OK) For Couples
1. Don't Miss a Trip to Lakeview Golf Course
Located in Ardmore, Oklahoma, Lakeview Golf Course is a par 71, 18-hole championship course designed for amateur and professional golfers.
Stretching over 6 kilometers, the course is also home to the clubhouse and boasts Bentgrass greens and Bermuda fairways.
With lush greenery surrounding the course and breathtaking views of the lake, the golf course is also a great place to spend some time simply basking in nature.
2. Relax and Watch a Show at Hardy Murphy Coliseum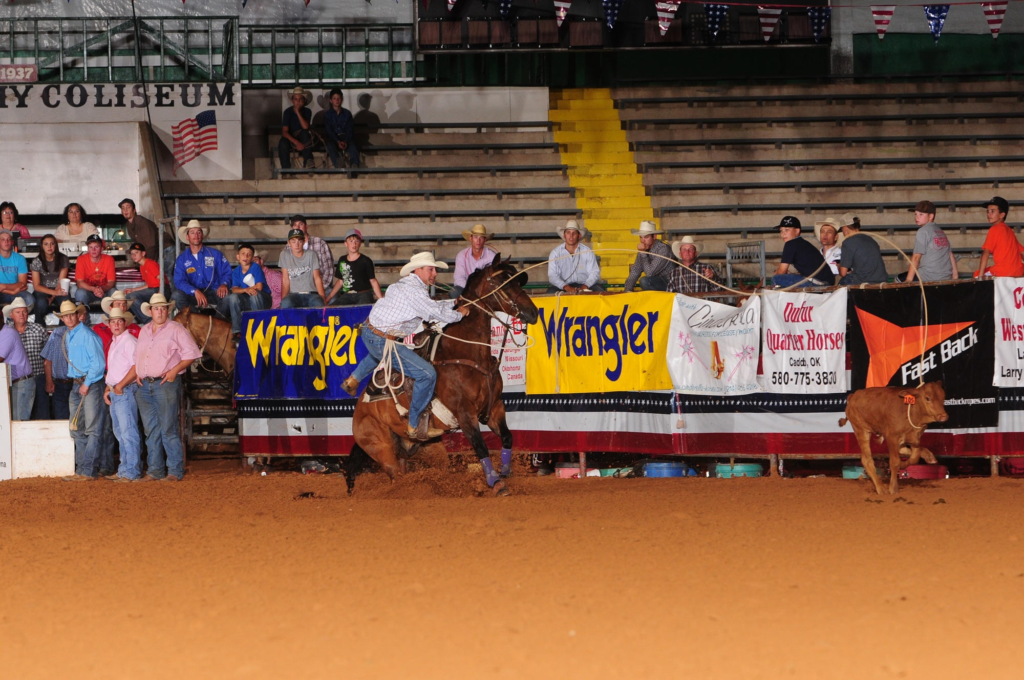 Hardy Murphy Coliseum is another famous historical landmark in Ardmore.
Built in 1937, the stadium hosts many horses and livestock shows in addition to other events such as exhibitions, competitions, and more.
While visiting the Coliseum, you can enjoy professional rodeos, animal training, fundraisers, and more.
3. Go Shopping at Ardmore Farmer's Market
The Ardmore Farmer's Market is a new indoor facility where fresh fruits and vegetables grown in Oklahoma are available to consumers.
It usually takes 2,000 miles for the average piece of produce to reach you, and as each day passes, it loses more of its nutritional value.
So the Ardmore Farmer's Market Place on Broadway is a closed facility that preserves quality homegrown food sources for Oklahoma while helping local family farmers stay in business.
You can access the most nutritious and freshest produce at this market.
Things to Do in Ardmore (OK) For Kids
1. Take Them to Ardmore Regional Park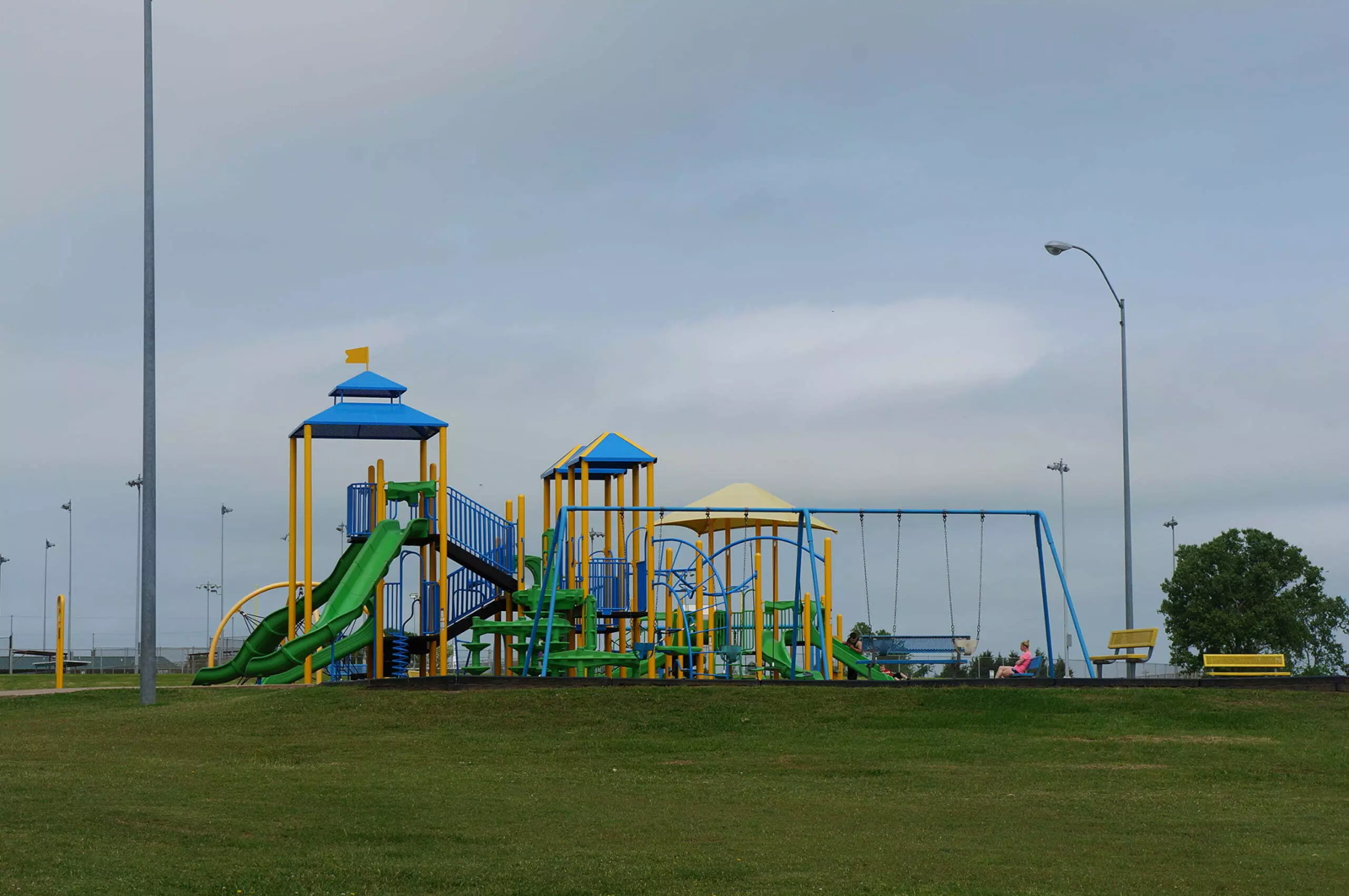 This is a park that offers a variety of recreational activities that you can enjoy.
From walking the nature trails, strolling by the lake, or indulging in disc golf, rollerblading, and even jogging, the park offers visitors complete relaxation amid lush greenery.
Ardmore Regional Park also has several picnic areas and pavilions, in addition to children's playgrounds and a softball field.
Nature lovers will definitely love this place.
2. Let Them Play at Urban Air Adventure Park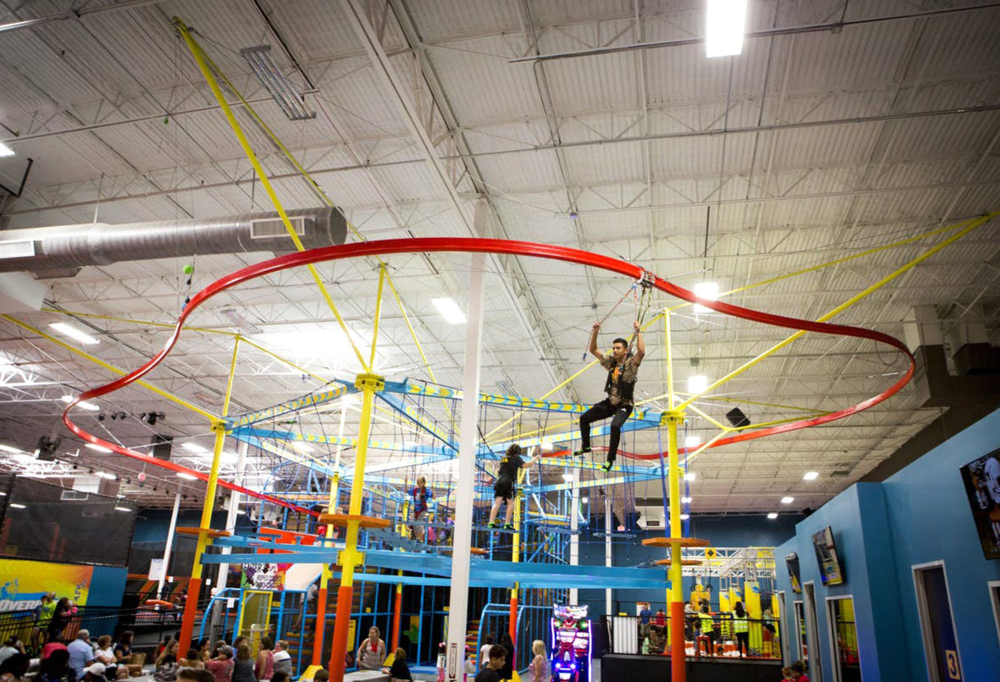 Urban Air Adventure Park is Ardmore's famous family experience with almost too many attractions!
There are plenty of features, and it's no surprise why it's on the list of the best things to do in Ardmore.
First, you'll see the classic wall-to-wall trampolines that allow kids to bounce off the walls!
With continuous trampolines across the room, there are no springs to worry about.
Then there's the Warrior Obstacle Course, where kids can test their skills by competing with friends or practicing freestyle tricks.
There's El Capitan – where they can climb walls, Tubes Playground, where they race across a pitch/obstacle course, and Beams, where they think of beam and sword fighting.
The park also hosts open jumps, dodgeball, fitness classes, and parties. Let your kids discover the numerous activities for you to explore!
3. Visit Toy & Action Figure Museum
Designed by famed toy collector Kevin Stark, the Toy and Action Figure Museum in Paul's Valley, Oklahoma, is a feast for the eyes.
Known as the world's first museum dedicated to action figure art and sculpting, this museum is home to a vast collection.
Listed on Time magazine's "Toy 50 Most Authentic American Experiences," the Toy and Action Figure Museum has several informative exhibits.
It also has live displays of famous action figures from various cartoons, including the popular Dick Tracy character.
Indoor Activities to Do in Ardmore (OK) For Adults
1. Visit the Greater Southwest Historical Museum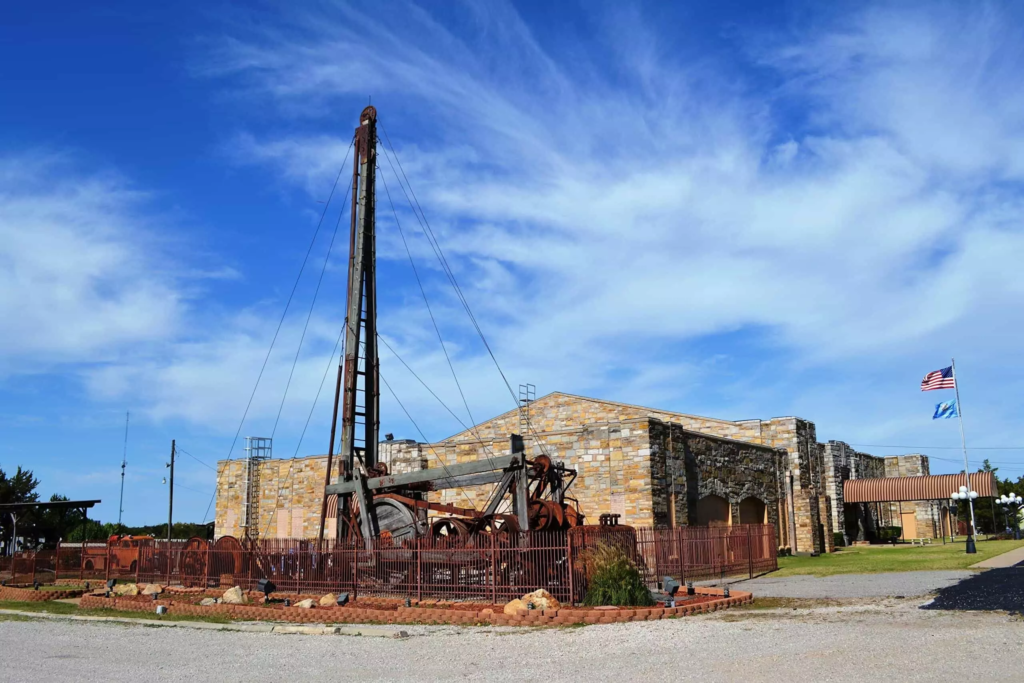 The museum is located in the old Ardmore National Guard Armory.
It offers you a glimpse into the rich and vibrant history of South Central Oklahoma.
The museum is also home to several exhibits, including agricultural tools, early transportation, technology, and the city's military records.
The museum allows you to learn a lot about the history of human settlement in this part of Oklahoma, from the early 19th century to the present.
The museum was established to collect, preserve and interpret the region's social, economic, and cultural history.
2. Go Bowling at Imperial Lanes Bowling Center
When traveling to Ardmore, you must head to the famous Imperial Lanes Bowling Center.
Rated as the best place to enjoy a variety of activities, this indoor playground plays host to cosmic bowling as well as exciting karaoke nights.
It has eighty bowling lanes for people of all ages and abilities.
What's more, The bowling center also offers food and drink in its cafe-cum-food court.
3. Don't Miss a Show at the Goddard Center for Visual & Performing Arts
Popularly considered by travelers as one of the top places to visit in Ardmore, Goddard Center for Visual and Performing Arts is a treat for artists and art lovers alike.
Located in downtown Ardmore, the center dates back to 1970 and offers visitors a variety of cultural and educational experiences.
Depending on when you visit the center, you can enjoy several live performances and art exhibitions as well as numerous classes.
The center is also home to an extensive library where you can spend some time observing and reading more about the art and other works displayed here.
Some other things to do at the Goddard Center include theater, dance, and music programs, exploring the sculpture garden, visiting an art studio, etc.
Romantic Things to Do in Ardmore (OK)
1. Spend Some Time at Lake Murray State Park
Spanning 12,500 acres of lush greenery, Lake Murray State Park is Ardmore's first and largest state park.
With forested hills surrounding the park and tranquil Lake Murray acting as its backdrop, this state park is home to diverse terrain, stunning nature trails, and a wide variety of adventure activities.
In addition to hiking, golfing, horse riding, and cycling, you can indulge in several water sports and quad biking.
During the pleasant autumn weather, you can also enjoy camping in tents and caravans or staying in cabins and cabins available in the park.
2. Go On a Date at AMC Classic Ardmore 8
AMC CLASSIC is here to serve movie memories to friends and family. Come enjoy a Coca-Cola Freestyle and delicious menu items like pretzels, movie nachos, and annual refillable popcorn buckets, all at a great price.
Cineplex with 3D and jumbo digital screens showing first-run movies, opera productions, and sporting events.
It opens Sunday to Saturday, between 12 pm and 12 am.
3. Go Kayaking at Veteran's Lake
Veteran's Lake is a popular attraction located toward the western end of the Chickasaw National Recreation Area.
It is a popular place for families and large groups to enjoy boating, fishing, and other activities.
In addition to campsites and picnic areas, the area around the Lake also boasts group shelters, restrooms, and other amenities.
This makes the Lake a great place for people who want to spend some time camping in the lap of nature.
The 67-acre Lake dates back to 1933 and offers more than 4 kilometers of shoreline and sparkling views of the surrounding countryside.
The Lake is also great for water activities, including kayaking, rafting, canoeing, etc.
Free Things to Do in Ardmore (OK)
1. See the Denison Dam
Also known as Lake Texoma Dam, Denison Dam is the most famous attraction around the lake.
Denison Dam, built on the Red River between Oklahoma and Texas, offers fascinating views of the lake and the surrounding natural landscape.
It also acts as a flood barrier, supplies water, regulates the river, and helps generate hydropower.
It is also a popular spot among people who want to indulge in fishing and observe the region's wildlife species.
2. Experience the Ardmore Festival of Lights
Ardmore Festival of Lights is one of southern Oklahoma's largest holiday light displays.
This 1.5-mile route passes through endless exciting Christmas lights that showcase more than 125 animated displays in enchanting surroundings.
Tourists are always delighted by the Ardmore Festival of Lights, and it is quickly becoming one of the most recognized light displays in the state.
Just drive to Ardmore's Regional Park, tune your car radio to your favorite Christmas music station, and the holiday cheer series will become a reality.
3. Don't Miss a Thing at Southern Oklahoma Speedway
Southern Oklahoma Speedway is another speedway in Ardmore.
This speedway is a 3/8 mile dirt track with an oval slope.
Its dirt track features five different racing classes, including IMCA-Stock Cars, Hobby Stock (Factory Stock), IMCA Sport Mods, Eco Limited Mods, and USRA Modified.
Southern Oklahoma Speedway is very family-friendly. In addition to the discounts, children can also choose candy during the break during the candy drop.
So bring the whole family and let them support their favorite drivers!
This makes it fun to do in Ardmore. Race times vary with the seasons, which encourages proper planning.
Cheap Things to Do in Ardmore (OK)
1. Check Out Santa Fe Depot
For travelers who want to experience the region's history, the Santa Fe Depot is the place to be.
The depot, which served as a railway station in the early 20th century, was restored in early 2015 and is now home to a vast collection of ancient artifacts.
Visitors will also find plenty of monuments and souvenirs from the past.
And if you visit the Santa Fe Depot at certain times of the day, you can also catch the Amtrak that travels from Ardmore to Forth Worth.
The depot also regularly serves as a venue for numerous weddings, parties, receptions, and other celebrations.
2. Visit Three Valley Museum
Three Valley Museum is a historic site in Ardmore.
Located in the heart of the Red, Blue, and Washita River valleys, the museum is a hidden wonder and takes you back to the early 1800s through its displays and exhibits.
You will see an old salon, a barber shop, a doctor's office, and some old cars at the museum.
A small-town exhibit area inside the museum also boasts scenes and businesses from the early 20th century, along with a Native America Gallery.
Here you can learn about the Native American tribes that lived in southeast Oklahoma at the time.
You will definitely enjoy your time here.
3. Watch a Race at Ardmore Dragway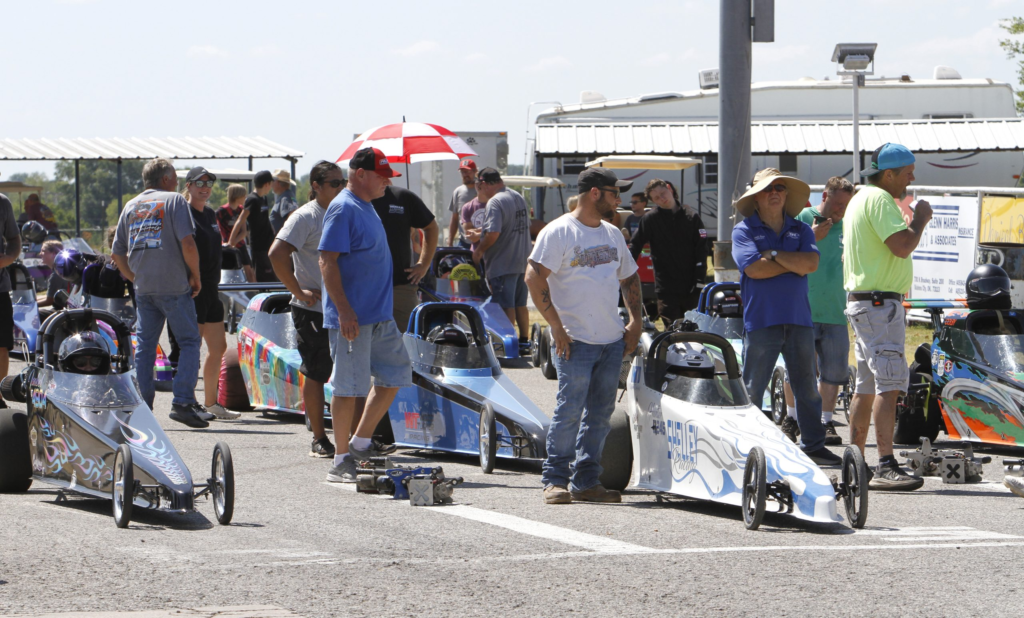 Originally built as Ardmore Municipal Airport, Ardmore Dragway was converted to a race track after the airport changed location.
The first race was held in 1954, the oldest continuously operating dragstrip in America.
Since then, there has been constant improvement and development.
Ardmore Dragway joined Division 4, the NHRA South Central Division, as a member of the NHRA and hosted one of their premier events – the 46th consecutive Cowpasture Nationals in October 2017.
NHRA-sanctioned competitions are held here throughout the year. And opening hours are seasonal as they vary by race, so plan well.
Cool Places to Visit in Ardmore (OK)
1. Chickasaw National Recreation Area
The Chickasaw National Recreation Area is among Ardmore, Oklahoma's most visited historic sites.
Home to many lakes, streams, and small springs, this area is excellent for people who want to enjoy swimming, fishing, kayaking, and other water sports, such as motor boating in Lake Arbuckles.
Together with the water bodies, the park is affiliated with the national park administration.
Chickasaw is also home to several species of flora and fauna, all of which act as the perfect backdrop to this tranquil spot.
The Chickasaw National Recreation Area also offers visitors other exciting activities, including skiing, sailing, fishing, camping, and hiking.
2. The Memorial Park
One exciting thing to do in Ardmore is to visit Memorial Park. This park exists as a memorial site and landmark.
Memorial Park is home to the Oil Patch Warrior statue and Memorial Square, both dedicated to the history and citizens of Ardmore.
Monuments in this park honor the energy industry.
First, Oil Patch Warrior pays tribute to those Oklahomans who played a crucial role in winning American freedom by working in the energy industry during World War II.
Second, the park is a memorial to the veterans who sacrificed everything to fight for the freedom that Ardmore and other parts of the nation enjoy today.
3. The Pumpkin Patch at Woodbine Farms
The Pumpkin Patch at Woodbine Farm is a family farm created in 2005 as a place where family and friends could come and escape the hassles of our technological world.
This simple farm really encourages families to spend time together.
They are also a non-smoking facility with the inclusion of electronic cigarettes and vaping.
Other features include a giant bubble area, wooden zip line, 8′ Hotwheels race track, a kids tightrope walk, fantastic photo opportunities, 20′ Culvert swing for kids, and pumpkin picking.
Conclusion
Ardmore is a city that holds a promise of lots of fun and comfort for tourists.
Why not start preparing for your trip to this amazing city, using our checklist of things to do in Ardmore (OK) as a guide?
Happy travels.
Join us on Telegram
If you loved this content, do well to like us on Facebook and follow us on Twitter to get updates and engage with other people like you who wish to immigrate to Canada or just immigrated to Canada.