Falling among the likes of the most beautiful cities in Texas, United States. Denton is the epitome of scenic beauty and tourist attractions.
This makes it a great place to visit if you want to relax and chill while having fun on holiday. It is a dream destination for many tourists.
The city of Denton is full of gardens, parks, lakes, trails, and more than 300 acres of open space.
You would see Ray Roberts Lake State Park, Denton Firefighters Museum, Old Alton Bridge, and Bayless Selby House Museum, among many others.
Let's explore the best things to do in Denton, Texas.
Fun Things To Do In Denton
1. Enjoy the Waters set Big Sandy Boat Ramp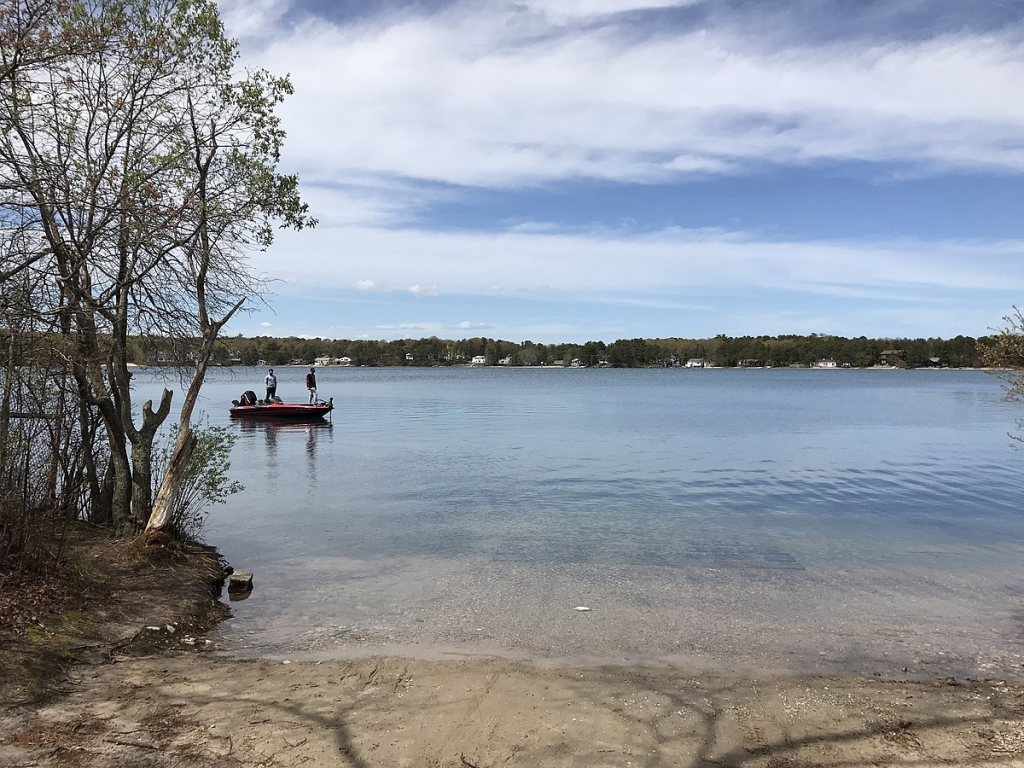 The Great Sand Boat Ramp is a beautiful and historic lake to visit if you are in Denton. Suitable for boating, fishing, or kayaking.
If you want to beat the Texas heat, you can swim in the water near the coast!
You can choose to sit by the lake and have a simple picnic or a special barbecue.
You would enjoy this beautiful lake scenery that offers a perfect place for your picnic date. This area is nice to explore. Don't forget to add the Big Sandy boat ramp to your to-do list.
2. Visit Cartwright's Ranch House
Established in 2011, this restaurant delights visitors with its comfortable atmosphere and homemade dishes.
Dining at this restaurant is one of the best things to do in Denton, TX.
Known for its home cooking, this restaurant has won numerous awards in various categories.
What's more, it feels nostalgic and is surrounded by remarkable architecture.
Try their signature dish, chicken fried steak, along with its irresistible cream sauce.
3. Have A Two Flight Indoor Skydiving Experience
Open in 2016; this indoor venue lets you experience the thrill of skydiving without flying in a plane.
Suitable for thrill-seekers, this attraction allows you to experience the feeling of floating and free-falling in an indoor skydiving adventure.
And if you're a newbie, don't worry because it's safe and includes pre-flight lessons and instructions.
Enjoy a few flights in the vertical wind tunnel and feel the adrenaline pumping through your veins.
Things To Do In Denton At Night
1. Visit Clear Creek Natural Heritage Center
This is a massive conservation area that offers hiking trails, ongoing restoration projects, and education.
It is located in the upper floodplain of Lake Lewisville and is administered by the City of Denton.
This center is the gateway to more than 2,900 floodplain hardwoods, diverse aquatic habitats, and upland prairies.
Residents and visitors alike are exposed to unparalleled educational, environmental, and recreational opportunities.
The park is open from Monday to Sunday, and the time is from 6:00 pm to 10:00 pm.
2. Check Out The Parker House Haunted Attraction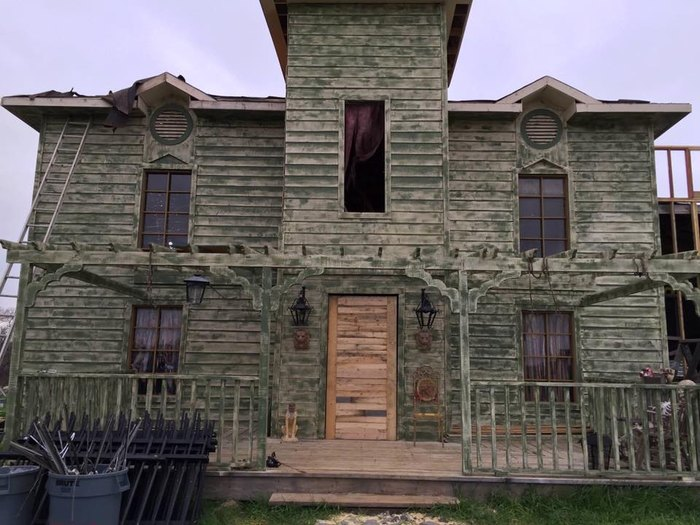 One fun tourist attraction worth visiting is this haunted house in Denton.
The haunted house contains many attractions; however, the most exciting part of this house is the zombie paintball ride; everyone loves it!
In front of the house, you would meet various props and actors, all ready to scare you! The interior of the house is a zombie ride, while the exterior is spooky and creepy.
So, if you like haunted houses and want to experience some adventure, do well to visit the Parker house.
3. Experience Aquatic Life At Sea Life Grapevine
Located in Grapevine Mills, this 45,000-square-foot water museum is full of fascinating sights to see this weekend.
From sharks to starfish and jellyfish, you will see all kinds of marine life in this aquarium.
In fact, this two-story attraction is home to more than 30 exhibits with thousands of aquatic creatures.
You can also capture their feeding and educational conversations.
Things To Do In Denton For Couples
1. Visit Pilot Knoll Park
Pilot Knoll Park has been seen as one of the most visited tourist attractions near Denton.
Its beautiful and well-maintained scenery attracts visitors from different parts of the world year-round.
The usual bright, warm, and sunny conditions make this park a great lakeside camping spot. You can go for a picnic during the day, and you can enjoy stargazing and camping at night.
You can also go boating in the built-in Lewisville Lake. This beautiful lake is clear and full of crystal blue water.
And if you like to go kayaking, this is a suitable place for that too. Visit the park if you want to feel the touch of nature.
It is also ideal for night camping because it is well-lit at night. And the beautiful natural scenery makes it a great place for photography.
2. Visit South Lakes Park
Full of natural beauty, South Lakes Park is another clean, beautiful, and well-maintained park in Denton.
This park is great for cooling down and relaxing. So you can come here to spend quality time with your loved ones or go for a picnic.
There is also a sports field in the park so you can play different games with your kids like basketball, football, volleyball and many more.
In addition, there is a playground in the park where children can play.
In the middle of the park is a clear pond full of sapphire blue waters. It is an ideal place for fishing.
South Lakes Park is the best park to visit in terms of space as it offers you a breath of fresh air filled with freshness and greenery.
3. Make a Stop At A Creative Art Studio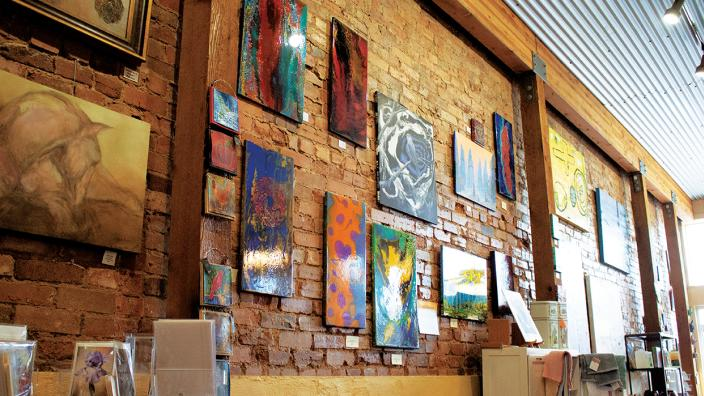 Since 2009, this studio has been one of the fascinating places in the city center for established and emerging artists.
Creative Art Studio is a paradise for creative types.
With its live music performances, classes, and gallery, this studio is sure to delight those with a flair for the arts.
Even better, it's a great place to get some Denton crafts and memorabilia.
Join one of the workshops and studio classes for journaling, drawing, yoga, stained glass, and watercolor.
You can also check out the studio's Jazz Night, which takes place once a month.
Things To Do In Denton For Kids
1. See Animals at Sharkarosa wildlife
The Sharkarosa Wildlife is a wildlife sanctuary in Denton that preserves local wildlife in the city.
This amazing park is home to various plants and animals, and you can put some of them in this park.
From smaller animals like sheep, lemur, dogs, and monkeys to bigger animals like giraffes, tigers, and lions, these wild animals protect justice.
This place has such a calming and soothing atmosphere.
They have a very kind and gentle staff who are very knowledgeable about the animals because they have learned about them.
You will learn about different animal species and have the opportunity to get up close and personal with the ones you love.
It is certainly an interesting place it provides animal education for your kids, knowledge of the importance of wildlife, and a real experience with these animals.
2. Have Fun at Water Works Park
Searching for the ideal place to visit with family and kids, this adventure water park is perfect. It's being added to our list of top attractions in Denton.
The water park caters to all age groups with no age limit for entertainment.
You can enjoy the waves, and water slides, swim in the pool, or just sip a soda with your feet in the water.
You can bring food and drink and enjoy it in the park; it's really fun.
There are several gigantic, tall adventure slides for brave and sporty people, and there are easy and simple rides for children.
Water Works Park is one of the best fun things to do in Denton.
3. Doubletree Ranch Park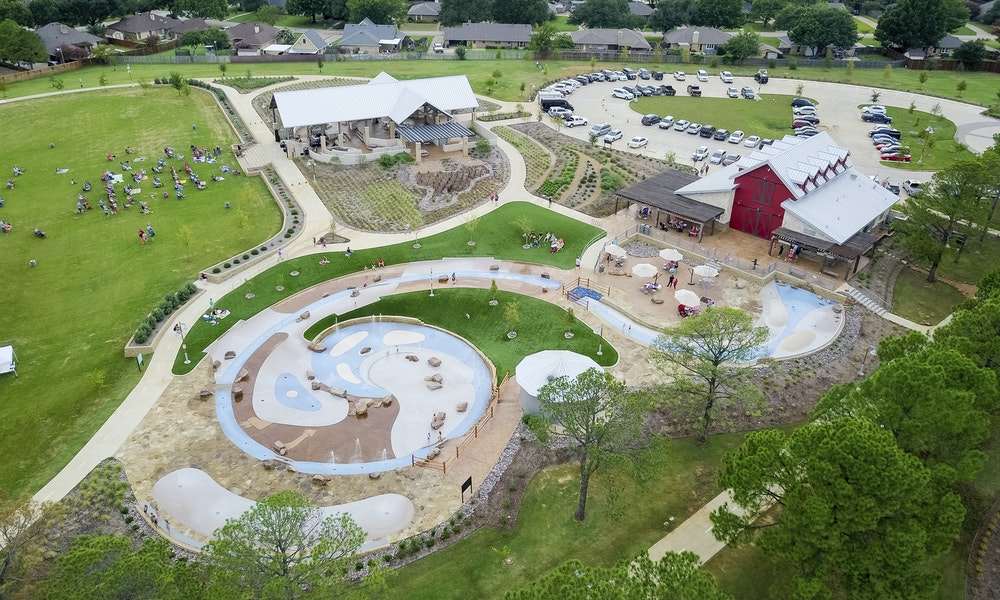 Doubletree Ranch Park is an amazing park to visit if you are in Denton area. The park is full of properly maintained trails for your hike.
There is also a beautiful lake that provides the perfect location for your dream outdoor posh wedding, complete with several pavilions available for hire.
Here, children can play and jump on the mats available.
The park is beautified by lush green bushes and trees that blend seamlessly with colorful flowers all around the trails. The whole scenery is just amazing!
Visit here if you want to beat the scorching Texas heat because it's one of the best things to do in Denton.
Indoor Activities To Do In Denton For Adults (Indoor Activities)
1. Have fun at Lone Star Indoor Sports & Event Center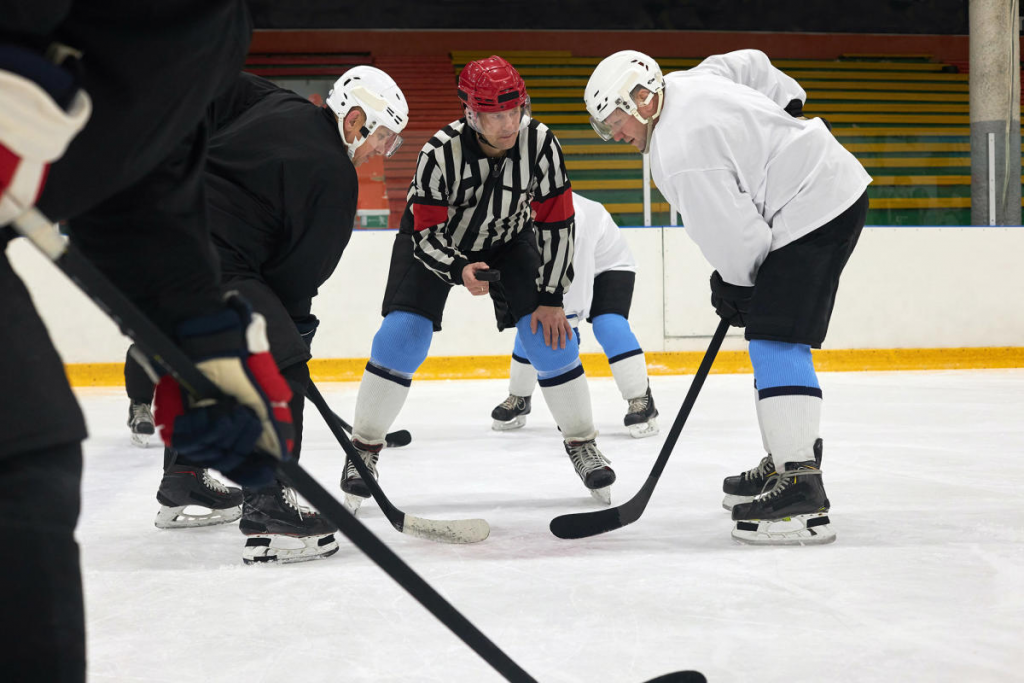 ISNA's Lone Star Indoor Sports & Event Center is located on South Mayhill Road and makes this list of fun things to do in Denton.
This indoor sports center is a great place to roller skate, watch or play indoor hockey or roller derby and is owned by a wonderful person.
Lone Star Indoor Sports & Event Center spans approximately 27,000 square feet and offers year-round entertainment and can be reserved for private events such as birthday parties, wedding receptions, sports practices, and more!
The center is open all days of the week for events, training, roller hockey, and roller derby. So come and enjoy a place with consistently perfect weather.
2. Try to escape at Quandary Escape Adventures
Being a family-owned and operated escape room in Denton, Quandary Escape Adventures certainly offers an exciting experience for players.
Escape rooms, as you know them, are physical adventure games mapped out in different locations in which players have to find clues, solve puzzles and interpret hints to reach the goal.
All rooms are specially and originally designed; players have one hour to unlock the secret and exit the room.
Most times, these escape rooms are often described as real-life video games, and it reinforces team building. So why not embark on this adventure in Denton.
3. Go Bowling at Andy B's Bowl Social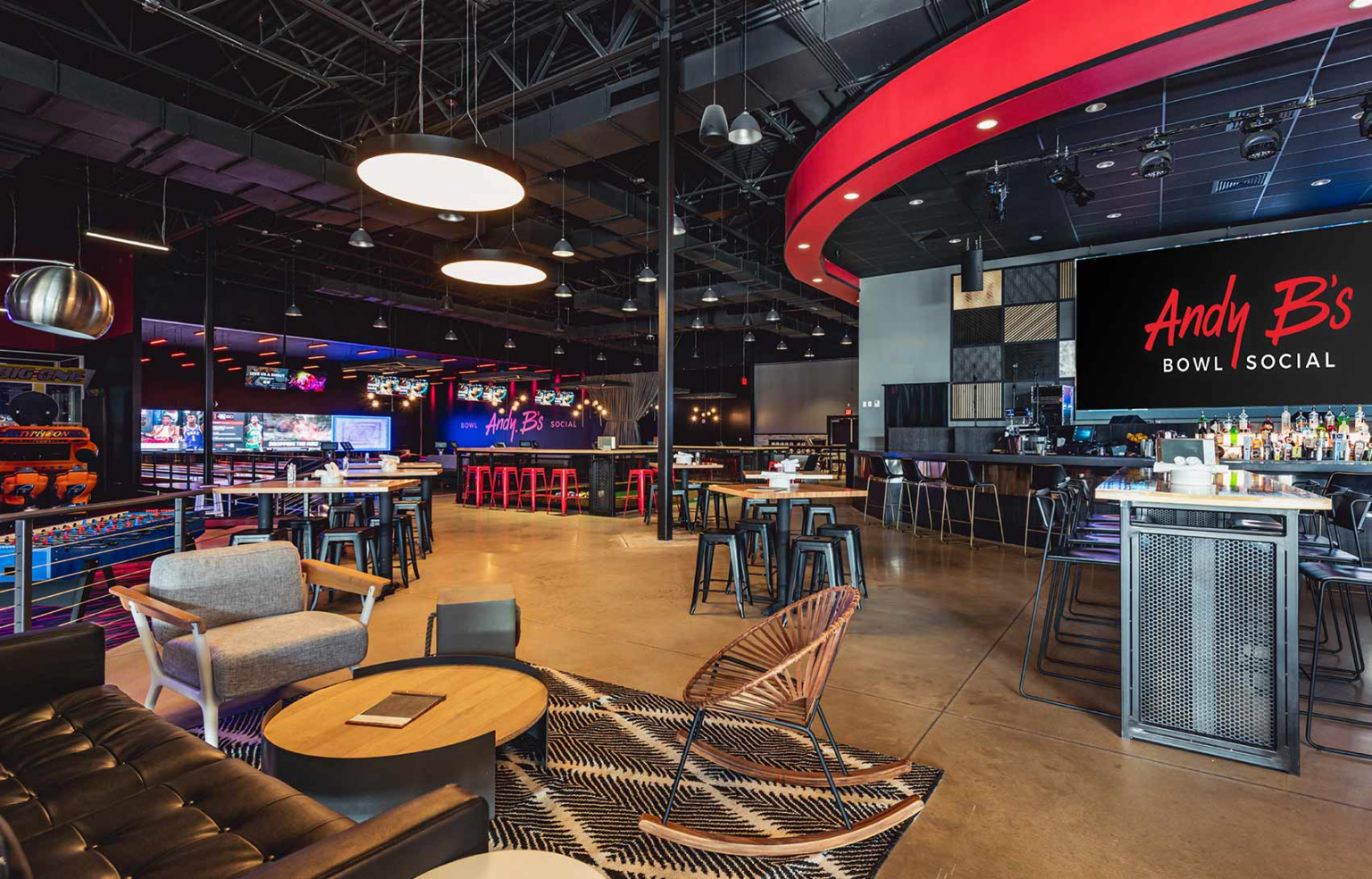 Visiting Andy B's remains your best bet if you want food and entertainment in Denton.
Here you will find handcrafted drinks, undeniable food, and plenty of games and attractions.
All of this is wrapped up in a modern industrial hangout with unmatched customer service, a mid-century attitude, and unlimited entertainment for guests of all ages.
This community center captures the whole family and creates a space that is truly worth experiencing.
Attending Andy B's Bowl Social is one of the best things to do in Denton, so add it to your bucket list.
Romantic Things To Do In Denton
1. Check Out Texas Fashion Collection
Texas is well known for its fashion and clothing, so it wouldn't be a good idea to leave Texas without experiencing Texas fashion.
Texas Fashion Collection is an amazing store in Denton where you can see all kinds of fashion clothing.
A very knowledgeable and helpful guide would definitely help you find articles that suit your taste.
Art and design students run this shop at North Texas University.
So you can completely trust their style because they have really good taste in fashion.
If you like trendy clothes and fashion shopping, you should visit this place. Visiting the Texas Fashion Collection is one of the romantic things to do in Denton.
2. Get Wowed at Little Chapel in the Woods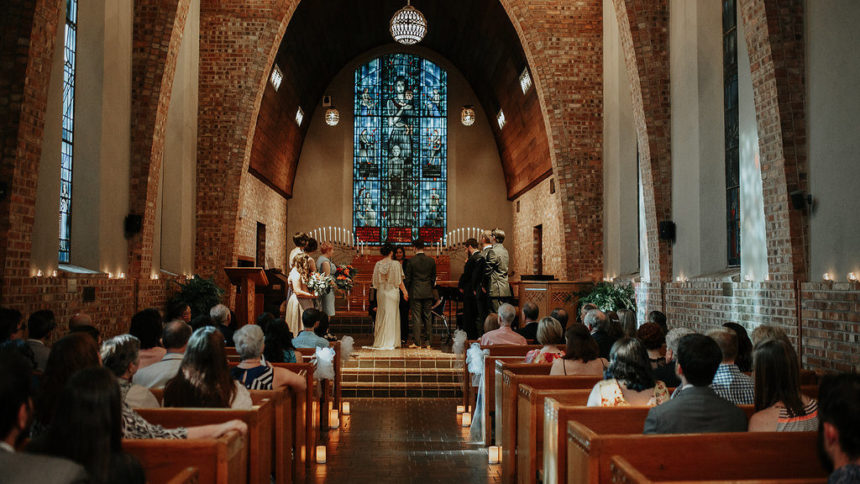 Denton is home to a historic wedding venue called The Little Chapel in the Woods.
Built in 1939, this intimate venue was dedicated by former First Lady Eleanor Roosevelt a few months after their first wedding ceremony.
The small chapel sat on the border of Texas Woman's University and was designed by the late O'Neil Ford.
It is among the twenty most significant architectural achievements in Texas.
This historic building features beautiful interior stained glass windows, gorgeous stone walls, and benches with hand-carved wooden features.
Other features include tealights placed along the edges, an organ, a piano, and a fully lit candelabra.
The exterior is surrounded by lush green topography, creating the perfect backdrop for memorable pictures.
There is no religious discrimination here as the chapel is open to all faiths and hosts both ceremonies and retreats.
It is open Monday through Friday between 9:00 am and 8:00 pm
3. Drink Good Wine at Fortunata Winery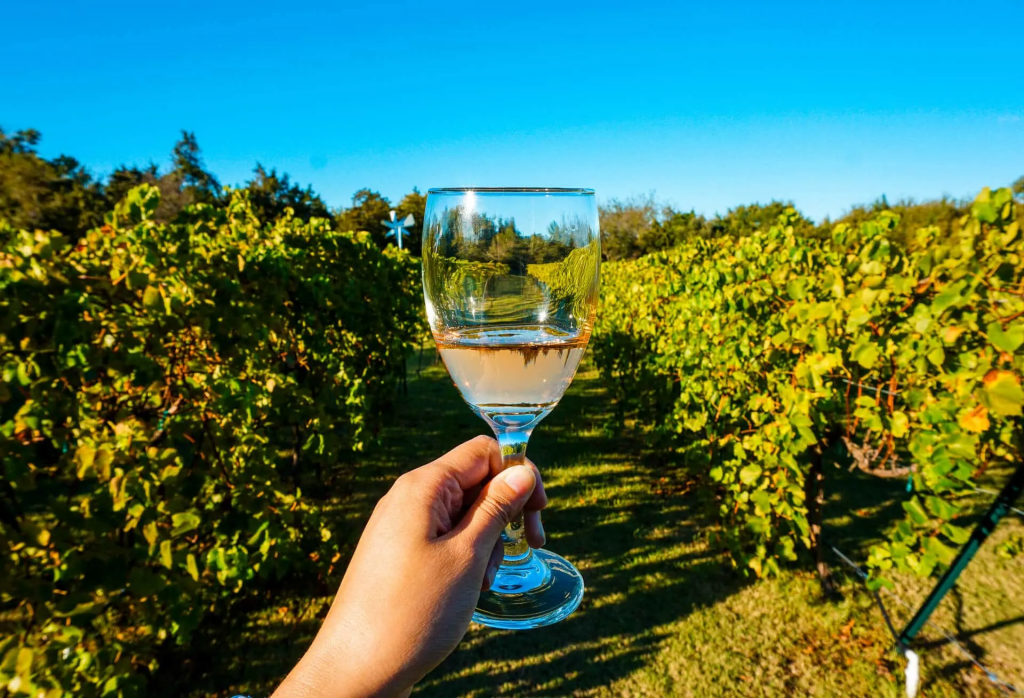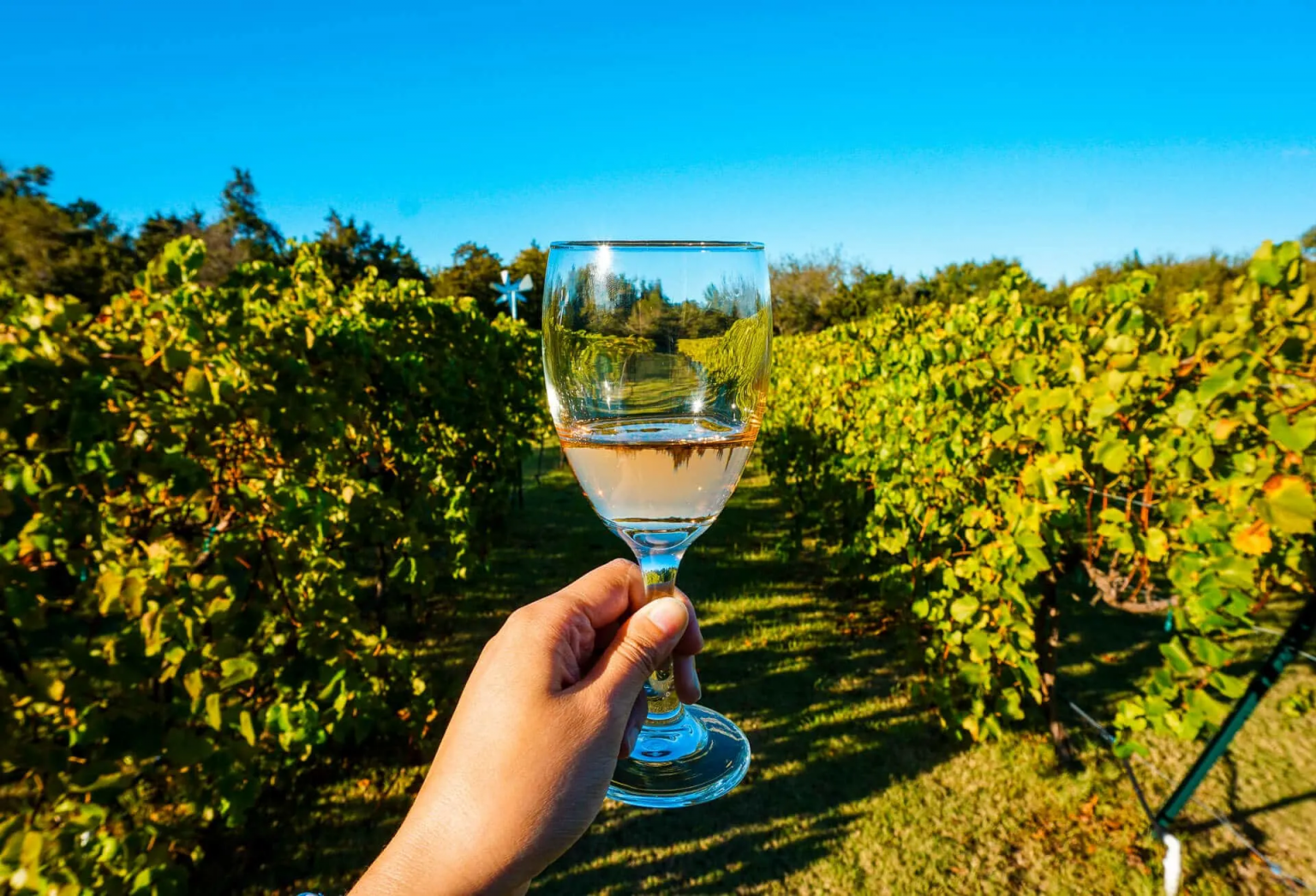 Fortunata Winery is ideal for all wine lovers. The winery is unique, properly outside, and well maintained, with live music and outdoor seating.
They offer a taste of different types of wine, and you can choose the one that suits you better.
Fortunata Winery is also great for a romantic dinner with your partner or a date night with your loved ones.
The winery has a special 5-course meal that has often been referred to as "high-end" by various visitors.
Definitely don't miss this place if you want to experience the best wine and food in Denton, Texas.
The Fortunata Winery experience remains one of the romantic things to do in Denton.
Free Things To Do In Denton
1. Walk By Old Alton Bridge
This beautiful location lies in the lap of nature and is very peaceful and calming. It's being added to our list of top attractions in Denton.
Old Alton Bridge is a historic site and was built in the 1800s. This historic iron truss bridge, also known as Goatman's Bridge, connects the towns of Denton and Copper Canyon.
Originally, its ancient purpose was to transport horses and, later, various vehicles.
Nowadays people can just walk on it and enjoy the view around the bridge.
Old Alton Bridge is a refined and very wide walkable bridge and well worth a visit.
2. Visit Greater Denton Arts Council
Dubbed Denton's Arts Engine, the council is housed in the Patterson-Appleton Arts Center.
The Greater Denton Arts Council supports and presents most of Denton's cultural events, including performances at the Campus Theater.
In addition, it offers lively dance spaces and engaging art galleries.
Unleash your inner Picasso or theater artist by joining one of the council's educational workshops and programs.
3. See the Ray Roberts Lake State Park
This beautiful, clean, and well-maintained park is one of the best tourist destinations near Denton.
Ray Roberts Lake State Park is located 25 minutes from Denton, in the neighboring town of Pilot Point.
It is an all-in-one area where you can spend the whole day enjoying various outdoor activities.
The park's trails are well-maintained and marked, so you can go hiking, walk the dog, or relax.
You can go swimming at the beach or sunbathe.
The park also has a clean and beautiful lake where you can go fishing or boating.
You can picnic in this park during the day and camp near the peninsula overnight.
Enjoy the beach and keep those memories by taking as many photos as possible. Ray Roberts Lake State Park is perfect for nature photography!
Cheap Things To Do In Denton
1. A-train (Denton County Transit Authority)
This is a 21-mile (34 km) commuter rail line operated by the Denton County Transportation Authority (DCTA) in Denton County, Texas.
It opened on June 20, 2011, and was first operated by First Transit under the management of the DCTA.
This rail line is the third busiest in Texas and the thirty-first in the entire United States.
It has six stations and runs parallel to Interstate 35E between Denton and Carrollton.
The line extends with the Dallas Area Rapid Transit Green Line at Trinity Mills Station in Carrollton.
Bus and rail service offered by the Denton County Transportation Authority connects residents to schools, medical facilities, shopping complexes, and more.
2. A Visit To Denton Firefighters Museum
The Denton Firefighters Museum, located in the lobby of the Central Fire Station, was opened in 2005 by local firefighters to honor brave firefighters, past and present.
This museum houses a variety of firefighting memorabilia dating from the 19th century to the present, allowing visitors to step back in time and experience how firefighting has evolved over the past 150 years.
Some exciting collections include a 19th-century hand-pulled hose cart, 1935 cargo ladder equipment, fire extinguishers, helmets, fire grenades, uniforms, and breathing apparatus from decades back.
The Denton Firefighter's Museum is open Monday through Friday from 8:00 a.m. to 5:00 p.m. Entrance and admission are free.
Guided tours are also available, and group tours are welcomed and encouraged.
3. Experience Time-Travel At The Historic Bayless-Selby House Museum
You can tour the Bayless-Selby House Museum and experience all the artifacts on display for yourself.
It's a great place to learn about the history of the city.
The staff here are knowledgeable and will keep you updated on all the items on display.
Here you will find everything that a typical household from the beginning of the 20th century would have.
Showcasing everything from a piano and original pieces of furniture to kitchen utensils, the Bayless-Selby House Museum gives visitors a glimpse of what life was like in the past.
It is a great attraction for tourists who like to learn the history of each new place they visit.
Cool Places To Visit In Denton
1. Courthouse-on-the-Square Museum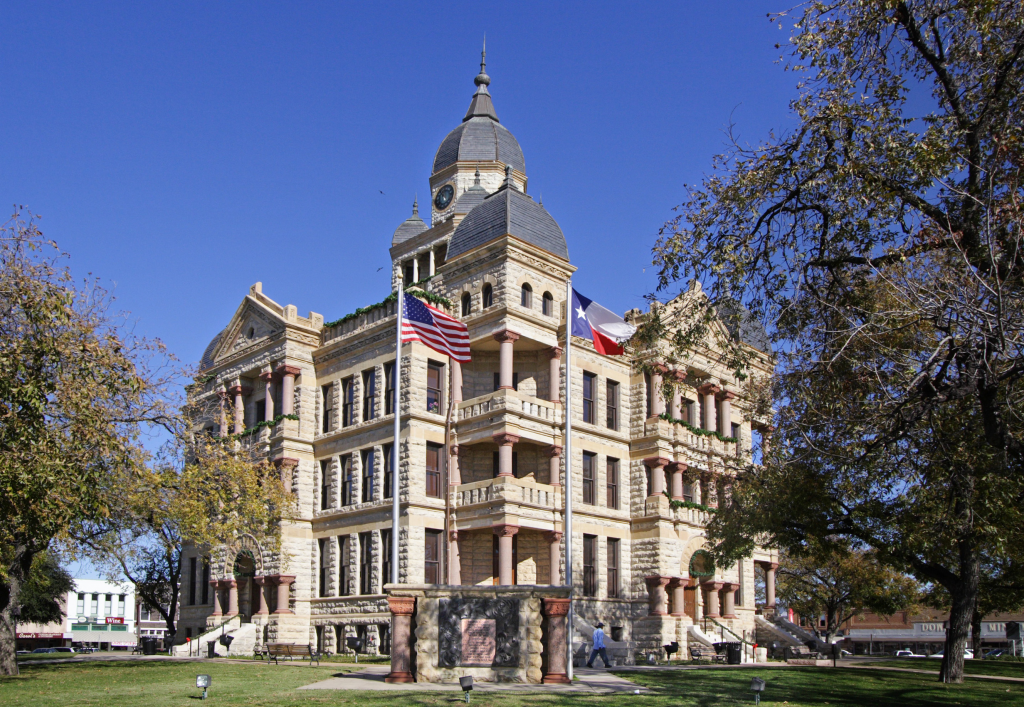 As the name suggests, the Denton County Courthouse is a courthouse built in the 1800s that is still strong today.
Touring this courthouse is one of the best things to do in Denton.
Previously, the courthouse was used for proceedings, but now it is only a museum with history and artifacts.
The museum is a significant tourist attraction with many famous artists and singers holding concerts and events throughout the year.
The museum also offers visitors an overview of the communities and residents' contributions to looking after the region's rich heritage.
Much of this courthouse has been turned into another area for public display and use.
This courthouse can be a perfect wedding venue, thanks to the ample space used to host beautiful events.
Whether a visitor or a resident, you'll be educated and entertained as you delve into Denton County's bygone days.
Overall, this courthouse museum is worth a visit if you're in Denton.
2. Blagg-Huey Library
Located at Texas Woman's University is the Blagg-Huey Library, which serves as home to the national archives of the Women Airforce Service Pilots (WASP).
This library is a historic building and is well known for enhancing Texas Woman's University education by connecting the community with information and library services.
They have a thriving collection available for research and viewing as part of the Woman's Collection.
These archives are documents, military records, training manuals, reports, and artifacts that make up the experimental program from 1942 to 1944.
Women enlisted in America's armed forces were adequately trained as pilots during this period.
3. College of Visual Arts
Located at the University of Texas, the College of Visual Arts and Design is considered one of the country's best and most comprehensive fine arts schools.
Some of its programs include a nationally ranked graduate fine arts program; a graphic design program ranked first in the Southwest, and the only Ph.D. in art education in the state.
His gallery is located on the college campus and displays various artworks of various college students.
You'll find some very creative and attractive artwork on display, while the gallery also provides plenty of delicious food for just a few bucks.
So, do yourself a favor and see for yourself, because the College of Fine Arts is open Monday to Friday, 8:00 am – 9:00 pm, except Fridays when it closes at 5:00 pm.
Conclusion
Denton is a great place to visit if you want to relax and unwind.
Admire the fantastic local attractions and bring some fun to your vacation away from home.
In Denton, you'll enjoy more than 300 acres of outdoor greenery, beautiful gardens, lakes, and several picturesque parks.
Why not add these destinations to your travel bucket list to help complete your Denton vacation?
Join us on Telegram
If you loved this content, do well to like us on Facebook and follow us on Twitter to get updates and engage with other people like you who wish to immigrate to Canada or just immigrated to Canada.