If you love traveling, you should be familiar with most of the beautiful things to do in Evanston.
Evanston is sure to have some great attractions and activities for fun to explore
The city is every tourist's dream destination in Cook County along Lake Michigan, Illinois, United States of America.
A vibrant downtown can be found here, with a vibrant cultural scene and a diverse selection of interesting shops and museums.
Evanston is known to be home to one of the world's best universities and offers unique, fun activities and adventures.
There are many places to visit in Evanston. Numerous places include Evanston History Center, Northwestern University, Merrick Rose Garden, Downtown Evanston Farmers, American Toby Jug Museum, Lock Chicago Escape Rooms, Spice House, and more.
Evanston offers you chances to make lasting memories. Join us to explore the best things to do in Evanston.
Fun Things to Do in Evanston
1. Have Fun at the Beach
Like several of Chicagoland's North Shore towns, Evanston has unrivaled accessibility to Lake Michigan's magnificent waters.
Evanston's lakeside beaches are packed with kids, neighbors, and international tourists, all enjoying the weather and the mild waves during spring and early summer.
In Evanston, you may choose from several popular beaches, such as Lee Street Beach, Green Street Beach, and Clark Street Beach, all of which are adjacent to the tranquil and scenic Arrington Lagoon and the gorgeous green expanses of Dawes Park.
2. Watch a Game at the Welsh–Ryan Arena
Welsh-Ryan Arena is a fully equipped multi-purpose arena in the city near the campus of Northwestern University.
The Sports Center is home to Wildcats sports, including women's wrestling, volleyball, and men's basketball.
Welsh–Ryan Arena has a capacity of exactly seven thousand thirty-nine people; the center has recently undergone a number of renovations.
The arena added a fantastic new locker room of over 2,000 square feet with essential equipment for women's volleyball and basketball and, of course, men's basketball.
The building has a common room, dressing room, kitchen, six TVs, a kitchen, wet zone of the Atmos air system, and a gas station.
There is also a private examination room in the hallway where the changing rooms are, as well as cold and hot hydrotherapy.
3. Watch a Performance at Fleetwood-Jourdain Theatre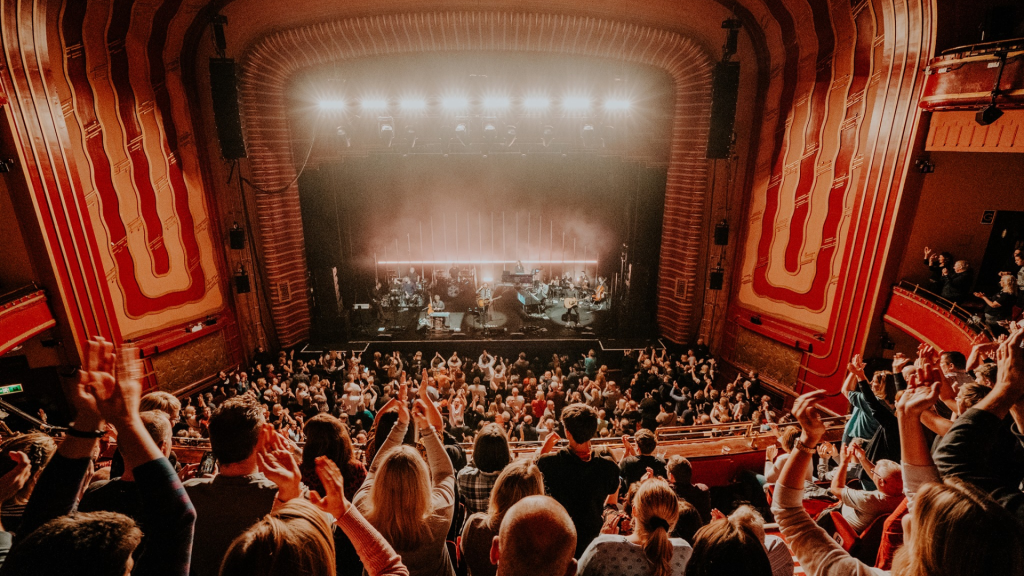 The Fleetwood-Jourdain Theater opened its doors in 1979 but was then named the Foster Community Theater and has served people ever since.
The main objective of the theater is to provide and maintain a desirable environment for writers, custom designers, directors, performers, and technicians to improve and master their skills.
The Fleetwood-Jourdain Theater presents a play called "Home," which attracts many people from different parts of the state and is one of the theater's most interesting events.
The theater stage was littered with many talented artists, such as Lewin Johnson, Tuesday B. Perry, Rachel Blakes, and others.
Things to Do in Evanston at Night
1. Grab Some Snacks at the Edzo Burger Point
Edzo's is a classic burger joint that offers delicious diner-style grilled burgers, chicken wings, hot dogs, and fries.
The color combination of yellow, orange and brown will remind you of a fluffy jacket from the 80s but only adds to the nostalgic appeal of the place.
Indulge your taste buds and order one of their specialty fries, such as buffalo pepper jack cheese and spicy Oreo chocolate shake fries.
2. Don't Miss a Night at Dearborn Observatory
Built in 1888 in the Richardson Romanesque style of rusticated limestone, the Dearborn Observatory is located on the campus of Northwestern University.
The center was founded in the 1860s when the then-largest refracting telescope in the world was located and managed there.
The Dearborn Observatory is open to the public every Friday evening, during which public tours are offered inside the dome.
The hand crank mechanism of the observatory was removed and replaced by an electric motor in 1997.
Dearborn Observatory requires no reservations on Friday evenings; Children are also allowed during the two-hour session.
You will get the opportunity to meet and interact with other astronomers.
3. Grab a Bottle at FEW Spirits
FEW Spirit is a great place to spend a cold evening in Evanston and enjoy a drink.
FEW Spirits offer a unique style of urban whiskey that would appeal to almost any whiskey fan with a bold and delicious taste.
FEW Spirit offers whiskeys such as American straight whiskey, straight Bourbon whiskey, straight rye whiskey, bourbon whiskey with cold brew coffee, single malt whiskey, and rye whiskey with eight immortal teas.
The company wants to ensure something for everyone who comes in by offering a varied drink menu to suit everyone.
FEW Spirit offers a tasting room for visitors to try, including tours of the distillery.
Things to Do in Evanston For Couples
1. Spend Some Time at the Grosse Point Lighthouse
If you want to see a real piece of local history while visiting Evanston, the Grosse Point Lighthouse, which has stood since the 1870s, is truly a symbol of North Chicago.
Due to a series of tragic shipwrecks and maritime disasters, this majestic lighthouse was created to help gently guide ships to shore in Lake Michigan.
During the 1930s, the lighthouse was mechanized and remained in operation until the 1940s.
2. Shop for Organic Food at the Central Evanston Farmers' Market
The Central Evanston Farmer's Market is held on Saturdays from May through November.
Over 60 different vendors sell everything from vegetables and fruits to delectable baked goods and handmade artwork from local artisans.
The Farmer's Market is a great way to spend a bright, beautiful day in downtown Evanston, with lots to do and see.
Here you will find many interesting activities for children.
3. Appreciate Art at Cultivate Urban Rainforest & Gallery Museum
Cultivate Urban Rainforest & Gallery is a living plant shop and art exhibition in the heart of the city.
Don't worry about not having a guide, as there are personal plant care instructors to help you choose the ideal plants for your interests to support your new houseplant addiction.
You can also view their carefully selected range of attractive house plants, pots, and terrariums made in-house.
Novels, jewelry, crafts, fair trade baskets, and decorations are also available on Cultivate.
You can also participate in plant discussions, art exhibitions, performances, or other plant and art activities.
Things to Do in Evanston For Kids
1. Get Them Pizza at the Union Squared
The Union Squared is located downtown in the Revival Food Hall, while the full-service restaurant is located in Evanston.
Their specialty is the Pittsburgh pizza, a cross between Pequod's Grill and Lou Malnati's thick, caramelized base sauce and cheese.
Trying their pizza is the best decision you will ever make.
There isn't a lot of space, but tables turn quickly, and you can eat on the back patio all summer long.
2. Let Them Play at Clark Street Beach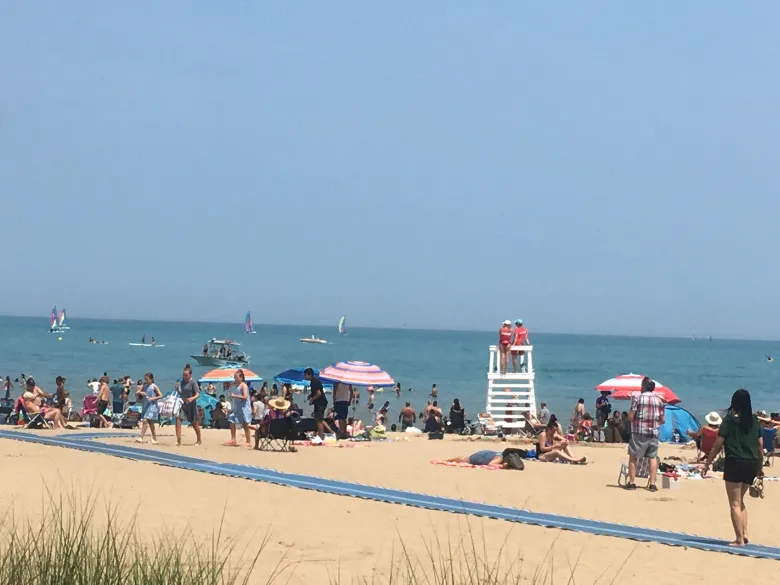 Clark Street Beach requires one-day or season tickets for entry during the summer months, although Evanston locals do not need tickets on Mondays.
The park offers a huge swimming area for those who want to swim in the crystal blue waters and cool off.
Clark Street Beach also offers volleyball nets with soothing and pristine sand; lifeguards patrol the beach all year round.
This park has several clean and pleasant bathrooms with showers; Clark Street Beach is equally clean and well-maintained.
3. Take Them to Dawes Park
Dawes Park is one of the most beautiful public parks in Evanston and a place you should visit with your companions.
One of the park's main attractions is the shallow Arrington Lagoon, which is equipped with a set of fountain jets and a stage for outdoor events held in the summer.
Dawes Park is a nearly seventeen-acre park consisting of four baseball diamonds, a spray pool, and a multi-purpose clubhouse.
This park also contains soccer fields, basketball courts, and a beautiful green area with a lagoon in the center, an ideal place for relaxation.
Dawes Park offers a variety of programs for different ages; the Chicago Park District organizes a popular day camp for youth and other after-school programs for children.
Indoor Activities to Do in Evanston For Adults
1. Don't Miss a Performance at Local SPACE
Looking for loud sound in a small space?
SPACE is one of the most prominent music venues in the Chicago area, located near Evanston.
Since its inception in 2008, SPACE has hosted thousands of different artists from across the musical spectrum, creating unique soundscapes for fans in an open environment.
SPACE not only has an all-star line-up of concert bands but also has a top-notch recording studio.
It includes a dining area across from Union Pizzeria, an Evanston favorite for handmade Neapolitan-style pizza.
2. Explore the Mitchell Museum of the American Indian
If you're worried about what to do in Evanston, then a visit to the Mitchell Museum of the American Indian is a good choice.
Located in Evanston, Chicago, this museum is dedicated to the history, cultures, and skills of the indigenous peoples of North America.
It is a founding member of the Chicago Culture Alliance, bringing together 25 cultural and art museums in the city.
The museum's collections cover the Paleo-Indian epoch to the present day.
Native American civilizations of the Woodland, Prairies, Midwest, Northwest Coast, and Arctic are depicted in permanent exhibits.
Presentations of special themes rotate twice a year in two temporary exhibition galleries.
3. Appreciate Creativity at Block Museum of Art
The prestigious Northwestern University owns the Block Museum of Art, a renowned art museum in Evanston.
Founded in 1980, the art museum houses an outstanding and distinctive collection of Chicago graphic art from the 1930s to 1940s.
The Block Museum of Art features Midwestern documentary photography, South African prints from the early 1990s, and more.
You will find the world of some important artists like Jasper Johns, Barbara Hepworth, Carrie Mae Weems, Chuck Close, Max Beckman, and so on.
The Block Museum of Art hosts every exhibit and program, including artwork presented as an opportunity to promote the art industry.
Romantic Things to Do in Evanston
1. Explore the Merrick Rose Garden
If you're someone who craves a relaxing view, then you must visit the Merrick Rose Garden, located near Lakes Street and Oaks Avenue, one of Evanston's best-kept secrets.
This charming corner is home to many eye-catching roses, more than 2500 roses of different species.
The area is also home to the famous Centennial Fountain.
During the spring and summer months, you can visit and take photos, walk around or participate in an event.
2. Shop at Evanston Store
Evanston has some of the most unique and unusual boutiques and shops in the area.
Whatever you're looking for, you'll find it somewhere in the city.
Backgrounds and Beginnings, Stumble & Relish Handmade Home Products, Bloom 3 Live Bouquets, Dave's Rocks Shop Gems, Jewelry & Fossils, and Vinic Wines Shop's diverse and accessible range are just a few of the highlights.
3. Have Dinner Together at Oceanique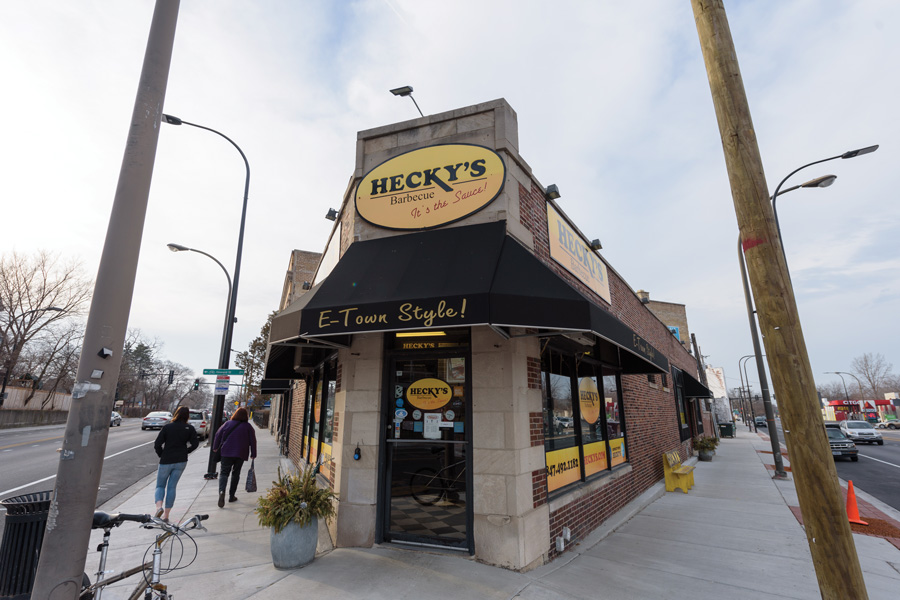 Oceanique is a unique restaurant founded in 1989 by Mark, an experienced chef with his wife Renée as General Manager and his son Philippe as Wine Director.
Housed in a beautiful 1920s Spanish-style building, the restaurant has continued to be ranked as the region's number-one seafood spot since 1993.
Oceanique offers an extensive list of seafood options prepared according to traditional French recipes with a unique American twist.
Some dishes offered include Basil Whipped Potatoes, Parmesan, Wild Mexican Scallops, Organic Pacific Bass, Broccoli, Butternut Squash Ravioli, Jalapeno-Red Onion Salsa, Braised Asparagus, Black Angus Prime Filet Mignon, and more.
Oceanique offers classic wines such as 2020 Chateau Dourthe Sauvignon Blanc "La Grand Cuvee" Bordeaux, France 40, M.V. Charles Heidsieck Rose Reserve – Reims, France, 2016 RouteStock Pinot Noir – Willamette Valley, Oregon 45 and many more.
Free Things to Do in Evanston
1, Explore the Northwestern University
Located in downtown Evanston, Northwestern University is a world-renowned educational institution with a spectacular campus as well as a diverse array of cultural programs to match.
The eye-catching and secluded Shakespeare Park and the Northwestern Lakefill, which provide unparalleled views of the Chicago skyline, can be found on a tour of Northwestern's campus.
2. Explore Downtown Evanston
The heart of Evanston, Downtown Evanston, is a bustling region within the city that keeps the city alive with its energy and buzz.
Downtown Evanston offers beautiful shops offering a wide variety of good quality products and services at affordable prices.
Several shops offer vintage jewelry, Belgian chocolate, hemp products, collectibles, fossils, fabrics, crafts, and more.
Downtown Evanston offers various dining options such as sushi, Korean-Americans, coffee shops, gourmet pizza, Argentinian cuisine, and more.
Located in downtown Evanston, the Farmers Market is filled with vendors offering fresh farm produce.
3. Experience the Thrill of Lock Chicago Escape Rooms
Each escape room has its own unique theme, design, and challenges; it consists of you and your team locked in a room while you search for a way to escape.
Lock Chicago Escape Rooms offers you a period to solve puzzles and find ideas and clues to help you escape the room.
These games are highly recommended to family members, friends, colleagues, neighbors, and so on; they help build and strengthen bonds as you work together as a team to win games.
Lock Chicago Escape Rooms is an ideal venue for a variety of events such as birthday parties, team building events, family reunions, friends gatherings, and more.
Cheap Things to Do in Evanston
1. Grab a Meal at the Taco Diablo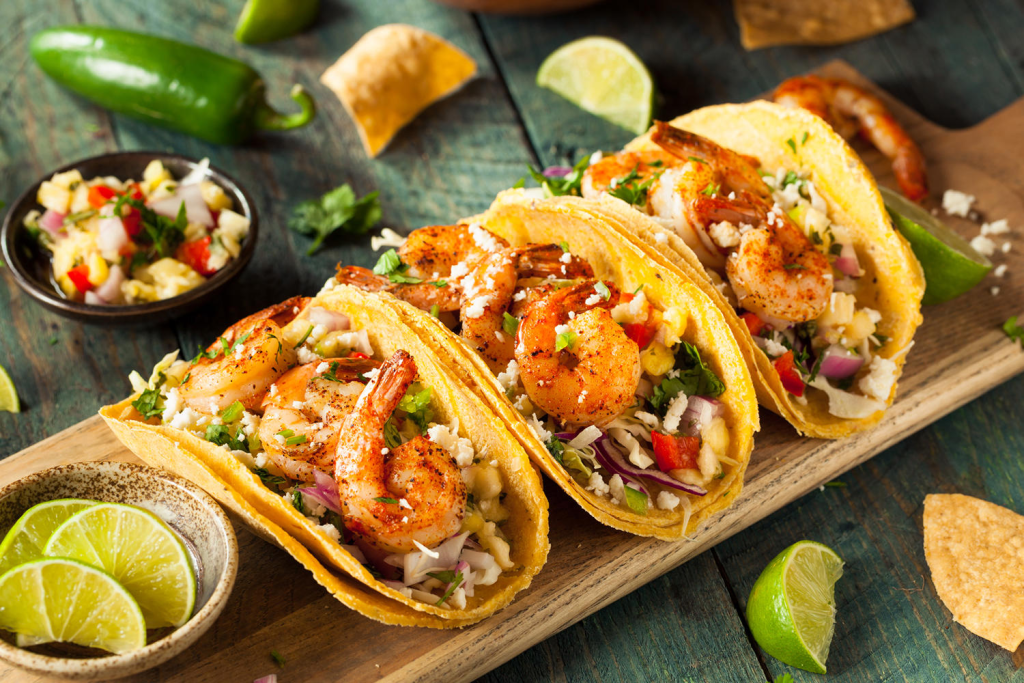 Taco Diablo is Evanston's main event, offering a spectacular patio and amazing food.
The menu is simple, with twelve different tacos, including lamb barbacoa, duck and pork sausages, and favorites, including carne asada.
They are absolutely delicious and come three to a plate, so you can pair them with the family rice and beans.
The dark dining room has a spacious bar and plenty of tables for large groups.
2. Visit the Halim Time and Glass Museum
This museum displays two remarkable collections of clocks and stained glass by America's finest artists.
There are also over 1100 items from all over the world.
The history of the American School of Stained Glass is told through more than 30 magnificent windows.
Only a handful of the show's masterpieces are Tiffany, Tillinghast, Butcher, and Sperry.
Travel through time to learn about the science and art of record keeping while admiring elegance and craftsmanship.
Castle clocks, crystal oscillators, automatons, wristwatches, and tall cabinet clocks are among the nearly 1,100 timepieces on display.
The collection is one of the best in the world because it has been beautifully restored and preserved.
When you visit this museum, you can learn a lot of useful information, and there are many unique activities that you can do here.
3. Learn About Local History at Evanston History Center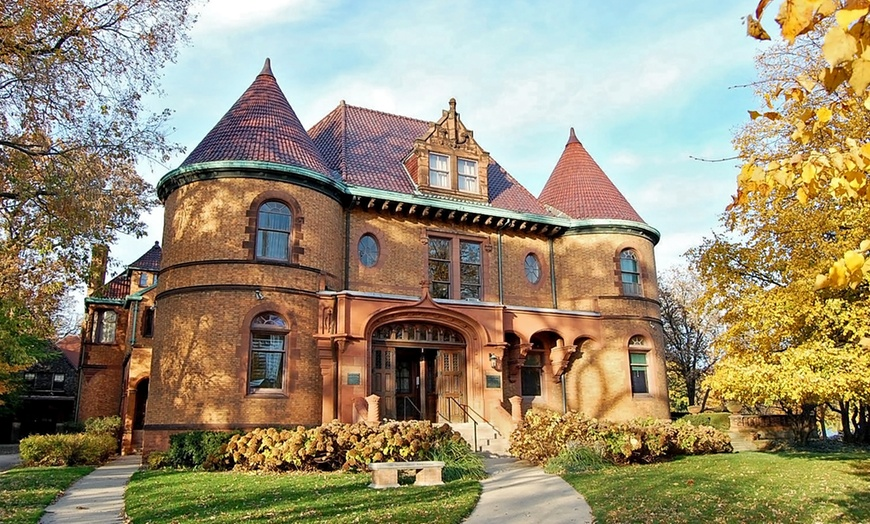 The Evanston History Center is located in an elegant historic mansion founded by Charles Gates Dawes, former Vice President of the United States.
Charles was the 30th Vice President of the United States, spent much of his life in Evanston, and his role in solving Germany's World War I problems will never be forgotten.
The castle was built in 1894, overlooking Lake Michigan, and is open to locals and residents wishing to tour the property.
Although many decades have passed, the mansion is still as charming as it once was, with beautiful furniture and artwork owned by the Dawes family.
The Evanston History Center uses research materials, innovative programs, and exhibits to compile, analyze and preserve the fascinating history of the city of Evanston and its people.
Cool Places to Visit in Evanston
1. The Bat 17
Food served at college bars usually tastes like it came from Costco's freezer section.
So if you're trying to find a place with fantastic, clean food, you're sure to be delighted, which is why Bat 17 is so popular.
Sandwiches, burgers, and fries are on the menu and are made with high-quality products, including homemade bread in some cases.
The room contains TVs, ping pong, and many different games. It will definitely give you the atmosphere of a student meeting.
2. The Tomato Fresh Kitchen
If you're a vegetarian, don't worry because Tomato Fresh Kitchen is a small business that started selling Latin American cuisine at farmers markets in Evanston.
They serve delicious sandwiches, gorditos, tortillas, and vegetarian options like sweet potatoes with caramelized onions and yucca sauce.
In fact, the only problem customers have with this restaurant is that it doesn't stay open late and closes at 6 pm.
3. American Toby Jug Museum
The American Toby Jug Museum is filled with an incredible eight thousand pieces of Toby and Character Jugs.
This unique ceramic jug originated in England during the 18th century; It has about three hundred Toby Jugs.
The American Toby Jug Museum exhibits unique antique dollhouse miniatures, majolica pieces, and Royal Doulton character jugs.
Conclusion
Evanston is a beautiful place to visit as it offers a variety of sights to see and so many restaurants to choose from as well as delicious food to enjoy.
Start making plans for your vacation to this city today. Pin this guide to help you explore the best places to visit in Evanston.
Join us on Telegram
If you loved this content, do well to like us on Facebook and follow us on Twitter to get updates and engage with other people like you who wish to immigrate to Canada or just immigrated to Canada.