Everyone who comes to Hays must first learn about the fun things to do in Hays (KS). Doing this ensures you have the best experiences from your vacation.
There have always been fascinating things about the Wild West in the past.
Today, remnants of the Wild West can still be seen in well-preserved buildings in many towns in the western states of North America, including Kansas.
This destination is less crowded and more affordable than other trendy spots known for showcasing the Wild West era.
Hays is a great destination not only for exploring the Wild West era; it is also an ideal place for learning and outdoor activities. The city is home to museums, beautiful parks, historic sites, a vibrant community, and more.
As the largest city in the northwest region of Kansas, Hays is a center for the arts, education, and commerce.
It is a place for those who seek fun and adventure.
So, what awaits you in this city? Read on to discover the beautiful things to do in Hays (KS).
Fun Things to Do in Hays (KS)
1. Visit Frontier Historical Park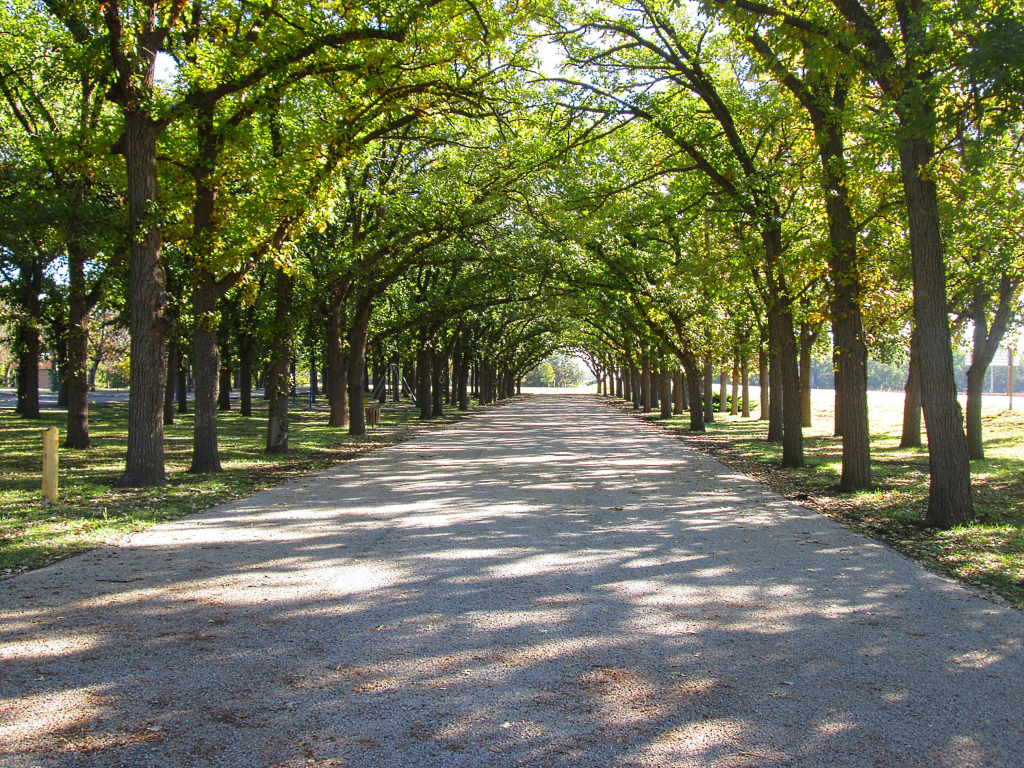 Frontier Historical Park was originally part of the US military base Fort Hays.
Today it serves as a scenic outdoor attraction and recreational area in Hays for everyone to enjoy.
The 89-acre park stretches along Big Creek and is home to a picnic area, walking trails, an 18-hole disc golf course, bridges, and a playground.
One of the park's highlights is its disc golf course, where many locals and even visitors test their skills in this unique sport.
The park also has several fishing spots to catch a variety of freshwater fish, such as walleye, catfish, and trout.
2. Explore Fort Hays State University Campus
Originally the Western Branch of Kansas State Normal School (now ESU), Fort Hays State University is a public university founded in 1902.
Located within walking distance of downtown Hays, the elegant campus is bordered by scenic Big Creek, just before the entrance to Frontier Park.
There are over 40 limestone buildings, many of which are magnificent, so it's definitely worth a visit.
The Hays tourism page details a self-guided tour that includes some of the eye-catching art on campus, including Interlude (1992), Deeply Rooted (1999), and the Contemplation Garden Sculpture (1997).
3. Participate in Wild West Fest
The annual Hays Wild West Festival, which celebrates the town's Old West heritage in celebration of Independence Day, is held the first week of July.
It is a five-day extravaganza with a parade down Main Street, fireworks, a carnival, and a variety of other community events, including a 5,000 meters run.
Country music is the soul of Wild West Fest, with star performers like Cody Johnson, Neal McCoy, Chris Janson, Lainey Wilson, Maddie & Tae, Parmalee, and Blackhawk.
The show takes place on Saturday morning and features lots of local businesses and organizations with horses, "pigs," and hot rods, to name a few.
Things to Do in Hays (KS) at Night
1. Grab Some Beer at Thirsty's Brew Pub & Grill
You can head to Thirsty's Brew Pub & Grill on Vine Street for delicious food and refreshing drinks in a cozy and welcoming environment.
When you're done visiting the city's museums, parks, and art galleries, Thirsty's Brew Pub & Grills is a great place to end your day.
This local favorite is popular for its sizzling grilled steaks and classic American comfort food.
They also serve a wide variety of cocktail drinks and delicious desserts.
The place is suitable for families with children, and its staff is very accommodating and provides an excellent dining experience.
2. Stop for Some Margaritas at Gutierrez Cocina Mexicana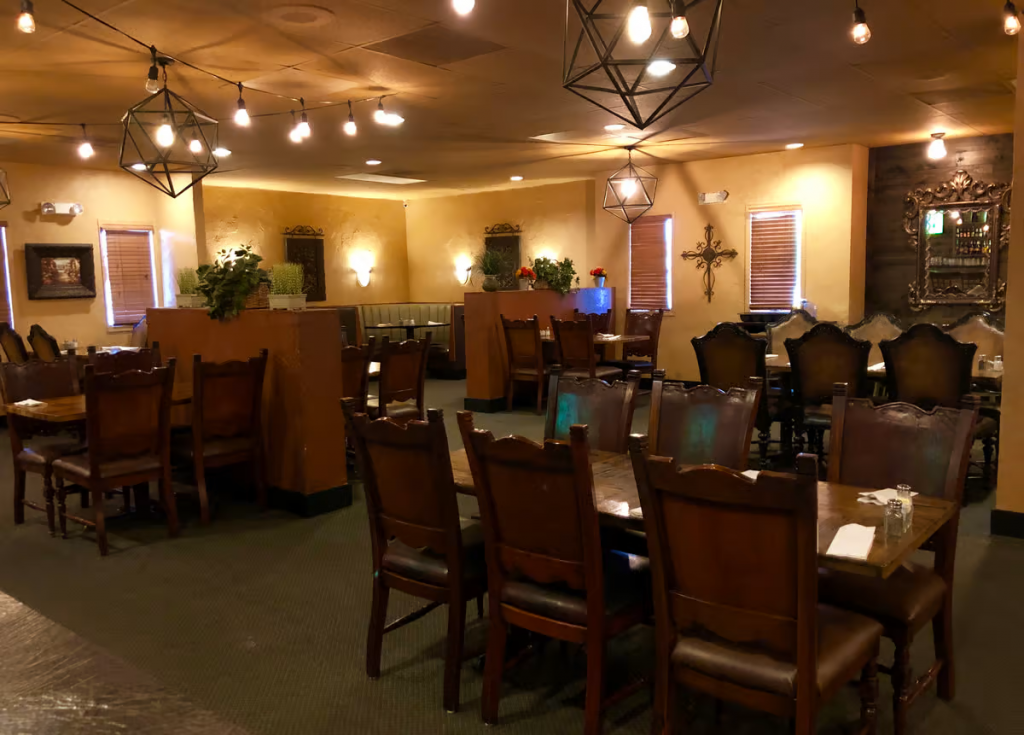 Gutierrez Cocina Mexicana invites everyone, locals and tourists alike, to experience their own unique "taste of great Tex-Mex."
Using authentic recipes passed down through generations of the Gutierrez Family, the restaurant has been providing fine dining to the Hays community for over forty-five years.
In addition to Gutierrez Cocina Mexicana's traditional style and local hospitality, Gutierrez Cocina Mexicana also offers great hand-shaken margaritas.
3. Participate in Ellis County Fair
The county fairgrounds are located in northwest Hays, and of course, the big date on the calendar is the fair, usually around mid-July.
As always, the 4-H shows are the foundation of the fair, and members spend the entire year working on their projects.
Some of the highlights include the KPRA Rodeo, 4-H Livestock Auction, racing at RPM Speedway, thrilling stunt and monster truck shows, carnival rides and games, live music, and a ton of medium food and drink vendors.
Things to Do in Hays (KS) For Couples
1. Shop for Collectibles at the Northglen Antiques
Northglen Antiques is a local shop in Hays widely known for its antique collectibles imported from Scotland.
If you're looking for unique home decor, this store has something for you, from its extensive collection of homewares and furniture to other antique items you won't find anywhere else.
You can also take a look at Northglen Antique's unique collection of Celtic and Scottish musical instruments, kilts, and jewelry, which make a great addition to your current collection of antiques.
2. Go Back in Time at the Fort Hays State Historic Site
It doesn't matter if you like history or not; there's always something special and interesting when it comes to history.
So head to Fort Hays State Historic Site to learn some great military history.
Locals and visitors are always welcome to explore the sprawling grounds of this historic site and appreciate the beautifully preserved buildings from the 1800s.
This open-air museum in Hays is filled with unique exhibits, galleries, and life-size statues of prominent Kansas figures.
In addition, the entire historical site covers a large area where children can roam and have fun.
3. Have a Meal at Professor's
This is a family-owned, and managed eatery originally opened as the Professor Pittewurst Panaceatic Hotel in 1976 by Professor Pittewurst, offering a unique atmosphere and astounding sandwiches.
These sandwiches have kept on being a nearby number one for over forty years.
Professor's today is presently run by the Kensen family and serves various sound dishes, for example, sandwiches, mixed greens, and soups, as well as local mushrooms and crude honey ready to move and utilized in dishes.
Things to Do in Hays (KS) For Kids
1. Let Them Play at the Hays Aquatic Center
Hays Aquatic Park is a popular summer destination for locals and people from Ellis County.
Even when it's not summer, many people head there to enjoy its exciting features, from its vast pools and water slides to the fountains usually found in a large water park.
Additionally, the Hays Aquatic Center is conveniently located in the core of the city, making it a very affordable attraction to visit.
If you're looking for a quick dip to cool off the steam from the heat, then head to the Hays Aquatic Center.
2. Take Them to Aubel Bickle Park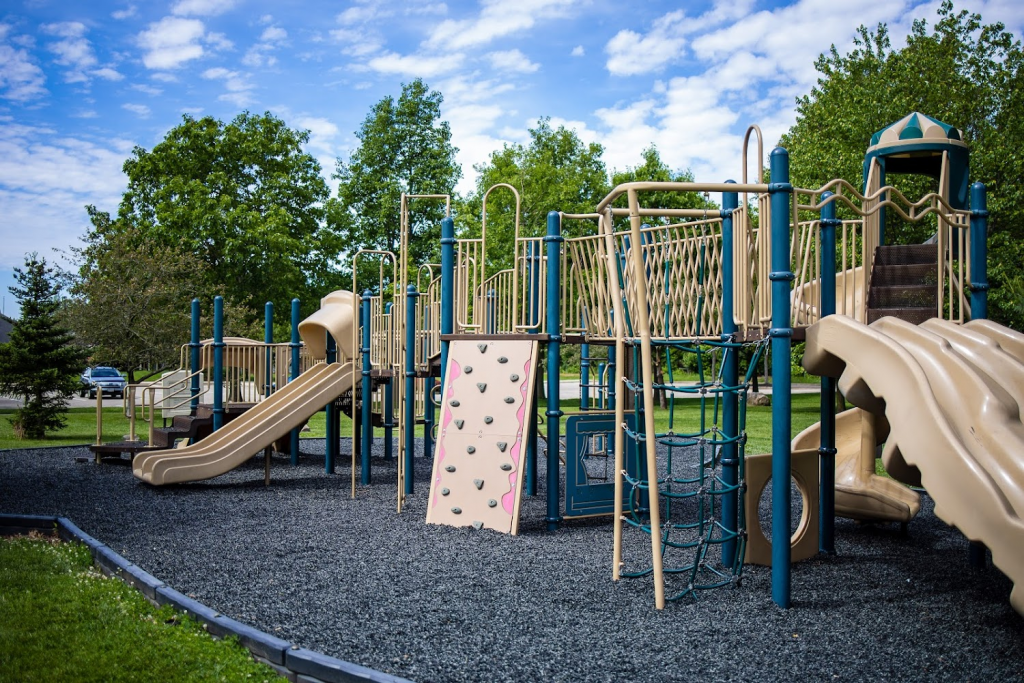 This is a popular place for local residents to exercise, relax and play sports.
Aubel Bickle Park in Hays is one of the open-air parks in the city, where several sports facilities are open to everyone, such as a baseball field, basketball field, volleyball field, skate park, and roller hockey park.
Of course, like all excellent public parks, Aubel Bickle Park has all the basic amenities, including picnic areas, walking trails, playgrounds, restrooms, and a shelter.
3. See Bisons at the Frontier Park Buffalo Herd
The Frontier Park Buffalo Herd is a small herd of bison living in a protected pen across from Fort Hays.
This small bison herd is a remnant of the huge herds that once ruled the great plains of North America.
Learning more about this majestic animal, which was hunted almost to extinction in the past, offers you a unique experience.
Today, the herd is protected by the Hays Parks Department.
Shooting from a safe distance gives you a rare opportunity to see this majestic animal.
Indoor Activities to Do in Hays (KS) For Adults
1. Appreciate Art at the Hays Art Center Gift Gallery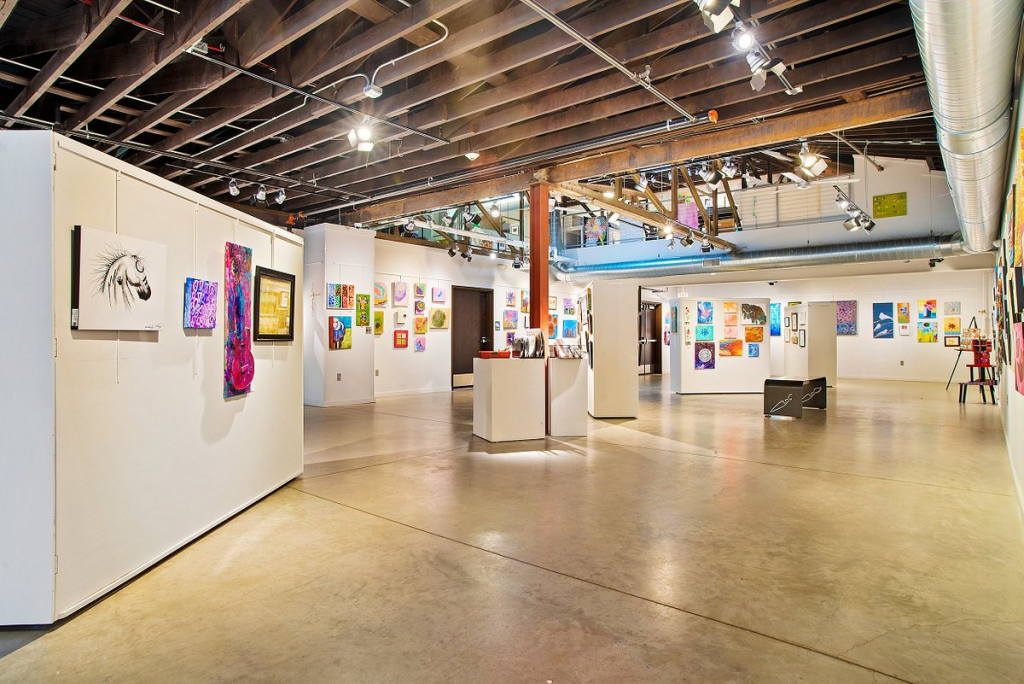 Another art gallery to visit is the Hays Art Center Gift Gallery.
Compared to the Moss-Thorns Art Gallery, this one is located in downtown Hays and offers everyone an opportunity to meet local artists and enjoy the beauty of a variety of artwork.
A visit to this art center allows you to appreciate the artwork of the various local artists who thrive in Hays.
They playfully show you around their exhibits and offer some insight into their inspiration and other great things about their craft.
To top off your visit, head to the gift shop for unique souvenirs.
2. Go For Body Treatment at Rock Haven Spa and Salon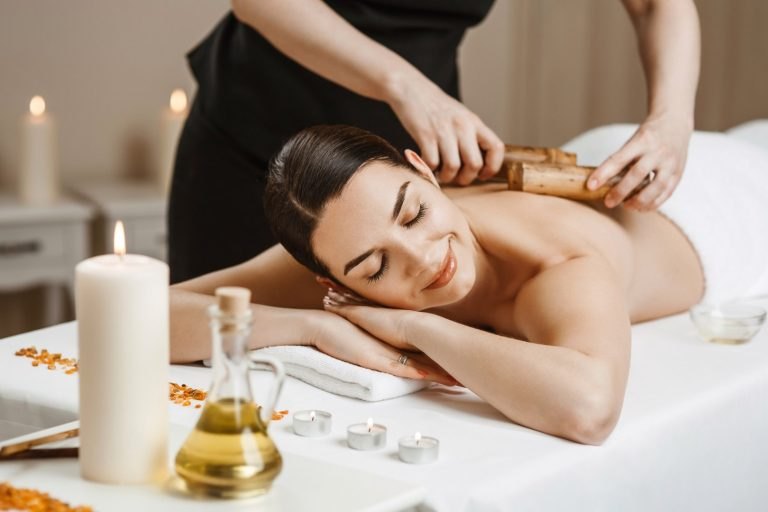 When you feel the need to relax and rejuvenate, Rock Haven Spa and Salon is where you should visit.
Rock Haven Spa and Salon is located in a beautiful rural location where peace and quiet await you.
The spa offers an extensive range of spa treatments, including facials, massages tailored to your needs, body wraps, manicures and pedicures, and waxing.
All treatments begin with amazing complimentary outdoor bath rituals designed to prepare your mind and body for total relaxation.
Part of the bath ritual is a glass of bubbles (and a snack) in the outdoor hot tub, followed by a steam bath.
3. Meditate at the Basilica of St. Fidelis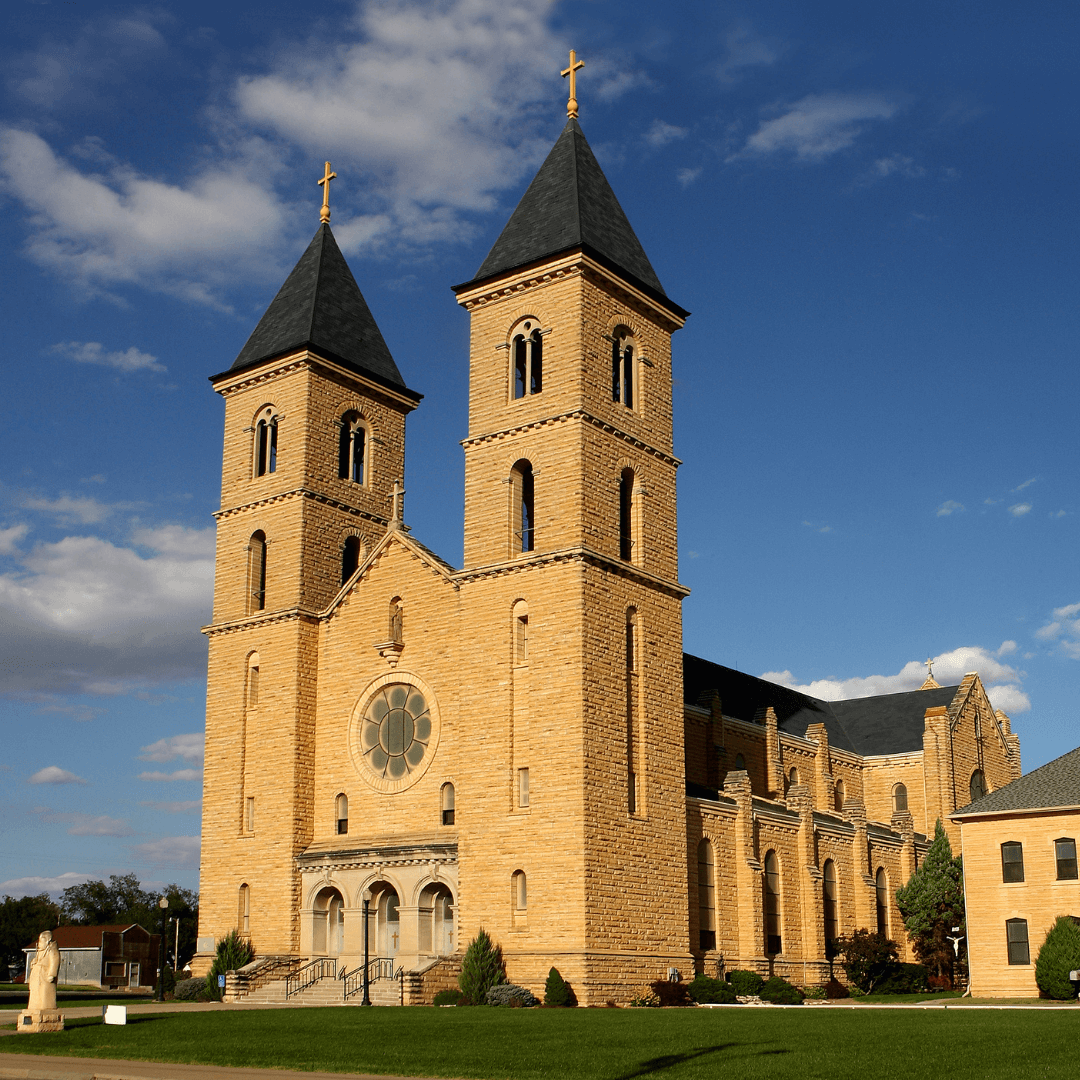 Basilica of St. Nicknamed the Basilica of the Fields, Fidelis was the biggest church in Hays, west of the Mississippi, when it was finished.
The two ringer towers on the west front are in excess of 140 feet high and are noticeable over the fields for some miles, while the nave holds more than 1,100 admirers.
Guests are gladly received, and it merits taking an independent visit through the inside.
You can respect the unpredictably cut capitals of the segments in the nave, the German stained glass windows, the special raised area cut from Italian Carrara marble, and the hand-cut Stations of the Cross, made in Austria.
Romantic Things to Do in Hays (KS)
1. Appreciate Art at the Moss-Thorns Gallery of Art
A visit to this place is excellent for learning about local art and culture in Hays. At Fort Hays State University, you'll find the beautiful Moss-Thorns Art Gallery, filled with a variety of local and regional art.
The name of the art gallery comes from former Hays State University Art Department Chairs Joel C. Moss and John C. Thorns Jr.
It is where most of the exhibitions and art shows are located, with students, visiting artists, teachers, and permanent art collections.
Moss-Thorns Art Gallery also participates in annual art walks.
2. Go Shopping at the Centennial Plaza
This local shopping center has recently been renovated to provide more shopping options and convenience for locals and visitors.
If you're looking to shop for your needs or find great deals, Centennial Plaza is your best bet in Hays.
This 35,000-square-foot mall has 15 stores and about a dozen restaurants to choose from.
Stores you can visit are Dollar Depot, Brown's Shoe Fit Company, Paper Mart, Mane Attraction, Couture for Men and Sherwin Williams, and Steinert Liquor.
You can check out Jalisco Restaurant and Osaki Restaurant, which offer delicious Mexican and Japanese dishes.
3. Grab Steak at Hickok's Steakhouse
Hickok's Steakhouse offers excellent steaks and seafood, accompanied by a wide selection of beer and wine from all over the United States and from around the world.
The locally owned and operated restaurant strives for "plain and simple" quality and features local Midwestern Angus beef that is "aged to perfection."
Hand-cut steaks are carefully selected for guests, with the restaurant standing behind every steak served.
Free Things to Do in Hays (KS)
1. Explore Downtown Hays
Downtown Hays is the best place to take a walk down memory lane and appreciate the well-preserved architecture from the Wild West era that you'll see on the buildings lining its red brick street.
These old buildings are home to hundreds of businesses to satisfy your wants and needs in the city.
The colorful signs and lights from the businesses that occupy these old buildings make the streets more alive.
Downtown Hays is a must-visit for its laid-back atmosphere and wide variety of shops, restaurants, and services to choose from.
We highly recommend stopping by the Downtown Hays Visitor Center to pick up a mini-map to guide you to the shops and restaurants you can visit.
Around 22 shops, 25 restaurants, 15 art galleries, and 11 entertainment venues can be visited in this popular area in Hays.
2. Take a Walk Along the Vineyard Park Nature Area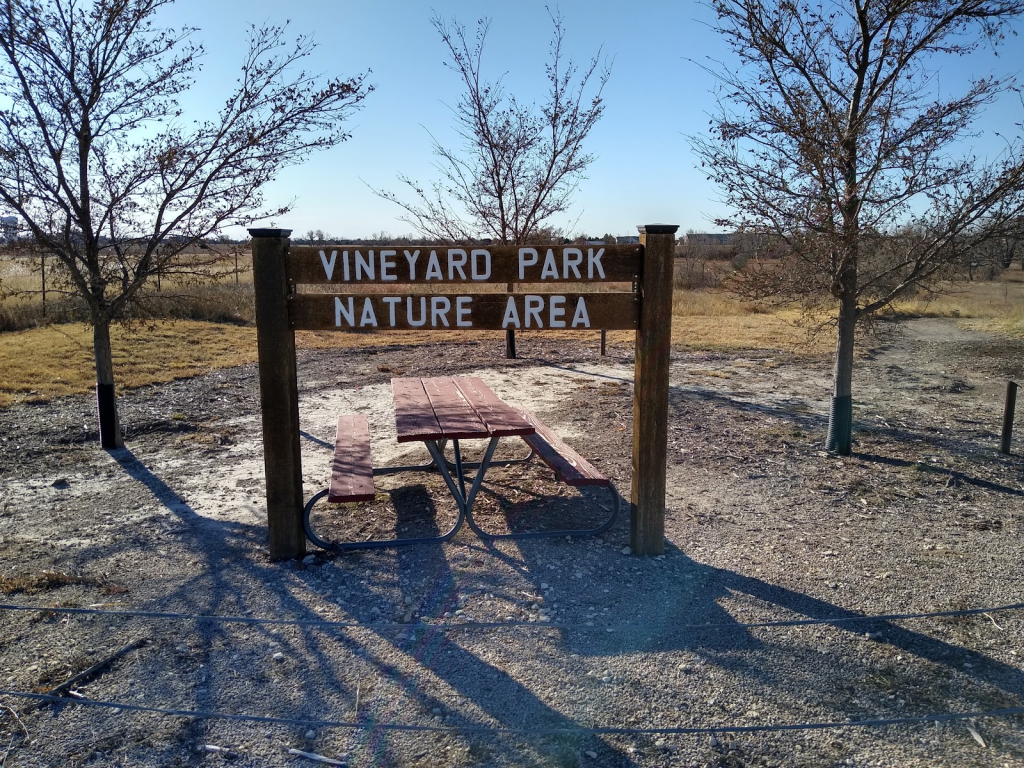 Vineyard Park Natural Area offers outdoor enthusiasts a scenic hiking trail in Hays.
The trail is relatively short, covering only a mile, but you'll be rewarded with scenic wetlands, streams, and prairies where local wildlife thrives.
Hiking the trail offers a unique outdoor adventure where you will encounter a variety of animals, such as birds, small mammals, and reptiles.
It also has a stocked pond that serves as a fishing ground where visitors can lure their fishing lines.
However, each fisherman is limited to two catches per day regardless of fish to prevent overfishing.
3. See the Merci Boxcars
Merci Boxcars were sent to the United States from France after World War II.
The French sent these wagons full of valuables and beautiful gifts as a thank you and a sign of friendship for the Americans who helped their country free itself from Nazi Germany.
Fifty boxcars containing rare goods were distributed to each state, one for Kansas located at Hays.
A visit to this historical site is somewhat interesting, considering that many of today's Merci Boxcars have already been damaged or possibly destroyed.
The one you find in Hays is perfectly preserved with all the original paintwork and design.
So grab your chance to take a photo with this rare historical attraction, as finding one in its original condition is rare today.
Cheap Things to Do in Hays (KS)
1. Visit the Sternberg Museum-Natural History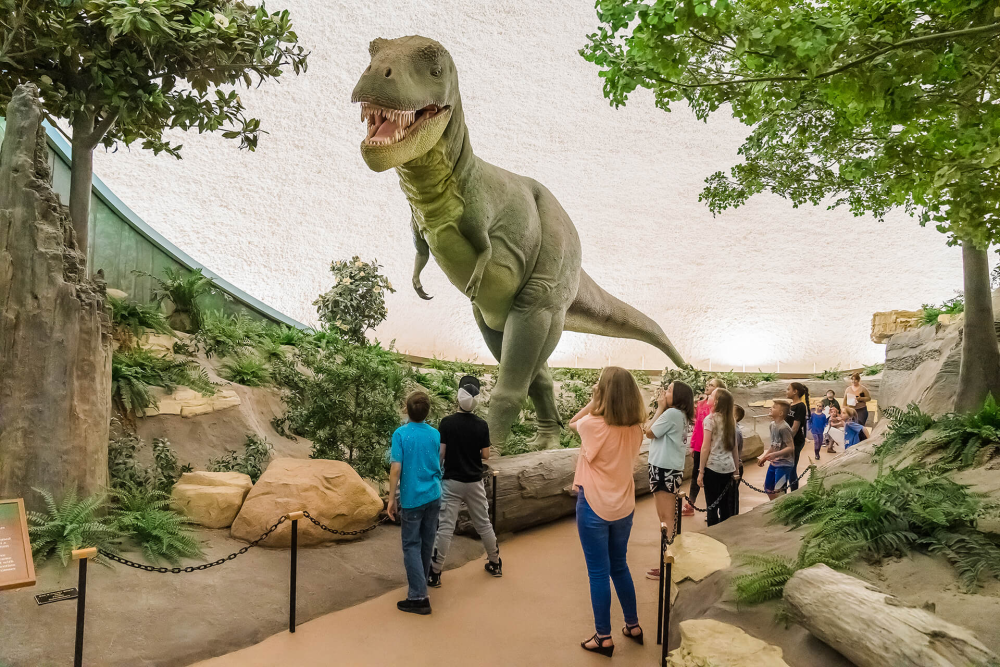 This is a popular attraction in Kansas for its exhibit of dinosaur fossils.
Located inside Fort Hays State University, it's a great place to start your Hays travel adventure.
The museum displays an extensive collection of dinosaur fossils, ancient artifacts, and memorabilia from the region's history dating back to the 19th century.
It's a must-see in Hays for the whole family, especially kids, as they have life-size replicas of several dinosaurs, interactive exhibits, and fun educational items.
2. Be Introduced to Fascinating Stories at the Boot Hill Cemetery
One of the unusual but very interesting Hays attractions that you must visit is Boot Hill Cemetery.
The cemetery tells you different stories about how "wild and dangerous" Hays was at the time.
There are around a hundred graves in the cemetery.
According to local historians, it is called Boot Hill Cemetery because most of the people buried there died in boots, as most of them lived in the Wild West era.
Additionally, the first few deaths in the city were mostly due to accidental or natural causes.
However, in the mid-1800s, some people were buried there because of violence, such as gunfights, racial disputes, and suicides.
You'll hear fascinating stories, urban legends, and ghost stories about Hays's past.
3. See Art at Ellis County Historical Society Museum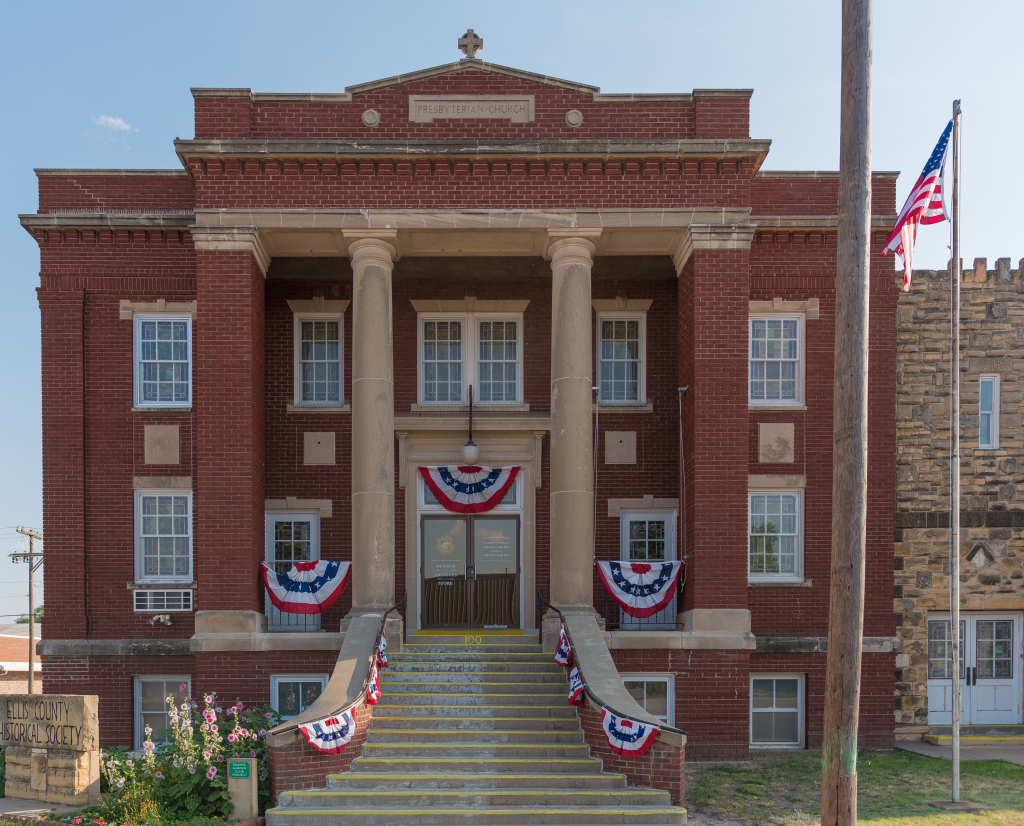 The Ellis County Historical Society Museum is home to a number of interesting figures and facts from Ellis County's past.
Visitors can pick up a map and take a guided tour of the history of Hays, Kansas.
The museum's highlights include the site of Kelley's Faro House and Tommy Drum's Saloon.
The Ellis County Historical Society is housed inside the First Presbyterian Church, which is one of the oldest stone churches in the state.
During July, tourists and locals alike can experience the Wild West Festival, with the chance to see "Wild Bill" strolling through the town's streets.
Cool Places to Visit in Hays (KS)
1. Massey Park
A cute neighborhood park, this space northeast of downtown was once the site of the Hays Community Pool.
There are just numerous things to do in Massey Park, and the spacious shed/pavilion is a great venue for a birthday party in the summer.
The playground is also large, with a variety of equipment for all ages; there are also basketball courts, multi-use trails, and several acres of grass for games.
All facilities are meticulously maintained, from restrooms to picnic tables.
2. Big Creek Nature Trail
In Frontier Park, this wandering 1.7-mile trail follows the course of the namesake rivulet around the southern edge of the Fort Hays State University Campus and across Central avenue.
You can download a brilliant guide on Feeds' city site, bringing up around 14 focal points like the bison crowd, previous ice-production offices, the first extension connecting the city to Fort Hays, and the site of the first Hays county fair in 1883.
On the course are radiant old trees to appreciate, including red mulberry, boxelder, catalpa, and eastern redbud.
3. Downtown Hays Market
At the east end of Union Pacific Plaza stands the beautiful Downtown Pavilion, recently completed and managed by Hays' Parks Department.
On Saturday mornings, May through October, the pavilion hosts the Downtown Hays Market, a combination of farmers and art markets with vendors from all over Kansas.
On a typical week, you can find seasonal produce; meats raised on local farms, jams, honey, freshly roasted coffee, corn, cut flowers, baked goods, and all kinds of handmade items from talented artisans.
Conclusion
Hays is more than just a place to step back in time. It has its own unique beauty that you will see in its thriving community and local artists who continue to promote the city in various ways.
Bookmark this page of things to do in Hays (KS) for premium fun and entertainment.
Join us on Telegram
If you loved this content, do well to like us on Facebook and follow us on Twitter to get updates and engage with other people like you who wish to immigrate to Canada or just immigrated to Canada.