Look up all the beautiful things to do in Leesburg (FL) before heading out on that vacation.
Leesburg is a small city of 24.4 square miles in Lake County, Florida. Founded in 1875, the city is bordered by bodies of water, Lake Harris to the south, Lake Denham to the west, and Lake Griffin to the north.
Because of this extensive presence of water in the city, it is sometimes referred to as the Lakefront City. This city is a paradise for nature lovers due to its beautiful scenery.
This city has numerous recreational facilities worth exploring and unusual activities not to be missed. Leesburg is rich in historical buildings and natural lands, which are mainly used as parks or reserves.
Among other things, this beautiful city hosts the largest three-day motorcycle and music event in the world.
Planning a trip to Leesburg? Join us as we explore the best things to do in Leesburg (FL):
Fun Things to Do in Leesburg (FL)
1. Go Kayaking at Lake Harris
Lake Harris comprises more than 16,000 square miles of water. This lake is a catch basin for all water flowing east of Howey Bridge.
Lake Harris includes the water to the west of the bridge. Fishermen and kayakers go to Little Lake Harris, largely undeveloped.
The water in this lake is significantly cleaner than in the rest of the chain.
There are about 700 residences in the Royal Harbor retirement community near the top of Little Lake Harris.
Boat ramps at Hickory Point Tavares. Hickory Point Marina is the chain's largest water park right across the street.
This park is popular with locals and tourists, with many boat ramps, picnic areas, a huge pavilion, soccer fields, and wide open spaces.
Modern dry storage docks are also nearby.
2. Don't Miss a Game at Pat Thomas Stadium-Buddy Lowe Field
Approximately 2,000 seats are available at Pat Thomas Stadium-Buddy Lowe Field.
It served as a minor league baseball stadium before being converted into an amateur baseball field.
On the shores of Lake Harris, near the city's Venetian Gardens, there is a stadium that hosts various sporting events.
In memory of Leesburg's previous city manager, Pat Thomas Memorial Field was renamed on March 10, 1972.
The stadium was originally called The Ballpark at Venetian Gardens.
3. Don't Miss the Leesburg Bikefest
The Leesburg Bikefest has grown into an annual tradition that attracts more than 300,000 people and is put on by the Leesburg Partnership.
Bikefest has evolved from a one-day event to a three-day event spanning more than 20 blocks of downtown Leesburg and the Gator Harley Davidson facility to accommodate the needs of attendees.
Since then, downtown Leesburg has transformed into a foodie's paradise, with more than 250,000 people flocking to sample the offerings of hundreds of food and merchandise vendors.
This Lake County event is all the more special because it is limited to motorcycles solely for the safety of the riders.
Things to Do in Leesburg (FL) at Night
1. Get Some Stuff at Leesburg's Night Market
You don't want to buy items designed by humans to be bigger, last longer, and more visually appealing with less or no nutritional value.
With fresh produce, the difference in freshness improves taste and keeps your food fresher for longer.
It also adds significant nutritional value! The Leesburg Night Market offers freshly harvested and cooked goods.
In addition, you can buy them directly from the growers.
The Leesburg Night Market also features artists, crafters, artisans, organic food, a mobile art studio for kids, and much more.
2. Ease the Stress of the Day at SIP Restaurant & Jazz Bar
Leesburg is rich in foreign and local restaurants. SIP Restaurant and Jazz Bar owner Benjamin Moseley aims not only to serve delicious food and drinks but also to help customers have a relaxing experience after a stressful tour in Leesburg.
The restaurant offers fantastic food in a great setting, including Welsh chicken salad, baked brie appetizers, prosciutto with goat cheese panini, etc.
Visitors can also choose from a wide range of drinks to accompany their meal.
As the name suggests, customers can enjoy live jazz music from musicians such as Paula Baker and Bobby Blackmon at this fantastic restaurant. You can enjoy laid-back black blues while sipping a chilled drink.
3. Have Dinner at Magnolia's Oyster Bar and Café
The oldest bar in Leesburg, Florida, is Magnolia's Oyster Bar and Cafe.
Magnolia's, a brilliant fresh seafood restaurant, is commonly referred to by locals as 'The Mag,' but the owners call it a 'dive bar.'
The restaurant offers a critical western experience with its bright, oceanic theme and relaxed atmosphere.
You can enjoy a beer or wine alongside clams, oysters, shrimp, or crab specialties.
The restaurant serves dinner mostly to its customers. Some of the delectable dishes on the menu include buffalo frog legs, shrimp, jalapeno crab bites, and Tony's award-winning Cedar Key Clam Chowder.
Things to Do in Leesburg (FL) For Couples
1. Visit Paquette's Historical Farmall Tractor Museum
Do you have family members who enjoy tractors? Bundle up and head to Leesburg for Paquette's Historical Farmall Museum.
In addition to the museum's collection of 200 tractors, there are also more than 100 other pieces of classic farm machinery to explore.
One might think Paquette grew up on a farm looking at his vast collection.
Stewart Paquette had no idea about tractors before.
While growing up in New Hampshire and subsequently moving to Leesburg, Virginia, his family owned a construction business.
His curiosity about tractors began when Paquette was watching RFD-TV one evening and saw Max Armstrong performing tractor pulls.
In 2010, Paquette inaugurated his tractor museum, and since then, his collection has grown tremendously.
2. See the Mote-Morris House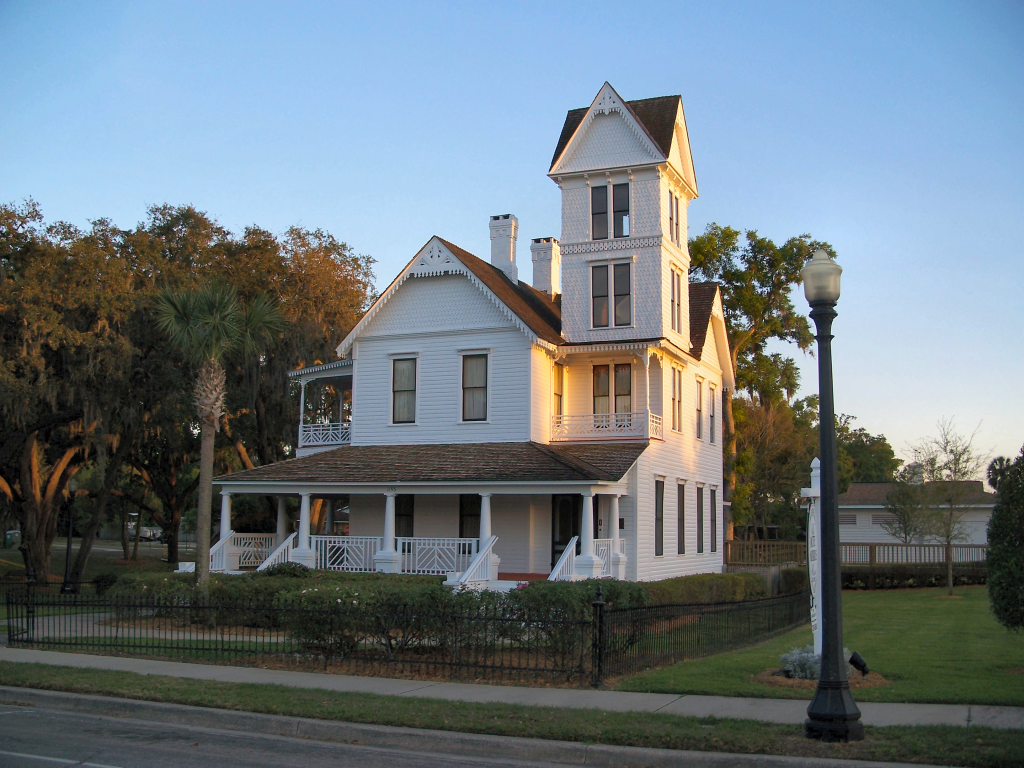 The Mote-Morris House was purchased by John S. and May James Morris in 1918 and remained in the Morris family for the next seven decades.
When the Morrison United Methodist Church bought the house in August 1988, it made it available to anyone who could move it.
The new Leesburg location was made possible by a $95,000.00 donation from the community.
On September 1, 1990, it was moved from its former location on Main Street to its current position.
However, the house was severely damaged in a fire in February.
The Mote-Morris House in Leesburg, Virginia, reopened in June 2021 after being renovated by KMF Architects and Evergreen Construction.
3. Go For Some Spa Treatment at Renew Day Spa
After visiting so many attractions, one can be stressed. Renew Day Spa is here for you!
The spa offers unique treatments that help relieve stress and maintain a healthy lifestyle. This location has highly rated technicians who provide their clients with superior customer service in a relaxing environment.
The Renew Day Spa 'Wet Room' is not to be missed as it offers a unique spa service.
You can purchase some of their natural products as well, such as Joico, Farmhouse Fresh, and HydraFacial, to further enhance their services.
Things to Do in Leesburg (FL) For Kids
1. Let Them Play at Via Entertainment
This Leesburg entertainment center is a great place full of fun for family and friends.
Spanning over 90,000 square feet, VIA Entertainment is filled with a variety of fun activities that everyone, regardless of age, can enjoy.
Via Entertainment offers a complex arcade, indoor go-kart track, world-class bowling alleys, two virtual reality games, ax throwing, laser tag, a sports bar and grill, and an escape room.
Children have an indoor playground with carefully selected games and fun elements that are safe for them.
This destination can even host several events, such as private birthday parties. Why contemplate? Head to Leesburg, Florida, to enjoy these features.
2. Take Them to the Palatlakaha Environmental and Agricultural Reserve – Pear Park
Covering 314 acres, the Palatlakaha Environmental and Agricultural Reserve (PEAR) is a natural area great for nature lovers. From 1958 to 2000, the reserve was used as a watermelon and grape research study area.
In addition to research purposes, the Palatlakaha Nature and Agricultural Reserve are used for several recreational activities.
PEAR Park features 1.5 miles of hiking trails along the Palatlakaha River, butterfly gardens, bike trails, a dog park, a softball field, and a playground.
The site also has a tennis and pickleball court set on 50 acres among the live oaks and natural wetlands in the park.
3.Visit the Crystal River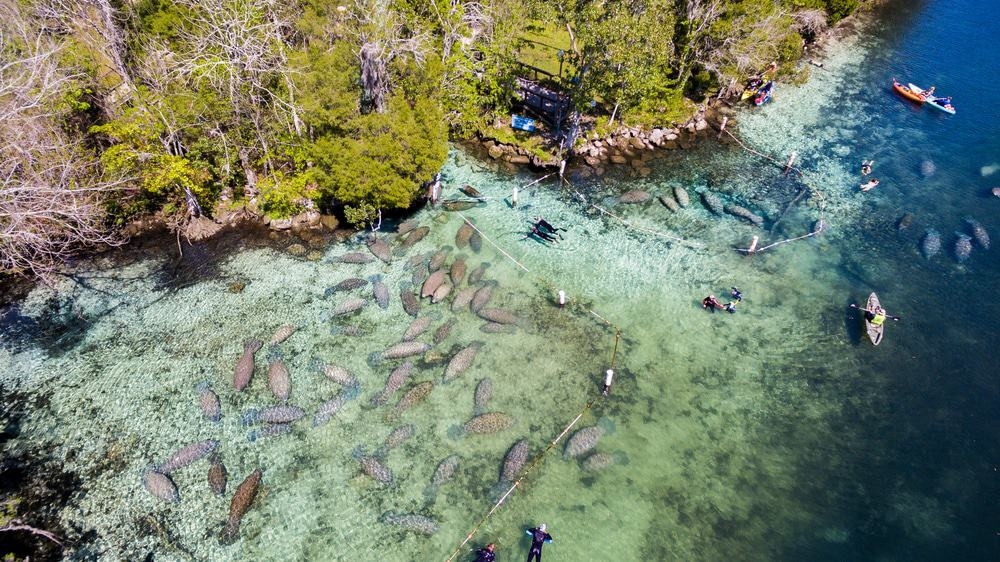 If you love crystal clear water, then spend a day on the west coast at Crystal River.
Just an hour's drive from Leesburg, Crystal River is a small town built around beautifully clear mineral springs.
The rivers are literally crystal clear, while the ocean in the Gulf of Mexico is warm and just as inviting.
You can even find manatees living in the water; if you go snorkeling, you might just get up close with these friendly animals.
Indoor Activities to Do in Leesburg (FL) For Adults
1. Go Shopping at Lake Square Mall
Lake Square Mall was originally known as ViaPort Florida.
The facility, which opened in September of that year, is operated by Exclusive Management and Properties.
In addition to Belk, the shopping center is home to the Via Entertainment cinema complex.
Throughout the year, Lake Square Mall hosts various fun and educational events for the whole family and the local community to enjoy.
The 12-screen AMC 12-Plex Theater has something for every member of the family.
2. Bowl With Friends at AMF Leesburg Lanes
Find the best lanes near you at AMF Leesburg Lanes!
The aisles include black lights, plush sofas, HD TV screens with sports games, retro family movies, and music videos.
Its luxury arcade features the latest video games as well as plenty of old-school favorites.
Reminisce on your old favorites and make some new memories as you play Mario Kart, Jurassic Park Arcade, and World's Biggest Pac-Man.
Put some money on your arcade card, grab your controllers and have fun!
3. Don't Miss a Thing at Adrenaline Rush Raceway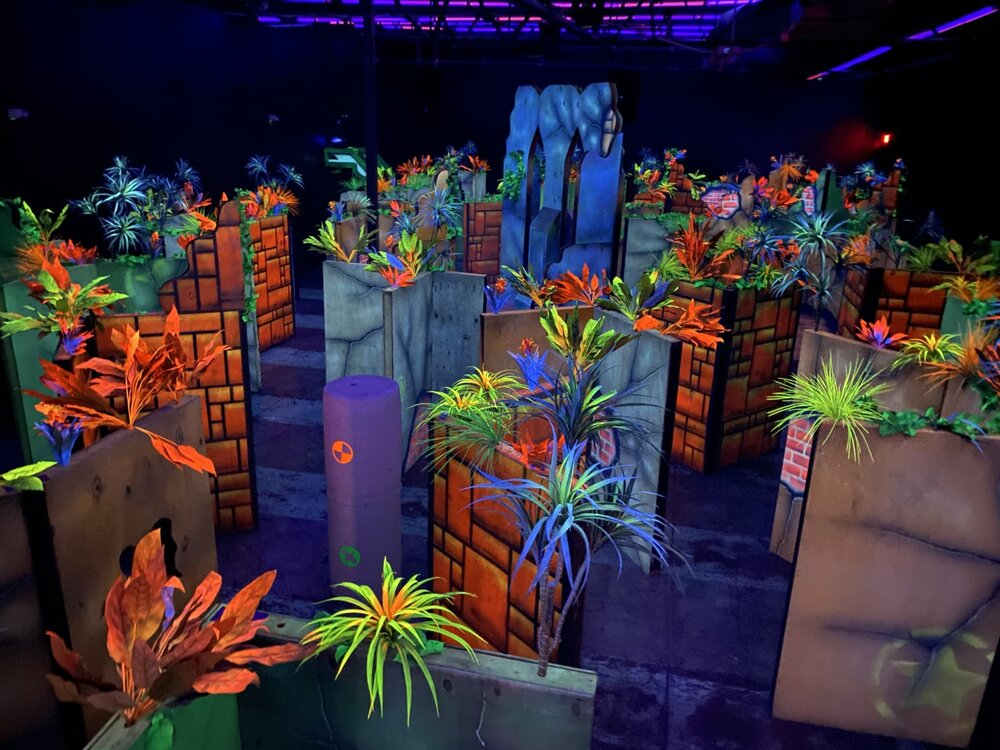 Adrenaline Rush, a locally owned and operated entertainment complex, is full of activities for families.
It is the largest track in Lake County.
With Sodi electric go-karts, you can experience the joy of a challenging technical circuit that the company's experts have devised.
Indoor go-karts for adults and junior go-karts are also available in the area.
Play laser tag with your friends, win prizes in its amazing arcade, and check out our 15-minute escape rooms, kids' play area, and ax throwing.
Get ready for an exciting feeling when you visit!
Romantic Things to Do in Leesburg (FL)
1. Go On a Cruise at Lake Griffin
Visitors can explore this 620-acre park in a variety of ways.
Canoe and kayak rentals are available at Lake Griffin for anglers and bird watchers.
Not to worry, as the park provides canoe and kayak tours for those who don't want to paddle alone. It also offers guided pontoon boat cruises for those who prefer a more leisurely pace.
There are two two-mile hiking trails in the park.
Marsh and sandy ecosystems are among the many sights that can be seen along the way. Raccoons, bobcats, coyotes, and even bears are not uncommon in the area.
Check with your local ranger station to see if guided hikes are available.
Before you leave, also check out the state's second-largest living oak, about 400 years old.
Take the time to properly appreciate what the park and its surrounding areas have to offer if you think it's overwhelming.
Each of our 40 campsites has water and electricity. Sewerage is available at some sites, and all sites fill up quickly during the winter.
2. Experience the Leesburg Arts Fuse Festival
The Leesburg Art Fuse Festival usually features music performances, live art demonstrations, sculptures, and interactive areas.
Hosted by the Leesburg Center for the Arts, the event draws various artists from South and Central Florida during the two-day event.
The artists' work displays a selection of facilities in downtown Leesburg.
You will also find shops, services, and dining options in these charming locations.
3. Have Some Good-Tasting Wines at Two Old Hags Wine Shop
Located in historic downtown Leesburg, the old hags are a local treasure. Visitors should not miss this place on their visit to Leesburg, Florida.
The destination offers a wide selection of wines for all levels of wine fanatics.
Two Old Hags wine bar offers excellent wines in its bar and live music every Friday night.
These qualities make them a great place to drink among locals and visitors. In addition, you can choose between outdoor and indoor seating.
This location is known for its friendly and competent staff that offers impressive service to its customers. Enjoy varieties of wine sold at low prices in a foreign and exciting atmosphere.
Free Things to Do in Leesburg (FL)
1. Explore the Venetian Gardens Park
This family park in Leesburg is one of the best in Central Florida.
The 100-acre Venetian Gardens Park on the shores of Lake Harris offers boat ramps, beach access, and baseball and tennis facilities.
The pool is accessible seasonally, and the park is home to a cultural center.
The park's canals and bridges are the inspiration for the name, which comes from Venice, Italy.
With bridges connecting several islands, it looks more like Venice than central Florida.
2. Cycle Along the Bourlay Historic Nature Park
Six small loop trails wind through the Flatwoods hardwoods and pines, accessed from the parking lot/trailhead, an old Florida shotgun-style cracker house.
A butterfly garden near the parking lot is designed to inspire people to use native landscape species in their yards to attract pollinators.
Near the park entrance, the Woodpecker Loop Trail is a great place to see local songbirds like white-eyed vireos and blue-gray rattlers, as well as pileated, downy, and red-bellied woodpeckers.
The Nature Way Trail and Waterfront Landing Trail, with expansive views of Lake Griffin and its resident Purple Gallinules, Ring-billed Rack, and Great Blue Herons, are two other worthwhile options, especially in winter.
You can spot several different raptors in the park, such as Cooper's Hawk, American Kestrel, Bald Eagle, and many more.
Up to 15 species of wood warblers have been documented during painted bunting migrations, including Kentucky and Magnolia.
Kayaks are available on-site to rent, or you can bring your own to paddle around Lake Griffin if you prefer not to rent.
Take the Settler's Bend Trail and follow it west to launch the canoe.
3. Window Shop at Main Street Antiques
After visiting a new place, we need to get something homemade to take home as souvenirs for friends or for ourselves to remember where we have been.
Main Street Antiques in Leesburg, Florida, is the place to be for this fabulous collection of antiques.
Main Street Antiques is 9,000 square feet and is located in downtown Leesburg.
Browse their inviting display stands for unique collections of vintage books, gifts, antique furniture, glamorous jewelry, orchids, and other collectibles.
The Mall also features a working art studio and gallery for local artists. Admire the beautiful artwork. This place is a must for visitors as it contains many unique items.
Cheap Things to Do in Leesburg (FL)
1. Explore Wildlife at Emeralda Marsh Conservation Area
Emeralda Marsh formerly covered an area of ​​10,000 acres on the east shore of Lake Griffin near the headwaters of the Ocklawaha River.
The county purchased this 6,577-acre project area, which the county purchased for restoration from the state's Conservation and Recreation Land Acquisition Program for just under half the original cost.
The National Park Service declared the region a National Natural Landmark in 1974.
The Ocklawaha River and Lake Griffin water resources are being actively restored in this conservation area.
On a seasonal wildlife drive, guests can witness the district's restoration efforts, delve into the marsh, and spot animals as they drive by.
During the day, there is also a boat launch and observation deck with amazing views of the marshes available to visitors.
2. Learn About Local History at Leesburg Heritage Museum
The museum itself has a fascinating past.
The museum houses the Leesburg Library, the Leesburg Chamber of Commerce, several community organizations, the Leesburg High School Prom, and the Poinsettia Ball.
Artifacts and memorabilia from Leesburg's rich history are displayed in the museum, which tells the story of the city's heritage from the days of the citrus kingdom and the famous Watermelon Festival during Leesburg's centennial in 1957.
Meanwhile, archival collections provide insight into the city's history and those who have lived and worked in it over the years.
In 1976, the city created an organization responsible for staffing the Leesburg Heritage Museum.
3. Shop at Frugals Vintage Boutique and Salon
Owned by Lindy Colvin, this attraction is a fascinating place of vintage shops and a beauty salon for most women.
They have a helpful staff, so your shopping is very easy. The downtown location offers over 3,000 unique women's boutiques at affordable prices.
Some items sold here include prom, evening, formal wear, jewelry, handbags, and shoes.
The complex also includes a salon offering the latest in hair styling and coloring, and to top it all off, you don't have to break the bank.
Frugals Vintage Boutique and Salon host "Girls Gone Shopping," A night of champagne shopping for patrons to sign up.
The program offers customers products at lower prices, and you can meet friends.
Stop by this location for a complete makeover and shop for souvenirs to take back after your visit to Leesburg, Florida.
Cool Places to Visit in Leesburg (FL)
1. Howey Mansion
Overlooking the calm waters of Lake Harris, you'll find the historic Howey Mansion, which offers tours of its historic rooms and gardens.
The house dates back to the 1920s and was built by the Howey clan, a wealthy family that purchased much of the land in Lake County.
The castle is an unusual piece of architecture and is often used as a film or wedding location throughout the year.
2. Tampa Bay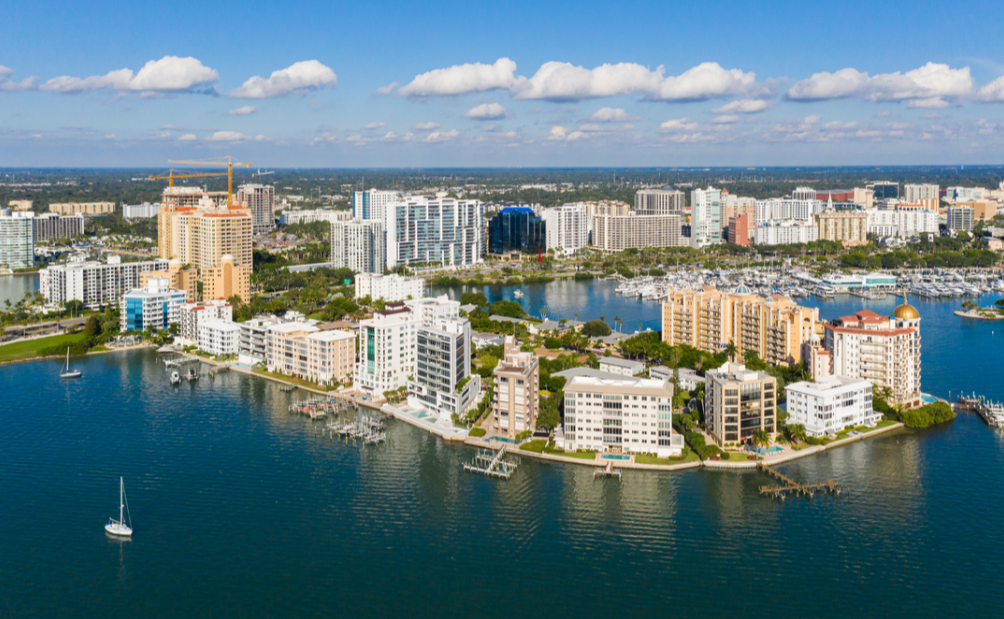 After an hour and a half drive towards the west coast of the Florida peninsula, you will reach the city of Tampa Bay.
It is a great place to explore the beautiful Gulf of Mexico and the warmer waters found here.
Tampa Bay is home to theme parks, shopping, restaurants, and museums.
You'll find beautiful beaches, dramatic coastlines, and crystal-clear water that's perfect for swimming and snorkeling.
3. Daytona Beach
Daytona Beach is just an hour and a half away.
This city is known for two things – beaches and car racing.
It's the home of NASCAR; you can visit the International Speedway to learn more and maybe even catch a race.
Daytona Beach has some of the most stunning stretches of sandy beach in Florida and is the perfect place to see the Atlantic Ocean at its best.
Conclusion
Unlike any other city in Florida, Leesburg has a strong sense of belonging to the people of the state.
Leesburg, Florida, is a bustling city and a must-see destination in Lake County, thanks to its natural wonders, annual events, lakes, conservation areas, delicious food, and other fascinating attractions in town.
Don't miss any of these as you make our checklist of things to do in Leesburg (FL) for your tour guide.
Join us on Telegram
If you loved this content, do well to like us on Facebook and follow us on Twitter to get updates and engage with other people like you who wish to immigrate to Canada or just immigrated to Canada.