A trip to Simi Valley allows you to explore the unique beauty of one of the most stunning regions in Southern California.
It's a family-friendly area, full of locations to explore, activities to participate in, and a handful of things to experience.
Simi Valley has you covered if you're in the mood for sightseeing, hiking or biking the trails, spending some time at a museum, relaxing in a park, or exercising with outdoor or indoor sports.
We will now proceed to outline 27 of the best things to do in Simi Valley on your next vacation here:

Fun Things to Do in Simi Valley
1. Ronald Reagan Presidential Library
The Ronald Reagan Presidential Library, which doubles as a Museum, is dedicated to the life and work of Ronald Wilson Reagan (the 40th President of the United States) and his wife, Nancy Reagan, the former First Lady.
The museum and library are also the Reagan burial site. You can join other visitors to explore the 243,000-square-foot facility with numerous exhibits that tell the story of Reagan's life.
There are exhibits that focus on his youthful life, marriage, film career, military service, and political career.
You'll also see other aspects, including the suit worn by President Reagan when he was inaugurated into the office and the 1965 Ford Mustang he used during his first gubernatorial campaign.
2. Museum of Military History and Memorabilia
Located in downtown Simi Valley, the Museum of Military History Posters and Memorabilia features a spectacular display of Veterans of Foreign Wars Post 10049.
Hundreds of historical artifacts and military posters are on display, provided by local collectors and veterans. When you visit this museum of Military Memorabilia, you will see artifacts that include posters, old weapons, uniforms, ammunition, magazines, and much more.
You would also learn about several Vietnam veterans who are on hand to provide background information and share stories regarding past military events.
The museum is open for cynosure on Wednesdays (12-3 pm) and on weekends from 11 am-4 pm. It is free as admission; however, donations to support local veterans are welcome.
This is one of Simi Valley's must-see attractions during your visit. It is one of the amazing things to do in Simi Valley, California.
3. Enjoy the cuisine at Ali Baba Cafe
When you're in Simi Valley, you can't leave your stomach empty, and that's why Ali Baba Cafe is here for you.
Established in 1999, Ali Baba Cafe is dedicated to serving delicious authentic food that comes from the Mediterranean directly to Simi Valley.
Every dish at Ali Baba's Cafe is prepared fresh and using healthy methods that bring out the tantalizing flavors of each dish.
Daily lunch and evening specialties on the menu are prepared from targeted seasonal ingredients.
Other items on their menu are homemade soups and meats, vegetarian entrees, seafood, and more. Some of the popular meals loved by their regular customers include stuffed grapes, chicken shawarma salad, kebabs, tilapia plates, and pita sandwiches.
Things to do in Simi Valley at Night
1. Studio Film Grill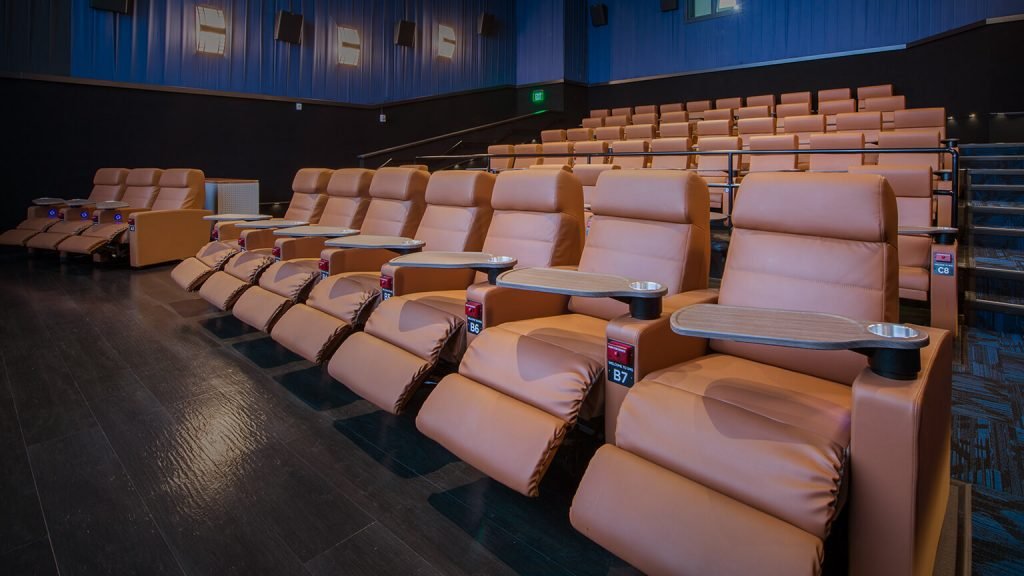 One of the thrilling things to do in Simi Valley is to visit the Studio Movie Grill for some movie time. The Studio Movie Grill is a beautiful theatre located on the east side of the mall, near the new Buffalo Wild Wings.
Since it opened to the public, it has maintained its beauty at an unparalleled level inside and out.
With nine screens of various sizes fixed inside the building, this facility has over 950 stadium-style seats that are very supportive and comfortable.
They have food service buttons and trays so you can enjoy your orders. There is also a dining room and a full bar at the front of the theater. It's a bit high, but it still buzzes.
Studio Movie Grill really has enough of your expectations. Their reasonable prices, delicious food, nice meetings, great service, and comfort speak for themselves.
2. Indulge your appetite at Chi-Chi's Pizza
Founded in 1959, Chi-Chi's Pizza has taken great pride in remaining in business throughout California.
This family-owned business has had restaurants spread across the state for over sixty years, and management has been passed down through generations.
Nothing has changed, as you will still expect and receive the same level of customer service, friendliness, and delicious food that Chi-Chi's has always provided.
Chi-Chi's is famous for its pizza; any visit would not be complete without enjoying this signature dish.
You can choose some combinations like Chi-Chi's Choice or Immigrant or choose your own selection from different toppings.
Other menu items include salads, soups, fried chicken, fresh pasta, and delicious desserts like gelato, flourless chocolate cake, cheesecake, and tiramisu.
3. Visit Grandma Prisbrey's Bottle Village
Grandma's Bottle Village is recognized as a California Historic Landmark, a US Historic District, and is also listed on the US National Record of Historic Places.
Created by the amazing "Grandma" Prisbrey, Grandma Prisbrey's Bottle Village is an exciting artistic environment in Simi Valley.
Using trash from a local landfill and recycled items, she built this one-of-a-kind village between the 1950s and 1970s – over twenty years.
Tours for the public are organized and conducted here; on tour, you will see buildings, statues, shrines, walkways, and much more.
Things to Do in Simi Valley For Couples
1. Golf at Simi Hills Golf Course
Here is something for golf lovers and any lover of beautiful nature.
Playing golf is a great way to enjoy the Southern California weather, and it's very good for a vacation.
Located in Simi Valley, Simi Hills Golf Course offers well-dressed fairways, rolling greens, and several water and sand hazards to toughen things up for experienced players.
This golf course is often rated as the best golf course for So Cal and was even ranked as one of the top public courses in the country by Golf Digest.
There are trained instructors who tutor players of all skills and ages. So when you're in Simi Valley, try a golf club.
2. Santa Susana Depot Museum and Model Railroad
In the incredible Simi Valley lies the historic depot of the South Pacific – Santa Susana Depot. It's a list of the best things to do in Simi Valley.
This depot has been beautifully restored and is an enjoyable museum accessible to visitors of all ages.
There are wonderful exhibits, and one of the best is a fully restored model of a Southern Pacific railroad depot. It is an exact replica of what it used to be in the 1950s.
Train lovers (small and large) would be left in awe of Simi Valley's miniature dealership, which is still in operation.
There are also displays of coveted railway memorabilia as well as static and dynamic artifacts that were used at the depot when it first began its operation.
3. See the Beauty of the Gardens of the World
Just about twenty miles south of Simi Valley, in Thousand Oaks, is the Gardens of the World.
It is a halcyon attraction and well worth the distance for lovers of flowers, plants, and all forms of natural beauty.
This establishment has its distinct gardens spread over almost five hectares.
The gardens were owned by a successful local couple who donated them to the city in an effort to preserve the attraction indefinitely.
The features of these gardens are flora collected from all parts of the world, and each well-defined cultivated area has its own theme represented.
Each unit is connected by well-marked paths that include signs describing the species you see, as well as quiet places to sit.
There's something blooming that doesn't mind the season!
Things to Do in Simi Valley For Kids
1. Rockin' Kids Play Center
Rockin' Kids Play Center, located downtown in Simi Valley, is an indoor playground that offers open play and birthday parties every day of the week. It's a list of the best fun things to do in Simi Valley, especially for kids.
The center is a massive facility aimed at toddlers up to six years of age. Socks are required on all playing surfaces.
Other features of this center include a nice assortment of slides, swings, climbing areas, riding toys, balls, and other safe and well-padded accessories.
Give your kids the best experience at Rockin' Kids Play Center, and they'll thank you for it. It costs $12 for the first child, $10 for any additional add-ons, while it costs $6 for children under 12 months.
When looking for things to do in Simi Valley with kids, visit the Rockin' Kids Play Center.
2. Ride the Arroyo Simi bike path
The Arroyo Simi Bike Park, also referred to as the Arroyo Simi Greenway, consists of many multi-use trails that run through much of Simi Valley.
These trails are located on the right and left sides of the Arroyo Simi Flood Control Channel and have gained immense popularity among horseback riders, cyclists, skateboarders, joggers, and walkers.
The Green Trail has undergone significant modernization in recent years and provides visitors with access to seventeen new access roads, signalized crossings, numerous site facilities, interpretive display signs, and new asphalt cycle paths.
The bike path is open all day and seven times a week, except in cases of flooding or heavy rain.
Make sure you drive these roads in Simi Valley!
3. Rock the Rocky Peak Trail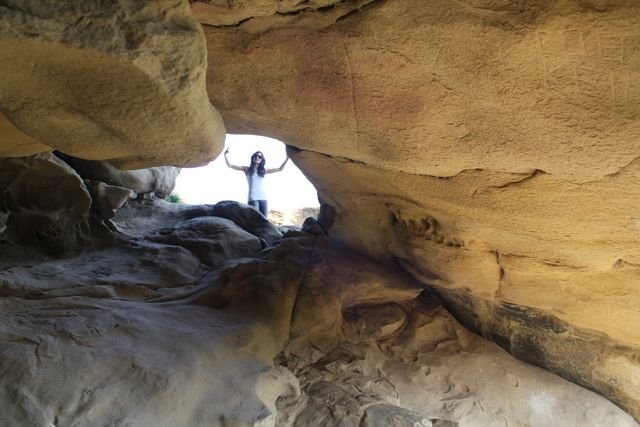 Rocky Peak Trail is a great hiking trail located in the Santa Susana Mountains. His name is a result of being a guide to the spectacular 2,715-foot peak, Rocky Peak.
So if you love heights and their views, then you should not miss them. The rocky peak can be seen in the center of Santa Susana Park (a 4,800-acre park), and visitors can gain access to the trails via the park's Rocky Peak Road.
It requires hikers with some advanced skills as the trail takes you through a tiring path, and there may be times when you have to climb over rocks and ravines.
It's an exciting hike and covers approximately 4.75 miles, with nearly 900 feet of elevation gain.
Indoor Activities to Do in Simi Valley
1. Visit the House of Books
The House of the Book is an attraction located in Simi Valley. It occupies over 2,000 acres of prime real estate and is located along Peppertree Lane. This attraction is not as frequented as others in the area, but it is very relevant.
The Book House is a Jewish cultural and community center originally established in the 1970s that offers a variety of programs that focuses on education, art, and social issues.
It is known primarily for its exceptional contemporary architecture, which has featured many blockbuster movies in recent years.
The facility has enough space, and you'll find nice features, including an outdoor recreation playground, gardens, and a performing arts center.
2. Simi Valley Cultural Arts Center
One of the biggest attractions in Simi Valley is the Simi Valley Cultural Arts Center. This center has several aspects that attract visitors, especially architecture lovers. That is the list of best places to visit here.
The Simi Valley Cultural Arts Center opened in 1995 and has since hosted everything from dramas, jazz shows, rock 'n roll concerts, and musicals.
Until then, its Gothic structure had existed as the Simi Community Methodist Episcopal Church since the 1920s.
In 1981, the church was renovated, but you can still see glimpses of its past beauty.
At the entrance hall on the ground floor, a light fixture has been hanging in the same place since 1924. There are also restored stained glass windows from the original company.
3. Art in Vivid Canvas Art Studio
Vivid Canvas Art Studio, located on Erringer Road, Suite 201B, provides its students with one-on-one, step-by-step art lessons.
These lessons are mostly in 2-dimensional media and are for all ages 6 and up.
You or the kids will be amazed as they teach the basics of art, including drawing, drawing/pastel basics, watercolor, oils, and acrylics.
Vivid Canvas Art Studio offers other services in addition to an art school, including advanced, beginner, intermediate, and painting classes.
The studio is open every day except Sunday.
Romantic Things to Do in Simi Valley
1. Explore Corriganville Park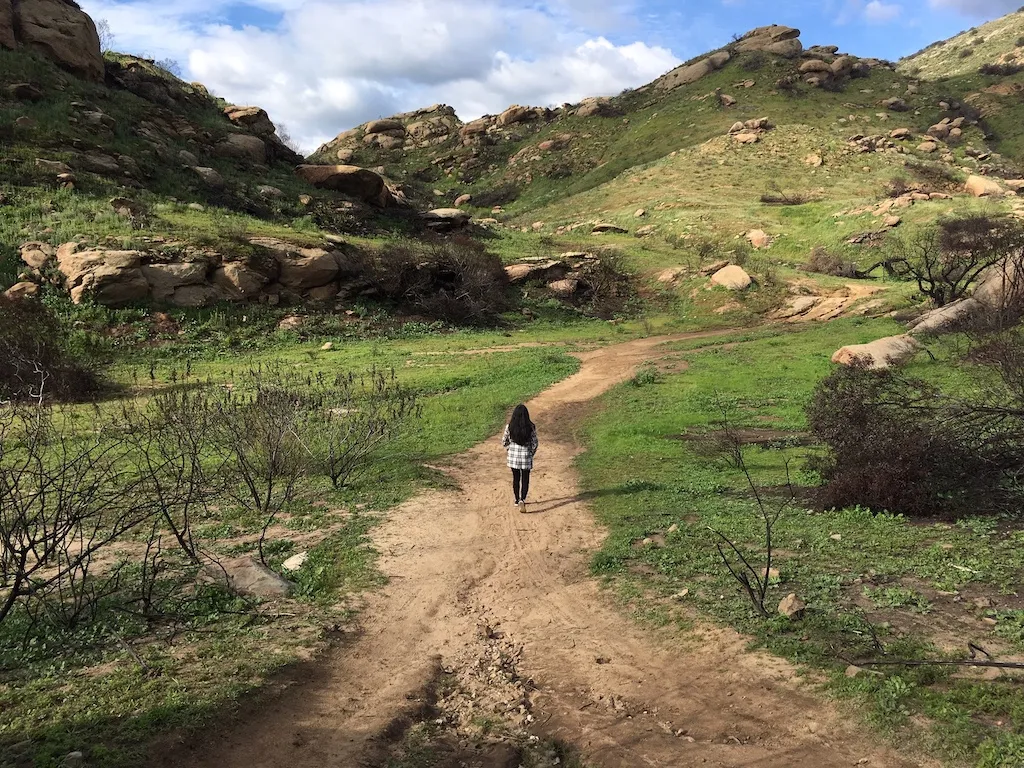 Well known by its former name: Corriganville Movie Ranch, Corriganville Park is one of the best entertainment venues in Simi Valley.
The park was purchased by stuntman and actor Ray "Crash" Corrigan and was a working movie ranch and film studio. It offers backdrops and backdrops for famous movies and TV shows such as The Adventures of Rin Tin Tin, Star Trek, and Lone Ranger.
Corriganville Park is full of caves, boulders, lakes, mountains, waterfalls, and many man-made scenes such as shops, saloons, hotels, and prisons.
It would be interstellar to know that this property has been used for thousands of recordings throughout its history.
Visitors can now see what remains of the theme park's historic films and buildings, but the incredible Californian topography that made the park famous still survives.
Established easy-access trails include the 1.1-mile Interpretive Trail and the short, quarter-mile Hummingbird Trail.
With things to do in Simi Valley for outdoor fun, this is a great addition to your itinerary of Simi Valley attractions to visit.
2. The Six Flags of Magic Mountain
Six Flags Magic Mountain is located about 45 kilometers northeast of Simi Valley, and although it is technically located in Valencia, it is one of the most famous attractions in California.
Visiting families or travelers with children should not miss this attraction.
This site has so much for you to see and do, with a variety of activities that can take up a full day or more.
This place offers thrilling amusement park attractions like whirlpools and roller coasters.
In addition to these functions, the park is also used as a venue for live entertainment, offering dining options, and has the presence of characters from Disney films who love to interact with children.
3. The Skateboarding Hall of Fame
The Skateboarding Hall of Fame, which doubles as a Museum, is an institution established in 2009 to honor every contribution to the history and culture of skateboarding over the years.
It recognizes the efforts and contributions of various cultural icons and highlights the dedication, passion, and impact on the skateboarding community.
Filled with artifacts, exhibits, photographs, and other memorabilia, this museum usually hosts events where you can meet legends like Tony Alva, Patti McGee, Laura Caswell, and Rodney Mullen.
Plan to attend one of their popular events – the annual gala that celebrates the inductees of the year.
Cheap Things to Do in Simi Valley
1. Visit Strathearn Historical Park & ​​Museum
One of the best things to do in Simi Valley is the Strathearn Historical Park & ​​Museum, especially if you want to step back into the history of the area.
To enjoy the views in this well-preserved park and museum, you can start at the Visitor Center, where you will see various exhibits of Simi Valley history.
Afterwards, head to the park for a guided tour.
There are historical structures and buildings, but you can only explore them through interior guided tours.
Among the many buildings still standing today are the Currier Apricot Pitting Shed, the Simi Library, the Pioneer Memory Garden, the Wood Ranch Barns, and the Strathearn Windmill.
With things to do in Simi Valley, CA, spend some time at the museum, and consider adding it to your wishlist of things to do in Simi Valley during your visit.
2. The Rancho Simi Recreation and Park District
The Rancho Simi Recreation and Park District is located on Royal Avenue and the Rancho Simi Conservation Area and Large Community Pool.
This pool is available year-round for lap swims, swim lessons, birthday parties, recreational swims, regular events, and more.
Enjoy the 50-meter outdoor heated pool while you take exercise lessons, lap swimming, diving, water polo, safety training programs, stroke lessons, swim team practices, or other activities.
If you want to swim recreationally, the class schedule varies, so check to see if the timing is convenient or more convenient.
This is one of the best fun things to do in Simi Valley, California; admission is $3 for ages 3-64, $1 for 65+, and free for two and under.
3. Race on the BMX track
Located on Sycamore Drive, Sycamore BMX is a BMX track that is loved by riders of all skill levels.
You must be a registered member of the American Bicycle Association (available for purchase at the track) before riding the course. Otherwise, you can be a part of the classes, training, races, and birthday parties organized by this track.
USABMX was created to offer organized racing and bring national dignity to the sport of BMX. Each USABMX facility exists as a separate entity with the sole purpose of offering competitive, safe and fun BMX racing.
Every staff at each track is dedicated to operating in accordance with USABMX guidelines to ensure the realization of these goals
So make sure to make a weekend of watching BMX racing in Simi Valley
Free Things to Do in Simi Valley
1. Enjoy Santa Susana Pass State Historic Park
Santa Susana Pass State Historic Park is located right where the Simi Hills meet the Santa Susana Mountains. The parks have rich high ridges, deep canyons, and rich flora and fauna.
You can encounter some of the native animals living in this park, which include gray foxes, coyotes, mule deer, and ringed cats.
There are many trails winding through the park that take you to viewpoints from which you have great views of the surroundings.
You will also learn about the rich history of the country during your stay. You will learn that this land has been a transportation corridor since 1769 and also serves as the home of two distinct Native American groups.
This makes it one of the best fun things to do near Simi Valley and a great addition to your bucket list if you're in the area.
2. Have more fun at Harley's Valley Bowl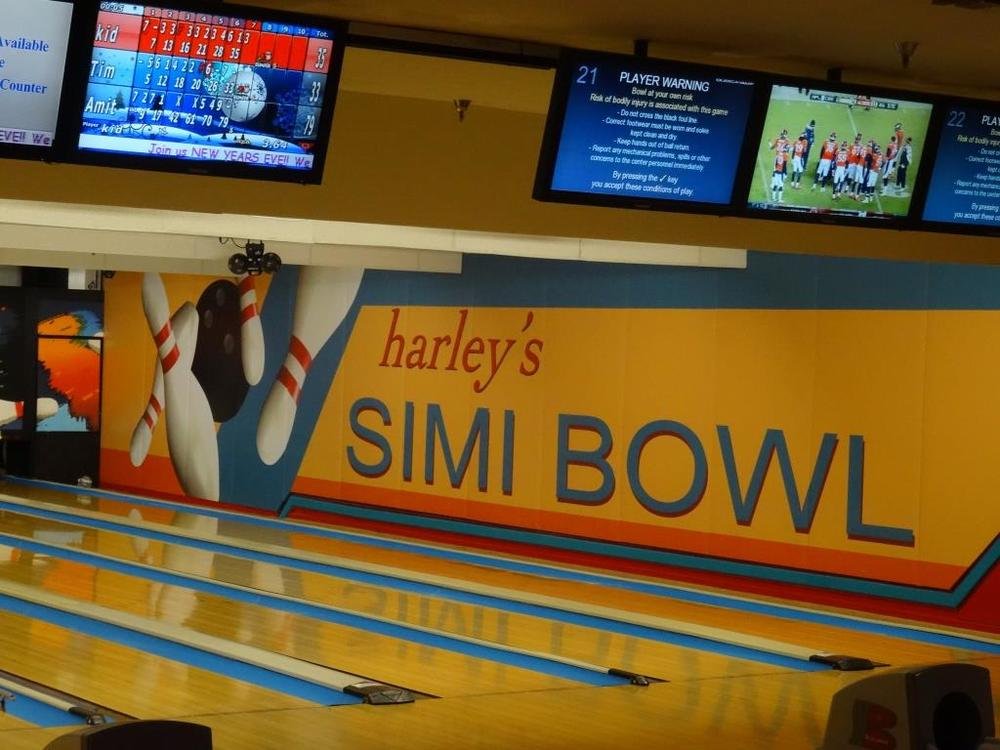 Harley's Valley Bowl, located on Cochran Street, is a 40-lane facility that will keep you extra interested in bowling.
It is definitely the bowling center that is right for you. There are automated scorekeeping, food and drink, TVs everywhere, and bumper cars for the kids. Everywhere you look at Harley is exciting.
Have you ever wondered why three strikes in a row are called "turkey" in bowling? The term "turkey" can be traced back to the late 19th century when bowling strikes were much tougher.
During Christmas or Thanksgiving week, bowling alley owners awarded a live turkey to the first individual on the team to hit three strikes in a row.
You won't get a turkey as an award here, though; now you have the knowledge.
Are you ready to leave your house for fun? Check out Harley's Bowls for hours of fun, good food and an overall great time.
3. Europe in Venice's Canal Historic District
This picturesque neighborhood is popular for its man-made wetland canals, built in 1905 by developer Abbot Kinney.
Find parking at the end of Venice Boulevard, then stroll the canal-lined blocks just off 25th Street.
Cool Places to Visit in Simi Valley
1. The Pacific Ocean from the Santa Monica Pier
As you mark the end of Route 66, you can wander around the Santa Monica Pier and experience street performers and artists overlooking the Pacific Ocean.
While you will have to pay to ride the Ferris wheel and other attractions at the local amusement park Pacific Park, visiting the pier is free.
Rides and attractions are priced individually and range from $5 to $12.
2. California Science Center
The California Science Center's star attraction at Exposition Park is Endeavor, the last ship built in NASA's space shuttle program, on display in the Samuel Oschin Space Shuttle Endeavor Pavilion.
While you're there, learn more about the space shuttle program's connection to California and the people who made it possible through the Endeavor Together: Parts and People exhibit.
No tickets are needed to see the shuttle, but a time reservation is required. Advance reservations include a $3 service fee, which you can skip if you pick up your ticket at the box office.
Claim free taping tickets to your favorite shows through 1iota, which offers fans the chance to see late-night shows like The Daily Show With Trevor Noah and Jimmy Kimmel Live! as well as daily talk shows and select TV shows and film screenings.
3. The Los Angeles Central Public Library
LA's main library is worth checking out, even if you're not interested in borrowing books.
On Friday and Saturday, they offer two free docent tours, one that includes the art and architecture of the library, including the 1926 Bertram Goodhue building with its eye-catching sphinxes and rooftop pyramid.
There's also a one-hour garden tour that provides a history of the gardens, which were first designed in 1926 and reimagined in 1993. Stop by the front desk and ask a librarian about even more free classes offered at the library.
Conclusion
Of course, all this can take a year, but if you have the time, it's worth it.
Simi Valley is reminiscent of a virus. It will stay in your blood forever and will be a persistent reminder of the unique experience you had.
Join us on Telegram
If you loved this content, do well to like us on Facebook and follow us on Twitter to get updates and engage with other people like you who wish to immigrate to Canada or just immigrated to Canada.