Deciding what to do in Covington as you begin your vacation can be difficult. We understand that you want to make the best of this vacation; hence we have put together this article.
Covington, Louisiana, is a quaint town that makes up part of the New Orleans metropolitan area.
Covington has a great food scene, quirky and unique shops, and rich culture. It's a beautiful city to visit and a fun day trip for anyone visiting New Orleans.
Some of the things to do in Covington include breweries, art galleries, museums, hiking trails, bike rentals, and more. There is even a crocodile farm to visit.
Covington is the county seat of St. Tammany County, Louisiana, United States. The city lies in the middle of the Bogue Falaya and Chehunkte rivers.
Planning to explore Covington? The following are the best things to do in Covington, Louisiana.
Fun Things to Do in Covington (LA)
1. Escapeology, Covington (LA)
Explore Escape if you're in town on vacation and looking for fun things to do in Covington. You will have a great experience there.
Escapology Covington offers both physical real-life escape games and immersive virtual reality adventures.
In the Real Room Escape Game, you are brought into a themed room with other guests and must use the items in the room to solve a series of puzzles, find clues, and escape the room within 60 minutes.
The game offers a fully immersive multiplayer experience with virtual reality adventures that promotes fun, teamwork, and communication. This allows you to participate in dangerous or impossible adventures in real life!
Using new virtual reality technology, you can travel to places such as ancient Egyptian pyramids, futuristic worlds, outer space, the world of Greek mythology, and more!
Travel and experience a larger life, dramatic and intense escape adventure.
You will surely love it here.
2. Instagator Ranch and Hatchery
Instagator Ranch and Hatchery is the only alligator farm in Louisiana that offers guided tours.
Visiting the Covington hatchery is fun because you can touch, feed, and catch alligators in a controlled environment.
You can find hundreds of alligators from toddlers to 8 feet and all other sizes. You can even take pictures with the crocodiles.
You'll be sure to learn the history of the American alligator, the anatomy of the American alligator, and many other new things.
Insta-Gator Ranch is open seven days a week. We also offer tours of the ranch, including first-hand experiences of the Louisiana alligator industry, temperature-controlled barns, and more.
Come around the area to discover and learn new things and enjoy the Gators to Geaux event.
3. Movie Tavern Northshore
Do you like movies at the cinema? Are you vacationing in the city? Then head to Movie Tavern Northshore in town.
Movie Tavern Northshore is one of the must-see places in Covington, Louisiana. The Tavern combines a classic movie theatre and restaurant, creating a unique way to enjoy exciting movies on the big screen.
Enjoy great food, margaritas, and movies in one place at Movie Tavern Northshore.
Movie theatres offer a different way for people to drink and eat while watching a movie by offering an in-theatre dining service.
Please enjoy yourself in a relaxing space.
Things to Do in Covington at Night
1. Escape Room
Do you like fun adventures? Looking for a fun part of town where you can join an exciting game?
One of the best and most fun things to do in Covington is to visit the Escape room.
In the Escape room, search for clues, solve puzzles, find secret passages to escape the room, and get trapped in the room within 60 minutes.
Escape Game is an exhilarating adventure like no other.
You can also try our award-winning Live Escape Room game in our 4 Live Escape Rooms and our newly added Virtual Escape Room.
Choose from 16 virtual fun games. These games teach teamwork, effective communication, and puzzle-solving.
Enjoy games like Mansion Murder, Cod3, Lost City, The Alien Encounter, Budapest Express, and more.
2. Abita Roasting Co. Covington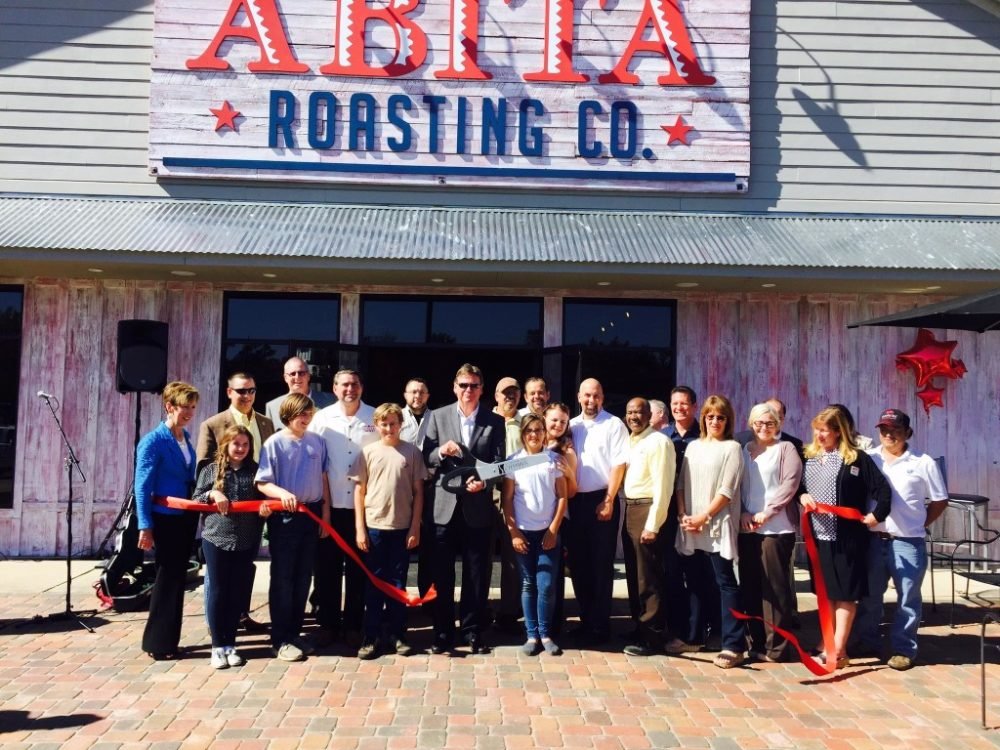 Abita Roasting Co. Covington combines a great coffee company, Abita Roasting Company, and an excellent coffee shop- Abita Springs Cafe.
The result is a cafe with a fairly diverse menu and fresh craft coffee, A full-service café, and café offering menus inspired by the Avita Springs Café.
Abita Roasting Co. Covington's counter, coffee shop, and drive-thru all have slightly different weekday hours on their website.
The original Café Du Monde began as a coffee stand established in New Orleans' French Market in 1862.
Cafe du Monde in Covington, Louisiana, isn't open 24 hours like the original, but it's open quite late during the day.
Drive-thru is also available at the Covington branch of Cafe du Monde. The menu includes dark roast coffee, freshly squeezed orange juice, and beignets.
Things to Do in Covington For Couples
1. Explore the Tammany Traces
Formerly designated as the Corridor of the Illinois Central Railroad, the Tammany Traces are now a walking trail that extends from downtown Covington through Abita Springs, Mandeville, and Lacombe. There are also cycling trails at Slidell.
In some places, you can find another horse trail that runs parallel to the tracks.
Tammany Trace is one of the best places to go if you need some meditation or exercise.
You can also take your bike or go for a walk with your loved one. You can as well plan a picnic in the stunning scenery.
It's ensuite and bike accessible for biking on the trails.
Discover the trees and how they are properly arranged.
2. Smith H.J. & Sons Store and Museum
H.J. Smith and Sons Store is a family business that has been in business since 1876 in Covington, Louisiana.
The General Store is now a museum containing hundreds of objects from the 1870s to the early 20th century.
Explore the H.J. Smith and Sons Store and Museum. The Museum discoveries include historic farm implements, cast-iron coffins, a 20-foot cypress dugout canoe, and a manual wooden washing machine.
The museum also has a 1920s gas pump and many other gas pumps. The H.J. Smith and Sons Store and Museum is open Monday through Saturday.
3. Copper Rooster Antiques and Gifts
Do you like shopping for antiques and gifts? Then, Copper Rooster Antiques and Gifts is a great place to visit while in town.
Located in downtown Covington, the Copper Rooster Antiques and Gifts is a unique, chic antique shop and a must-see for home decor, holiday items, gifts, collectibles, art, and jewelry.
Enjoy shopping in a relaxed and exciting environment. The staff is helpful and friendly.
Lots of high-quality and beautiful gift items for your loved ones and other beautiful home decor items.
They sell antiques and gifts at bargain prices. The shop is open from Sunday to Saturday.
Things to Do in Covington For Kids
1. St. Tammany Children's Museum, Covington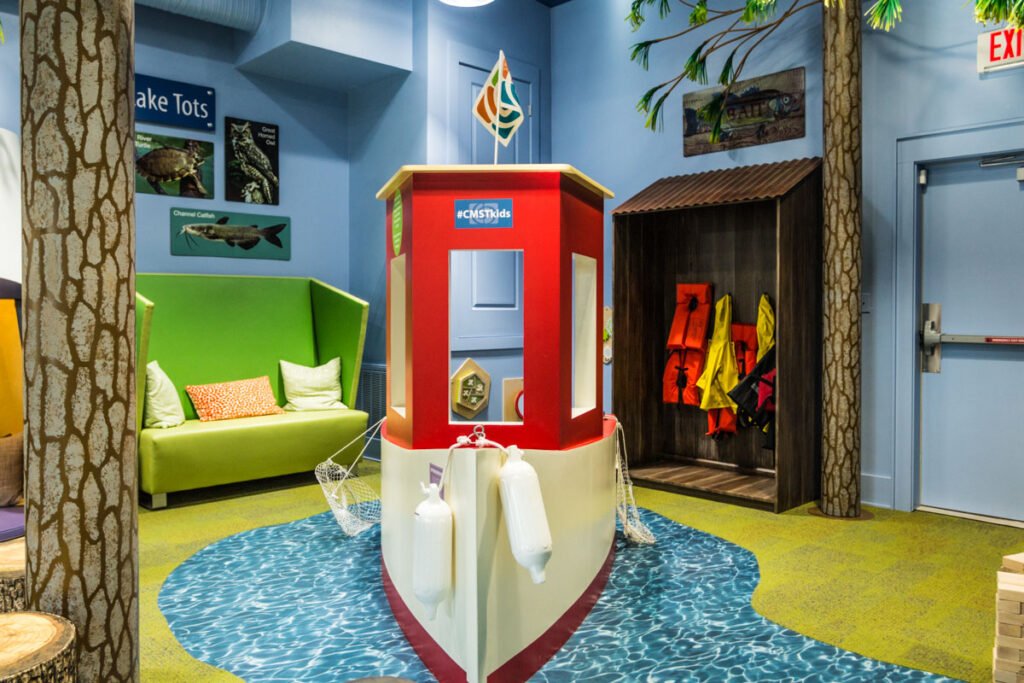 St. Tammany Children's Museum's mission is to inspire children to create, explore and imagine in an interactive and fun learning environment.
Kids Town at the Children's Museum is aimed at the youngest visitors. The museum offers various educational exhibits primarily aimed at children from early childhood and special programs for older children.
Kids will enjoy the diner exhibits and the supermarket. Other exhibits include a magnetic ball wall, a climbing wall, and a fun exhibit where kids can watch how they build their own roller coaster.
2. Lake Ramsay Reserve
Visitors can stroll to the reserve along a winding and informative walkway, through forests of small creeks, long-leaved plain forests, and long-leaved pines.
You can also enjoy great views of the area's high-value forest communities, including the savannah.
The reserve is home to many interesting plants, including orchids and carnivorous plants.
The Ramsay Conservation Area maintains an interpretive trail known as the Horse Branch Trail that allows visitors to explore the diversity of the habitat, including one of the last habitats in the Louisiana Parish of Pine Savannah.
3. Altitude Station
The Altitude Station provides a fun and exciting playground for you and your children.
Fun things in this station include Open Trampoline Jumps, Trampoline Basketball, Airbags, Trapeze, Trampoline Extreme Dodgeball, Gladiator Pit, Arcade Games, Meltdown Games, and a Kids Zone.
Elevation Station can also plan special events such as birthday parties and family reunions.
Kids will enjoy jumping at the train station, playing games, and making new friends.
If you're vacationing in Covington, be sure to take the kids to the elevation station; it is worth a visit.
The prices are affordable, and the staff is friendly and welcoming.
Indoor Activities to Do in Covington
1. Skal Ax Throw
Skal Ax Throwing is an inner-city axe-throwing venue and bar offering a fun and engaging experience.
If you've heard of axe throwing and want to learn how to throw an axe, this is the place for you.
There is an axe trainer, safety briefings, private throwing practice, and various fun games and competitions.
The general admission axe-throwing experience lasts 1 hour, and the private event lasts 2 hours.
Skål Ax Throwing is the Gulf Coast's leading municipal axe-throwing company and the World Ax Throwing League affiliate.
They guarantee a fun and safe experience that you, your family, and your friends will never forget and will keep you coming back for more.
SKAL AXE Throwing provides a memorable experience worth checking. They specialize in team building and private and corporate events for company parties.
Check out Skal Ax Throwing, one of the most fun activities in Covington, Louisiana.
2. The Warehouse Bar and Grill
The Warehouse Bar and Grill is a great bar dedicated to providing a fun and welcoming environment for all guests.
One of Covington's must-see attractions is this bar if you're vacationing in the city.
At the Bar, everyone can enjoy excellent service, drinks, and food in a comfortable environment.
While you are here, endeavor to bring your loved ones to Warehouse Bar and Grill for a game of pool and darts.
The bar also offers Happy Hour, Tuesday through Sunday, from 3:00 PM to 6:00 PM. There is also a diamond pool table here.
Enjoy free pool with drinks on Sundays, Bucket Specials every Tuesday, and Ladies Night on Wednesdays.
Experience the friendly people who gather for karaoke on Saturday nights. Don't forget to stop by the bar for a pool or darts league.
3. Regal Covington
Why not go out and share good times with your loved ones?
Looking for the perfect place to catch an exciting movie with friends and family? Visiting Regal Covington, Louisiana, with friends and family is great.
Get your ticket and get ready to see exciting and inspiring movies at the cinema. The Regal Covingting Theater has multiple screens showing movies, as well as comfortable seating and a concession stand.
Romantic Things to Do in Covington
1. Brooks Bike Shop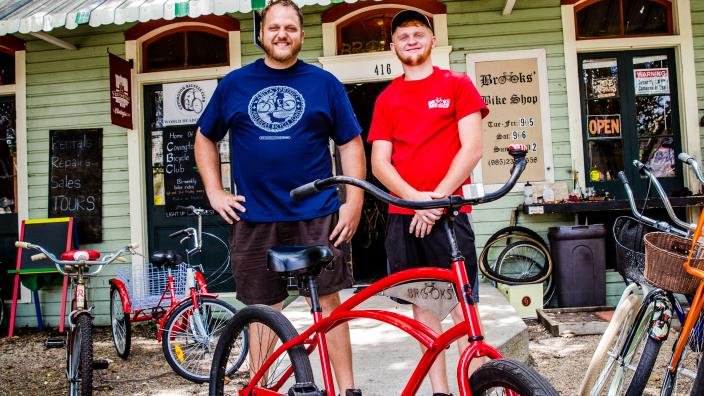 Brooks Bike Shop is the place for you if you love cycling and exploring.
Brook's Bike Shop buys, sells, and rents all kinds of bicycles. Visit the bike shop on the St. Tammany Trace Cycle Route.
The Shop opened in Covington in 2010 and has been providing bike services to both visitors and residents ever since.
Brook's Bike shop strives to provide the best value and a flawless customer experience for everyone.
This shop offers bike sales, bike rentals, bike services, and tours, including visits to local breweries, the Bogue Falaya River, and historic downtown.
The shop also rents kayaks, paddleboards, and canoes for the local rivers and bayous. The staff at Bike Shop are familiar with the area and its surroundings and can help you find the fun experience you're looking for.
Brooks Bike Shop is one of the must-visit spots when exploring Covington by bike.
2. Columbia Street Tap Room
The Columbia Street Tap Room is one of the funniest spots in town. The taproom features some of the North Shore's best bands and patrons in a friendly, festive, and fun environment.
There are outdoor facilities here, and you can also order drinks and food. 30 beers on tap, 60 great beers, a full-service bar, and premium wines by the glass.
You can also listen to live local music and enjoy great bar food on weekends and weekdays.
The Columbia Street Tap Room is a great place to gather around the table with friends and family and enjoy delicious drinks and delicious food, including salads, burgers, sandwiches, and other daily specials.
On Thursdays, Fridays, and Saturdays, the taproom will feature an electrifying live band.
3. Wharton's
If you love music on your trip to town, go to Wharton's for great music.
Wharton's is the premier live music venue on the north shore of Lake Pontchartrain.
Wharton was founded in 2017. It opened to offer locals and visitors great live music, unique fresh cocktails, delicious food, and a stunning outdoor setting that is unmatched in the area.
Visit Wharton's with friends and family for an unforgettable experience while partying, eating, and drinking with loved ones.
Cheap Things to Do in Covington
1. Covington Brewhouse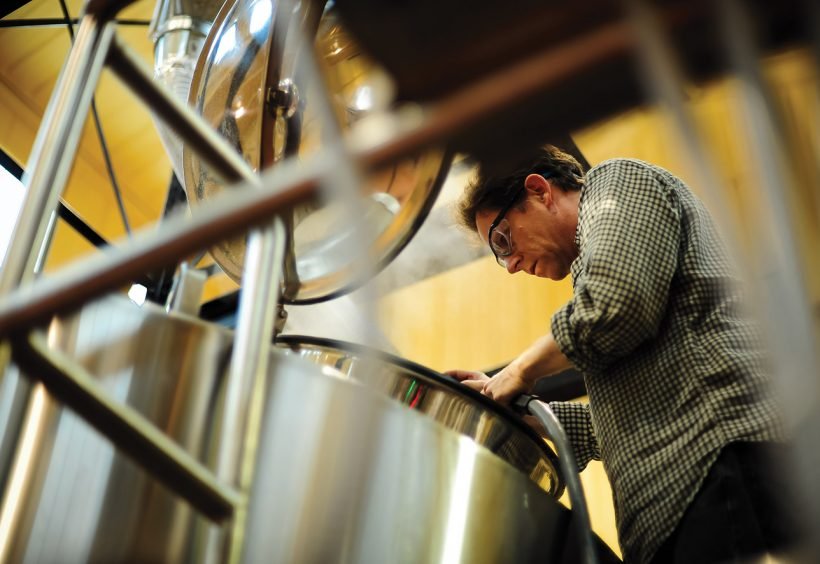 Visit one of the most fun things to do with friends and family in Covington- Brewhouse. Sudhaus invites guests to enjoy good beer in a friendly and beautiful setting.
Covington Brewery occasionally offers unique dishes, such as crawfish season, served on Fridays.
A small air-conditioned tasting room serves beers and TV music related to sporting events and music videos.
Their staff is also friendly and helpful.
The Brewhouse is just the right place to catch up with your loved ones over delicious strawberry beer and other options.
2. Covington Trailhead Museum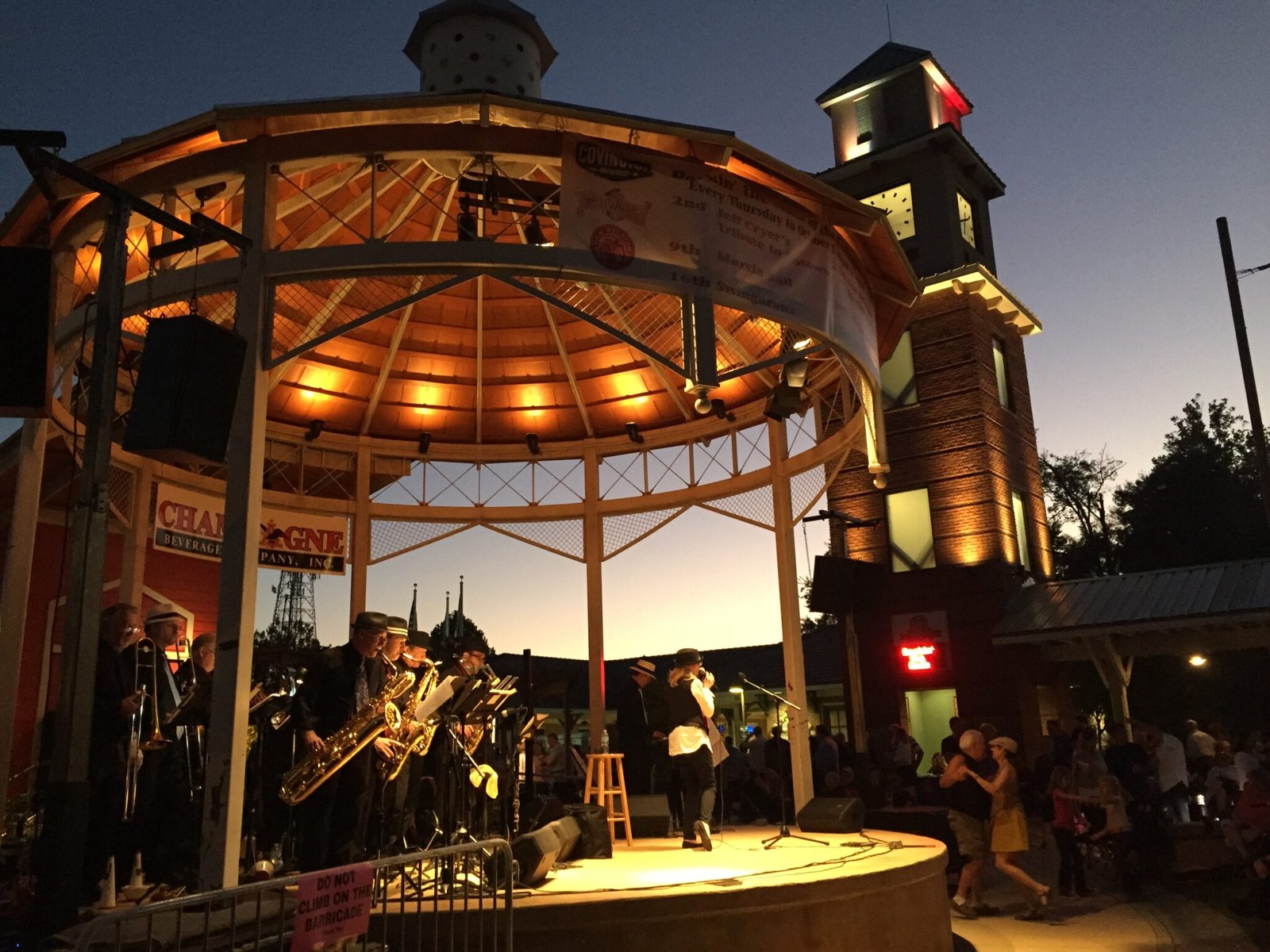 The Covington Trailhead starts the Tammany Trail that runs through the area.
The paved trail is about thirty miles long and connects the towns of Covington, Slidell, Lacombe, Mandeville, and Abita Springs.
The trailhead is a short walk from downtown restaurants and shops.
The site looks like an old railway station and features a clock tower, a grassy area, an amphitheater, toilets, a covered market, a visitor center with a museum, and more.
The museum is located along the Tammany Trace and serves as a rest stop for anyone heading that way.
So take your kids to the museum where you will all learn about the history of the city and your kids will surely enjoy watching the short films and videos.
2. St. Tammany Art Society
The Art Association of St. Tammany serves the needs of emerging and established artists by providing arts education and cultural and fine art exhibitions to the Louisiana Northshore community.
The St Tammany Art Association has three art galleries: Miriam Barranger Gallery (main gallery), Severson gallery, and Williamson Galleries (member gallery).
Exploring the galleries is part of the exciting things to do in Covington, Louisiana, and something you need to do before you leave Covington.
The Tammany gallery is a place where adults and children enjoy a great time in the city, home to many regional and national artists.
In the various galleries, you will find art exhibits and crafts by various artists. The art association also offers workshops in its studio to educate and inspire people of all ages to improve their art.
Free Things to Do in Covington
1. Museum of icons
The ICONS Museum is one of the must-visit attractions in Covington to discover and learn fascinating stories about the city.
The museum offers first-class artistic experiences of legendary cultural figures in a highly modern aesthetic environment.
ICONS Museum is committed to providing an outstanding, first-class, and enriching art experience to everyone around the world, treating each visitor with the same exceptional care that each one deserves.
The museum displays a rotating collection of over 60 portraits and 100 new retro products, surrounded by lush and private nature.
You will also find several iconic modern sculptures that deeply reflect the Crème de la Crème of artists, innovators, and cultural movers who have transformed the modern world through imagination and original creativity.
2. Motif
Visiting Motif in Covington is a unique way to spend time with loved ones while shopping for home goods and accessories.
The motif is one of the city's must-see attractions.
Motif offers home decor, gifts, accessories, furniture, gifts, holiday decorations, and much more; the store is a spectacular place to find unique gifts for your loved ones.
The theme offers beautiful things for everyone at a reasonable price.
If you are on vacation during Christmas or other festive seasons, visiting the store to find holiday decorations and other home items would be great.
3. Cooking classes with Chef Charmaigne
Do you like to cook unique dishes? Do you want to learn how to cook different delicacies?
Then be sure to take the Cooking Classes with Chef Charmaigne because it's one of Covington's best things to do.
There are beginner and advanced classes with an outdoor kitchen, and a fully equipped indoor kitchen Cooking classes for the Cajun/Creole southern dishes that are their specialty.
There are many menus to choose from Japanese, Mexican, Oriental, Indian, French, etc. You will have an amazing experience at the Cooking Courses with Charmaigne.
You can prepare the food yourself and then enjoy the rewards of what you cooked; the place is an exciting place to have fun and share with your loved ones.
Cool Places to Visit in Covington
1. Planet Beach
Planet Beach offers various automated services and quality products that work together to achieve your beauty, wellness, and fitness goals.
Explore the spa; whether you want a full body transformation or more targeted results, hot tubs provide everything you need for maximum results.
Planet Beach offers services such as HOTWORX, a virtually guided exercise program designed for users to experience the many benefits of infrared absorption.
At the same time, they complete a 30-minute workout, isometric training, or 15-minute high-intensity interval training (HIIT).
Planet Beach offers its guests the opportunity to achieve their fitness, beauty, and wellness goals.
In their private room, you will also experience a luxurious massage that helps eliminate stress, release toxins and increase blood circulation.
2. Opalescence Day Spa
Opalescence Day Spa is one of the places to visit in Covington, where you can experience a soothing and luxurious massage while relaxing in a beautiful room.
Opalescence Day Spa offers waxing services, a method of hair removal that dates back to ancient Egypt.
Sugar is a natural substance and exfoliator that makes the skin smoother and softer in preparation for the following body treatment.
Ladies who need a facial treatment or want to exfoliate or get rid of facial hair can visit the spa.
Head to the Opalescence Day Spa and let their certified sugaring specialist pamper you.
3. Krav Maga Institute Covington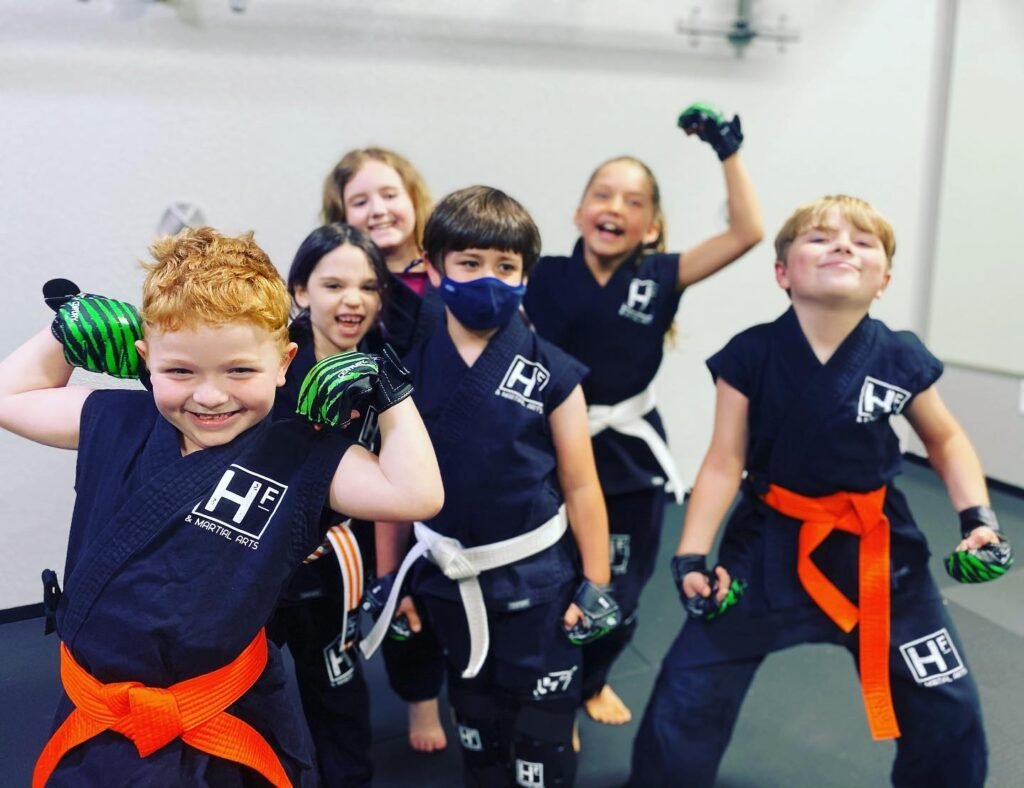 Krav Mega Institute Covington, Louisiana, is one of the fun things to do in town. The institute will teach you how to defend yourself, body balance, and more.
You will also learn kickboxing fitness, children's martial arts, law enforcement training, Brazilian Jiu-Jitsu, and rock-steady boxing.
At Krav Mega Institute Covington, there are instructors who will teach you how to defend yourself in a real and fierce street fight.
Their instructors will prepare you to master a variety of attacks by striking, blocking, and instinctive kicking.
You will definitely learn a lot at the Institute, and it would be fun if you go with your friends or family.
Conclusion
Whether you have a budget planned out for this vacation or not, you're sure going to have a fun trip.
We have made sure to include all the things to do in Covington that require little cash and guarantee great fun.
You'll be glad you agreed to come. Cheers!
Join us on Telegram
If you loved this content, do well to like us on Facebook and follow us on Twitter to get updates and engage with other people like you who wish to immigrate to Canada or just immigrated to Canada.