Sometimes a vacation is all you need. Check out these beautiful things to do in Grand Island (NE) before you head out.
This city of approximately 50,000 is the county seat of Hall County.
German immigrants founded this town in the 1800s, and by 1900 it had become prominent in the railroad industry, making it an idyllic destination for historians.
In addition to its rich history, Grand Island is known for its sprawling parks, fascinating museums, state fair, and horse racing.
In addition, it is also home to a huge bird sanctuary and charming gardens to explore.
If you're excited about having the best of your time here, don't miss a thing on our list of things to do in Grand Island (NE):
Fun Things to Do in Grand Island (NE)
1. Don't Miss a Thing at Eagle Scout Park
For more adventurous outdoor activities, check out Eagle Scout Park.
This small but crowded community park can be found along North Broadwell Avenue.
This six-acre park is home to multiple sports fields and courts, a children's playground, picnic shelters, and a fitness trail.
All of these facilities are inside a small park in the heart of Grand Island.
Take your friends on the road for a day full of outdoor activities such as sports and picnics.
You can also hike the 1.1-mile trail to view natural areas perfect for fishing, bird watching, and nature watching.
2. Experience the Nebraska State Fair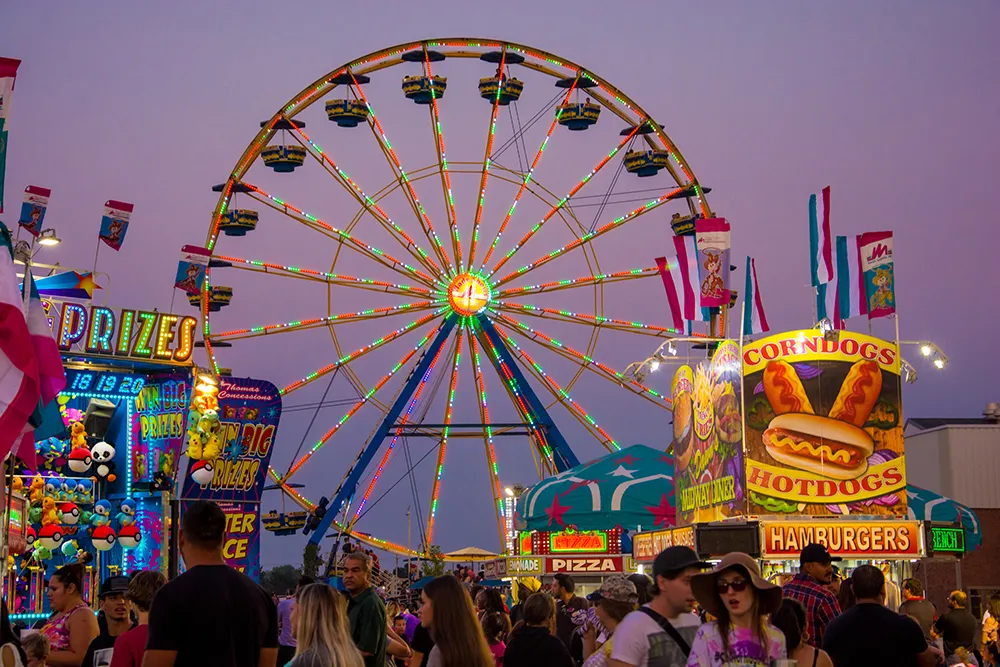 There is no better way to get used to the local Grand Island community than to join the Nebraska State Fair. It is usually held at Fonner Park.
The Nebraska State Fair has been held for more than 150 years and represents the state's unique culture, from the last week of the month of August to the first week of September each year.
The entire fair lasts 11 days and includes various events in addition to the usual agricultural fair.
During your visit, you will enjoy watching various entertainment programs from the locals, such as concerts and talent shows.
At the same time, you will enjoy playing games and rides with its carnival and treat yourself to delicious food from dozens of vendors.
In addition, this state fair also showcases the most innovative agricultural technology used in Nebraska's agricultural industry.
3. Show Your Skills at the Heartland Public Shooting Park
Heartland is a public shooting park along West Husker Highway that offers 420 acres of various ranges.
Whether you're a seasoned practice shooter or a novice, this is your go-to spot on Grand Island.
It has a sporting clays range for sharpshooters, a rifle and pistol range, and an archery range for old-school shooters.
Enjoy witnessing dozens of shooters practice their skills at Heartland Public Shooting Park, considered the largest public shooting park in the Midwest.
Things to Do in Grand Island (NE) at Night
1. Don't Miss a Thing at Fonner Park Race Track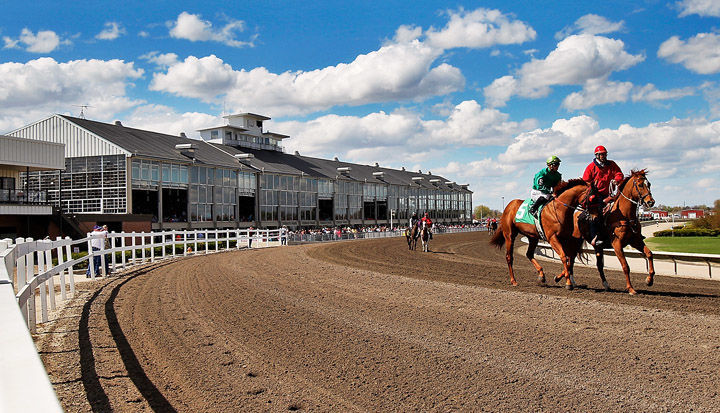 Fonner Park Race Track, a one-of-a-kind must-see attraction, is Fonner Park's premier race track.
It mainly features the best-thoroughbred horses that compete annually, from February to May.
Whether you're into betting or simply looking to enjoy the sport, this famous racetrack is an exciting place to visit.
It has a clubhouse where you can bet and choose the best bet during live races.
You can also head to the Fonner Keno Casino adjacent to the racetrack for various gaming thrills.
After watching and betting on the exciting horse racing, continue to the Finish Line Restaurant for a delicious meal.
In addition to the famous Fonner Park Race Track, check out the Nebraska Racing Hall of Fame.
It's the place to see horse racing memorabilia up close, including famous jockeys and horses in the state's history.
2. See a Movie at Rivoli 3
Rivoli 3, based in Hastings, is a long-standing, family-run cinema chain that screens premium films and offers concessions.
This beautiful, renovated theater has a nostalgic feel, clean facilities, and friendly staff. The seats are very comfortable, with plenty of legroom.
The Rivoli Theater has a very beautiful main auditorium, reminiscent of the majesty of cinemas from the early 20th century.
The other two auditoriums are smaller and more modern. This is actually the only cinema in Hastings.
And in the summer, they offer free-of-charge evenings on the balcony and movies for children.
3. Visit Skate Island
Located in the Northwest Commons, Skate Island offers good old-fashioned family time at the roller rink.
This facility has a nice history of families going there, a very popular activity among the local Grand Island community.
Overall they provide a great workout for all ages and even have walkers to help those just learning to skate.
Skate Island also features a snack bar selling all kinds of food and drinks, arcade games, and friendly staff. They also take reservations for private parties.
Things to Do in Grand Island (NE) For Couples
1. Go Golfing at Indianhead Golf Club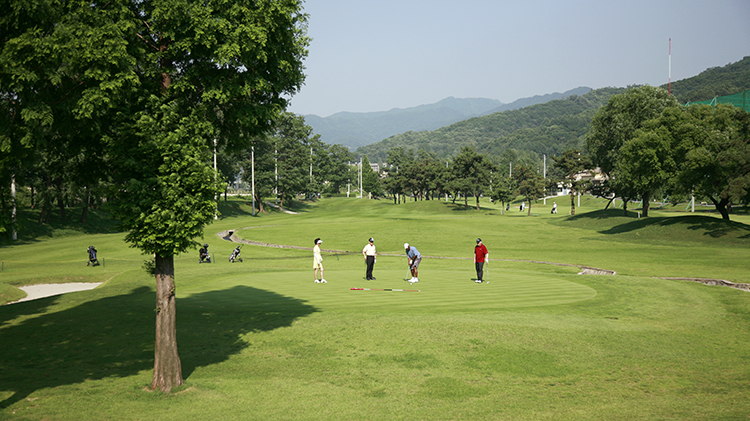 The golf club is located along West Husker Highway. Indianhead Golf Club offers an 18-hole course.
This beautifully landscaped facility occupies 160 acres.
Indianhead Golf Club opened in 1990 and has hosted thousands of golfers from various parts of Nebraska and neighboring states.
In addition to a world-class golf course, Indianhead Golf Club has practice and teaching facilities for newbies.
It also has all the basic equipment, such as equipment of poles, rental of poles, handling, and rental of towing carts.
2. Don't Miss a Movie at Showplex Cinemas Mall Stadium 7
Formerly Dickinson Mall Stadium 7, Showplex Cinemas Mall Stadium 7 is located in Conestoga Mall and is often referred to as AMC Classic Grand Island 7.
The cinema features updated projectors and calibrated sound. The facility also features a new digital approach providing a Real 3D experience.
This very affordable movie theater offers a small but complete concession stand.
Interestingly, when you buy popcorn, you pour the butter on it yourself.
Overall it is a very clean and well-maintained cinema with friendly and helpful staff.
3. Explore the Happy Jack Chalk Mine Association
The cave is wide with an easy flat floor, and the temperature is cool but not cold. If you're a fan of history and underground sites, this is a good stop when traveling through the area.
The cave itself is very interesting to explore. Most of them have been closed due to the history of the site, but 1,500 feet of the cave can still be seen.
Look out for bats on the ceiling, although most have migrated elsewhere in recent years.
And at the end of your visit, head to the Happy Jack Lookout. It's worth the trip!
Things to Do in Grand Island (NE) For Kids
1. Let Them Play at Stolley Park
The 34-acre Stolley Park is where many Grand Island locals come to play.
You can find this park along West Stolley Park Road.
You'll find the William Stolley House, the Children's Kingdom, a greenhouse, a disc golf course, a wading pool, and a replica pioneer log cabin.
In addition to the usual park amenities, the park also has a train that offers a ride around the entire park.
Riding the mini train offers a nostalgic experience, and children will surely enjoy this activity.
Head to Stolley Park for some wholesome fun with plenty of activities to do with your loved ones.
2. Take Them for a Swim at Island Oasis Water Park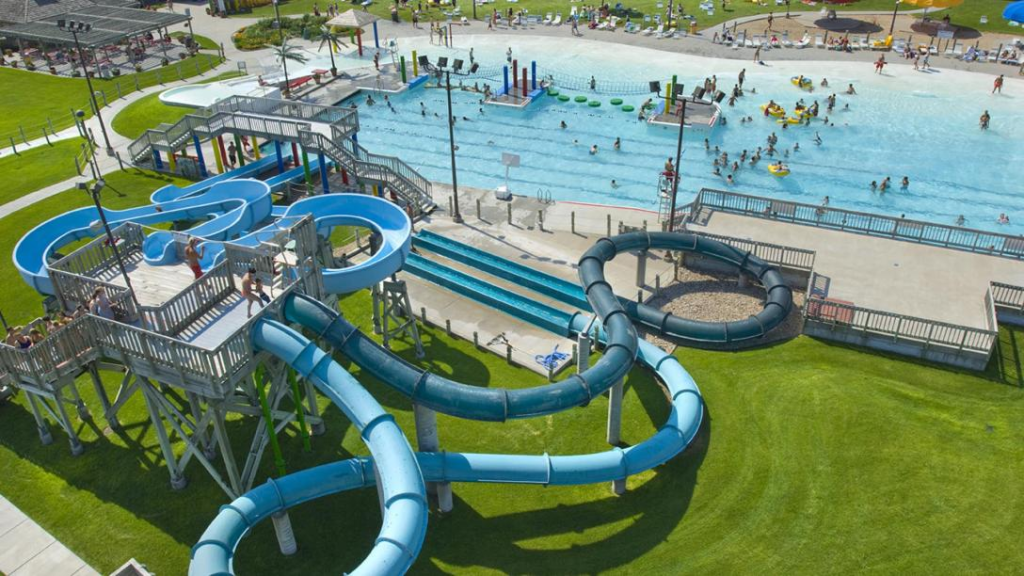 Island Oasis Water Park is one of the best outdoor attractions on Grand Island.
This massive water park can be found along East Fonner Park Road.
It mainly features four huge waterslides, a 350,000-gallon wave pool, two-speed slides, a 750-foot lazy river, and much more.
Most of the city's locals and other visitors from around Nebraska flock here to cool off every summer.
If you are traveling to Grand Island with your family, it will be best to take them to this water park and enjoy what it offers.
In addition to the exciting facilities, adults can relax and unwind by the pool or swim with the children.
Whether you're looking for relaxation or fun, Island Oasis Water Park has something for everyone to enjoy.
3. Visit Edgerton Explorit Center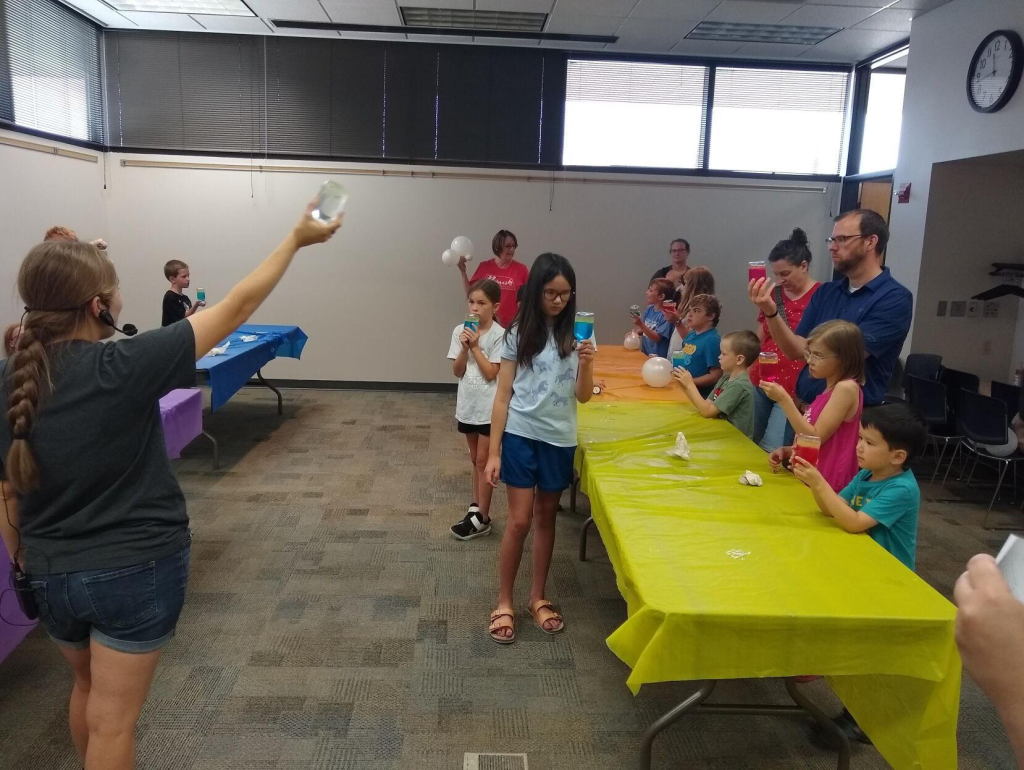 Located in Aurora, less than a 30-minute drive from Grand Island, is a great museum in the heart of Nebraska with many elegant science exhibits.
The museum is very unique, with an interesting history and great interactive science exhibits. Exhibits range from building blocks and electronic switches to sound meters and flight simulators.
A staff presentation also explains and gives audio and video on science-related topics.
Don't forget to check out the science lab presentations and let the kids get involved in motion, static electricity, and building a hydrogen bomb. Overall, this is a very educational and fun experience for the whole family.
Indoor Activities to Do in Grand Island (NE) For Adults
1. Explore the Stuhr Museum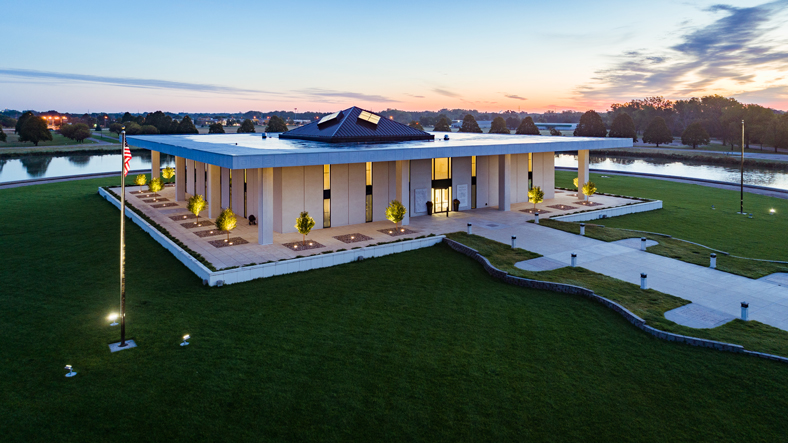 To learn about the history and local culture of Grand Island, head to the Stuhr Museum on US-34.
This 200-acre museum is home to an excellent display of pioneering 19th-century city builders.
It primarily features historical attractions, exhibits, and educational activities that will take you back in time and experience Nebraska's pioneer era.
At the end of your visit, shop for unique souvenirs in the Stuhr Museum gift shop.
Make a splash at Island Oasis Water Park.
2. Get a Feel of Old Times at the Grand Theatre
Be amazed by the Bolshoi Theater and its well-preserved 1937 Art Deco design and architecture.
If you're a fan of old theaters and retro buildings, this spot along West 3rd Street is your favorite.
The Grand Theatre, once known as the Lydia Theatre, underwent reconstruction after being destroyed by fire in the mid-1930s.
After its reopening, it remained one of Grand Island's most famous entertainment venues, especially in the 1970s.
Over the years, the theater has undergone numerous renovations by the local community to preserve its historical value.
A visit to the Bolshoi Theater today will allow you to learn more about its glorious past.
Take as many photos as possible of its façade, concession stand, box office, and other theater sections as a souvenir.
Finally, catch one of the shows at this famous historic theater.
3. Go Bowling With Friends at Westside Bowling
Head to Westside Bowling along Kaufman Avenue for wholesome indoor fun.
This bowling alley is where many Grand Island locals grew up playing classic bowling.
Whether a bowling novice or a seasoned kegler, this bowling alley has something exciting for you.
It has more than a dozen lanes where you and your travel buddies or family can engage in friendly competition.
Westside Bowling hosts regular tournaments so you can join and compete with Grand Island's best bowlers.
Romantic Things to Do in Grand Island (NE)
1. Spend Some Time Together at Railside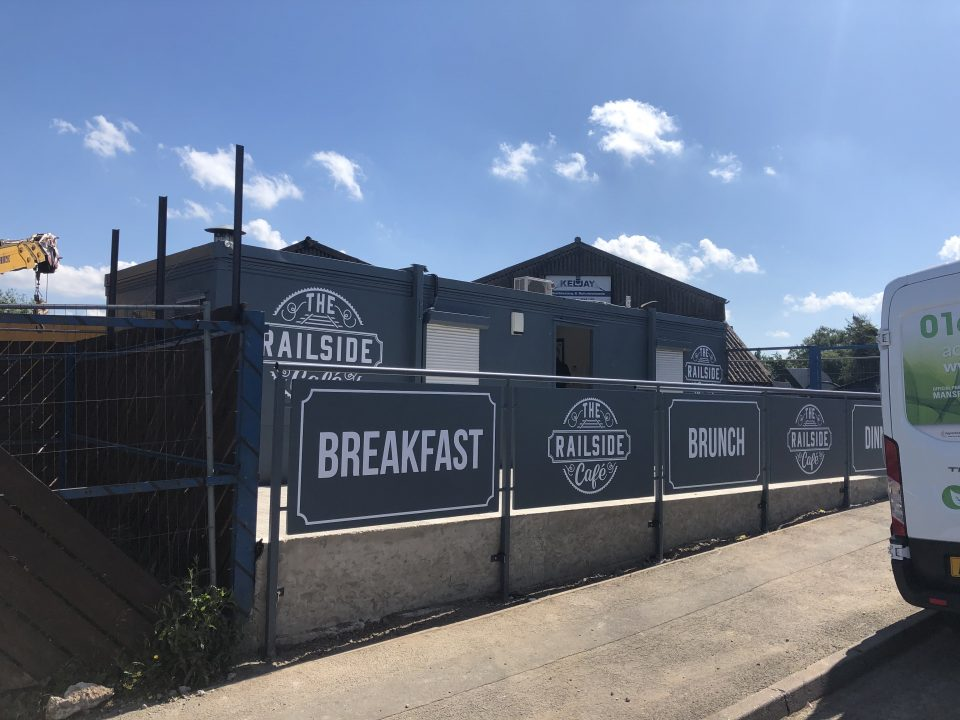 Railside is a sprawling commercial area along North Wheeler Avenue. Railside is perfect for leisure activities such as dining, shopping, entertainment, etc.
Railside has dozens of shops, restaurants, and boutiques with a wide range of offers. With all this, head to this place and enjoy top leisure activities.
At the same time, be amazed by the view of well-preserved historical buildings surrounding the entire campus, including the Great Theater from 1930.
Don't forget to check out the various restaurants and microbreweries or catch various events.
2. Have Some Wine at Moonlight Ridge Vineyard
If you're in the mood for a relaxing sit down with a glass of wine, visit Moonlight Ridge Vineyard.
You can find this vineyard and winery along US-281. The main part is a charming family tasting room.
You will be amazed when you see its cathedral ceiling, cozy stone fireplace, and hardwood floors.
If you're in the mood to sit outside with your wine, head to Moonlight Ridge Vineyard's spacious patio, which overlooks the six-acre vineyard and other scenery.
3. Shop at Conestoga Mall
If you're in the mood for some extra leisure activity, head to Conestoga Mall for some shopping.
This 611,719-square-foot shopping center along West 13th Street features more than 65 stores.
Conestoga Mall was opened by the Namdar Realty Group. It remains one of the best places to shop on the Grand Island.
Its stores include Dillards, Best Buy, American Eagle Outfitters, Foot Locker, Hallmark, Bath & Body Works, and more.
For some relaxing entertainment, head to the AMC theaters in the mall.
Satisfy your food cravings at Conestoga Mall's variety of restaurants to complete your visit.
Free Things to Do in Grand Island (NE)
1. Reminisce Old Times at Raising Nebraska
Raising Nebraska is a massive 25,000-foot-long interactive exhibit featuring the region's rich history.
You can find this historic attraction along East Fonner Park Road.
Above all, it presents Nebraska's diverse culture, heritage, science, and agricultural history in an interactive way.
Its indoor and outdoor exhibits take you to various historic parts such as the Combine Drive, Agri-House, Control the Flow, Trusted Voices, the Grain Bin Theater, and the Walkable Map of Nebraska.
Each exhibit inside Raising Nebraska offers different types of interaction to learn its unique and fascinating historical information.
2. Meditate at St. Mary's Cathedral
Take a break from shopping and outdoor activities and head to St. Mary's Cathedral for a festive experience.
Located along South Cedar Street, this cathedral is a historic and charming Gothic structure dating back to 1869.
Historically, the cathedral serves as the Western Catholic Diocese of Nebraska, founded in the 1860s by Catholic families who moved to Grand Island.
The church underwent reconstruction after it was destroyed by a windstorm at the end of the 19th century.
The church eventually grew through the efforts of the congregation.
Today it remains one of Grand Island's major religious centers.
Apart from the religious activities, you will also enjoy the view of the amazing Gothic architecture of the Cathedral of St. Mary.
The best way to enjoy a visit to this cathedral is to take photos and learn about its fascinating history.
3. See the Platte River
With more than 300 miles in length, the Platte River is a major river in Nebraska and a tributary of the Missouri River.
The river drains much of the Great Plains and offers many recreational activities on Grand Island.
You can take the whole family camping on the river bank, swimming and tubing, or even fishing.
You never know what you'll find along the Platte River in Nebraska.
The river is beautiful but at the same time dangerous. For example, sometimes, you can see trees and debris flowing with force due to flooding, and waterlogging can be expected.
So be safe and respect nature.
Cheap Things to Do in Grand Island (NE)
1. Visit Rowe Sanctuary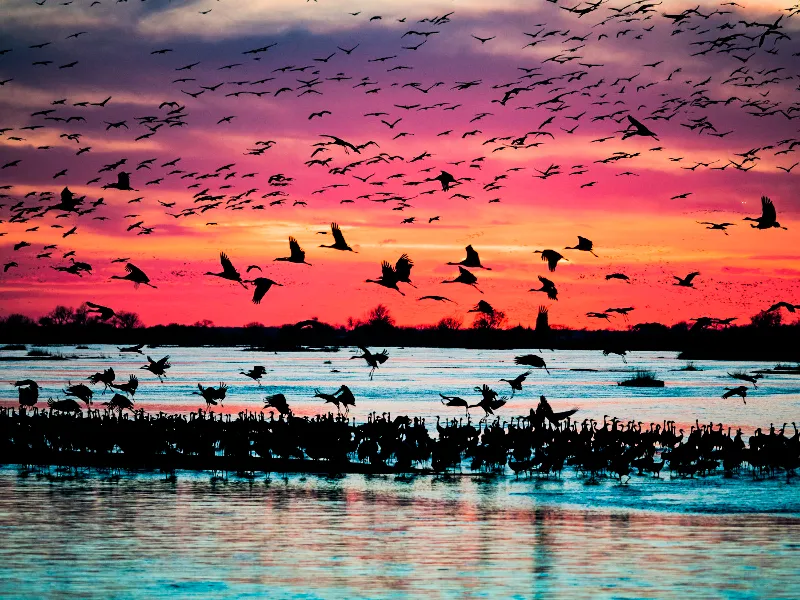 Overlooking the river bank with binoculars and binoculars, the Rowe Sanctuary is a great place to watch whooping cranes fly in the middle of farmland.
The trails, visitor center, and proximity to the Platte River are always great, but the highlight is the spring season of the Great Sandhill Crane Migration!
In this way, Rowe is a great place to view and learn about cranes. They did a fantastic job of providing the cranes with an optimal hiding place.
Early morning and evening stay in the blind can be very chilly, so dress in layers for comfort. The sanctuary also has a nice gift shop where you can take your Nebraska souvenir home.
2. Visit Railroad Town, Nebr.
This famous town offers a fascinating step back in time with plenty of local history, live educational displays, and local art displays.
At Railroad, you will learn about the history of how it was in the old days, around 1800.
As you stroll through Railroad, you can visit several buildings, including a saloon, a tin shop, a hat shop, and a hardware store. Not to mention the veterinary store.
3. Visit Plainsman Museum
Located in the Edgerton Explore Center, the Plainsman Museum covers six acres and houses treasures and artifacts from when the Platte Valley was first settled.
The museum has a lot of plain history with exhibits that are specific to Aurora and the surrounding communities.
The Plainsman Museum offers a relaxing and educational journey through the past, from the main building with its old boardwalk, military memorabilia, and antique farm building cars to a working forge, prairie school, and the home of Civil War General Delevan Bates.
Inside the building are storefronts where you can walk along the boardwalk and check out the historic shops.
Cool Places to Visit in Grand Island (NE)
1. Crane Trust Nature & Visitor Center
This beautiful sandhill crane conservation center has guided tours and short trails.
The visitor center itself is incredible and very well done. Their night blinds are in a great location on the south side of the river with many options that give you a chance to get great shots without the birds having any idea you are among them.
The Crane Trust provides great opportunities to fit into everyone's budget so you can enjoy cranes while supporting an organization dedicated to helping these unique birds.
2. Hornady Manufacturing
With the highest quality products, along with Nebraska hospitality and a dedication to worker safety, Hornady Manufacturing produces some of the finest equipment and ammunition in the world.
They also provide tours of the missile factory. Their bullet design and production are second to none.
During the tour, see the huge precision machines that produce a huge number of perfect bullets, from .17 HMR to .50 BMG.
They even rebuilt massive old precision presses themselves!
The test range inside provides each batch with strict quality control of the test firing procedure.
They will not allow any substandard or damaged bullets to enter the market, representing perfect quality control.
3. Hastings Museum
With three levels of exhibitions, a small children's play area, IMAX, and a gift shop, Hastings Museum offers all kinds of things to see and learn! From prairie settlers to a planetarium, lots of animals, and a Kool-Aid exhibit.
Yes, an area dedicated to the history of Kool-Aid was curiously created in Hastings.
Hastings Super Screen is the nicest theater around. It's cool, the seats are comfortable, the floor is carpeted, the sound system is great, and there's a huge screen.
Conclusion
Grand Island perfectly combines leisure, history, and outdoor activities, making it an excellent tourist destination in Nebraska.
Don't miss out on anything during your trip with our trip on things to do in Grand Island (NE).
Join us on Telegram
If you loved this content, do well to like us on Facebook and follow us on Twitter to get updates and engage with other people like you who wish to immigrate to Canada or just immigrated to Canada.