Nebraska, a land of kind, warm and loving people, doesn't get all the attention it deserves as tourists tend to overlook this place.
Kearney is a city full of scenic beauty; it is one of the hidden gems of Nebraska.
This city has beautiful tourist attractions such as scenic hiking trails, historic theaters, fascinating museums, and historic sites.
Its main attraction is the sunset-colored Archway that crosses interstate lines, connects the city to the Platte River, and is also a history museum.
It doesn't matter whether you're interested in sitting by the river and watching the migratory birds fly by or strolling the brick streets of downtown Kearney; the city is a beautiful place to spend a peaceful vacation.
Now, let's get started with the best things to do in Kearney (NE).
Fun Things to Do in Kearney (NE)
1. Try Out the Local Culinary Scene
Are you a foodie? And probably attracted to restaurants and food stalls more than tourist spots.
Or perhaps you are just tired after a long day of sightseeing in Kearney?
No matter your answer, Kearney has some of the best restaurants, food stands, and eateries for you. The possibilities are endless.
Burgers in this city are among their tastiest dishes. Doesn't a burger, fries, and milkshake sound perfect after a day of activities?
Nebraska is also known for its steaks, bacon, waffle fries, and gravy.
2. Try Out Your Brushes at Paint Paradise Paint Your Own Pottery Studio
Would you like to get creative and show off your artistic side? Then, Paint Paradise Paint Your Own Pottery Studio is one of the best places to visit in Kearney.
The Paint Paradise Paint studio is located in the city center and is a warm and cozy place to hang out.
Channel the artist in you and create the type of pottery that works for you.
Do you want to paint on glass using ceramic glazes?
Want them to help you finish the pot?
Paint Paradise Paint Your Own Pottery Studio gives guests creative freedom but will be ready to help if you so need it.
You can even take home, if you wish, the designs you create in the studio.
If you'd rather have someone make something for you, that's also an option.
3. Don't Miss the Festivities at Buffalo County Fairgrounds
The Buffalo County Fairgrounds has a reputation for attracting some of the most popular events to the area.
Artists who have performed here include Christina Aguilera, Toby Keith, and REO Speedwagon.
The Buffalo County Fairgrounds is home to a variety of major trade shows and events, including the annual Buffalo County Fair.
You can also book a place for your next event.
Your next charity event, company picnic, or wedding reception can be held here as well as other types of social gatherings.
Things to Do in Kearney (NE) at Night
1. Grab a Bottle at Kearney's Famous Craft Beer
Kearney boasts of one of the best craft beer scenes in Nebraska.
So why not try some and see for yourself?
If you enjoy locally brewed beer and wines, Kearney may be the perfect destination for you.
There are some fantastic places to find craft beers and beer on tap. The huge collection gives you a wide range to choose from.
2. Have a Taste of Locally Brewed Beer at Thunderhead Brewing
Thunderhead brewery operated out of Kearney for several years before outgrowing the available capacity and relocating to Axtell in 2008
Changing its initial name, Golden Frau, to the current one, Thunderpie, the pub is still the most incredible place to get the full Thunderhead experience.
At Thunderhead, they offer a wide selection of craft beers developed by a team of beer lovers.
They also have a comprehensive menu, including several specialty stone oven pizzas.
You can also purchase Thunderhead clothing or gift cards for your soon-to-be friends.
3. Don't Miss a Show at Kearney Community Theatre
Since 1990, Kearney Community Theater has hosted an annual season of five plays and two musicals, including three plays and two musicals.
The theater wing of the Academy of Children's Theater (ACT) also offers theater programs for youth between the ages of 6 and 18.
ACT organizes at least two major shows and several technical and acting workshops every year.
Kearney Community Theater invites you to join her community if you would like to get involved and express yourself through theater.
Sit back and enjoy a performance at the Kearney Community Theatre.
Catch comedies, dramas, and musical productions from local artists at their best!
Things to Do in Kearney (NE) For Couples
1. Explore the Beauty of the Frank House
Widely known by locals as the Frank House, the George G.W., The Frank Museum of History and Culture is one of Kearney's hidden gems.
Located inside the University of Nebraska at Kearney campus.
The building has great historical significance and has been standing since 1886.
Listed on the National Register of Historic Places, the Frank House is a massive hit with tourists.
The museum houses some of the finest works of art in all of Nebraska.
You will also find some wonderful European details. The story of the collection is also quite fascinating.
A passionate man and his wife traveled far and wide to collect all the exclusive antique pieces.
After their deaths, the house was given to the University of Nebraska at Kearney.
The collection is said to be priceless and loved by locals and foreigners alike.
2. Enjoy a Picnic at the Cottonmill Park
While there are many parks in the city, Cottonmill Park is one of the best outdoor parks in Kearney.
There are plenty of water activities in the park that you can enjoy in the 43-acre lake located in the middle of the park, you can enjoy activities like boating and fishing, and you can just opt ​​for a picnic and enjoy the atmosphere nearby.
Cottonmill Park is a great place for leisure activities, and the park offers boat rentals in the summer.
They have an 18-hole golf course (also a great family activity), sports hiking trail, nature barn, amphitheater, sand volleyball court, playground equipment, and much more.
It is a great place to spend weekends, holidays, and vacations.
Add Cottonmill Park to your list when you're making your list of things to do in Kearney.
3. Grab a Bite at Angus Burgers and Shakes
As the name suggests, Angus Burgers and Shakes serve amazing burgers made from beef produced by the restaurant's owners.
They have many tasty options on the menu, such as the burger Relleno, which includes Monterey Jack cheese, avocado spread, poblano peppers, salsa verde, cilantro, mayo, and many tasty ingredients.
You can also try the Knockoff, a regular burger with toppings.
Dining at this place will make you forget about any other meal and want to complement your meal with their delicious handcrafted cocktails.
The shakes also come in unique flavors such as banana pudding shakes, vanilla ice cream mix, vanilla wafers, banana, and chocolate garnish; Of course, you can order vanilla, chocolate, and different flavors of cocktails.
Things to Do in Kearney (NE) For Kids
1. Let Them Play at Kearney Area Children's Museum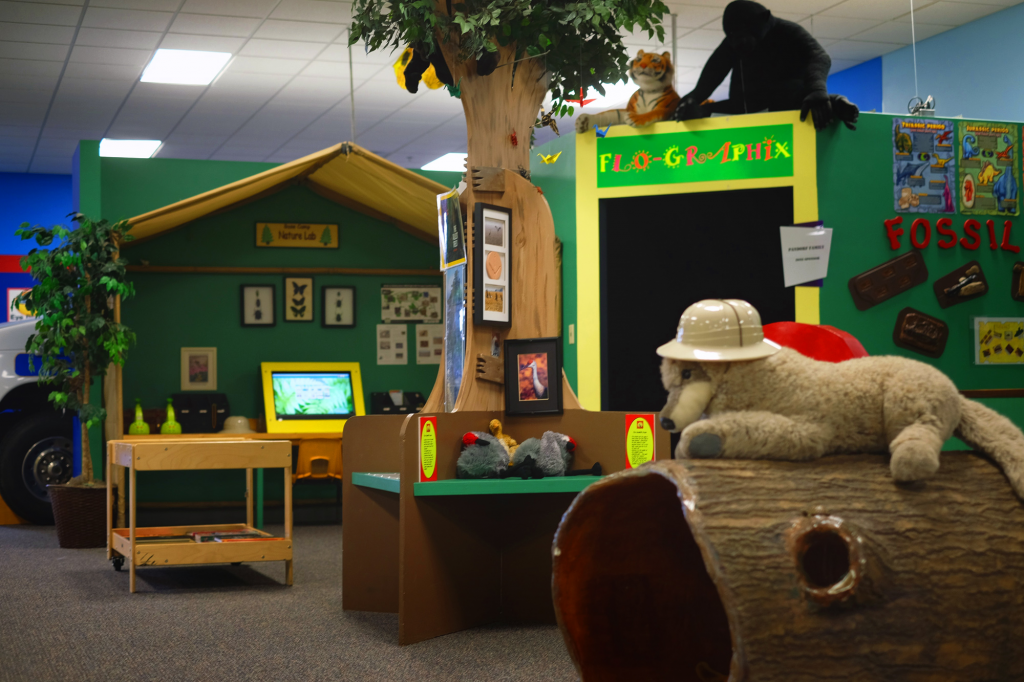 At the Kearney Area Children's Museum, kids of all ages can have a blast.
Together, families can learn about a variety of subjects from music to agriculture to medicine.
We aim to provide interactive experiences that encourage children's curiosity, play, and exploration.
The involvement of children and their families is achieved through cutting-edge exhibitions, unique events, and educational activities.
An art studio, railroad depot, science center, grocery store, fire station, and farm are among the 20 interactive exhibits at the Kearney Area Children's Museum.
2. Check Out the Nielsen Kids U-Pick Pumpkin Patch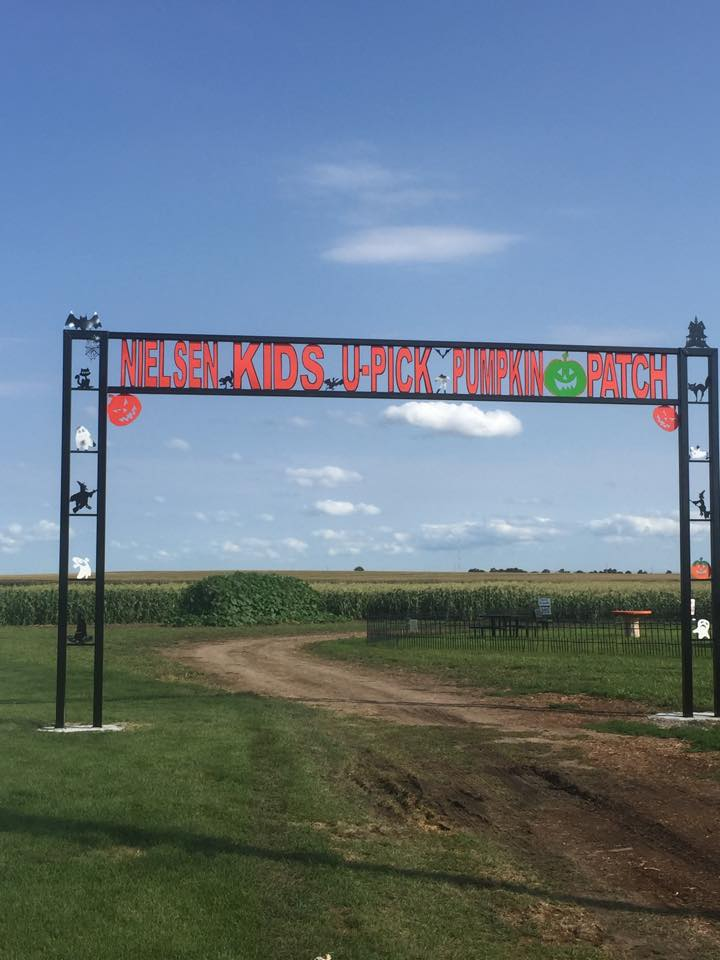 The Nielsen Kids Pumpkin Patch is the perfect way to pass the time when the weather is chilly, especially during the fall season.
The Pumpkin Patch is also a great family fun activity.
They have an extensive corn maze, themed activities, and snacks like Popcorn. This is a place to let your hair down and be free.
It is located southwest of Minden and a short drive from Kearney.
It's a 13-acre plot full of pumpkins, and you get to pick your own pumpkins. You can search among different species to find your preferred one.
3. Give Them the Time of Their Lives at Yanney Heritage Park
Yanney Heritage Park is another of Kearney's parks.
This park has several attractions, from a fishing lake to swan-shaped boats, water features, an amazing labyrinth, and a tower that provides an unobstructed view of the city and its beauty.
They also host various performances at certain times of the year, including concerts and theater.
The park also has a hiking trail where you can stretch your legs.
This park is sure to leave you with an unforgettable, unforgettable experience.
Indoor Activities to Do in Kearney (NE) For Adults
1. Don't Miss a Show at the World Theatre
One of Kearney's top tourist attractions, the World Theater is one of the largest movie theaters you'll come across.
The historic World Theater building has been around since 1927 and still boasts a cool 1920s vibe.
The World Theater has eight screens, so there's a good chance your favorite movie will be showing on one at least.
The theater has a vintage feel and is one of the nicest places in Kearney for the perfect date.
The World Theater is also known for its fresh, buttery popcorn—the perfect movie companion.
2. See the Fleet at Classic Car Museum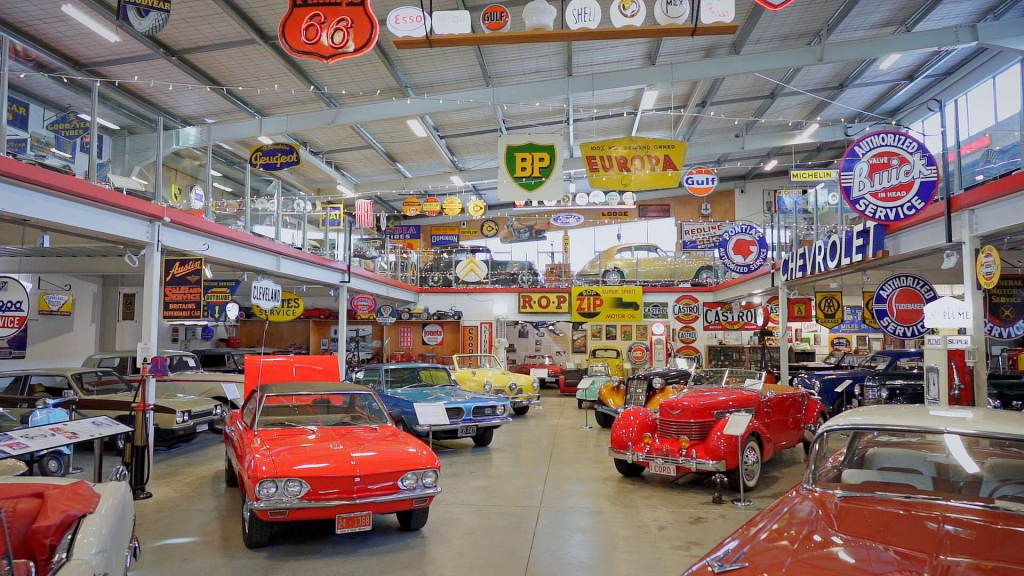 Are you interested in classic cars?
Then Kearney has the best place for you to hang out if you are a car enthusiast.
The Classic Car Museum has some of the best collections of cars. There are so many cars that you won't know where to start.
From historically significant cars like the DeLorean to gorgeous vintage cars and modern cars rarely seen on the road, the museum has everything assembled just for fanatics like you.
They even restore some cars and put them on display. There may even be cars you've never heard of before.
3. Make a Stop by the Big Apple Fun Center
Tired of being outside? The Big Apple Fun Center is here for your enjoyment.
It is much better than any theme park, and you can easily spend a lazy Saturday afternoon here with your friends or family.
From laser tag to miniature golf, the Big Apple Entertainment Center has everything you need for a fun-filled day.
They even have go-karts available.
Romantic Things to Do in Kearney (NE)
1. Appreciate Art at the Museum of Nebraska Art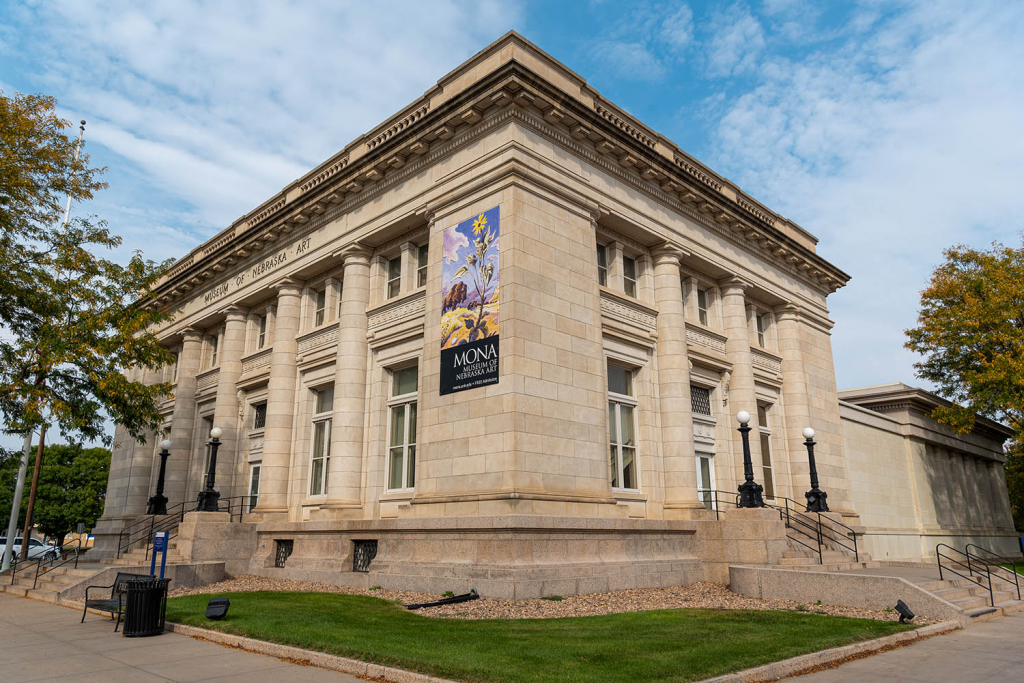 The Nebraska Museum of Art, also known as MONA, is known throughout Nebraska for its fantastic collection of paintings and sculptures.
The museum is located in the premier area of ​​Downtown Kearney and attracts visitors.
Besides housing some artworks from well-known international artists, the museum also supports local artists and attracts even more people to the place.
MONA showcases the talents of local Nebraska artists and their art dedicated to Nebraska itself.
They also run several events to help these artists sell their paintings throughout the year.
There is also a special event where they display art inspired by the migratory sandhill cranes in Kearney.
2. Shop at Hilltop Mall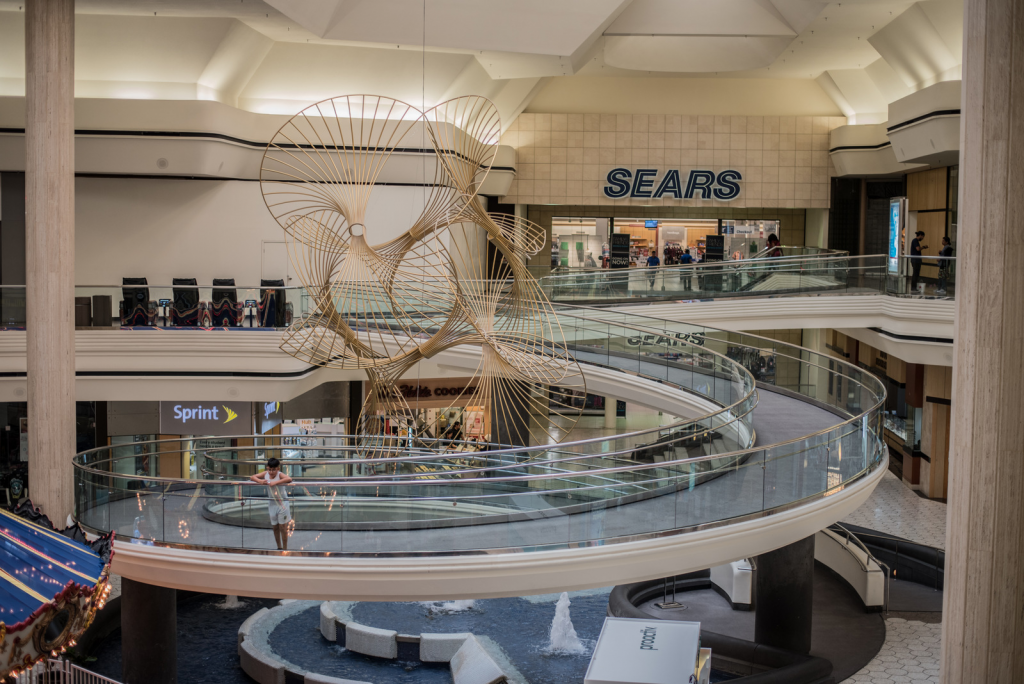 Hilltop Mall is one of the main shopping destinations in the community and has been for over 30 years. It is located on Highway 10 in Kearney, Nebraska.
They have more than 15 local businesses in the mall like Kasan's Kiosk, Sequel Bookshop, Sports Village, and many more.
The mall's community support has allowed them to bring in over 20 nationally known chains such as The Buckle, JCPenney, and many more.
The mall has a lot of fun features that will also help you in the comfort of shopping, such as a children's arcade, dining tables, free Wi-Fi, public toilets, and many more.
Shopping at Hilltop Mall is always fun.
3. Go Horse Riding at Christine's Horseback Riding Stable
This riding stable in Kearney focuses primarily on teaching beginners and intermediate riders, with a minimum age of three years.
They have proven techniques to help riders face and overcome their fears. Riders of all levels are accommodated at Christine's riding stable.
Their horses are well trained and fit for riding; they offer horse training, pony birthday parties, day camps, riding lessons, horse photography, and many other equine activities.
The owner, Christine Wilson, is one of the instructors. She started riding horses in Germany at the age of eight.
She started this Equestrian Stable with just two horses.
They currently have eight horses and three beautiful ponies. Christine Wilson is known to have been horse-riding for over 40 years and, as such, is very experienced.
Adventure awaits at Christine's Horseback Riding. Visit them now in Kearney.
Free Things to Do in Kearney (NE)
1. Explore Downtown Kearney
Downtown Kearney has to be one of the nicest places in town.
Its roads are paved like those in Europe, and its streets are full of cafes, food stalls, and shops.
Downtown Kearney is a place where you can walk around all day and never get bored.
Bargain in shops or sip coffee while walking hand in hand with your loved one.
Downtown Kearney is alive with lots of people walking around, shopping, and eating.
You can also hear live music playing on street corners.
2. Take a Tour of the University of Nebraska at Kearney Campus
You might wonder what visitors can even do on a college campus.
But at the University of Nebraska, the campus has a lot of fun and interesting places to explore.
You can also meet some of the most amazing people there.
The fields are huge, and you will see college students playing sports there.
The area is also extremely well decorated. You can find artwork or graffiti on the walls.
There are speakers blasting music played by students. Overall, the grounds are a fun place to spend an afternoon.
3. Visit the Archway Monument
The Archway Monument plays a vital role in Kearney's history.
Are you aware of the revolution that took place during the 19th century when natives walked across different parts of the country in search of a better life?
If not, this is a great place to learn about this challenging moment in history.
People following the California, Mormon, and Oregon Trails actually passed through Kearney, giving the town its prominence in American history.
Cheap Things to Do in Kearney (NE)
1. Grab Some Coffee
Like any college town, Kearney is home to some of the best coffee shops around. College students live and breathe caffeine.
Here in Kearney, many of the coffee shops you'll find are owned by residents of the city.
You will taste some exclusive flavors that you may not even know exist.
Relax at one of the cafes, sip a cup of coffee and enjoy the view of the surrounding scenery.
2. Check Out Kearney's Hiking Trails
Are you a big fan of nature? Do you like long, scenic hikes?
There are many public trails to enjoy in Kearney. The city boasts more than 25 miles of hiking trails to give you an idea.
Some of the best trials are located in the Fort Kearny State Recreation Area.
3. Visit the Trails & Rails Museum
It is housed in eight different historic structures for visitors to explore and is located on the original Mormon Trail (current 11th St.)
There is also a Union Pacific locomotive and caboose, a livery stable, and a genealogy center.
The Buffalo County Archives are housed in an extensive archives department that is accessible to scholars from around the world.
The Buffalo County Historical Society, a 501C-3 nonprofit organization, owns and operates the museum.
Cool Places to Visit in Kearney (NE)
1. Nebraska Firefighter's Museum
The museum is quite close to the Archway Monument and is entirely dedicated to Nebraska firefighters.
The interior is decorated with several arts and crafts related to the emergency services and firefighters.
You can spend your visit looking at the various fire engines, pumps, and equipment that helped put out some dangerous fires in the past.
The museum offers various educational events and tours for children and students.
You can also check out the Nebraska Firefighters Memorial.
These brave men and women of Nebraska fought until their last breath to save people from wildfires.
2. Sandhill Cranes in the Rowe Sanctuary
If you are a bird lover or bird expert, then there is no better place to hang out than Kearney.
Are you interested in Sandhill Cranes?
Learn all you can about these amazing creatures here.
Ornithologists from around the world flock to Kearney to see these migratory birds.
In this city, you will find a lot of information about them that you will not find anywhere else.
Sitting and admiring these beautiful birds at dusk is a beautiful way to spend time in Kearney.
The Iain Nicolson Audobon Center at Rowe Sanctuary is an excellent place to hang out and meet some birds.
This famous sanctuary is only a 20-minute drive from Kearney.
3. Viaero center
Viaero Center is one of Kearney's most popular event centers and has been known by many names, such as Kearney Event Centre, Firstier Event Center, and Tri-city Arena.
The event center opened in 2000 when it was called the Tri-City Arena.
The center is home to the Tri-City Storm ice hockey team, Nebraska Cranes Basketball, and the Tri-City Diesel Arena for football.
The Event Center is a multi-purpose arena with a capacity of 5,000 seats. It has a capacity of approximately 4,047 seats for hockey, basketball, and football.
The event center hosts concerts, congresses, fairs, and many other events, and the arena has 20 luxury suites.
This event center hosts endless fun activities.
Conclusion
For a travel experience that offers both adventure and opportunities for rest and relaxation, look no further than this vibrant city of Kearney (NE).
Follow this list of the best things to do in Kearney (NE) and have a beautiful vacation.
Join us on Telegram
If you loved this content, do well to like us on Facebook and follow us on Twitter to get updates and engage with other people like you who wish to immigrate to Canada or just immigrated to Canada.