Are you considering a vacation this period? Why not look up some beautiful things to do in Rosewell (GA).
Roswell is a city with an abundance of historic cultural activities and opportunities. The city of Roswell is now the eighth-largest city in Georgia.
The city's population has only grown steadily over the past few decades, meaning there has been a constant development boom since its inception.
Atlanta Magazine has twice featured Roswell as the best place to live in the metro Atlanta area. The city also received the Georgia Municipal Association's "City of Excellence" award in 2003.
The city of Roswell has 13 different parks and 900 acres of outdoor recreation areas with interesting facilities for recreation.
If you want to visit and explore incredible Roswell, you must check out these best things to do in Roswell (GA):
Fun Things to Do in Roswell (GA)
1. Go Golfing at the Horseshoe Bend Club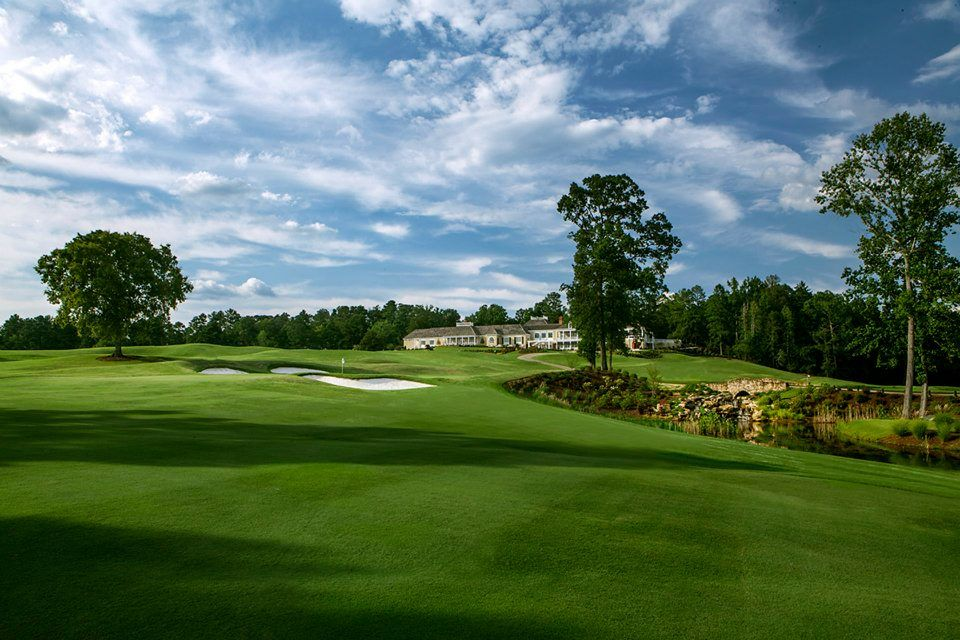 This golf course is located in a beautiful location that surrounds the amazing Chattahoochee River.
Its rolling hills used to be the site of Atlanta's annual steeplechase until the beautiful scenery caught the attention of golfers.
This amazing place is simply elegant with a touch of sport.
It is a beautiful location where this stunning golf course has been shaped into a premier golf club located in an unparalleled community.
At the heart of it all, nestled atop a hill with breathtaking views, the recently renovated clubhouse offers fine dining options and an intimate space for entertaining, relaxing, and recuperating.
This is a great country club to visit if you want to spend some quality time playing golf. Its state-of-the-art facilities and friendly staff also make this place stand out.
2. Take a Walk Around Leita Thompson Memorial Park
Leita Thompson Memorial Park has many beautiful amenities, including many trees, mile markers, and several bridges over the trails to take photos from if you're inclined.
This park is a green facility with a cultural atmosphere and mild and cushioned terrain.
Mileage markers are clearly visible, making it easy to track your progress as you go.
And since dogs can come to Thompson Memorial Park, many people take their pets for walks.
You can certainly take a good walk or run along the paths of this incredibly beautiful park.
3. Participate in the Georgia 400 Century Ride
There is nothing like it! Thousands of riders mount their bicycles to ride on Georgia's official Hospitality Highway – Georgia 400.
Once cyclists exit Georgia 400, the ride course winds through beautiful areas in North Fulton county, Cherokee county, and Forsyth county.
For those not up to the full 100-mile Century, there are shorter routes available, giving all levels an opportunity to be part of an exciting event.
Routes include rest stops, full technical support, and a variety of snacks and drinks.
Things to Do in Roswell (GA) at Night
1. Enjoy the Roswell Ghost Tour
Are you up for some history and a little scare? Then, make reservations to take a ghost walk tour featured on The History Channel's show "Ghost Hunter's International."
Plan to visit the mile of haunted mansions and mill workers' homes.
This attraction earns a place as the scariest thing to do in Roswell, Georgia.
Learn a spooky lesson about Roswell's history on the Roswell Ghost Tour. Tours are held year-round on Friday and Saturday evenings and every night in October.
2. Visit Gaslight Bar and Grill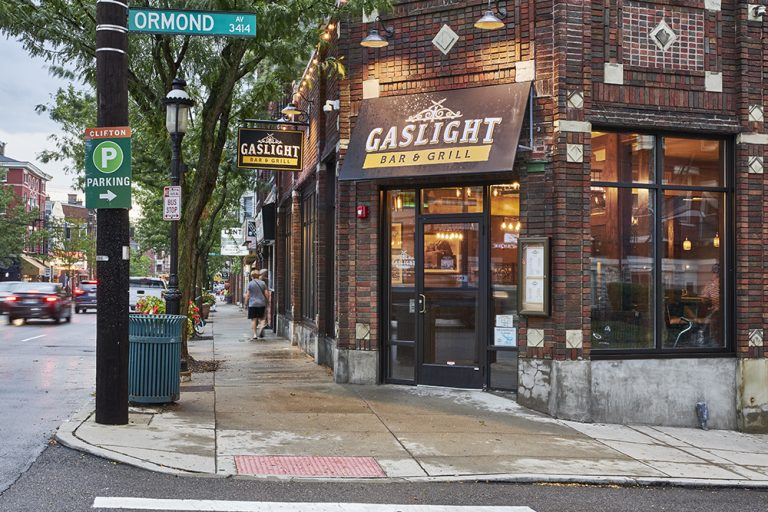 Gaslight Bar and Grill offers an exclusive twist on some of the most classic dishes located on Canton Street. We also think you'll love their wine and spirits selection. So come and enjoy brunch, lunch, dinner, and even a late-night snack.
Do you like to dance? Come show off your moves and burn some calories dancing to favorites from the 70s, 80s, and 90s! Here is a quick link to their delicious wines and foods.
3. Relax With Some Bottles of WIne at Pinkies Up Beer and Wine
Pinkies Up Beer and Wine is a local lounge and retail store for a wide variety of beers and wines.
Pinkies Up also offer its customers, educational classes and occasional musical guests. Come and enjoy a wide range of beers and wines by the glass or take home a growler, bottle, or six-pack.
For a brief list of drinks offered at Pinkies Up Beer and Wine, check out their menu, but keep in mind that it's always changing!
Things to Do in Roswell (GA) For Couples
1. Explore the Bulloch Hall
Bulloch Hall is a historic site in Roswell, where some of the most remarkable moments in American history have occurred.
Roswell has tried to preserve its historically significant buildings, and Bulloch Hall is one of them.
The beautiful historic building is worthy of the National Register.
This is an important part of Roswell's heritage. It aims to present an authentic interpretation of the house by providing tours and educational programs to visitors to Roswell while providing quality services to the public.
The docents on the tour are incredibly knowledgeable and happy to share all the facts they know about the Roosevelts, Dunwoodies, Kings, and Bullochs.
A truly memorable feature of a tour of Bulloch Hall is its woodwork and brickwork – they are impressive to behold as they open a window into the nation's history.
2. Relax at the Settindown Creek Course
Ansley Golf Club is as luxurious as it is enjoyable, as the clubhouses offer elegant dining and catering, plus a variety of luxury benefits for members to enjoy.
Just some of the club's excellent amenities include a large swimming facility, eight great clay tennis courts, youth programs, a nice fitness center with class programs and personal trainers, and two pickleball courts.
In addition, Ansley offers 27 holes of enticing golf at its Settindown and Midtown locations, which the most experienced golfers frequent.
So if you're tired of the hustle and bustle of the city and long for a relaxing day on the golf course with friends or want to encourage your kids to exercise while doing something they love, please check out what's behind it!
3. Visit ArtAround Roswell
The Roswell Arts Fund invites you to explore, explore and enjoy ArtAround Roswell – a free Roswell museum without walls!
The 2019-20 season features 9 temporary artworks that join our ten permanent sculptures in Roswell's parks and historic downtown.
The ArtAround Roswell sculptures offer a meaningful experience for adults and children of all ages.
Things to Do in Roswell (GA) For Kids
1. Take Them to the Sky Zone Trampoline Park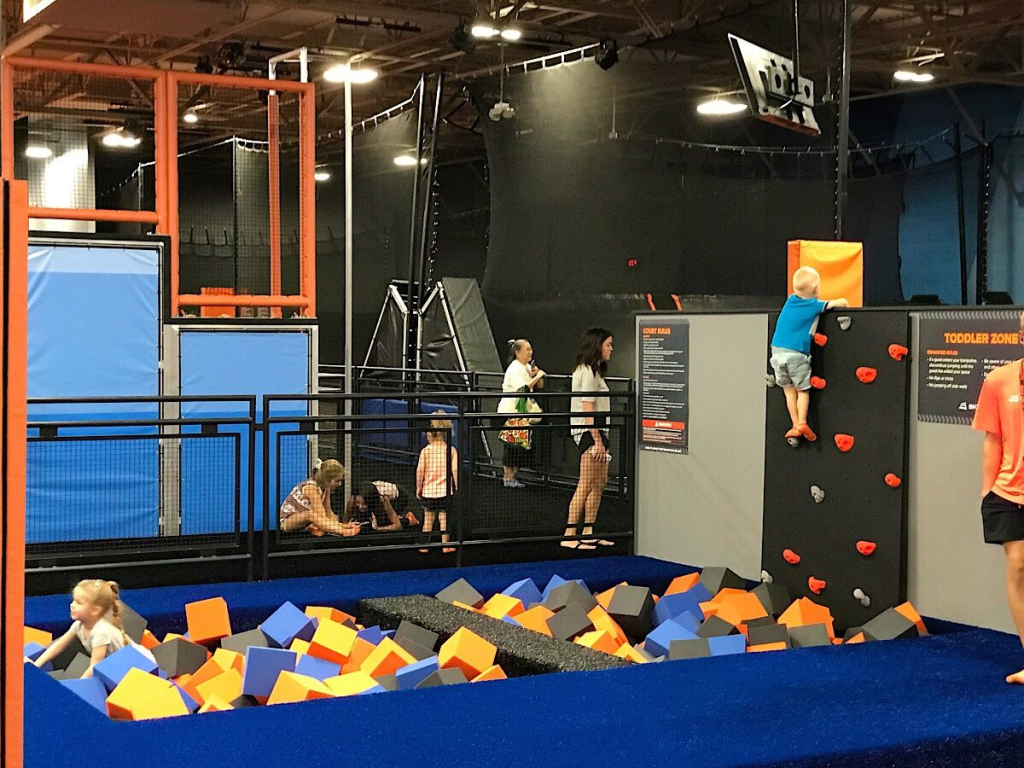 Started as a fun business option, Sky Zone is the world leader in group trampolines that offer a variety of fun recreational activities.
They are constantly trying to improve all their devices.
Sky Zone Trampolines allow individuals to do jumps and flips and enjoy their time while having a huge spectator appeal.
2. Visit Roswell Riverwalk Trail
This is a beautiful 5-mile trail that runs along the Chattahoochee River, providing cyclists, hikers, runners, and even birders with a peaceful path for exercise or relaxation.
There are many parking areas for visitors to visit the trail, including Willeo Park, Riverside Park, Don White Park, Azalea Park, etc.
You'll enjoy at least a 6-foot-wide paved trail with an estimated grade of 5% or less, which is great news for wheelchair and stroller users who can easily handle these gentle inclines.
So take the kids (or your pup) for a day outside because you best believe that everyone will enjoy this trail.
3. Let Them Play at Morgan Falls Overlook Park
This park is located in Sandy Springs, about 15 minutes south of downtown Roswell by road. It is one of the newest public spaces in the region, having opened in 2010.
Located on the shores of Bull Sluice Lake, the park is a family-friendly outdoor space with walking trails, a picnic pavilion, and a children's playground.
It is possible to rent canoes, kayaks, and paddle boards for water adventures in the summer months.
The more romantically minded will be happy to hear that the park is famous for its sunsets.
Indoor Activities to Do in Roswell (GA) For Adults
1. Visit the Computer Museum of America
The Computer Museum of America in Roswell is known to be the largest technology museum on the East Coast and, eventually, with its plans, among the largest in the world.
The museum brings together enthusiasts, businesses, educators, and academics, to work on a variety of innovative projects in the field of vintage computing.
They are dedicated to uncovering the little-known histories of computing that are largely unknown even to IT professionals today.
The exhibits here include the stories of the individuals who built Apple and rare artifacts such as Disc II, the first disc to store programs.
The museum also displays artifacts such as models of devices that changed the world: the Commodore 64, the original IBM PC, the TRS-80, and the Apple II.
2. Explore the Roswell Fire Museum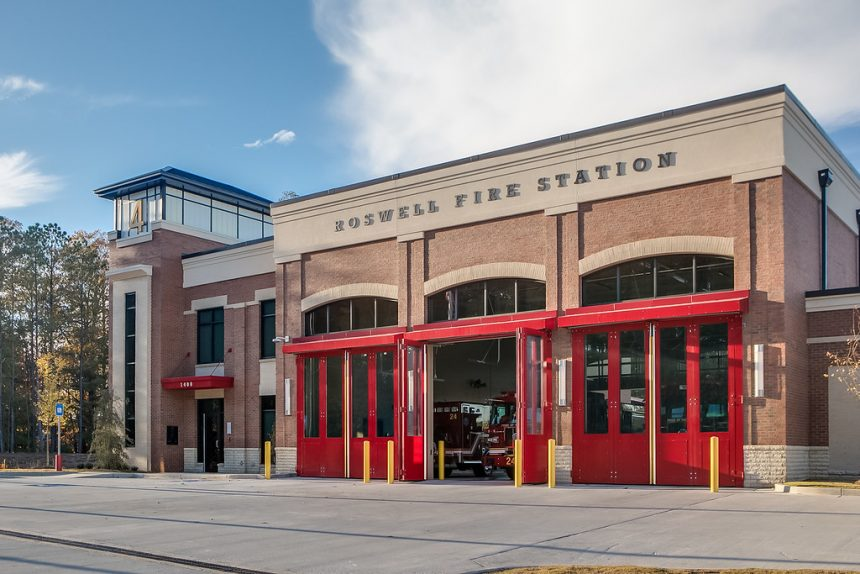 A museum that's sure to make kids say "wow," the Roswell Fire Museum is housed in a working fire station (meaning you might find it closed if a team of volunteers is responding to an emergency).
There are many attractive historical posters steeped in the town's volunteer service history.
3. Don't Miss Masterpiece Mixers Paint & Party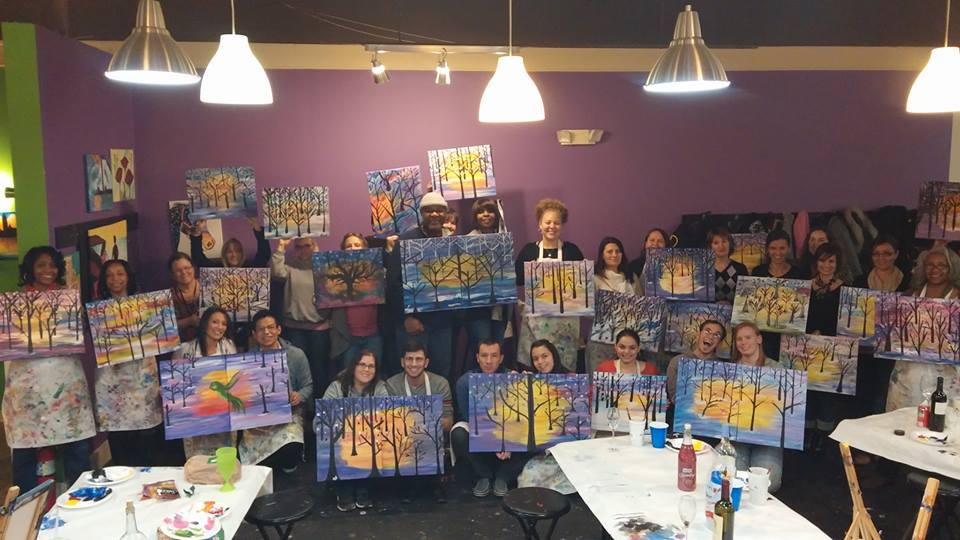 Looking for something new, exciting, and creative? Join in and mix your own masterpiece. Masterpiece Mixers will supply the canvas, paints, and brushes.
Professional and fun teachers will guide you step by step in creating your own piece of art to take home at the end of the event. Feel free to BYOB to get your creative juices flowing!
Romantic Things to Do in Roswell (GA)
1. Explore the Roswell Mill Waterfall
Roswell Mill Waterfall is a scenic Roswell location to visit.
At the waterfall, depending on how many trails you choose to explore, you can make the hike shorter or longer, making it perfect for people of all ages.
The water looks mesmerizing as it rushes over the mossy rocks in the stream below the waterfall. What a sight!
Roswell Mill Waterfall is good for people who want something relaxing without having to cover too many distances – perfect for walking with friends on a nice sunny day.
The covered bridge provides a great opportunity for families to take beautiful selfies and more.
2. Don't Miss a Thing at the Chattahoochee Nature Center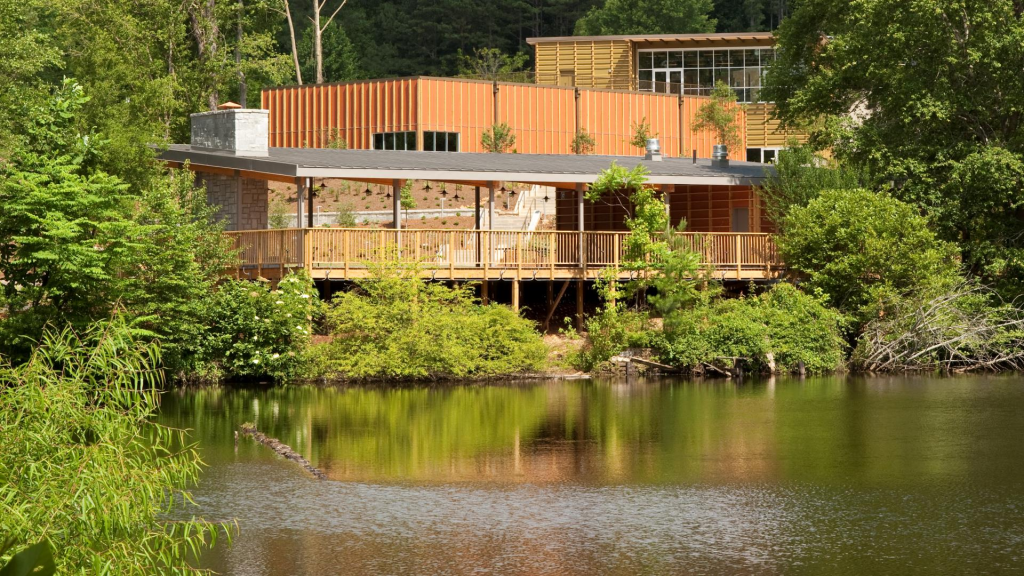 This is a non-profit environmental education facility located in Roswell that empowers the community by providing nature experiences and knowledge.
This beautiful and spacious site specializes in exhibiting and interacting with a variety of plant and animal species.
For more than four decades, the nature center has inspired citizens and naturalists to create unique places on the magnificent Chattahoochee River.
You can camp overnight at the nature center, plan activities like a birthday party or educational field trip, or just kick up your feet at the cafe on its beautiful grounds.
3. Go Winetasting at Variant Brewing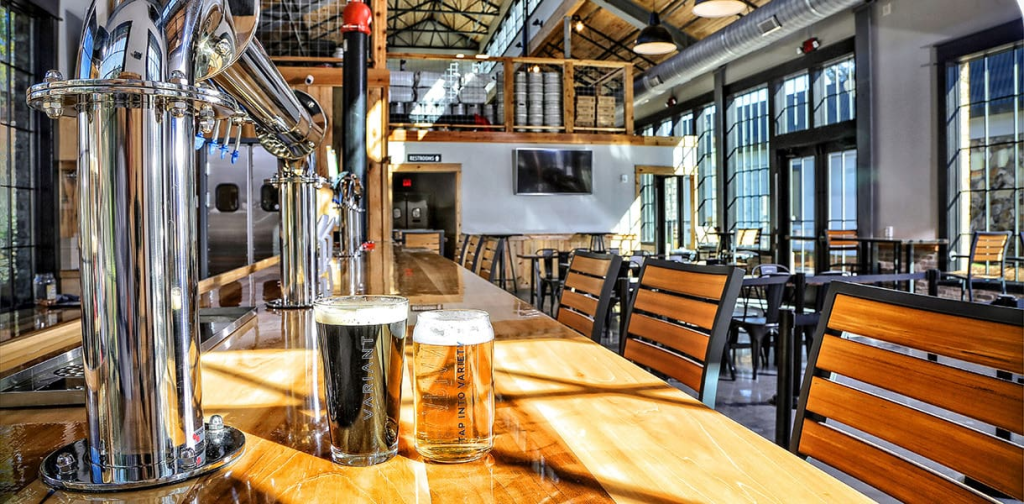 Variant Brewing beers are amazing, as is the environment, sparkling clean with nice lighting everywhere.
Seen as the most trusted brewery in the area, this establishment always has new taps and beers on tap every week.
Their draft selection is also very extensive, especially as they continue to release all kinds of new beers.
Variant brewing has everything they need to make good beer and keep its customers happy, from its lively atmosphere to its friendly staff who show their passion for their work while chatting about all things brewing, making it a fun place to visit regularly.
Free Things to Do in Roswell (GA)
1. Appreciate Nature at the Old Mill Park
Old Mill Park and Shop is a great place to spend time in nature.
At the park, you can admire the waterfalls and observe the remains of an old cotton factory.
The Old Mill Park has plenty of free outdoor space in the area to get out and enjoy the weather if you want some fresh air.
Should you be traveling with your dog or children, there are plenty of safe places for them to enjoy their time off as well.
2. Honor Fallen Heroes at the Faces of War Memorial
Roswell is home to the "Faces of War" memorial – a huge bronze statue of 50 faces of actual Marines who were once part of the conflict (and many still are).
The "Faces of War" monument is an ornate piece that is 14 feet tall and 20 feet wide and features colonial brick and Georgia marble stones.
The monument shows all kinds of emotions related specifically to battles and the aftermath, such as sadness, courage, fear, etc.
The faces on the monument are representations of Vietnamese civilians and American medical personnel, repairmen, and soldiers involved in the Vietnam War.
3. Learn About Local History at Barrington Hall
Front view of the exterior of Barrington Hall with white walls and green landscape.
Grand Barrington Hall is a fine plantation house with Greek Revival architecture and was the residence of Roswell King's son Barrington King in the mid-1800s.
Not only has the historic cabin become a Roswell Historic District Contributing Building, but it has also earned National Register of Historic Places status and even earned a spot on Atlanta Magazine's "50 Most Beautiful Homes in Metro Atlanta."
Your tour of Barrington Hall will inspire you as you learn about the legend of how one family preserved this historic landmark for over 16 decades.
As you explore the grounds of the public garden, which is only a precursor to Atlanta's metro, you'll also find many original farm buildings with stories of their own.
And the guide here is very knowledgeable about the family that once lived in the beautiful and spacious Barrington Hall and its history.
This historic home has been lovingly and expertly decorated, with many family heirlooms and furnishings incorporated into the overall charm of the property.
Cheap Things to Do in Roswell (GA)
1. Visit Archibald Smith's Plantation Home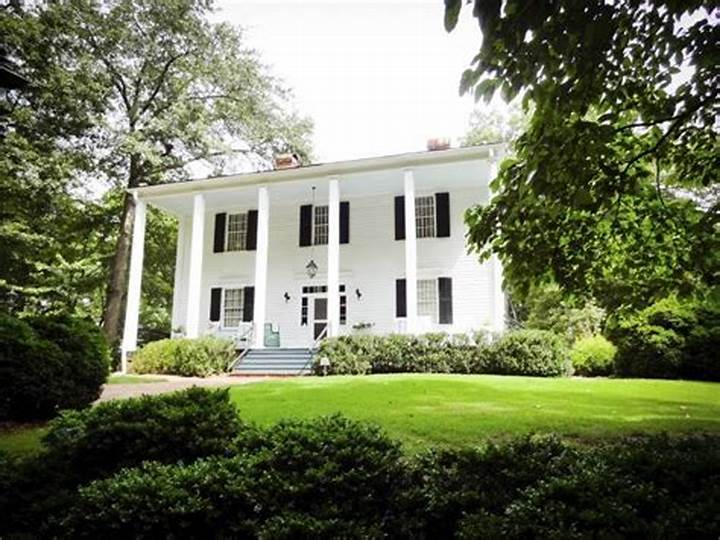 The historic 1845 Roswell home known as the Archibald Smith Plantation Home is the masterpiece of one of the original founders, Archibald Smith.
For more than 16 decades, Smith Plantation remained dominant among Georgia's pine trees as Roswell evolved from a mill community into a popular destination for vacationers and sportsmen.
Today, this iconic home is preserved as one of the main attractions of North Fulton County, as it has been renovated to reflect the local culture and, most importantly, to tell its story.
You'll enjoy plenty of Civil War history on display and beautiful scenic plantation views. Your guide is incredibly helpful and knowledgeable when you need the information to help clarify the past.
2. Worship at Roswell Presbyterian Church
Founded in 1986, Roswell Presbyterian Church is a warm and friendly environment that operates a youth development program from infancy through early childhood.
Roswell Presbyterian Church focuses on the spiritual, social, and emotional development of the children in its care, as well as facilitating each individual's academic creativity and physical growth.
This historic sanctuary has created a safe environment for your child to learn, grow, and even just build friendships with people they don't see in everyday life.
You can visit this place to listen to and enjoy their traditional and contemporary music, which showcases the talents of their musicians and singers who are so talented in all their services.
Cool Places to Visit in Roswell (GA)
1. Atlanta
Just half an hour south of Roswell is Atlanta, the capital of Georgia and host of the 1996 Summer Olympics.
Although largely destroyed by General Sherman during the American Civil War, it was soon rebuilt and had several valuable monuments.
These vary greatly, from the glass and steel World of Coca-Cola building to the traditional cream and black wooden house where civil rights activist Martin Luther King Jr. spent his childhood.
It is also home to the Georgia Aquarium, the largest indoor aquarium in the world.
2. Canton Street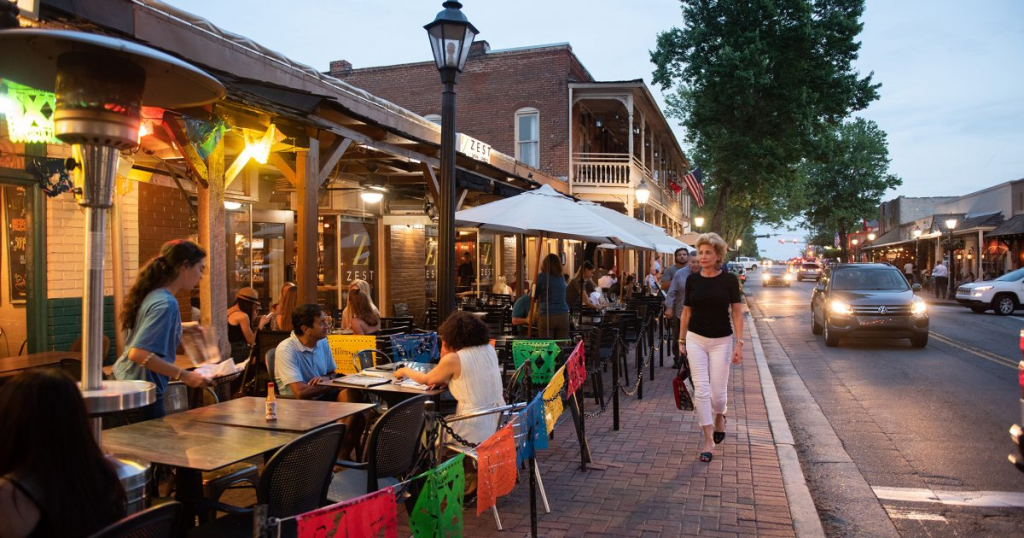 Canton Street is a wonderful mix of old and new, and it is located right in the heart of Roswell's historic district.
Here you'll find cafes and restaurants with outdoor dining areas perfect for people-watching, lined with old street lights and mature trees that shade the sidewalks from spring to early fall.
In addition, its veranda buildings house a number of small boutiques, and a lively bar scene comes in the evening.
This also applies to regular live street events in the summer months.
3. Presbyterian Church Historic Sanctuary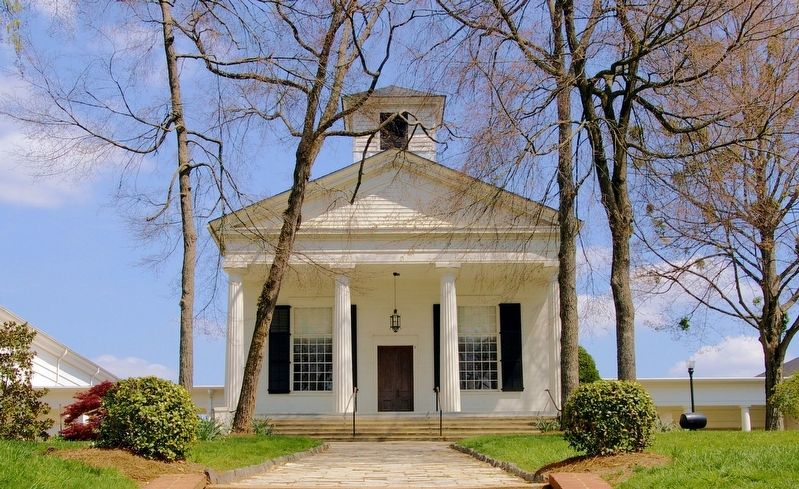 Built in the popular Greek Revival style of the 1830s and 1840s, Roswell Presbyterian Church's historic sanctuary is certainly no ordinary church.
The city's first church and place of worship date back to 1840. served as a hospital for Union soldiers wounded in battle.
Artifacts from this period, including a chessboard made from a cupboard door, are displayed in a special History Room.
Other notable items include the church's original Bible with graffiti from a soldier and galleries that were built to allow slaves to worship in the church.
While here, listen to the bell in the tower, cast in Philadelphia in 1827.
Conclusion
Roswell has it all, from comfort to relaxation, to outright entertainment. Don't miss a thing as you follow our checklist of things to do in Roswell (GA), and you will be glad you did.
Happy travels!
Join us on Telegram
If you loved this content, do well to like us on Facebook and follow us on Twitter to get updates and engage with other people like you who wish to immigrate to Canada or just immigrated to Canada.