When it comes to famous tourist attractions, there are so many exciting things to do in St. Joseph, Michigan. It has it all.
St. Joseph, often known as St. Joe, originates in the 1780s as a post office for the fur trade. In 1834, its owners auctioned the land, and the settlement turned into a town that remained until 1891.
It was the only way to Chicago until the railroad was built.
In the past, the region's economic backbone was shipbuilding and other industrial enterprises, such as the now famous Whirlpool.
St. Joseph, Michigan's "Riviera of the Midwest," should be at the top of your Michigan vacation list.
St. Joseph is an excellent choice, whether it's a day trip or just spending time with loved ones.
The reason is apparent. St. Joe is more than just its famous beaches.
Secret gem locations, hiking, biking and walking trails, beautiful views, art, coffee, and shopping abound in this hidden treasure trove.
Read on as you discover some of the nicest things to do in St. Joseph, Michigan.
Fun Things To Do In St. Joseph, Michigan
1. Ride the Silver Beach Carousel
A thrill for kids and adults alike, the Silver Beach Carousel is a must-see local attraction. Just a scenic four-minute walk from your suite at The Boulevard Inn.
The Carousel is just meters from the beach at Silver Beach Center, a classic merry-go-round with 44 hand-carved horses and music from a vintage pipe organ.
History says this Carousel is already a replica of the original 1910 carousel purchased by Louis Wallace and Logan Drake at Silver Beach Amusement Park.
Master Carver Charles Carmel created these realistic horse figures.
Even if you don't make the ride, it's worth seeing this fantastic piece of St. John's past. Joe has been delighting locals and visitors for over 100 years.
2. Explore the Heritage Museum and Cultural Center
The Heritage Museum and Cultural Center aims to engage the public in a vibrant organization that promotes historic preservation, education, and exploration of all things related to St. Joseph and its nearby region.
It seeks to inspire locals and visitors to develop a deep connection with history by providing historical exhibits, artifacts, archival collections, research libraries, and related programs.
The Heritage Museum and Cultural Center also has a spacious banquet hall that caters to special occasions such as weddings, birthday parties, and conferences.
3. Enjoy More Art at Krasl Art Center
Another facility in St. Joseph dedicated to art is the Krasl Art Center.
Experience high-quality art exhibitions, installations, camps, events, art classes, guest artist workshops, and outreach opportunities.
The 17,500-square-foot building houses the center's public gallery, a black-and-white wet room, studios, a static collection of more than 40 sculptures, and a gift shop.
Since the Krasl Art Center is free and open to all, it also accepts donations from visitors.
Things To Do In St. Joseph, Michigan At Night
1. Visit St. Joseph's North Pier Lighthouses
The two lighthouses were built in the early twentieth century and were deactivated in 2008.
The city took ownership and funded $2 million to repair the lights on the landmark pier. The lighthouse in front is conical in shape, measuring 8 feet in diameter and 30 feet in height.
It emits a constant red glow. The rear tower is 24 feet square at the base and has an octagonal spire over a pointed roof surmounted by a round lantern.
A walkway connects the two lighthouses and the coast.
The lake, front lighthouse, and boardwalk freeze over in the winter and provide great photo opportunities.
2. Make a Stop at Baroda Founders Wine Cellar
Len Olson, winemaker father and current owner of Baroda Founders Wine Cellar, was a self-taught pioneer in the Michigan wine industry.
He was the first person to be granted a wine license after Prohibition.
He also planted the first European grapevine in Michigan. He later planted 27 varieties of grapes.
It now produces classic red and white wines, mixed fruit wines, and chocolate-infused dessert wines.
The business has two attractions – a wine cellar in Baroda and a tasting room 10 miles away in St Joseph.
The wines are also available in retail stores and restaurants throughout Michigan.
3. Grab a Cup of Coffee at Forte Coffee
Brian Maynard's love affair with coffee dates back to childhood.
His career has been on the periphery since studying at a cooking school, but in 2018 he took the plunge and opened a cafe.
He roasts his own coffee and individualized blends for his restaurant customers.
The coffee is artfully presented with a barista touch. Brian's wife and daughter bake and serve pastries, sandwiches, and salads.
The shop sells coffee-related goods such as mugs, used coffee bags, and accessories.
We appreciate community-building elements like puppies, a dog stand, and a sign that changes color to celebrate local events.
Things To Do In St. Joseph, Michigan For Couples
1. Test Your Skills at Harbor Shores Golf Course
Harbor Shores Golf Course is a premier destination for golf enthusiasts. It is a Jack Nicklaus-Signature course and once hosted the Senior PGA Championship.
The course's amazingly varied terrain challenges golfers while offering dramatic views of Lake Michigan.
It also has a wooded section that passes through rolling hills, valleys, and hardwood forests.
Meanwhile, its riverine terrain is bordered by Ox Creek, the Paw Paw River, and its wetlands. Viewing play on different courses in one course!
2. Visit The Buck Burgers and Brew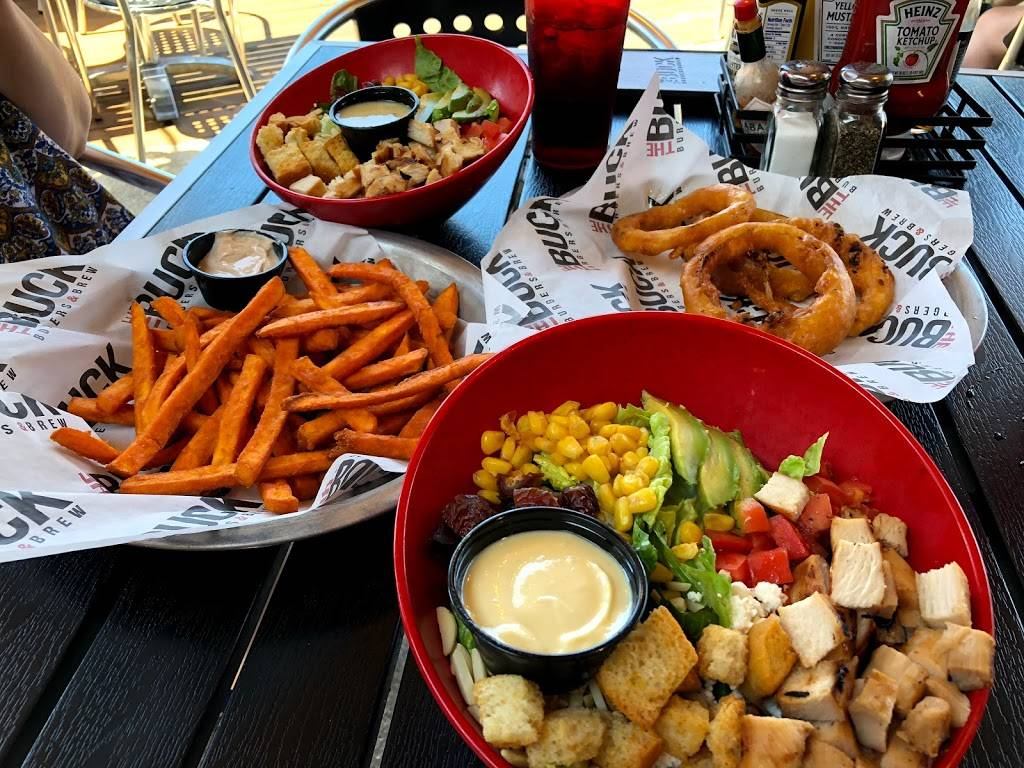 In recent history, 2012, a new owner took over the lease on a remodeled historic downtown building that housed The Silver Dollar Café for over 50 years, and it was Ken Kozminski.
The cafe was nicknamed 'The Buck,' Ken paid tribute to this landmark by naming his business after it. The new Buck sells craft beer, mead, and wine. The menu includes 'hamburgers and more.
It hosts regular evening events such as trivia and karaoke nights.
Except for Tuesdays, Buck Burgers and Brew is open all year round.
3. Spend Time at Azul Tequila Mexican Bar and Grill
Cooking is all Carlos Ortiz has known and loved all his working life.
He started working when he was 15 years old, and at 24, he was called to Michigan to help the failing family restaurant.
By observing what food patrons left on their plates, Carlos made improvements and turned the restaurant into a success within eight months.
He runs Azul Tequila with the same passion and keeps an eye on what food comes back.
This restaurant offers authentic Mexican cuisine with sit-down or take-out options throughout the week.
There are lunch and dinner menus with daily specials.
Things To Do In St. Joseph, Michigan For Kids
1. Let Them Play at Kiwanis Park
Kiwanis Park is an off-leash dog park, bike, skateboard facility, playground, and sports field on Pearl Street.
Kiwanis Park is home to the John and Dede Howard Skateboard Park, an inline skating, skateboarding, and BMX facility.
It's open 24 hours and has a picnic shelter that you can use on a first-come, first-served basis.
Also present in the park are a basketball court and a softball field.
2. Bring Your Little Ones to Curious Kids' Museum and Discovery Zone
Curious Kids Museum and Discovery Zone are designed for children ages 14 and below and are in proximity.
These two St. Joseph attractions are open seven days a week throughout the year, except on public holidays.
Their fun, interactive exhibits stimulate interest and creativity.
Your kids will enjoy navigating the Great Lakes and visiting the market and the Vet's Clinic, to name a few activities.
These attractions also cater to special occasions and kids' camps. Families, school groups, scouts, and guides are welcome too.
They also hold outreach programs such as traveling exhibitions and bringing science displays to schools.
3. Have Fun at Silver Beach County Park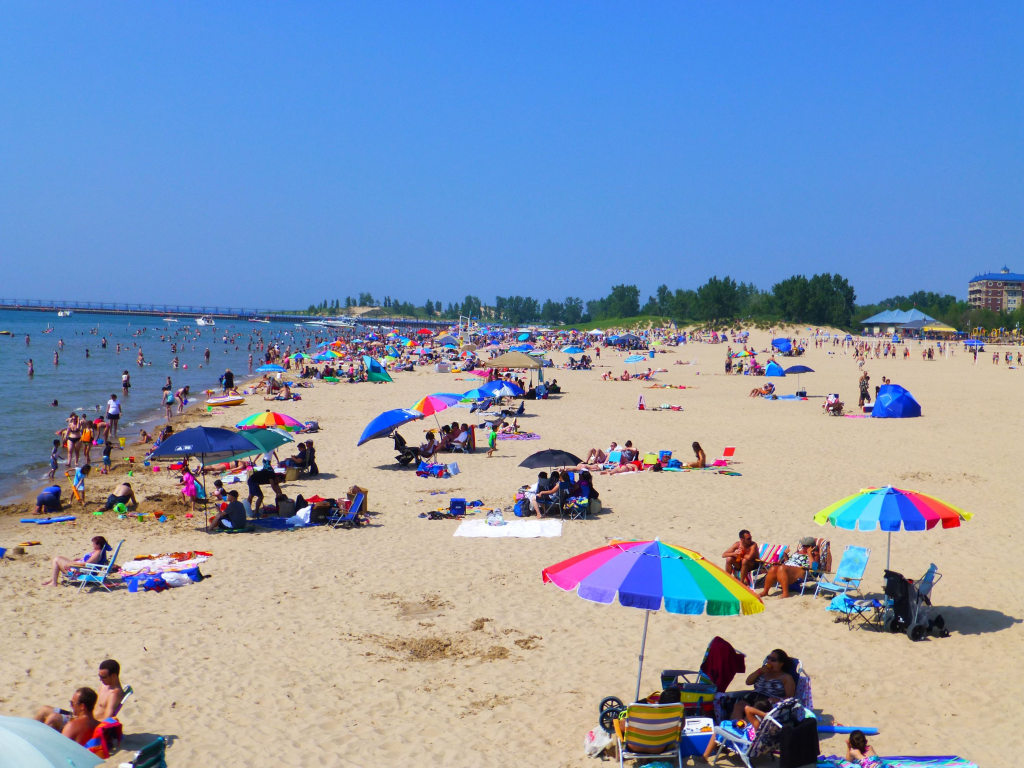 Silver Beach is located directly below the cliff of The Boulevard Inn and is one of the most popular beaches in the area.
It's a clean, wide beach on Lake Michigan that provides public access to the South Pier and offers views of the historic North Pier lighthouses.
There is a giant silver sand beach and everything you could want for a great day at the beach, such as paddle boards and paddle board rentals.
Concessions, bathrooms, picnic shelters, and seating are available along a wide, paved sidewalk that is easily accessible to people with disabilities.
Beach wheelchairs are available at this Berrien County beach.
Lifeguards and volleyball courts oversee the over 1,600-foot stretch of the swimming pool all season long.
The swirling compass fountain with water flowing from jets is a must-see.
Indoor Activities To Do In St. Joseph, Michigan For Adults (Indoor Activities)
1. Solve Mysteries at Puzzlemental Escape Room Adventures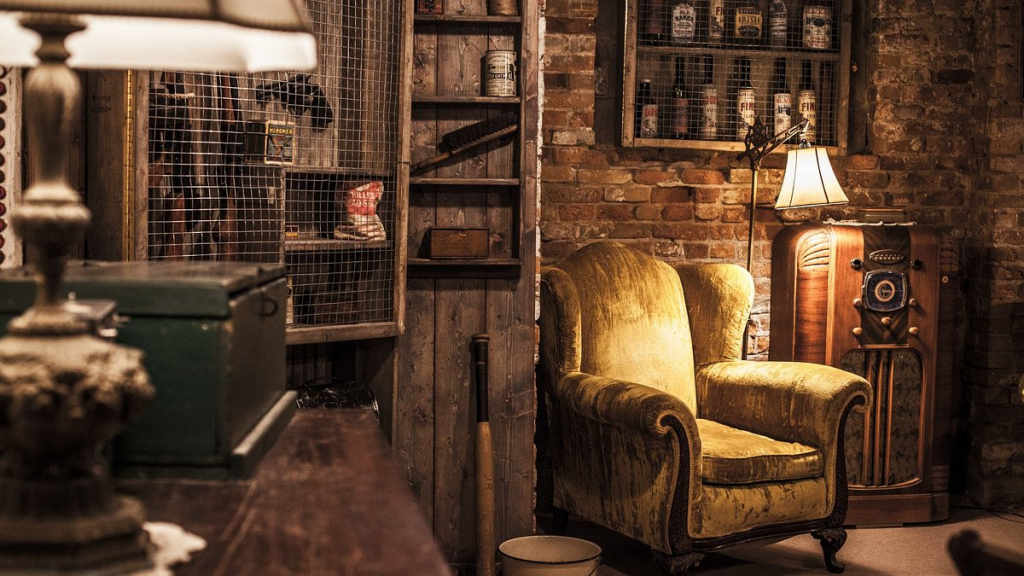 Puzzlemental is an immersive interactive adventure.
You and your team have 60 minutes to find clues, crack codes, and solve the mystery to complete your mission and escape.
This adrenaline-pumping time-beating experience requires your wits and cooperation.
Come with your friends, family, or colleagues; it's always a great date night.
In Puzzlemental, you can be an FBI agent, mobster, smuggler, or gangster.
2. Appreciate the Exhibits at Box Factory for the Arts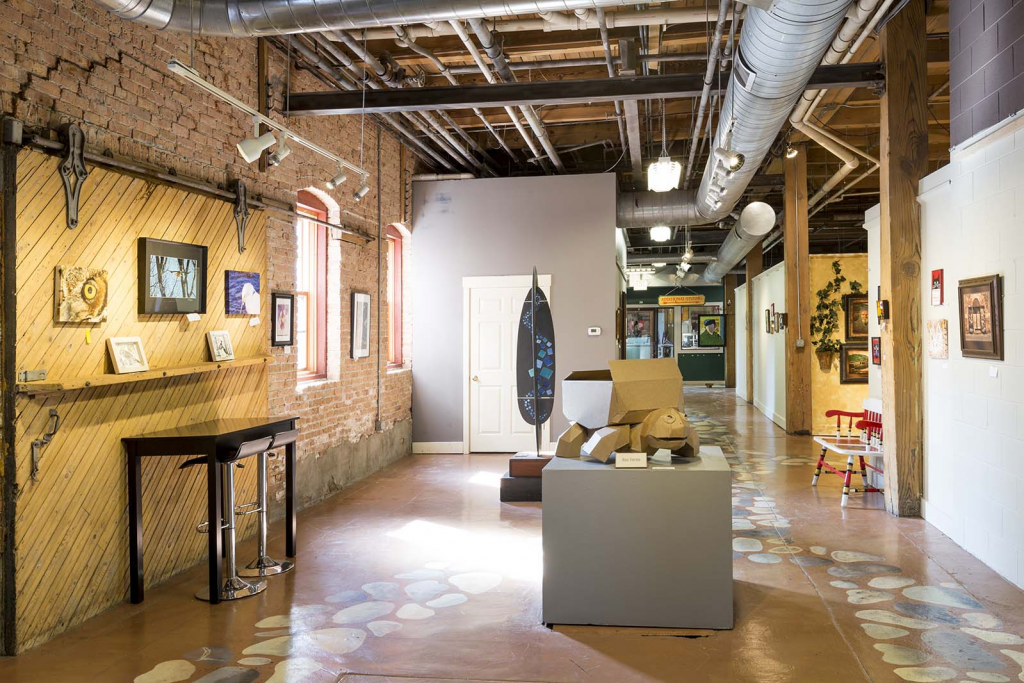 The Art Factory may have been established in the 1990s; however, its history can be traced back to the 1960s.
The Berrien Artist Guild, the group behind the facility, was founded in 1962.
In 1995, they purchased a historic building that once housed a paper box factory from William Brothers.
The guild transformed this two-story, 55,000-square-foot space into a hub for local artists.
It was soon completed and houses a variety of spaces, including an artist studio, concert spaces, theatre, galleries, classrooms, reception halls, meeting rooms, and a shop.
It organizes various events throughout the year.
In addition to the artwork exhibits, the Box Factory for the Arts also hosts a variety of stage and musical productions, educational programs, and facility space rentals.
3. Test Your Strength at Lumberjax: Urban Axe Throwing
Lumberjax Urban Ax Throwing fulfills your wildest fantasy of competing in a nonsensical sport and hitting a target with a half-sharpened ax.
If you haven't tried ax throwing, one of its specialized and reliable coaches will be there with you.
You'll go through a short training session that will get you ready in no time to ensure your first ax throwing experience is exceptionally significant.
Make sure you wear close-toed shoes and comfortable clothing and refrain from carrying alcoholic beverages.
Romantic Things To Do In St. Joseph, Michigan
1. Try Picnic at Lake Bluff Park
Lake Bluff Park will offer you a picturesque view of the shore of Lake Michigan.
Located at the west end of Lake Boulevard.
This park is easily accessible and close to free parking spaces in the city center. Lake Bluff Park offers a variety of events, such as band concerts.
It also has a war memorial and a chalk block that both children and adults will enjoy.
Note that the park does not allow leashed animals or alcohol. It is open year-round from 8 am to midnight.
2. Have Some Fresh Wine at White Pine Winery
After completing his master's degree in horticulture, Dave Miller received his Ph.D. with a focus on grape photosynthesis and, in the following years, gained experience as a winemaker.
Along with Sandy, his wife, Miller realized his dream of starting his own business.
Named after their only daughter, the couple founded Sophie's Vineyard in 1999.
The grapes produced by his vineyard and neighboring vineyards are used to produce quality wines that speak volumes about the flavors of Saint Joseph.
From the Chambourcin grape to Ladyslipper Blush and Mirage, White Pine produces a range of sweet, fortified dessert wines.
Not forgetting, White Pine Winery also produces Merlot and Cabernet Franc, barrel-fermented Chardonnay, Muscat Ottonel, and Pinot grigio.
Always open to satisfy wine lovers' hearts is its tasting room at 317 State Street.
3. Enjoy a Peaceful Beach Day at Lions Park Beach
Lions Park Beach is located at the southern end of Lions Park Drive.
It's a quieter, less crowded beach with three rental shelters, grills, picnic tables, and electricity.
It also has public toilets and a playground for your children. Families like to go to this park because of the shady trees.
This park also caters for special events such as weddings.
Free Things To Do In St. Joseph, Michigan
1. Enjoy a Sunny Day at Whirlpool Compass Fountain
Whirlpool Centennial Park & Compass Fountain is located at 200 Broad Street, just below the bluff and adjacent to the Silver Beach Center.
Since the autumn of 2009, it has been a source of entertainment for many local residents and visitors, especially on hot sunny days.
It's Michigan's most giant splash pad, featuring water cannons fired three times every hour, spraying clean, recycled water 35 feet into the open air.
This fascinating interactive fountain is free for both children and adults to enjoy.
However, note that this fountain is not in operation during the winter.
2. Walk Down the Dowagiac River Water Trail
As a bonus trip to St. Joseph's vacation, try trekking this water trail, just 30 minutes from downtown St. Joseph.
The Dowagiac River Waterway runs through rural Southwest Michigan.
The largest cold water system in southern Michigan, the Dowagiac River, is slow to fast flowing.
Trees and marshes line the river, offering fantastic views of wildlife.
It also offers fun fishing opportunities where you can catch salmon and brown trout.
You can also join a two- to six-hour canoe or kayak trip offered by tour operators based in northern Dowagiac.
The trail starts in the northern part of Dowagiac and then joins the trail at St. Joseph.
Please keep in mind that river conditions are unstable, and logs can be carried away by the current, creating new obstacles.
3. Experience the Serenity of the John and Dede Howard recreation Trail
Take a scenic stroll along this paved walkway overlooking Lake Michigan and St. Joseph.
John and Dede Howard Skate Park also offer inline skating, skateboarding, and a BMX facility. Complete with ramps, rails, and half pipes.
Helmets are recommended. Recreation programs, including the Summer Recreation Program and the Summer Tennis Program, are managed by the Parks Department.
Cheap Things To Do In St. Joseph, Michigan
1. Rent A Surrey to Explore Downtown
Have you ever been to Surrey?
Joe's Surrey Scooter Rental at 800 Whitwam Drive is quite popular with locals, and visitors to St. Joseph must try her.
These surreys offer fun rides for families or groups of up to 11 members.
Scooter Joe's offers single, double, and triple bench bikes. Each seat can accommodate three adults of average size.
All of his surreys also have a bouncy seat accommodating two small children. It also offers surrey models that accommodate five, eight, or 11 people.
Some Scooter Joe single and double bench surreys have a hook to add a single Surrey Tram bench.
2. Grab a Meal at Clementines Too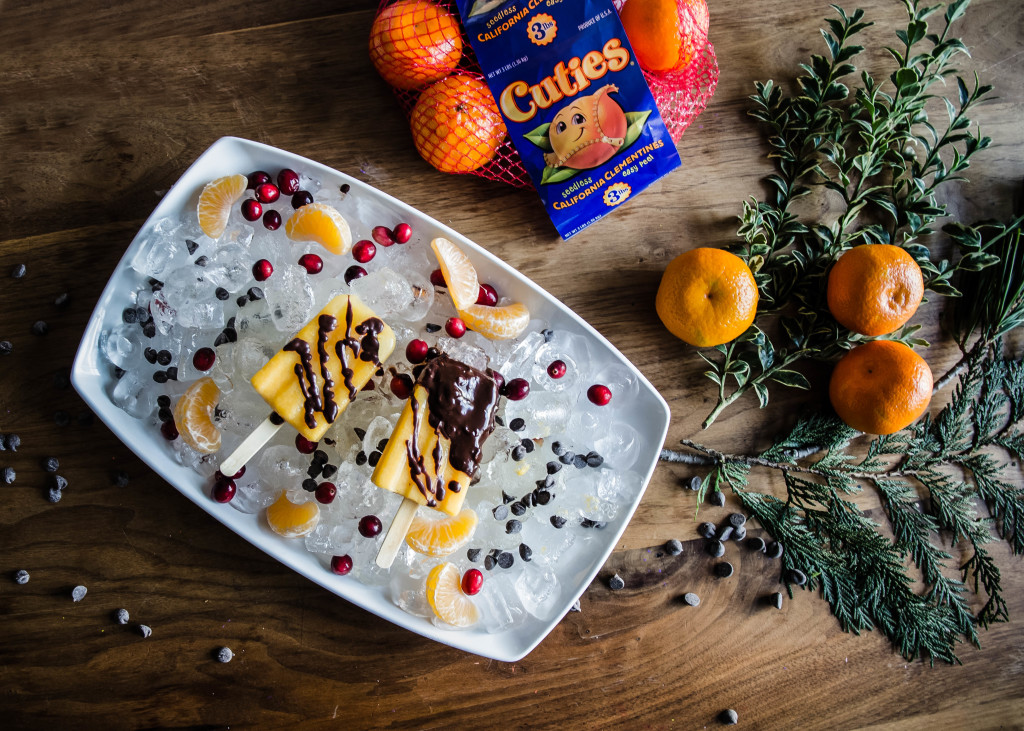 For over fifteen years, Clementine's Too in St. Joseph, Michigan, has been providing the local community and visitors with delicious food, great drinks, and service.
Located along the banks of St. Joseph, guests can enjoy a pleasant atmosphere and a family dining experience.
Clementine's Too is well known for its onion rings and sea bass, but the menu also includes a wide variety of appetizers, sandwiches, and entrees.
The nostalgic and spacious building once housed a bank with its original vaults now used as a warehouse. It is filled with antique relics and a collection of South Haven memorabilia.
3. Attend Blossomtime Festival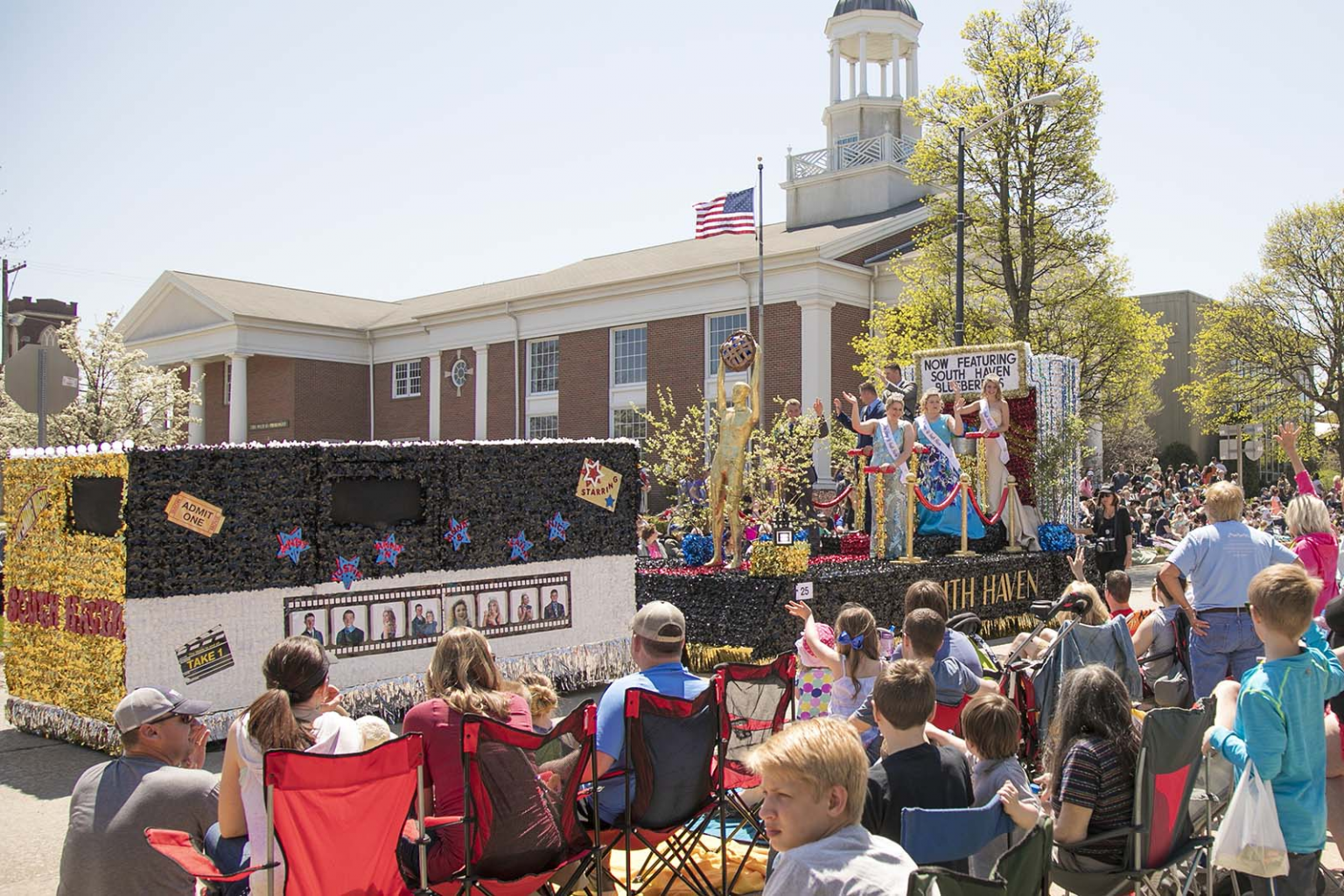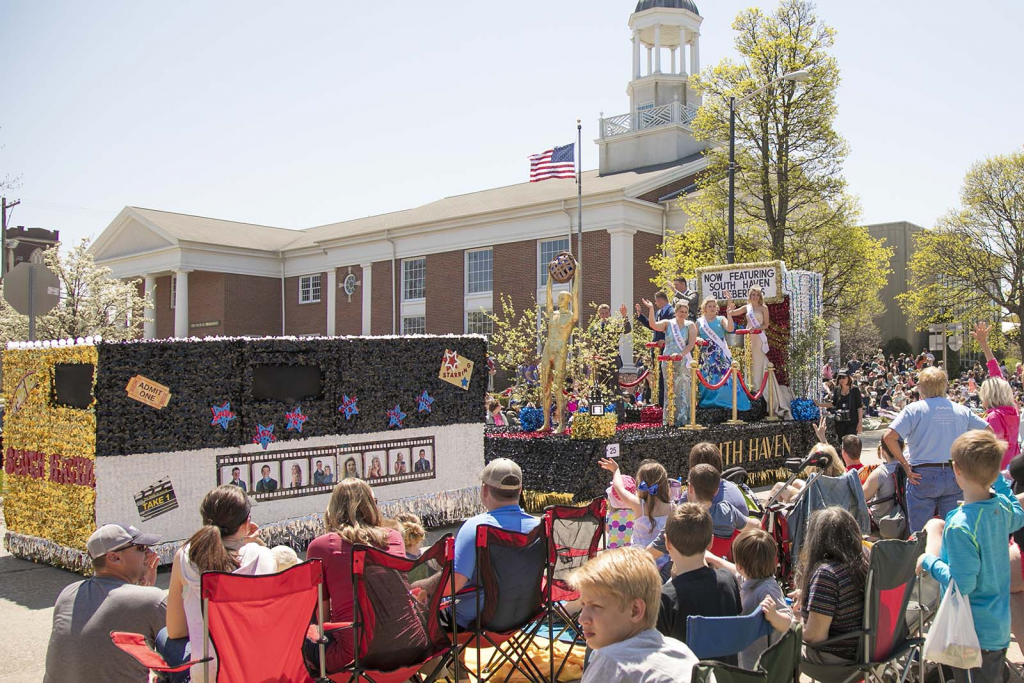 One of the nation's largest agricultural festivals, a "celebration of renewed life," Blossomtime is held annually in the Twin Cities area of ​​St. Joseph and Benton Harbor, Michigan.
The event also includes the crowning of Miss Blossomtime, the Bud Prince and Princess Pageant, a carnival, an author and celebrity reception, an arts and crafts fair, a run, a bike ride, and a parade is the main event of the festival.
Cool Places To Visit In St. Joseph, Michigan
1. Shadowland Ballroom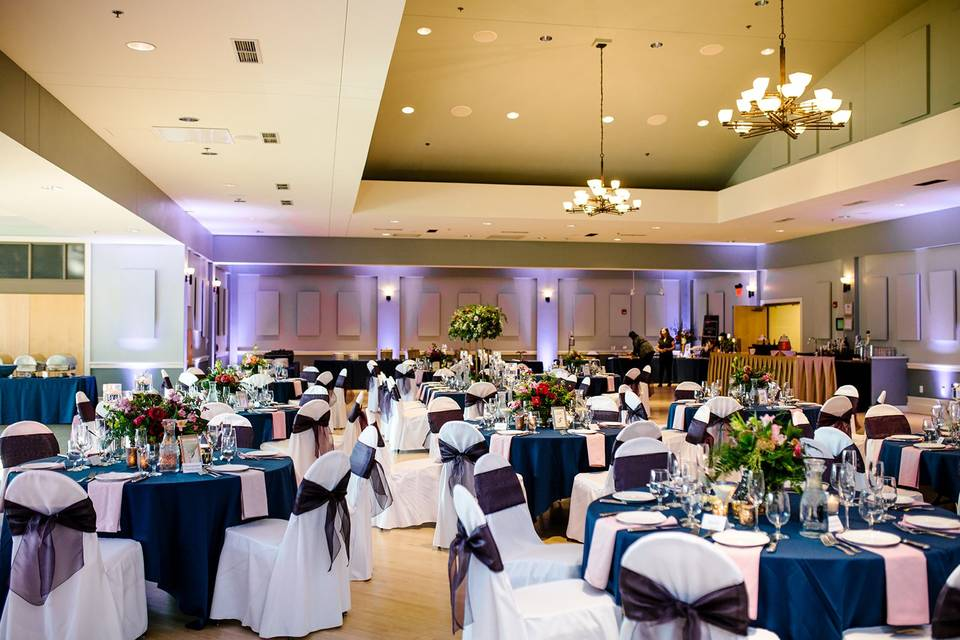 Shadowland is a very popular venue for weddings and other special events in St. Joseph.
It is within walking distance of The Boulevard Inn in St. Joseph. Shadowland on Silver Beach is an excellent location on the shores of Lake Michigan.
You can enjoy the carousel's magic on the spot along with the beach. The staff at Shadowland are very engaging and provide a professional and creative experience.
They have experience organizing weddings, black tie events, and social occasions.
2. Kayak, Sup, Bike, and Surrey Rentals
Renting a kayak or SUP (stand-up paddleboard) from Third Coast Paddling Shop or Scooter Joe's Wheel & Water Rentals and taking a relaxing and scenic paddle on the Paw Paw River.
Or rent bikes or Surreys for the whole family and explore downtown St. Joseph.
3. Thornton's Home Town Cafe
Enjoy the taste of a homemade meal at reasonable prices with excellent service in a friendly atmosphere.
Bob's Big Bomb is being served at the emergency breakfast joint.
Eat a giant omelet filled with smoked beef, bacon, sausage, ham, mushrooms, onions, peppers, and cheese, and you'll get your name on the wall of fame.
Conclusion
St. Joseph is a fulfilling tourist destination because of its exciting attractions that you can enjoy at any time of the year.
With its stunning scenery, enjoyable activities, historic sites, wineries, and more, complete with stunning views of Lake Michigan, you're sure to have a great time in this quaint town.
Join us on Telegram
If you loved this content, do well to like us on Facebook and follow us on Twitter to get updates and engage with other people like you who wish to immigrate to Canada or just immigrated to Canada.