Visiting a new city and being clueless can be exhausting. To that effect, we will list fun things to do in Turlock (CA) when you visit to give you an amazing experience during your time there.
Turlock is in Stanislaus County and the second largest city of the county, located in California's Central Valley with a population of over 75 thousand people and founded in 1871 by John Mitchell.
The city is best known for its agricultural prowess and friendly community with lots of fun things to do; it is one of the best vacation spots in California.
With top attraction sites, parks, and beautiful rural settings for tourists in love with less noise away from the cities, this will be a great destination site for you.
Let's hop in as we explore these attractions together.
Fun Things To Do In Turlock (CA)
1. Visit the Carnegie Arts Center
Stopping at the Carnegie Arts Center is fun as you see beautiful, jaw-dropping art displays. The Arts Center opens on Wednesday to Saturday from 10 am to 5 pm and from 11 am to 4 pm on Sunday.
You will witness the City'sCity'sculture and artistic viewpoints. The Carnegie LibrarLibrary'sing between 1916 and 1968 was converted into the Carnegie Arts Center.
Carnegie's programs include museum-quality art exhibitions, educational classes and programs, lectures, and activities in artistic genres as diverse as dance, music, theatre, and more.
The Carnegie Arts Center has been a source of the community for teaching residents and visitors about the area using arts since 1979 and would be a cool place to stop by as this is a fun thing to do in Turlock.
Address: 250 N Broadway, Turlock, CA 95380, United States
2. Stop at the Turlock Historical Society Museum
 For history lovers, visiting the Turlock Historical Society Museum should be a must-stop in Turlock. You'll be thrilled by the pictures, documents, and old maps displayed in the museum.
A clearer look into the city's culture and how much it has developed is fused in these artifacts. The Museum started in August 2003 and has been the ideal destination for historians who wish to see the California Mission-styled architectural concept.
The Museum was formerly the Palace Meat Market from 1911 to till1999 when its previous owners gave the Turlock Historical Society possession.
Read the dedication just outside the Museum to learn about the people who inspired the development and purchase souvenirs from the gift store.
Address: 108 S Center St, Turlock, CA 95380, United States
3. Check out the Bike Park
The Park is open to both newbies and seasoned bikers to travel its routes as you develop your biking abilities.
The Park is located in the North Basin's sea and offers three stand-out jumps on different levels. The biking course can be rough, and the Bike Park's management s kicked against biking without the necessary protective equipment.
The Park operates between the hours of 3:45 pm to sunset Mon – Fri during the school year and 8:00 am to sunset on the weekends, without the weather's hindrance, while during the summer & holiday hours is between 8:00 am to sunset, all subject to the weather condition.
Do well to stop at the Bike Park for some cycling activities to keep fit or enjoy the people bike. It is a fun activity to do in Turlock.
Address: Turlock, CA 95382, United States
Also see: 27 Best & Fun Things To Do In Lancaster (CA)
Things To Do In Turlock (CA) For Kids
1. Visit Macedo Mini Acre
The Mini Acre started with two boys herd over 13 years ago, now having a variety of colors in their herd – solid white to solid black, patterns, and shades of grey or brown! Our focus has been on fiber from the beginning.
The ranch's name comes from the miniature horses, but they now concentrate on fiber, alpacas, and llamas after selling off the miniature horses.
Visit the Macedo Mini Acre for some animal explorations that are both thrilling and educating, as the kids would get first-hand information about the animals resident here.
The kids can play with cute miniature horses, learn about furry animals, and take pictures with amiable alpacas. The kids can see the wool goods from the animals; it is a beautiful site too.
Appointments are required for entry, so book an appointment before heading there, as the kids will surely love it here.
Address: 11175 Golf Link Rd, Turlock, CA 95380, United States
2. Stop at Rembrandt & Rose
Rembrandt and Rosé is Turlock's first paint and sip studio! We are a local, homegrown, good old-fashioned mother-daughter duo business. 
Rembrandt & Rose welcomes everyone who desires to participate in their painting sessions; whether pro or not, you can have the best experience and enjoy every second.
Even though you are familiar with art studios, Rembrandt & Rose's concept is unique as they allow customers to sip their favorite beverages while using their brushes to create a work of art.
The kids will love it at the Rembrandt & Rose; it'll surely be a fun animal experience for them as they explore their creative sides while painting.
The venue can be allowed for parties and events; you must contact management for a reservation.
Address: 4650 Tapestry Way, Turlock, CA 95382, United States
3. Visit Get Air Trampoline Park
The Get Air Trampoline Park offers innovative features ranging from foam pits to wall-to-wall trampolines to basketball dunk lanes, dodgeball courts, obstacle courses, etc.
The Park also has a section for jumpers of all heights, mainly below 46 inches. The kid's court at this establishment venue isn't left out as they get to have equal fun as the rest of the Park.
The Park wants visitors to have as much fun as possible as the Park has many features, including a trampoline dodgeball area, an individual trampoline in the main court, and even vertical trampolines. 
Address: 1350 W Main St, Turlock, CA 95380, United States
Romantic Things To Do In Turlock (CA)
1. Go shopping at Monte Vista
Turlock is an attraction that keeps you and your partner busy and curious about must-have items. The variety of alternatives they offer will have you getting confused cause they've got a lot of worthy items.
You'll surely see many you'll offer here that you pay no attention to walking around this massive structure. The massive 181,780-square-foot space, filled with retailers, certainly has much to keep you and your partner going until you are filled.
So many options, from eating to shopping. Best shopping center in Turlock for sure. Make sure to stop there if you're passing through! Monte Vista Crossings Shopping Center features popular clothing, home decor, health supplements, and merchants.
Address: Turlock, CA, USA
2. See a Performance at the Community Theater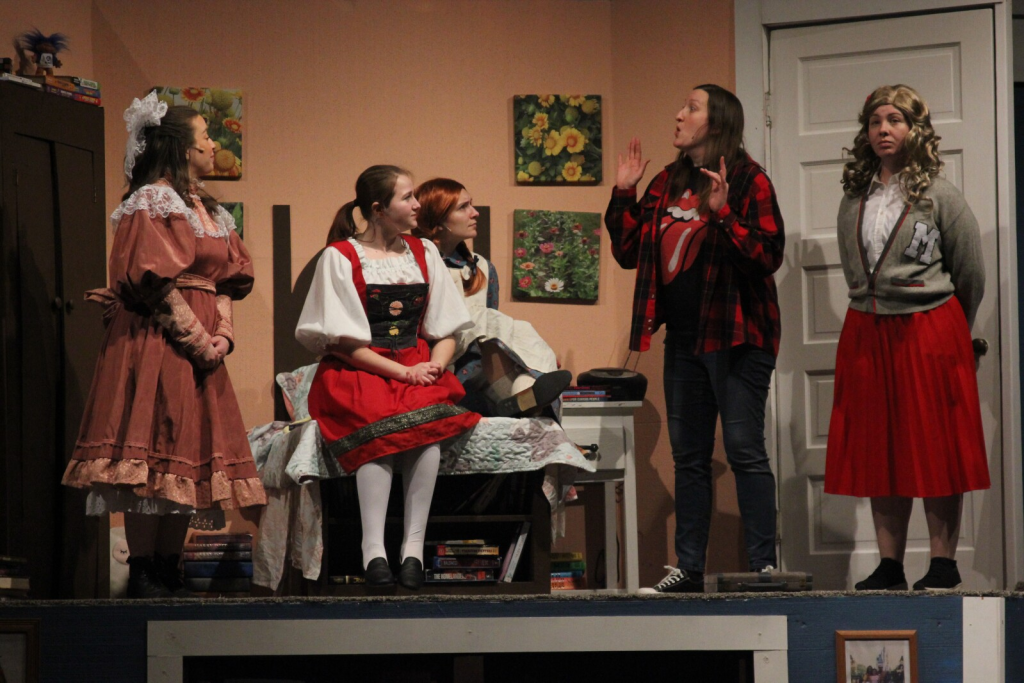 Watching live performances at the Turlock Community Theater with your partner is one of the fun things to do in Turlock, CA; it'll be worth your time.
Cinemas allow you to watch your most-liked actors on a large screen, but it is more exciting seeing them performing on stage live.
This famous Theater in Turlock, CA, is a big flex for people who love to watch the action live instead of watching on the screen. It would be a perfect spot for you and your partner as you watch thrilling performances together.
Shows like choral performances, symphony, big bands, and musicals are what the theatre has been bringing to Turlock from its inception till the present.
Different genres of dances, such as modern, jazz, ethnic, and ballet, are displayed in the theatre. You can check their schedule to know the visiting time for your preferred shows with your partner.
Address: 1574 E Canal Dr, Turlock, CA 95380, United States
3. Have a drink at Rail Bar & Lounge
The Rail Bar & Lounge is a popular bar offering its customers some of the best experiences in the area; this would be a fantastic place to spend the evening with your other half as you both drink at this fabulous Bar.
The Rail Bar & Lounge also serves cocktails, beer, wine, and unique Micheladas to its customers and catches live sporting events on their TV screens or playing card games simultaneously.
The Turlock Poker Room, where visitors can play poker, blackjack, and more, is accessible through The Rail Bar & Lounge.
To ensure the participants don't get distracted from the game, the Bar delivers the drinks directly to the card table, they've got great customer service, and the place is very neat.
Address: 2321 W Main St C, Turlock, CA 95382, United States
Things To Do In Turlock (CA) For Couples
1. Visit RAM Farms
Head to this prestigious masterpiece with your partner to take in this beauty on your vacation in Turlock.
Many Squash, gourds, and pumpkins, including Long Island Cheese, Fairy Tale, Jarrahdale, and Cinderella, have been grown here in the RAM Farms. The RAM Farm has been a sight to behold for tourists since 2017.
You can take great pictures and play a game of pumpkin bowling, find your way through the Corn Maze, see movies in the fields, and explore the Scary Shed.
Visit during the fall as it's best because you get to pick flowers from the farm. The city will surely be a great spot to hang out with your partner.
Address: 716 N Daubenberger Rd, Turlock, CA 95380, United States
2. Valley Vibes
Health is wealth, as often said; regardless, if you are looking for a location in Turlock that you can engage in while maintaining a healthy lifestyle while on vacation, head to the Valley Vibes Center.
Valley Vibes brings a new frequency to the San Joaquin, immersing you in sound and motion, safely surrounded by friends, for a one-of-a-kind experience. The yoga and fitness classes are designed for all experience levels, so if you're looking for fun and relaxation, feel free to visit.
The silent sound system headphones let you lose yourself in the music while still being able to hear our gurus guiding you through the class. They also let us party under the full moon without disturbing the neighbors.
The Valley Vibes can aid you in continuing your training routine during your stay on your vacation. The management properly plans activities, including outdoor fitness, to boost your emotional and physical wellness, with private coaching available to aid in that regard.
Address: 1555 E Canal Dr, Turlock, California, United States
3. Farmers Market
Turlock is well-known for its large farmer's Market, which opens every Saturday from 8 am to 1 pm mid-day. It is beautiful to behold, having moved to different locations before it reached its present site in 2016.
The market was formerly located in the city's downtown area in 2010 before it was moved to the fairgrounds of Stanislaus County. The site is the location of the city's first melon festival in 1912, making the setting more attractive and tending to its historical significance.
The market is located on Main Street between Palm and Center Street. The market will still feature fresh produce and other offerings. The goal is to create a marketplace that educates, informs, engages, and brings the community together through partnerships. We want to educate our community about what it means to be "Always Local."
You can get locally produced goods, from fresh produce to fruits to veggies and other food items. It would be a nice stop with your partner.
Address: 385 E Main St, Turlock, CA 95380, United States
Free Things To Do In Turlock (CA)
1. Stop at University Art Gallery
The University Art Gallery is a part of the Art Department at California State University, Stanislaus. Located in the Theatre building, the gallery features exhibitions by nationally-recognized artists and faculty and student work.
The gallery is free and open to the public. Parking is most easily accessible from Lot 2, just south of the gallery. The University Arty Gallery is one of the main focuses in promoting the City's' beauty through its wonderful art display.
Sponsors of the Art Gallery from the establishment built and maintained an extension of support of the university's faculty or art.
The building was to serve as a focal focus for the up-and-coming and professional artists to display their art pieces. Accommodating differences in culture, ethnicity, and gender is on the course here, asides from the art display.
A trip here will help broaden your perspective of how you view and assimilate things. You can rest assured it will be a nice time here as it is one of the most fun things to do in Turlock (CA).
Address: CSU Stanislaus, One, University Cir, Turlock, CA 95382, United States
2. Great Valley Museum
Head to the Valley Museum to see thrilling natural and historical exhibits on the Modesto Junior College campus. The many species on site here in the mini zoo of the Museum includes; Snakes, tarantulas, and skinks.
"The Great Valley Museum opens minds, touches hearts, and inspires action towards discovering, appreciating, and preserving the natural heritage and environment.
It is more interactive here as it aids its visitors in learning how to interact with the natural environment and the species that abound in it. The Museum's Zeiss SkymasterZKP-4 LED/fiber Optic star projector is a fascinating site.
Science literacy and the unique Central Valley are promoted by engaging students, educators, and the community through onsite and outreach programs. The Museum serves as a resource to educational institutions, including Modesto Junior College."
Offering also are spectacular vistas and planetarium movies that last about an hour and 30 minutes. It is a great place to stop by in Turlock.
Address: 2201 Blue Gum Ave, Modesto, CA 95358, United States
3. Donnelly Park
Chill out at Donnelly Park for some real quality family time. This place is a perfect family picnic site, with beautiful scenery that makes it worthwhile.
This go-to tourist park has a lot of barbecue pits and green fields to run, walk or play on its 40-acre land mass. The kids can play, socialize and make new friends in the kid's zone and vice versa.
It is populated with all the ducks, and the kids love it. The children love the dogs, and the jungle gym for kids is fantastic! The old-fashioned wooden style looks like a maze kids love it. Safe and gated in play.
The game of tag or frisbee throwing with family or friends is common here, and you do well to get there in time to choose your preferred picnic spot.
Address: 600 Pedras Rd, Turlock, CA 95382, United States
Cheap Things To Do In Turlock (CA)
1. Funwork Modesto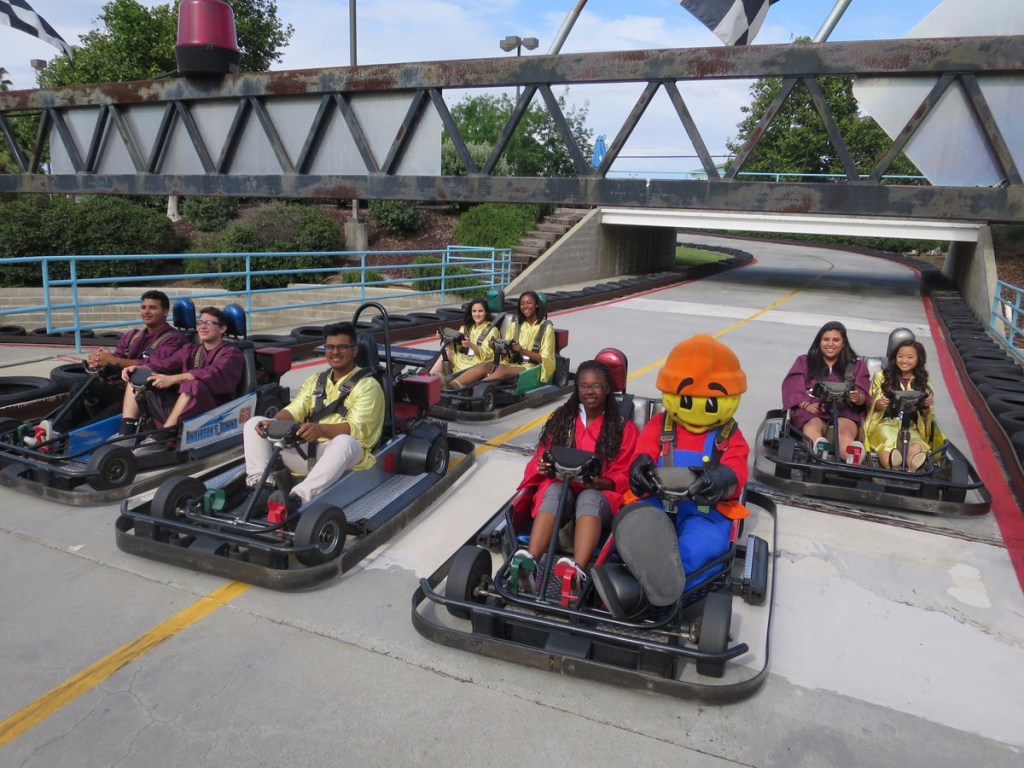 Located in Modesto, a 20-minute drive from Turlock is a terrific location for group or family play time featuring miniature golf, games, and attractions.
You can hone your baseball prowess in a batting cage or play some rounds of bowling with loved ones. The race track known as Lightning Raceway is a fun activity that tests your racing ability with friends, or you can enjoy the Splashworks Pirate Ride.
The children won't be left out as they will have a thrilling experience making their stuffed animal on a visit to the Teddy Bear Factory.
An eatery and café are all available at Funworks Modesto, where you can get any treatment you want,  from pizza to funnel cakes to nachos and corn dogs. The Funwork Modesto offers rides, games, food, and sports for people of all ages.
Happiness is a sure thing here.
Address: 4307 Coffee Rd, Modesto, CA 95357, United States
Also see: 27 Best & Fun Things To Do In Fairfield (CA)
2. Stan State Art Space
Stan State Art Space is free and open to the public. As part of California State University, Stanislaus features exhibitions by nationally-recognized artists as well as by the students.
The primary goal of this California State University gallery is to artistically enhance, complement, and supplement the academic programs of the Art Department and to provide special opportunities and artistic exposure to a broader audience.
The Stan State Art Space houses professional artists, students of California State University, and faculty members' displays of art pieces. It is evident of the California State University Stanislaus' commitment to academic excellence and the arts.
The Stan State Art Space is free and open to all; take a tour of this beautiful site to take in different exhibits of art displayed.
Workshops are held here at the Stan State Art Space as well as art exhibits. You can head there on a Saturday to unwind. It is a great place to learn.
Address: 226 N 1st St, Turlock, CA 95380, United States
3. Hilmer Cheese Company
Take a trip to the Hilmer Cheese Company, just 20 minutes from Turlock, to have the best cheese production experience.
The Company allows you to have a live experience of the factory area by giving you an insight into the cheese-production procedure, and you can taste freshly made cheese here as well.
A dining area and gift shop are available here, and the tours provide access to interactive exhibits and films on ice cream production and cheese.
A guided tour is requested in case a larger group comes for a visit, and these tours are cost-free.
Address: 8901 Lander Ave, Hilmar, CA 95324, United States
Cool Places To Visit In Turlock (CA)
1. Stop at Golf & County Club
The Golf Course and Country Club are among the very first clubs in Central California; this location has been a well-liked spot for seasoned and amateur golfers.
It accommodates a large driveway to ease movement with an 18-hole golf course with bunkers and water hazards.
For over 90 years, the Turlock Golf & Country Club has been instrumental in socializing and meeting old and new friends.
If you are looking to play on a different course with new challenges, then the Golf Club should be your must-stop, as it is fun here and also a cool place to visit.
Address: 10532 Golf Link Rd, Turlock, CA 95380, United States
2. Visit Pageo Lavander Farms
Have you ever seen a large field of Grosso lavender and Loddon Blue? If not, head to the Pageo Lavander Farms to see this jaw-dropping site.
The farm is effortlessly beautiful, especially with the gorgeous bloom, creating a romantic ambiance. Your lover would want to see this beauty.
The EnglLavendernder grown on the farm is used as a scented ingredient in manufacturing soaps and cooking. On the other hand, the Grosso's is used in making soaps and Lavender oils.
A camera to take pictures of yourself and your family with the gorgeous scenery as your background is recommended; you can't store all of this beauty in your head alone.
It's perfect for weddings, birthday parties, and other celebrations, as the beauty here relishes.
Address: 11573 Golf Link Rd, Turlock, CA 95380, United States
3. Have a beer at Dust Bowl Brewing Co.
Turlock is one of the three places in California to experience the Dust Bowl Brewing Co. It is located in the middle of California; it has the biggest taproom.
The Brewery's Taproom has 20-tap towers, spectacular vistas of the brewery, a restaurant, a corn hole, a beer garden, a patio, bocce courts, and more.
Dust Bowl Brewing Co now produces craft beer such as robust IPAs, smooth lagers, and more. Get a  reservation to visit, as visiting the brewery is based on reservation.
Address: 3000 Fulkerth Rd, Turlock, CA 95380, United States
Things To Do In Turlock (CA) At Night
1. Watch a movie at Regal Turlock
The Regal Cinema is the second-largest network of theatres globally, owing to its excellent services.
It offers first-rate services and, even better, high-quality movies, Turlock City has less than 100,000 residents, and long queues won't be a challenge when you visit to catch a movie on weekends.
Catch the latest movies and enjoy delicious traditional popcorn with friends or family.
Also, a great spot for couples to hang out. The vibes hit differently.
Address: 2323 W Main St, Turlock, CA 95380, United States
2. Ranch Of Horror
Located on 900 N Broadway, Ranch of Horror offers Roughly 13 fast-paced, high-energy activities that will guarantee your screaming.
The screams, however, will be signs of shock and excitement rather than fear that can shatter your heart; it's nothing to be scared of.
These thrilling events are held at the Turlock Fairgrounds, and a few activities that satisfy your craving for a spooky yet entertaining experience are House of Dystopia and Zombie Escape.
Address: 7409 Rd 32, Madera, CA 93637, United States
3. Go Drive-Up Turlock
The Turlock is Go Drive-up Turlock is one of the best places to visit. The Go Drive Up Turlock is a family-owned and operated drive-in movie venue in Turlock, CA.
GO Drive-Up Turlock has provided the Central Valley region with enough entertainment thrills, from movies and lots more.
The venue has speakers at almost every corner to make visitors hear and follow the movie with rapt attention.
The GO Drive-Up Turlock offers top-notch food and drinks, and they are delicious. Check out the full-service Bar for a glass after the movie.
It is a cool place to spend your night and a fun thing to do in Turlock (CA).
Address: 1450 N Soderquist Rd, Turlock, CA 95380, United States
Indoor Activities In Turlock (CA) For Adults
1. Tsymbal Winery
The Tsymbal Winery is special compared to other wineries because it offers distinctive variations of wine and honey.
The distant types of honey you will find on the menu of the Winery range from clover to wildflower to blueberry, all packaged in different quantities.
The Tsymbal Winery offers only natural honey from the golden comb honey farm. Each wine is made from the purest of ingredients with an edible flavor.
Sunbeam and California Bouquet are available on the wine menu.
Go tasting the best of wines and honey at the Tsymbal Winery when you get to Turlock, as it is a nice experience.
Address: 4231 Idaho Rd, Turlock, CA 95380, United States
2. Ten Pin Fun Center
It would be pleasant to have fun activities and good meals in one location, which would be a perfect blend to chill out with family and friends on vacation.
The Ten Pin Fun Center is a 34 Lane bowling alley with modern equipment in Turlock that has an eatery that offers a comprehensive menu of delicious meals you can try before or after bowling.
Featuring also is an outdoor Garden for people to drink in the open and a room for more privacy while partying outside the large bowling area.
You and your friends or family can enjoy other group events at the bowling alley. Show off your bowling skill or perfect your skills while in Turlock here.
Address: 3700 Countryside Dr, Turlock, CA 95382, United States
3. La Mo Cafe
This is an exceptional opportunity to savor cuisine with a Latin influence made with ingredients sourced from numerous retailers and regional farmers at the La Mo Cafe during your trip to Turlock, CA.
It is a must-stop place known for its lovely outdoor location, unique cocktails, and nutritious menu options.
Also, La Mo has a coffee shop with loose-leaf teas, pastries, and specialty coffees from the third wave. You can try it out.
Only the freshest, most delicious ingredients are used for manufacturing its beverage syrups and seasonings from scratch daily, providing customers with a memorable experience.
Address: 310 E Main St # B, Turlock, CA 95380, United States
Also see: 27 Best & Fun Things To Do In Capitola (CA)
Conclusion
Every tourist's delight is to have the best of times during their vacation, which is why we have listed the fun things to do in Turlock on arrival for you in this article.
This list will help settle you on arrival so you can have the best experience in Turlock. We have listed a lot. Let us know in the comment which you will be trying out first.
Have a safe travel!
Join us on Telegram
If you loved this content, do well to like us on Facebook and follow us on Twitter to get updates and engage with other people like you who wish to immigrate to Canada or just immigrated to Canada.