Watertown, New York, is filled with various activities to keep visitors busy for a day trip or weekend.
The city offers many opportunities for outdoor activities and learning more about the history of the region.
There are several entertainment venues, recreation centers, historic sites, rivers, and parks to make a fun and memorable visit to Watertown.
You could see the different animals at the New York State Zoo or taste the freshest cider and apple doughnuts around.
However, we recommend calling the attractions and restaurants ahead of time to confirm the current hours of operation.
If you're looking for the best and most fun things to do in Watertown, then look no more. This town will surely have some fantastic attractions and activities to make your vacation more enjoyable.
Watertown is about 40 km south of the Thousand Islands, along the Black River, and about 8 km east of its mouth into Lake Ontario. It is 180 miles northwest of Albany, the state capital, and 328 miles northwest of New York City.
Watertown, NY, is home to museums, playgrounds, playing courses/courts, lakes, parks, restaurants, antiques, shopping, crafts, and other beautiful places to explore.
Here are some of the best and most fun things to do in Watertown, NY.
Fun Things to Do in Watertown, NY
1. Dry Hill Ski Resort
One of the best things to do in Watertown, NY, is to spend some time at Dry Hill Ski Area.
Dry Hill Ski Area is an important family-friendly resort that focuses on family fun. This area is a miniature ski area in Watertown, New York.
The ski area has snowmaking on 50% of its 11 ski runs and night skiing on the same runs.
Beginner runs, intermediate runs, snowboarding, snow tubing, snowshoeing, adaptive skiing program, chair lift, tow rope, vertical abseiling, and winter skiing are just a few of the activities available during the winter season.
Dry Hill Ski also offers equipment rentals, a bar, and on-site accommodation. Take your kids, friends, and family to this place because they will love the activities at Dry Hill Ski and not want to leave again.
The staff at Dry Hill Ski are friendly and kind and will give you the helpful advice you need to have a great experience.
There are experienced, professional instructors and ski lessons for beginners who want to learn to ski.
Dry Hill Ski Area is open every Wednesday to Thursday from 17:00 to 22:00, Friday from 12:00 to 22:00, and Saturday from 10:00 to 22:00.
2. Jefferson County Historical Society
Founded in 1886, the Jefferson County Historical Society preserves and interprets the history of Jefferson County through its museum, exhibits, and archives.
The historical society was based in the Paddock Mansion in the 1870s.
It features local history exhibits that chronicle the growth and development of the area, the innovations and inventions that played a unique role in the region's progress, and the lives and times of its residents.
The Jefferson County Historical Society also maintains an extensive collection of documents and artifacts associated with the culture and history of the county.
The staff here is friendly and knowledgeable and will help you with things you need in the area. There is much to discover at the Jefferson County Historical Society, as it contains a wealth of history and information about the area.
You will enjoy a fun and exciting experience here because there are new things to explore and learn.
A visit here will bring you up to history. It is definitely one of the best things to do in Watertown, NY, for history buffs.
3. Public Square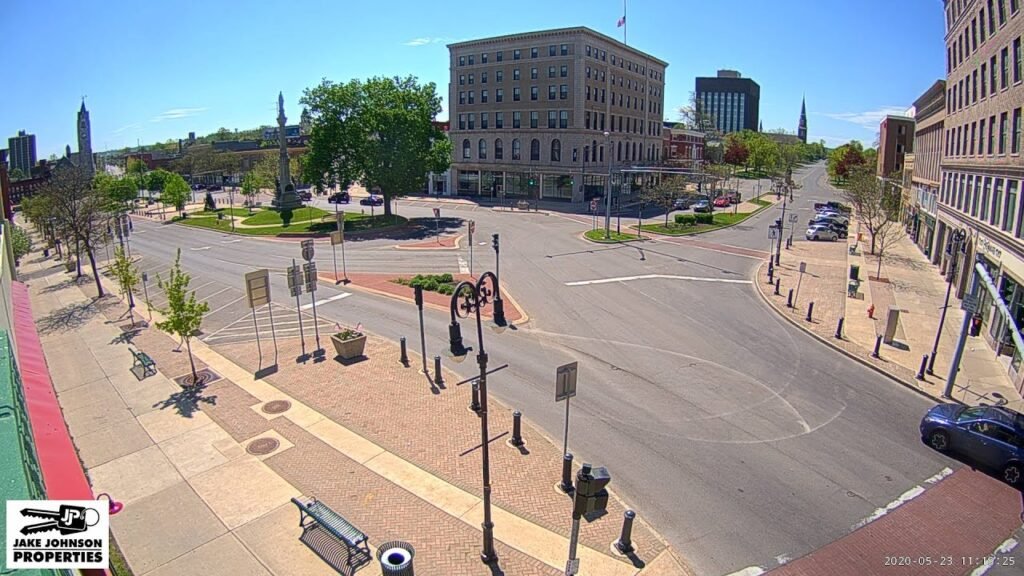 Public Square is an open-air shopping center listed as a Public Square Historic District on the National Register of Historic Places.
The square contains 58 contributing buildings, three contributing objects, and one contributing location.
The Paddock Arcade is located in the public square. The Arcade is the country's oldest continuously operating indoor shopping center.
Some of the famous sculptors are Augustus Saint-Gaudens who, in 1902, designed the New York Governor Roswell P. Flower Memorial, which is also a visual focal point of lower Washington Street.
Julius Sämann created the Little Trees car air freshener in the 1950s in the electrical building on the public square.
The world-famous car air fresheners look like miniature pine trees and hang from the car's rearview mirror.
Other notable sculptors listed on the National Register of Historic Places are of considerable importance to the city.
Explore the Watertown Public Square and discover artifacts and other historical events from the old days.
Visit this Watertown attraction that is quite the art to see for unique things to do in Watertown, NY.
Things to Do in Watertown, NY at Night
1. Roswell P. Flower Memorial Library
Emma Flower Taylor erected the Flower Library in memory of Roswell P. Flower, former governor of New York.
The library has been named "The Most Beautiful Library in the USA."
The Roswell P. Flower Memorial Library was established to benefit people who love knowledge.
It provides a welcoming environment, excellent service from committed staff, and responsiveness to the community's needs.
The Roswell P. Flower Library helps maintain a fine collection of interesting books, audio-visual materials, periodicals, technology, and other resources.
It also offers programs on several topics in appropriate formats for children, teens, and adults.
Visit the Roswell Library, as it is the heart of reading, learning, culture, and research and provides educational and recreational opportunities for everyone of all ages.
2. Burrville Cider Mill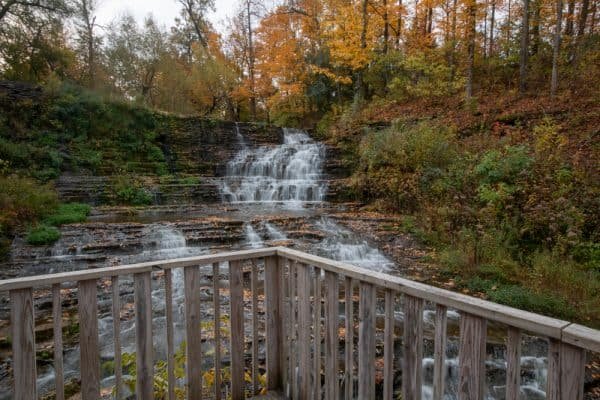 The Burrville Cider Mill was first used as a mill and sawmill when it was built in 1801. The Burrville Cider Mill is one of the oldest businesses in Jefferson County.
The Burrville Cider Mill has been a historic landmark and family tradition for many years. The Mill sells some of the finest handmade items from local artisans.
Apples are purchased from all over New York State when they are ripe and ripe for production.
The apples are inspected to select the highest quality before use.
Burrville Cider Mill presses its coder every Tuesday through Sunday from 10 a.m. to noon.
There is room for a self-guided tour to see how the product is made. It would be best if you visit this place.
As soon as you make your way to the Mill, you will be greeted by the beautiful aroma of apples pressed into cider and freshly fried cider doughnuts.
The staff is also nice and friendly.
Burrville Cider Mill has curds and other unique upstate New York delicacies. It also has a scenic view available for your family and friends to photograph.
Visit the Burrville Cider Mill and sample the sweet and delicious treats they serve.
3. Salmon Run Mall
Salmon Run Mall is the North Country's premier shopping and entertainment center.
Located minutes from the Thousand Islands Bridge over I-81 and 8 miles from the 10th Mountain Division at Fort Drum.
Salmon Run Mall features more than 80 retail stores, a full-service restaurant, a food court, and a 12-screen stadium theatre.
Visit Salmon Run Mall because they are committed to providing excellent service.
Their unique combination of department stores, specialty stores, customer service, and other conveniences all contribute to your satisfaction and a good shopping experience.
Things to Do in Watertown, NY, For Couples
1. Roswell P. Flower Monument
The Roswell P. Flower Monument was planned and designed by noted sculptor Auguste Saint-Gaudens in 1902 to honor the Northern New York native elected governor.
The memorial is a standing portrait of former Governor Roswell P. Flower with his elevated right hand and his other hand resting on a flag-covered table behind him as he wears a long coat and suit.
Henry Bacon's architect collaborated on the commission to design the granite plinth.
The bronze was then cast by the Henry-Bonnard Bronze Company of New York. The monument is about 18 feet tall.
Roswell P. Flower Monument is maintained by the Henry-Bonnard Bronze Company, which repairs and cleans it to remove carbon crusts, old paint residue, biological growth, and other blemishes.
This is one of the best and fun things to do in Watertown, and it's a great way to get some fresh air.
2. Honour the Mountain Monument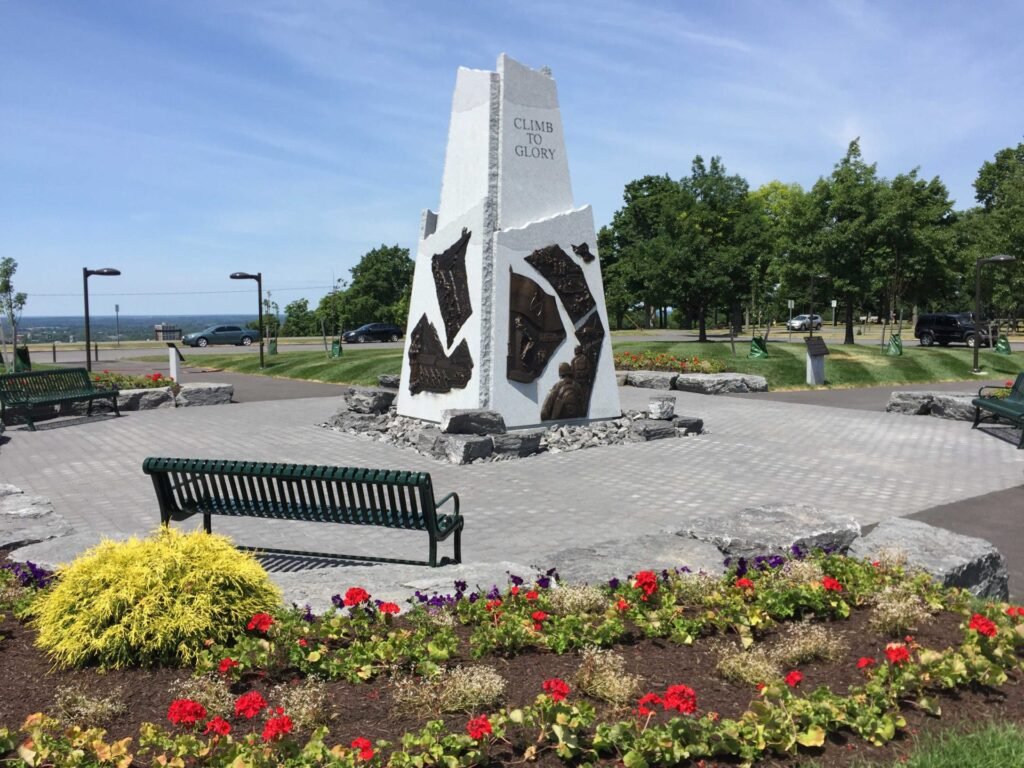 The North County community created and established the Honor the Mountain memorial on July 1, 2016, as a permanent expression of community appreciation for their service and sacrifice to the soldiers of the 10th Mountain Division, their families, and the civilian workforce of Fort Drum.
The Honor the Mountain Monument is an essential addition to the community and a clear reminder of North Country's excellent relationship with its military neighbors at Fort Drum.
In 1985, after its inactivation, the 10th Mountain Division was the most deployed unit in the United States Army.
Honor the Mountain Monument is a lasting legacy for future generations and a tribute to the division's history.
Visit the memorial to discover the history and learn more about the service of the division's soldiers and Fort Drum civilians.
3. Yellow Barn Winery
Looking for a good place that serves the best wines? Need the perfect place to go with friends and have a good drink?
Then, yellow Barn Winery is the ultimate must-visit.
Yellow Barn Winery is owned and operated in Watertown, NY, outside Historic Sachets Harbor.
The gift shop offers a wide selection of fine wines and other wine-related gifts. You are sure to have the best time and be happy in the area as they are rich in knowledge and experience in the wine industry, boasting over twenty years in active wine production.
Yellow Barn Winery offers the best, tastiest and finest wines.
You will also get to speak with their friendly and knowledgeable staff, who will give you a concise history of Yellow Barn Winery and the surrounding area.
Yellow Barn Winery is open every Wednesday to Monday from 12:00 pm to 5:00 pm and is closed on Tuesdays.
Visit Yellow Barn Winery with your friends and loved ones for the finest wine tasting in Watertown.
Things to Do in Watertown, NY For Kids
1. Farmers and Crafts Market
The Farm and Craft Market comes alive annually in downtown Watertown every Wednesday from 7 am to 3 pm from late May to early October.
There are various farm and craft products, local goods, and other beautiful items that you can purchase at a farm and craft market every season.
People from all over the world visit this massive market to buy the necessary items while also interacting with the locals and people in the area.
The Farm and Craft Market invites additional vendors who make or sell different items each season.
Charlie Brown, who specializes in crafts such as clothes drying racks, wine holders, flower pots, special children's toys, and more, is one of the vendors.
You will also get farm produce vendors with various vegetables and other vegetables and honey vendors.
2. Paddock Art & Antiques
Paddock Art and Antiques is perfect for buying beautiful items and gifts for your children and loved ones.
Don't worry about gifts needing to be bought, wrapped, or delivered, as Paddock Art and Antiques has an impressive range of gift items and will help you with the whole process.
You can place your orders and have the items customized, wrapped, and delivered with a greeting card.
Visit Paddock Art and Antiques to buy good quality items for your home, family, and friends.
3. New York State Zoo, Watertown
Thompson Park Zoo is a fantastic place filled with various wildlife, native to New York State.
Thompson Park Zoo has a lot of animals, both domestic and wild. Some include eagles, mountain lions, grey wolves, butterflies, bears, and more in the park.
Thompson Park Zoo is a 32-acre zoo with plenty to do. The park staff are also friendly and will help you around the park.
You can walk around the park and see animals hiding or resting in the area.
A zoo is a fantastic place to visit with family and friends for a fun, engaging, and enjoyable experience.
This makes a pretty perfect addition to your list of fun things to do in Watertown.
Indoor Activities to Do in Watertown, NY
1. Poors Island Trails
Do you want to go on a romantic walk with your significant other, family, or friends? Poors Island Trails is the best option.
Poors Island Trails is a scenic walking trail with stunning views and a long history. Take a walk along the neat paths through the forest as you will be greeted by beautiful trees with a relaxing splendor.
There are wands and other things for kids to collect and play with, as it is a fun and exciting place.
Poors Island Trail is featured in the Islands category for Jefferson County, New York.
You can find the Poors Island Trail on the USGS "Black River" topo map quad, as the map consists of information such as location, topography, nearby roads, and trails.
2. Civil War Soldiers and Sailors Memorial
The Soldiers and Sailors Civil War Memorial was erected in 1891 to honor local citizens who fought in the Civil War.
The monument to soldiers and sailors rests on the former village, which has been there since 1805.
The Soldiers' and Sailors' Monument was built and mounted on June 3, 1891, in Public Square, Watertown.
The monument's plaques read, "In grateful memory of the Jefferson County soldiers and sailors who died or fought to defend the Union and man's liberty."
The Civil War Memorial witnessed that these dead did not die in vain; through them, a nation was reborn in freedom.
Before the monument was unveiled, the Soldiers' and Sailors' Monument was covered by a large United States flag that once flew from a flagpole in the square as individual local regiments departed for the Civil War.
The monument was redesigned and restored between 2009 and 2012. The library was also cleaned, repaired, stabilized, and stocked with the missing sailor's sabre.
3. Sci-Tech Museum of Northern New York
The museum was founded in 1983 to help the public better understand science and technology through participatory exhibitions and programs in several scientific disciplines.
Visitors will enjoy engaging activities at the Sci-Tech Museum of Upstate New York.
They test their sense of smell and touch, leave their glowing shadow on a wall, attract sparks in a plasma ball, create laser patterns, become a pattern in a giant kaleidoscope, view optical illusions, and more.
The Sci-Tech Museum has approximately 40 interactive exhibits that offer scientific entertainment for children and adults.
The museum offers various science and technology workshops and regular nighttime telescopic astronomy events.
The Sci-Tech Museum provides the Traveling Science Program, which presents a unique and exciting live science program in libraries, schools, and other venues.
The Sci-Tech Museum works to achieve certain goals of the technology community.
These goals include: allowing the public to gain direct experience with natural phenomena and manufactured devices, serving as a resource for formal educational programs, and promoting interest in scientific, industrial, and engineering careers.
The entire museum develops participatory demonstrations, exhibits, and programs in the field of basic science and its technological applications.
It also gives people a better understanding and appreciation of science and technology.
If you want fun things to do in Watertown, add this to your checklist of places to visit in Watertown.
Romantic Things to Do in Watertown, NY
1. Adirondack River Outfitters
For fun lovers, one of the fun things to do in Watertown, NY, is to have fun with Adirondack River Outfitters.
Adirondack River Outfitters is a beautiful place to visit for water adventures and fun trips.
It offers summer and exciting white water rafting trips from family fun to great experiences.
Adirondack River Outfitters has been in business for 34 years and has provided its visitors with whitewater adventures ever since.
You will enjoy trips on the Black River in Watertown and the Hudson River in the Adirondacks.
The experienced staff at Adirondack River Outfitters is the very definition of vocation, fun, and safe. They are knowledgeable, fun, and entertaining.
The food and refreshments served in this area are excellent. It is a good place for a fun trip with family and friends!
Enjoy a fun whitewater trip on the Black River with experienced guides on all rafts.
2. Visit The Cheese Store
The Cheese Store is farmer-owned and operated by Jefferson Bulk Milk Cooperative.
The Cheese Store has the freshest and most affordable cheese curds. You can walk around the cheese shop and choose what you like to buy, as the shop offers a fantastic selection of cheeses and unique products from New York.
The Store offers a variety of local, regional, and imported cheeses, sandwiches, salads, subs, and a deli serving homemade soups and many other freshly prepared delicious foods.
It also offers special foods such as jellies and spreads, fresh local pastries, maple syrup, Croghan Bologna, jams, locally roasted coffee, and its signature product, the freshest curd.
The cheese shop is open every Monday to Friday from 8:00 a.m. to 6:00 p.m. and on Saturdays from 9:00 a.m. to 4:00 p.m.
3. Agape Shoppe
The Agape Shoppe is a non-profit store that offers unique, locally made, and fairly traded gifts from various countries worldwide.
The Agape Shoppe is an exciting store to explore, consisting of beautiful items and a thrift store on the second floor. You'll love shopping at Agape Shoppe.
You will find beautiful jewelry, unique gifts, fair-trade coffee, chocolates, and more in Shoppe.
If you are looking for shops to get beautiful and unique gifts for your friends and family, you must visit Agape Shoppe because you can choose from various items.
Things to Do in Watertown, NY, for Free
1. Watertown Golf Club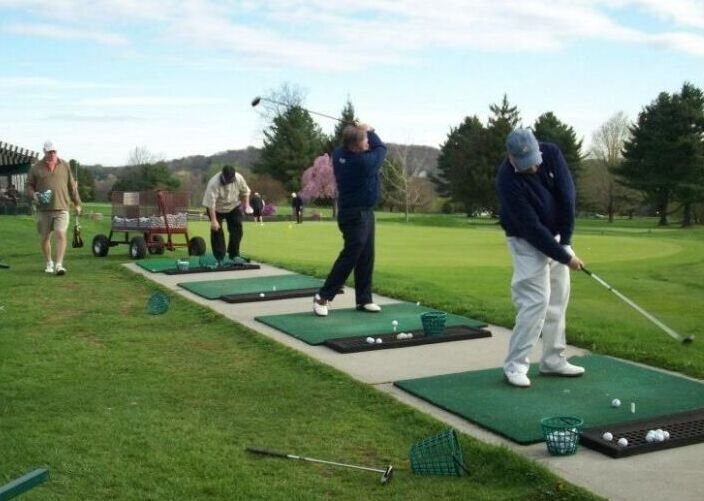 Watertown Golf Club is among the best fun things to do in Watertown for golf lovers.
Located in Thompson Park, Watertown Golf Club is one of the best golf courses in upstate New York.
Are you a golf enthusiast?
For a fantastic and enjoyable experience, you must visit Watertown Golf Club. Watertown Golf Club is a committee that creates a beautiful, memorable day of golf for everyone who visits.
As soon as you enter the Golf Club, you will be greeted by friendly and professional staff accompanied by wonderful views of the surroundings.
Watertown Golf is a clean and well-maintained course and a lovely place to spend a morning playing and interacting with people.
2. First Round Bar
The first Round Bar is a place where locals enjoy a quiet, relaxing environment with good drinks.
The bar area is quite small and offers a variety of excellent beers and mixed drinks. You will be able to interact with the locals and learn about the area.
If you are looking for a place to play darts, you can do so in the first round. The bartenders are very friendly, as are the locals who come for a drink.
First Round Bar and Lounge offers dishes like French Fries, Garlic Parm Fries, Sweet Potato Fries, Spinach Artichoke Dip, Homemade Buffalo Wing Dip, Onion Rings, Raspberry Hell Wings, Honey BBQ Wings, and more.
First Round Bar is recommended as one of the great things to do in Watertown, NY, for fun.
3. Mint Julep Spa & Salon
​​Mint Julep Spa and Salon provides services such as pedicures and manicures, waxing, laser skin services, and laser hair removal with Hilary, facials, makeup, lash services, exquisite massages, body treatments, and more.
With its clean and spacious environment, Mint Julep Spa and Salon is committed to offering you quality hair and body care. They help you feel good as they pamper your hair and body.
The staff at Mint Julep Spa and Salon is professional and friendly. Visit Mint Julep Spa and Salon for a good body massage and a wonderfully relaxing experience.
Cheap Things to do in Watertown, NY
1. Bike rental on 1000 islands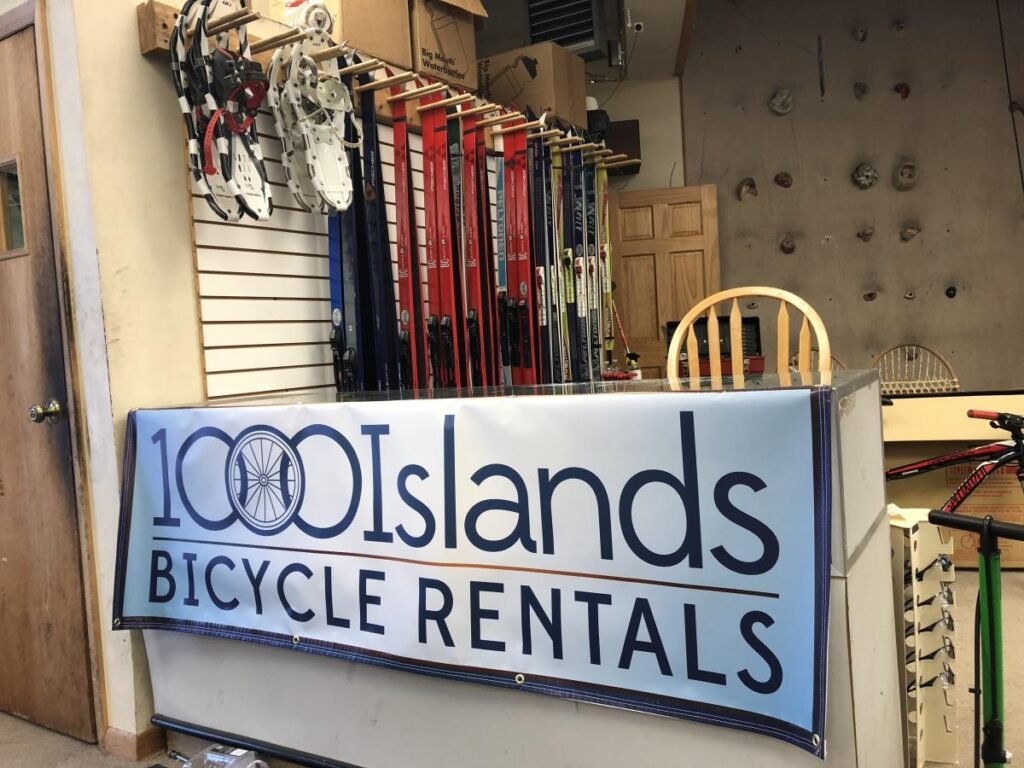 Do you love outdoor cycling? Worried about how to take your bike with you on your next vacation? Worry no more because 1000 Island Bicycle, Watertown, has plenty of suitable bikes waiting for you to rent.
Explore the incredible beauty of the 1000 Islands and the St. Lawrence River area by bike.
Bikes are always available to hire every week at 1000 Islands, and once you've paid, you don't have to worry about losing them as a coded bike lock will be sent to you, and it'll be waiting for you even when you're gone. PUSH.
1000 Island has excellent roads, bike paths, and terrain for you to enjoy an unforgettable outdoor ride.
Renting a bike(s) is easy and affordable with no stress, and every bike comes with a helmet. 1000 Island also helps you deliver bikes with fees depending on your location.
2. Seaway Lanes
Do you like bowling? Are you looking for a nice place to play bowling with friends or family?
Seaway Lanes is one of the fun things to do in Watertown for an unforgettable time.
Seaway Lanes consists of 30 bowling lanes accompanied by a full-service bar and cafe.
Seaway provides its visitors with fun activities such as open bowling classes, daily bowling specials, tournaments, and leagues.
There are always fun and engaging things to do at Seaway Lane.
At Seaway Lanes, you can also host events such as birthday parties, fundraisers, and other types of events that you'll love to plan.
Seaway Lanes offers open bowling classes, leagues, tournaments, and daily bowling specials.
The food and drinks served at Seaway Lanes are fantastic as the staff and bartenders are very friendly and helpful.
Have fun at Seaway Lanes!
3. New York State Zoo, Watertown, NY
The New York State Zoo, located on 32 acres of Watertown Thompson Park, is the world's only zoo dedicated to New York State wildlife. It features animals that were once native to the state.
Visitors can come really close to black bears, climb an authentic Adirondack fire tire, view rare wolverines and their playful antics, and much more.
Along with the ecosystems at the New York State Zoo built around these New York State native animals, the grounds also include the Butterfly House and Olmsted Pond, surrounded by wildflowers.
Cool Places to Visit in Watertown, NY
1. Crystal Restaurant, Watertown, New York
Crystal Restaurant is Watertown, New York's oldest restaurant, having opened in 1925.
The locally operated restaurant replaced the early saloons that once occupied the town's public square at the turn of the 1800s.
First owned by Jerry and Dennis Valanos, the Dephtereos family purchased the restaurant in 1943 and maintained their belief in providing good food at reasonable prices for all.
2. Art's Jug Restaurant, Watertown, New York
Art's Jug Restaurant in Watertown is another of the Sboro family restaurants and has been a part of the local community since 1933.
Four generations of this restaurant family have operated the same business principles and traditions that have helped Art's Jug become a favorite dining destination in upstate New York.
The restaurant's menu has increased over the years and specializes in Italian cuisine, including pizza, prime rib, veal, chicken, seafood, and steaks.
3. Zero Latency in New York
Technology has come a long way and brought the next level of gaming experience to the public.
In Zero Latency, avid gamers can take on various challenges that are so realistic that you'll feel like you've been transported to another galaxy.
As home to all kinds of virtual reality games, guests at Zero Latency can expect to be equipped with a reality-altering VR headset, an ultra-powerful VR computer housed in a lightweight backpack, and a controller that gives gamers pinpoint accuracy.
Join the virtual world of the selected game.
Guests have several game options available, including Far Cry, Sol Raiders, Undead Arena, Zombie Survival, and Mission Maybee. Make an appointment in advance to avoid disappointment.
Conclusion
This has to be the best thing you've come across today regarding your vacation in Watertown.
The fun and best things in Watertown, as listed in this article, are only the tip of the iceberg, and we are optimistic that you'd experience more.
Join us on Telegram
If you loved this content, do well to like us on Facebook and follow us on Twitter to get updates and engage with other people like you who wish to immigrate to Canada or just immigrated to Canada.