Did you know you can study in Canada from the Philippines? Well, yes, you can. This guide covers the dos and don'ts in making your dream of moving to Canada for your education successful.
At the moment of writing this article, Canada is ranked third globally, after the United States and Australia, in the sheer number of international students for each country.
One of the fastest-growing and largest communities of international students in Canada is that of the Filipinos.
Reports from 2015 show that just 1,880 Canadian study permits were held by people from the Philippines in Canada.
By 2019, just four years later, this number has risen to 6,365, that's the number been almost times 4 of the 2015 figure.
That brings the question of why there has been a massive upward surge in Filipino students in Canada.
That and many other questions like what you can do to make your studying in Canada from the Philippines dream a reality are a few of the many questions this guide aims to answer.
Filipino Students in Canada: What You Need to Know
As regards the total number of immigrants in Canada, Filipino newcomers have been ranked in the top three next to China and topped by India.
But this isn't the same for Filipino students actively using study permits in Canada.
That being said, the consistent upward trajectory in the past six years has been really impressive.
It indicates that Filipino students' interest in obtaining university or college degrees in Canada is growing.
We could say the major reason that influenced this rapid growth in interest from Filipino students happened in 2013 when the Philippines government increased their basic education cycle from 10 to 12 years.
This singular action from the Filipino government, known as the K-12 reforms, has pushed Filipino high-school students who have graduated since its introduction to seek the furtherance of their educational ambitions elsewhere.
Given how properly aligned few countries were to take advantage of this, we are not surprised that Filipino students now closely align with the Canadian education system requirements and are consequently far more likely to meet the basic eligibility criteria for applying to Canadian universities and colleges.
One underrated benefit that gives an edge to the students from the Philippines wishing to study in Canada over other international students from many other destinations is that many Filipinos have a great command of the English language.
This has helped greatly regarding acceptance into a study program in Canada, which is one of the basic requirements for getting a study permit.
Irrespective of these benefits mentioned, certain challenges exist for students from the Philippines applying to Canadian universities and colleges.
Remember that K-12 reform? Aimed to bridge the educational gap between the Philippines and other Southeast Asian countries.
However, despite all the positive changes that were made in 2013, the Philippines still trails other Southeast Asian countries in lots of education indicators.
Besides, a great imbalance still exists between all regions and socioeconomic classes.
Additionally, the government of the Philippines has continued to spend less for each student as a share of per capita GDP than many other Southeast Asian countries, notwithstanding the latest budget increase.
It is important to note that we are yet to see how the reforms of K-12 would affect indicators like teacher-to-student ratios.
Canada is such an attractive choice for students from the Philippines, besides the enhanced educational attainment, for many reasons.
Some of the biggest reasons are outlined next.
Reasons to Study in Canada for Filipino Students
Whatever the metric you would be judging from is, be it academic excellence or the multi-culture lifestyle, Canada stands firm with its head high and offers international students 360-degree comfort.
The country can boast a state-of-the-art infrastructure for higher education and the best environment to adapt and adjust to.
Filipino students who prefer Canada as a study abroad location can select diverse courses, conduct authentic research, participate in idea sharing on important issues in their core field, and possibly collaborate easily with professors to shape their personal and professional growth.
Why is Canada Great For International Students?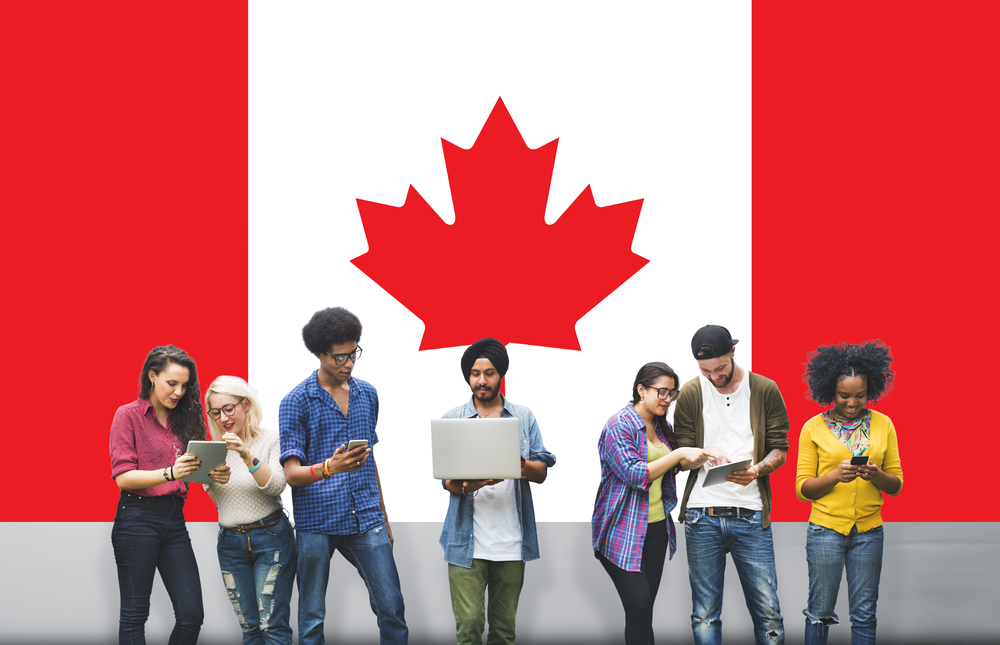 1. The Canada Student Visa
One of the foremost reasons why Canada is such an attractive destination for students from the Philippines and globally is the Canadian visa.
The Government of Canada executed its plans to quicken the Student Visa process for international students.
The new act called the Study Direct Scheme (SDS) was set in motion under the Immigration, Refugee, and Citizenship Act of Canada.

Under this Scheme, the entire visa process for the Canada Student Visa can be completed in as little as 4 to 6 weeks, while the usual process for the visa takes up to 3 months sometimes.
For circumstances when Filipino students meet all the criteria of eligibility for the Study Direct Scheme program, their applications would then be processed within the 20 stipulated business days.

But the SDS has many strict rules, regulations, and documentation processes.
Below listed are the criteria for eligibility for international students under the SDS Act:
1. A valid language test result of IELTS 6.0 band score or higher.
2. The proof of a Guaranteed Investment Certificate (GIC) worth $10,000 CAD.
3. Receipt of tuition payment in full for the applicant's first year of study.
4. A letter of acceptance for the applicant from a post-secondary Designated Learning Institute (DLI).
5. Applicants' transcripts from their recent secondary or post-secondary educational institution.
6. A verifiable proof of completion of the required medical examination from an accredited center.
Also see: High-Paying Part-Time Jobs For College Students
2. Scholarship for International Students in Canada
For over a decade now, the Canadian government's new schemes have all been aimed at increasing the population of international students in Canada.
Only in 2015, almost 400,000 international students were studying in Canada.
The Canadian Government achieved this stupendous feat with the help of numerous scholarships aimed at international students in Canada.
This number has increased gradually over the years; as of 2020, this number rose to over 642,000 international students.
Although the global pandemic played a huge role in 2021, the numbers are still very great.
Below are some of the scholarships aimed at international students in Canada:
Pierre Elliott Trudeau Foundation Doctoral Scholarships (Worth up to $60,000 CAD per student for three years maximum).
Vanier Canada Graduate Scholarships (Worth CA $50,000 annually for three years)
Fonds de recherche Du Quebec Scholarships and Grants (solely for doctoral studies).
Canadian Queen Elizabeth II Diamond Jubilee Scholarships (Specifically for those students from Commonwealth nations to pursue master's or any doctoral studies).
The aforementioned are not the only scholarships in Canada, as each Institution in Canada offers a scholarship for international students who meet their self-set criteria of eligibility like marks scored, sports achievement, and exceptional contribution to their country of birth.
3. Easy Access to Permanent Residency
Lots of Filipino students not only desire to study abroad, but they also aspire to obtain permanent residence in a country as developed as Canada.
The Canadian Government is quickly turning these dreams into reality with the seamless nature of access to permanent residence status for Filipino students.
This opportunity is open to all international students who studied at a designated learning institute under the Canadian International Experience Class (IEC) scheme.
To be eligible to get permanent residence status under this scheme, the international student must have at least worked a year in a Canada-based firm as a full-time employee.
After satisfying the requirement above, the Filipino student is then regarded as eligible to receive a PR in Canada.
Solely in numbers, Filipino students have been ranked 3rd for receiving PR in Canada, only topped by Indian and Chinese students.
4. Earn While You Learn
In Canada, International students are given a unique opportunity to earn while they learn, and Filipino students are not exempted.
This opens to you a realistic means of paying your way through university or college while gaining industry vital work experience.
With little research, you'd quickly find out this isn't a common practice for other countries, so this is just one of the many reasons why so many budding professionals choose to study in Canada from the Philippines.
As a full-time enrolled student in Canada, you are granted permission during the semester to work for up to 20 hours every week, with your minimum wage being $18 CAD (689 pesos).
But after the close of the semester, during your vacations and scheduled breaks, you are permitted to work full-time for up to 50 hours weekly without needing a work permit.
Also see: Working and  Schooling in Canada
5. Mind-boggling Landscapes
We at immigly.com loves this reason why Filipino students choose Canada as their ideal study location abroad, maybe because we're naturally inclined.
Canada is blessed with mind-boggling scenic landscapes, and most of these beauties have remained unexplored.
If you didn't know of Canada's nickname, The Great White North, now you do, and we'd be breaking each word down for your better understanding.

The "Great" in the name stands for being the second-largest country in the world.
The "White" in the name stands for the great amount of Arctic Frozen snow within its borders.
While the "North" stands for its location being to the North of the United States of America.

This country has been an excellent playground for Filipino students who love adventures and outdoor activities.
You could visit the beaches on the east and west coasts if you so please, you could hike or climb some of the greatest mountains if that's your thing, sky-diving and wild sports such as slopestyle competitions, axe throwing downhill racing, and dirt jumping are also on the suitable options for those who dig it.
As the popular saying goes, whatever you're into, Canada has got something for you.
There are also the options of participating in activities organized by your educational institutions and winning some cool cash prizes while having a swell time.
6. Safe and Friendly Environment
The Canadian government's introduction of the English language as an official language not only makes Canada a bilingual nation, it is also a strategic step to make all international students feel more comfortable and safer while living in Canada.
In addition to this, Canada operates a democratically opted government where the Canadian Charter of Rights and Freedoms gives total protection to everyone living in Canada (including international students).

Canada was ranked in 2016 as the 8th most tranquil country in the world by the Institute of Economics and Peace.
This is because Canadian laws ensure its residents, irrespective of their circumstances, are protected from all types of discrimination (gender, age, economic class, colour, religion, educational level, and physical disabilities).
For this reason, you could wear your religious attire inside the country and the educational institutions without harassment.
7. Lower Tuition Fees
The fees paid by all international students (Filipino students inclusive) in Canada can in no way be compared to that Canadian classmates because it is higher.
Still, in comparison to other countries of the world, it is a pretty fair deal, particularly in the United States, Australia, and the United Kingdom.
One of the reasons for this is the relative weakness of the Canadian Dollar at present.
Bear in mind that the fees that international students, Filipino newcomers inclusive, would be expected to pay would depend, to some extent, on their chosen university or college and their chosen course of study.
So, please don't sleep on the financial implications of studying in Canada.
Canada Student Visa Options for Filipino Students
Above, we exhaustively discussed why lots of Filipino students are now interested in studying in Canada.
Still, we have yet to extensively outline the available visa options to prospective Filipino students who wish to do so.
Canadian Study Permit: Generally speaking, a study permit is a document issued by the Canadian Immigration, Refugees and Citizenship (IRCC) to individuals willing to come to Canada for study purposes or continue their ongoing studies in Canada.
To be eligible for a study permit in Canada as a Filipino student, you are expected to meet the following criteria:
Acquire a letter of acceptance from an accredited DLI.
Show adequate verifiable proof of funds to cover their first year of tuition and also other living expenses.

The stipulated amount is $10,000 CAD per year in addition to tuition fees and is slightly higher if your study location is in Quebec.

Those students who plan on bringing their family members along will need an additional $4,000 CAD per year, plus an extra $3,000 CAD for every other additional family member.
Applicants must convince the Canadian immigration authorities that they will be leaving Canada back to their home country at the end of their authorized study permit.
Lastly, applicants must be admissible to Canada (police background checks and/or a medical if requested).
Student Direct Stream: Earlier in this guide, we discussed the Student Direct Stream (SDS) program and its requirements.
Filipino students have their study permit applications fast-tracked in this situation, just as far as they meet certain qualifying criteria.
This fast-tracked study permit process is also open to students legally residing in China, Senegal, Pakistan, Morocco, Vietnam, and India.
In essence, SDS Canada gives Filipino students, and also those from the allowed countries, who have demonstrated upfront their financial resources and language skills to succeed academically in Canada, the opportunity to benefit from faster processing times.
Also see: List Of Universities In Northwest Territories
Canada Student Visa Documentation Checklist
A completely filled-out student permit application form.
An acceptance letter from their university/institution.
Applicants 2 recent passport-size photographs that are 50 mm wide x 70 mm long
Proof of financial ability or proof of purchase of a Guaranteed Investment Certificate (GIC) worth $10,000.
Applicant's statement of purpose.
A copy of the applicant's medical exam confirmation document from an accredited medical institution.
Applicant's most recent transcripts from their secondary or post-secondary educational institution.
Verifiable proof of payment for the applicant's first year of study.
The proof of graduation from a Canadian curriculum high school or the substitute of a language test form showing a band score of at least 6.0 for English (IELTS), or a band score of at least a 7.0 for French (Test d'évaluation de français)
On Quebec: Quebec is Canada's primarily French-speaking province, and it has its own eligibility criteria for applying for a study permit.
More often than not, prospective students of Quebec also have to apply for and get a Quebec Acceptance Certificate (Certificat d'acceptation du Québec, or CAQ) before the beginning of their studying in Quebec.
This includes the previously mentioned SDS participants also.
Generally speaking, applying for a study permit for Quebec would mean additional financial burden and processing times compared to the regular Canadian student visa.
That certificat d'acceptation du Québec (CAQ) is normally valid for up to a maximum of 49 months, usually the duration of the applicants' study program.
As for the minimum financial requirements, there are some major differences compared to the rest of Canada.
Let us take the requirements; for example, in Quebec, you would be mandated to have at least $11,000 CAD annually in addition to your fees for tuition as opposed to the required $10,000 for other parts of Canada.
Additionally, those coming with a family member while studying in Quebec would be required to show an additional $5,100 CAD annually for the first family member over 18 and $3,800 if the first family member is under 18.
Where are Filipino Students in Canada settling?
If you guessed Ontario, then you guessed right, as it is home to the highest number of international students in Canada.
It hosted almost 48% of the country's international student population in 2019, which is nearly 307,000 international students, so naturally, the highest concentration of Filipino students would be found in Ontario.
British Columbia follows in second place, housing 23% percent of Canada's international students, roughly 145,000 international students.
Quebec comes third, with only 14% of all international students in Canada, and in figures, that is 87,000 International students.
Specifically speaking, research carried out in 2018 shows that the three biggest provinces with a high concentration of Filipino students in Canada are Ontario at 34.3 percent, Alberta at 29.8 percent, and British Columbia at 24.5 percent.
Not bad at all, is it?
Applying to Study in Canada From the Philippines: Dos and Don'ts
The truth is, there are always some Dos and Don't for everything you do in life.
The same rules apply when applying for a study permit to Canada from the Philippines; these tips must be seriously considered to avoid rejection.
Here are our top picks:
Ensure you do adequate research to ascertain that you are applying to a university, college, or educational institution that you would be happy to attend for the next few years.
Please take out time to contact the educational institutions you are applying to personally.
In lots of cases, the application process varies from one institution to another. The approach of one-size-fits-all definitely wouldn't cut it.
If you can, kindly Put in extra effort to get your hands on additional supporting documents that may be requested from you before time.
Documents like your personal essays, letters of recommendation, portfolios, and other necessary supporting documents, depending on your chosen program and institution.
As aforementioned, your best bet is to consult your chosen study institution for its full requirements directly.
Be patient after submitting your application; like everyone else, you must wait for the final decision of your chosen universities or colleges.
Technology has evolved greatly, enabling application systems to allow prospective students to check the status of their applications online, and we recommend that you solely rely on this.
No matter how frustrating the wait may seem, be patient, as a response will come.
It doesn't matter if you were admitted or not.
For the Dos, we reiterated how disastrous it could be to not properly research your chosen institution and the course of study you've applied for.
We cannot overemphasize the importance of knowing the intricate details about how your chosen course of study is conducted within Canada.
Also see: Cheapest College In Ontario For International Students
For example, How much of your time would you spend in the laboratory weekly, or if you would even have time to work?
Knowing in-depth details would help you properly plan your time or even dissuade you from applying for certain courses.
We have also taken time during this guide to tell you how important your language assessment is.
Depending on the institution, proficiency in English or French is a huge part of the admissions criteria.
Generally speaking, as an international student, you must supply results of an acceptable language test like TOEFL or IELTS.
Gather all your supporting documents in time, as most universities and colleges require a copy of your most recent transcript.
You might also need to provide an educational credential assessment to show that your transcript is equivalent to its level in Canadian.
You will be asked for an official translation if your transcript is neither English nor French. All these processes take time, so don't mess around!
The one size fits all approach should be avoided by you, like the application processes for each college or university you hope to apply for may differ greatly.
However, there are centralized online application systems like applyalberta.ca or educationplannerbc.ca.
Which are available only to those provinces.
Lastly, always give enough time to ensure that the study permit can be processed and approved before the start of the semester.
So whatever deadline date is given, you need to beat it and create even more free time.
You never know what may come up.
Remember that August and December are the two busiest months for the arrival of Filipino to Canada.
Canada Student Visa Application Process
After the complete arrangement of all your documents, you would've to apply for your student visa application online via the official website of the CIC.
You should apply for your student visa for Canada three months before your intended travel date into Canada.
Your payment date for your application fee is considered by the Canadian government as paid your application date.
Pertaining to your application's status, you will be duly informed via email if successful.
All this being said I don't think you should still be thinking about moving to Canada to study as a Filipino; we believe It is time for you to pack your bags and move to Canada.
If you've any useful information you think we've omitted, please we'd appreciate you tell us in the comment section. Good luck on your journey to studying in Canada.
Also see: Top 17 Most Employable Degrees In Canada
Conclusion
Filipino Students have nothing to worry about. Unlike previously believed rumours, studying in Canada from the Philippines isn't as difficult as you thought.
In this article, we have detailed every information you need to have if you are considering education in Canada, from Canada student visa application process, dos and don'ts in the Canada study application process, tuition fees, permanent residency and lots more.
Pin this post as you start planning to move to Canada from the Philippines for study.
We wish you luck!
Join us on Telegram
If you loved this content, do well to like us on Facebook and follow us on Twitter to get updates and engage with other people like you who wish to immigrate to Canada or just immigrated to Canada.