You will miss out on the fun if you do not know where to find the most beautiful and interesting things to do in Florence (SC).
Florence is a city packed with rich history, culture, and architecture. The hospitality from the people is amazing.
A trip to Florence will introduce you to a different kind of rural lifestyle, a stress-free one with lots of leisure activities, entertainment, and of course, tasty local dishes.
The city of Florence offers many attractions, and here in this article, we have detailed some of the most exciting things to do in Florence (SC) during your vacation here.
Read on:
Fun Things To Do In Florence (SC)
1. Check Out the Florence County Museum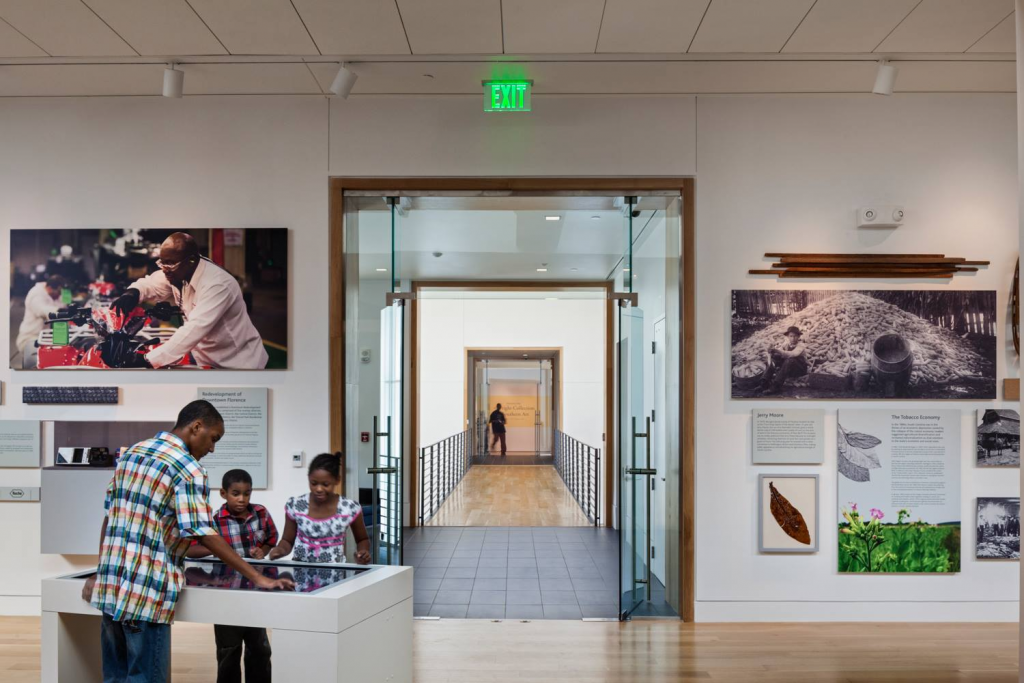 The County Museum is beautiful, with large exhibition rooms, studios, and lecture halls. It showcases an abundance of the cultural heritage of the region.
It also includes artifacts from Colonial times, the Civil War, and Native American times. Not leaving out the oil paintings and other works of art that represent some of South Africa's finest artifacts.
It is a contemporary museum for contemporary art. You should visit.
Address: 111 W Cheves St, Florence, SC 29501, United States
2. Tour the Florence Stockade Visitor Center
The Confederate States Military Prison was a military prison camp that existed from September 1864 to February 1865 during the American Civil War.
Also known as Florence Stockade or just Stockade easily. The Florence Stockade Visitor Center held a lot of prisoners in time past.
Currently, it is a direct route that provides visitors with information about the stock.
It is open and free to the public. It is registered in the US National Register of Historic Places.
Address: Stockade Dr, Florence, SC 29506, United States
Also see: 23 Best & Fun Things To Do In Murrells Inlet (SC)
3. Witness the Mars Bluff Atomic Bomb Impact Crater
This atomic hole is found in an unused trailer park.
The crater, which is an attractive focus area, has an interesting origin story.
Long story short, an atomic bomb was accidentally dropped on the garden of Mr. Gregg during the Cold War.
Good thing no causality was recorded. Currently, it is an attraction for locals and tourists alike.
Address: South Carolina 29506, USA
Things To Do In Florence (SC) At Night
1. Visit the Thieves Market
This is not literal, don't be scared. It is not a place where thieves come together to buy and sell.
In contrast, the Thief Market is a large market with vintage collections. It offers a lot of items you can pick from.
From handmade gifts, clothing, furniture, and household item, it is a treasure hunt.
The entrance fee is just $3. It is the perfect place to get all you want.
Address: 1820 E Palmetto St, Florence, SC 29506, United States
2. Beer Tasting at Seminar Brewery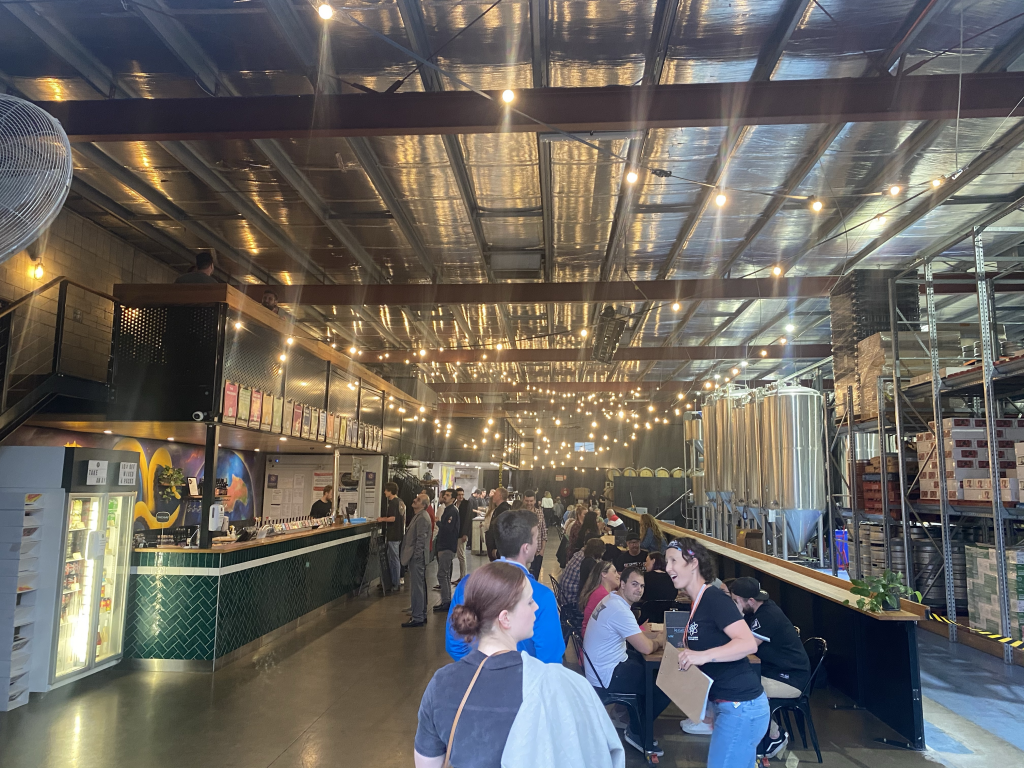 What's more after a stressful day than some sweet wine? Seminar Brewery offers you an amazing experience.
No matter what your taste is, they have something for you, as there are numerous flavors here.
This freshly brewed winery also offers winetasting tours, so you're in for a treat if you visit here. They are different dishes also to go with it, both local and international cuisines.
There are also games to make your visit here fun, such as Jenga, cornhole, and other board games like chess and check.
Address: 551 W Lucas St, Florence, SC 29501, United States
3. Visit Regal Swamp Fox Cinemas
Seeing a movie at night could be a great experience. Spend some time at Swamp Fox Cinemas and see the latest available movie.
It is one of the leading cinemas in town. The chairs are comfy and beautiful, letting you relax and see movies on a wide HD screen.
Swamp Fox offers cold drinks and snacks to go with each movie. So can munch on some crunchy snacks as you enjoy yourself.
Address: 3400 W Radio Dr, Florence, SC 29501, United States
Things To Do In Florence (SC) For Couples
1. Make a Stop at YMCA
Florence Family YMCA gives you a chance to get trained by certified and professional fitness instructors.
There are various exercise sessions that you can be part of, no matter your schedule. YMCA has cardio equipment, free weights, and others.
The YMCA also offers group classes that include physical and water exercises. You could book private sessions as well.
Address: 1700 S Rutherford Dr, Florence, SC 29505, United States
Also see: 23 Best & Fun Things To Do In Sumter (SC)
2. Visit Red Bone Alley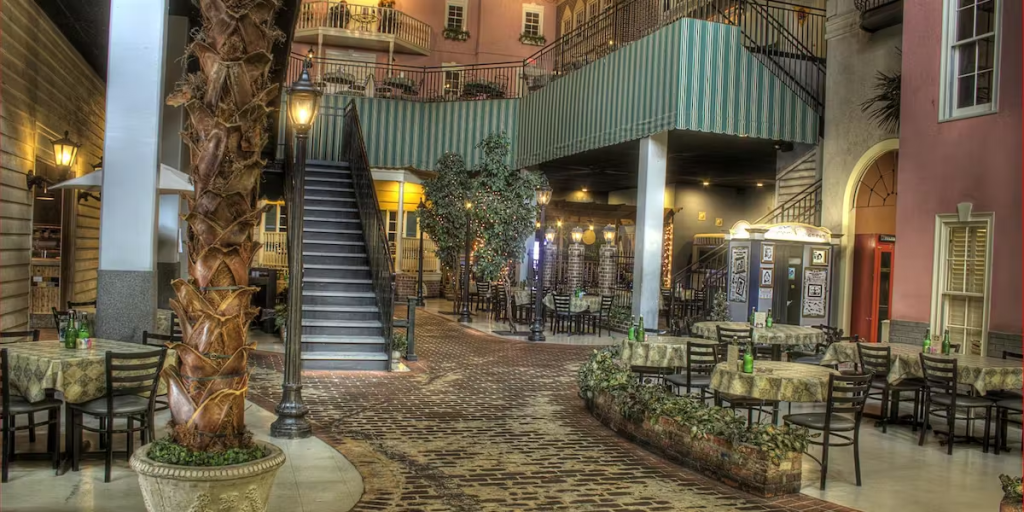 Red Bone Alley is more than a cafe. It is two stories high and has an amazing view of the street. You will love it.
It offers an atrium, a back porch, an ice cream truck, and backyard seating with beautiful paintings.
Red Bone serves various delicious dishes, both local and international delicacies. You should try spending some time here.
Address: 1903 W Palmetto St, Florence, SC 29501, United States
3. Dinner at Julia Belle's Restaurant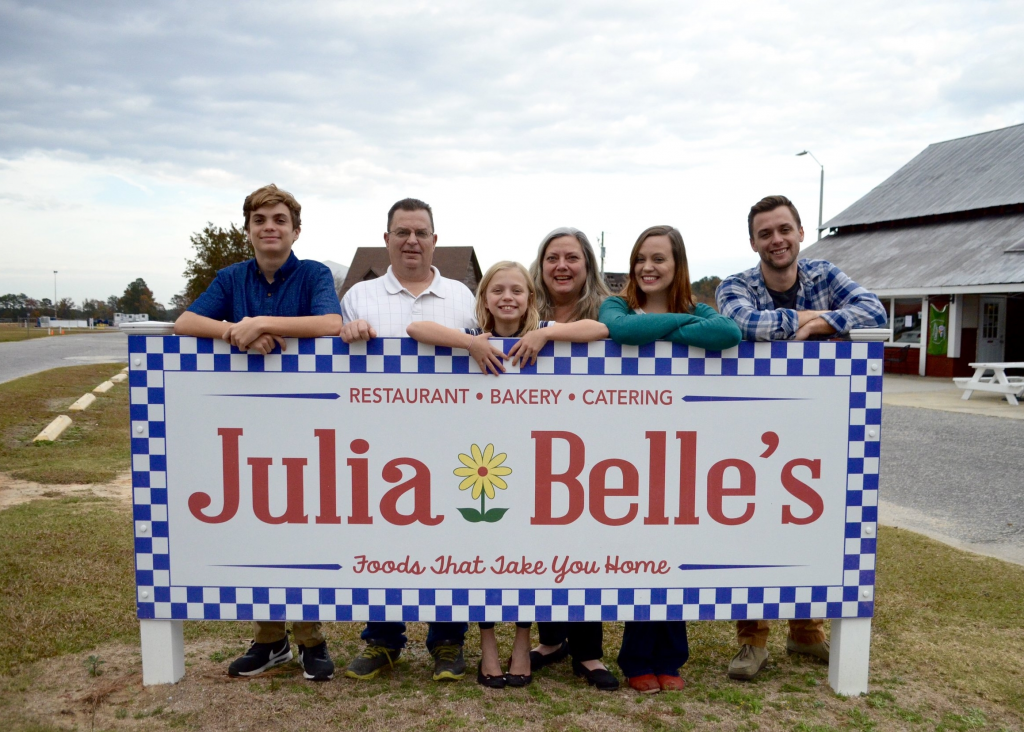 Julia Belle's is a popular restaurant that has been serving delicious food to locals that support local culture.
It is designed with beautiful red wooden frames that welcome guests, giving them a very warm reception. Every dish served here is freshly prepared from fresh farm products.
Their menu includes Low County Boil with shrimp and smoked sausages, Country Pot Roast, Fried Green Tomato BLT, and more.
They also offer dessert with all kinds of cakes available you will enjoy.
Address: 2106-50 W Lucas St Interstate Crossings right off of I-95 on hwy 52 in front of Hampton Inn, Florence, SC 29501, United States
Things To Do In Florence (SC) For Kids
1. A Visit to War Between the States Museum
The museum is the perfect place to learn about the war and generally about local history.
It has a rich collection of numerous artifacts, both local and international art pieces. You can even find photographs of military personnel, documents, and books in the museum's library.
Don't forget to get souvenirs at the in-house gift shop.
Address: 107 S Guerry St, Florence, SC 29501, United States
2. A Trip to Timrod Park
Timrod is one park that offers incredible fun and comfort. Take full advantage of the park as you go hiking on the exciting trails and watch the beautiful views around the park.
You can try your hands at tennis as there is a court around too. It also has a children's park, where kids can play around and have fun.
They offer other attractions like a beautiful theater. It shows exciting performances and movies.
The area around the park is just beautiful. You should come with a camera to take pictures and spot wildlife too.
It is the perfect place to make memories.
Address: 400 Timrod Park Dr, Florence, SC 29501, United States
3. Watch a Race at Darlington Raceway
Come on, what's a vacation with some thrilling sport? Catch all the fun at Darlington Raceway. It is quite popular among locals.
It hosts the NASCAR Cup and Xfinity Series, the best speed race event you will see for miles around.
The oval track holds lots of memories for you as you watch. You get to see some pretty fancy cars as well.
You can also participate as well, how nice! Get some good food and snacks while you are here, so you don't have to worry about getting hungry.
Address: 1301 Harry Byrd Hwy, Darlington, SC 29532, United States
Also see: 27 Best & Fun Things To Do In Clemson (SC)
Indoor Activities To Do In Florence (SC) For Adults
1. Take on a Challenge at Locked Inn Escape Rooms
Feel the thrill and tension Locked Inn brings. It is an experience you'll want to come back for.
It offers exciting and adventurous games where players are locked in a room for 60 minutes.
Players must solve puzzles to get out of the room within the time limit. There are different themes with different challenges too.
You take advantage of this to have the best fun you can get.
Address: 214-A Dozier Blvd, Florence, SC 29501, United States
2. Catch a Show at Francis Marion University Performing Arts Center
Francis Marion is a unique art center that promotes local content with cultural programs and performances, all of which are rated for both children and adults.
The art center hosts various entertainment events, educational programs, and workshops.
From contemporary performances to good old classical music and concerts, including pop, rock, country, and other genres of music, the art center has something for everyone.
They give you the opportunity to experience local, regional, national, and international acts.
Address: 201 S Dargan St, Florence, SC 29506, United States
3. Shop at Palmetto Peddlers Antiques Mall
Palmetto Peddlers is the best place in Florence to find the abundant wealth of artifacts of the city.
It gives you a chance to explore and shop from numerous vendors, everything antique.
The antique mall has everything from interior decor to jewelry; you should pay them a visit soon. They are open all day of the week, although the time varies on Sunday.
Address: 2295 Hoffmeyer Rd, Florence, SC 29501, United States
Romantic Things To Do In Florence (SC)
1. Pick Berries at Cottle Strawberry Farm
Being one of the most delicious fruits there is, Strawberries are pretty popular with many. We bet with you too, or at least someone you know.
Visit Cottle Strawberry Farm while you're here and pick for yourself some fresh strawberries directly from the vine.
It is also a good place to bond with friends and family or just meditate alone in quiet.
They also sell various strawberry products such as syrup and bread. So come with your cash so you can take some "postcards" home.
Although entry is free, booking an appointment before coming is always best to avoid unforeseen hitches. The farm is open all day of the week. Don't fail to visit.
Address: 3712 W Palmetto St, Florence, SC 29501, United States
2. Grab a Bottle of Wine and More at Hyman Vineyards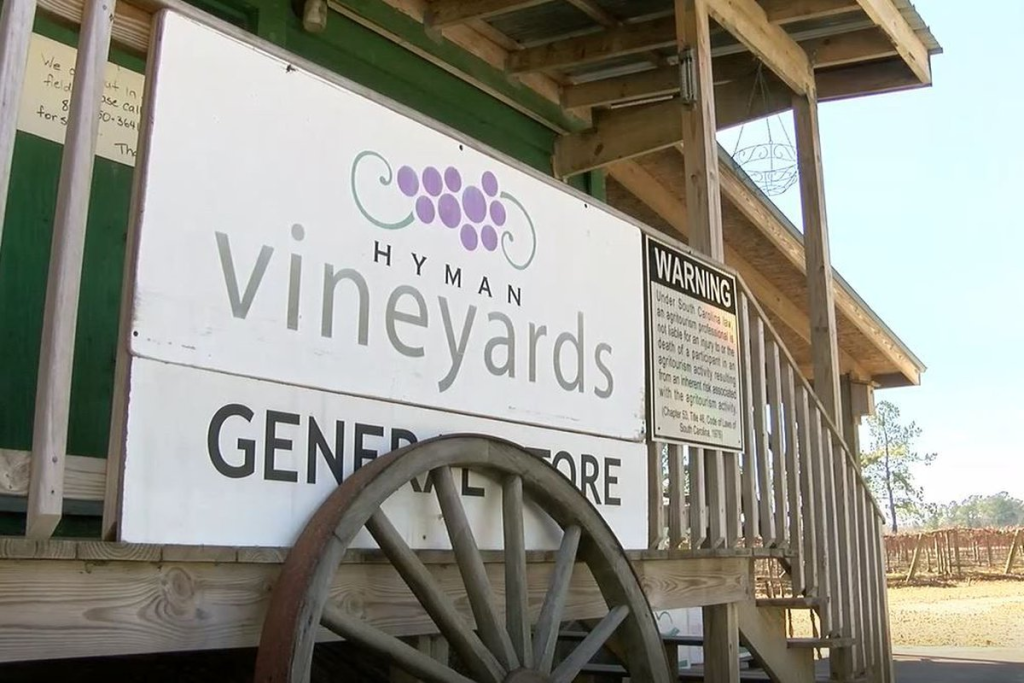 Grab some tasty wine at Hyman Vineyards. They produce various wines like red, white, blush, and rose.
They also sell different types of jam, jelly, salsa, sauce, honey, and juices.
It is a great place to relax and cool off during the evenings. They also offer guided tours of the winery, so come along with a camera to take beautiful pictures as your guide tells you all about the processes involved in winemaking.
You should visit them while you're here.
Address: 2513 W Lucas St, Florence, SC 29501, United States
Also see: 27 Best & Fun Things to Do in Lexington (SC)
3. Florence After Five
This amazing cultural event takes place in downtown Florence, and features live music, food, and drinks.
It starts at 5:30 and is completely free to the public, so you don't have to pay a dime to attend this event. Although you get to buy food and drinks yourself, that's by the side. So you can sit back and enjoy some nice music a live band plays.
Stop by any Friday to join the locals in a fun night that captures the true heart of this beautiful city.
Free Things To Do In Florence (SC)
1. Visit Florence Veterans Park
Florence Veteran's Park has various attractions, such as a three-column obelisk featuring a bald eagle, the Wall of Honor, and different sculptures.
It is dedicated to those who worked for the United States of America during the war. It has a special and well-equipped theater where you can see some movies.
Visiting Florence Veteran's Park is quite expensive as there is an entrance fee to enter the park, and it is open only during the day.
Address: 842 Woody Jones Blvd, Florence, SC 29501, United States
2. Meditate at the First Presbyterian Church
The First Presbyterian Church of Florence was founded in 1861 with a congregation of just 34 members.
They usually worship on Sundays, with two services a Contemporary Worship service that includes a worship team and a Traditional Worship with a Choir service.
You should visit the church while you're here and meditate and connect to God.
Address: 700 S Park Ave, Florence, SC 29501, United States
3. Visit Dooley Planetarium
Dooley Planetarium offers you the opportunity to see various images, cartoons, and even a live feed directly from NASA.
The planetarium also carries out exhibitions and programs for the public. Catch a glimpse of the stars and moon here. It always gives a very special feeling.
They also allow for guided tours of the facility, so that's something you should take advantage of.
Did you know the entry is free and there are no charges? You should miss the opportunity!
Address: Francis Marion University, 200 Alumni Dr, Florence, SC 29506, United States
Cheap Things To Do In Florence (SC)
1. Pay Your Respects to Fallen Heroes at the Florence National Cemetery
Florence National Cemetery is one of the 144 National Cemeteries in the United States. It is currently managed by the United States Department of Veterans Affairs.
With a record of over 9,000 burials, the cemetery has become part of the U.S. Register of Historic Places.
You can pay your respects to those who died protecting the sovereignty of the country here.
Address: 803 E National Cemetery Rd, Florence, SC 29506, United States
2. Visit Woods Bay State Natural Area
The Woods Bay State Natural Area is one of Florence's largest and most diverse parks. It has forests, wetlands, sandhills, and shrub bog habitats.
Take a walk through the park to see the amazing variety of wildlife in this one-stop national park!
You do not want to be on your feet? Participate in amazing local freshwater fishing, paddling, or boating before settling in for a picnic!
Address: 11020 Woods Bay Rd, Olanta, SC 29114, United States
Also see: 27 Best & Fun Things To Do In Anderson (SC)
3. Get Pizza at Rebel Pie
Rebel Pie is your best bet for quality and tasty pizza in town. Their pizza is properly cooked with local ingredients from trusted suppliers.
There are many pizza recipes to choose from; white sauce, olive oil, and red sauce bases.
But what really stands out are the chicken fridge, buffalo chicken, and chicken pesto pizzas.
There are about 40 other options to choose from — from cheeses, vegetables, fruits, seafood, chicken, pork, sausages, bacon, and more.
You will love their dental pizza, Pecan Danish pizza, and s'mores pizza.
Address: 804 2nd Loop Rd, Florence, SC 29505, United States
Cool Places To Visit In Florence (SC)
1. Columns Plantation
Column Plantation is a large mansion with huge columns. You can visit the villa, watch the Cold War simulations, and try some available costumes, fun, right?
You also get the chance to see lush fields of cotton, corn, and tobacco.
The mansion has a low-pitched roof and a high floor. The villa is surrounded by 22 large brick columns in a Doric sequence.
This old and beautiful home has been restored over time. Currently, the Harwell family owns a large area and surrounding plantations.
Although private, it is available for tours and events.
Address: 5001 Rankin Plantation Rd, Florence, SC 29506, United States
2. Dr. Bruce & Lee Foundation Library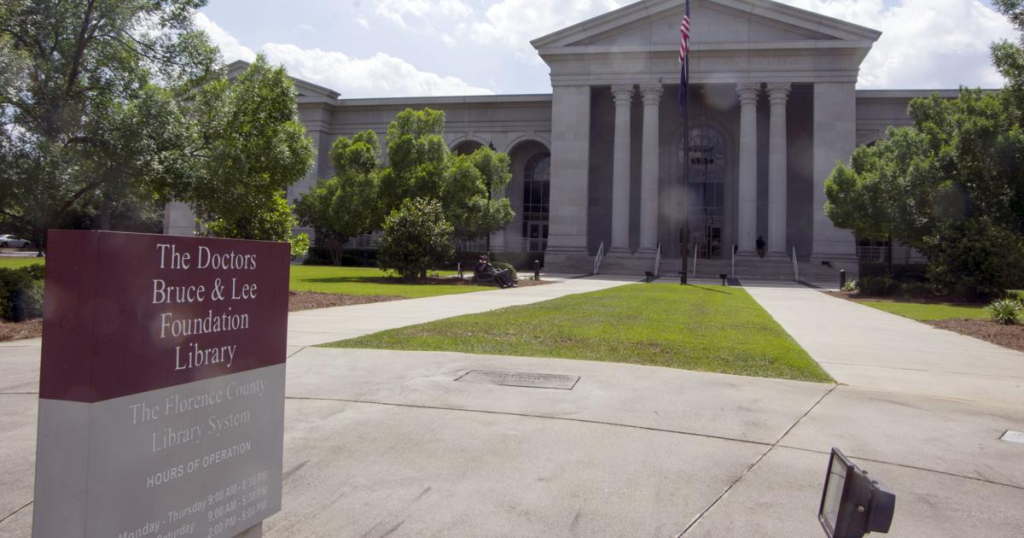 Dr. The Bruce & Lee Foundation Library is a library that has found its place in the hearts of local people due to the book arrangement and design, which reduces stress during the search.
It is the perfect place to learn about local culture as it has rich content, from books, audio cassettes, CDs, genealogies, local history, the Internet, and many other reference resources.
The library has a park and balconies mostly used for public gatherings. You could join one, as they are insightful and worthwhile. You'll get to meet new people and make new acquaintances.
Access to the library is absolutely free for citizens, but a small fee of $25 is needed for non-citizens.
Address: 509 S Dargan St, Florence, SC 29506, United States
3. Tubb's Shrimp & Fish Co.
Tubb's Shrimp & Fish Co. serves the freshest seafood in town. You should visit them.
While dishes remain true to Lowcountry cuisine, there are menu items inspired by international cuisine.
Don't be amazed if you see a modern twist on the South base, such as shrimp and grits, crab cakes, oysters, Po Boys, and mac and cheese.
Address: 1500 2nd Loop Rd, Florence, SC 29505, United States
Conclusion
We know you want to have an amazing time when you travel to Florence, so we've taken time to detail in this article lists of fun things to do in Florence (SC) to ensure you have a lovely time.
We hope our checklist helps make your vacation here fun. Let us know in the comments which attraction interests you the most.
Happy vacation!
Join us on Telegram
If you loved this content, do well to like us on Facebook and follow us on Twitter to get updates and engage with other people like you who wish to immigrate to Canada or just immigrated to Canada.