Ranked as the Top 100 best places to live in America in 2021, let's explore the fun things to do in Roseville(CA) on arrival for tourists and fun seekers.
Roseville(CA), the biggest city in Placer County, was once just a stop for horses and passengers to be refreshed. Today, the city is bustling with things to do and ways to explore. Located along Interstate 80, Roseville is more than just a convenient place to live. 
With numerous attractions to wow you and leave you wanting for more, we will detail them in this article, the fun things to do in Roseville.
Let's get to these attractions:
Fun Things To Do In Roseville (CA)
1. Visit the Fountains at Roseville
You can find what you're searching for at the Fountains at Roseville, whether trying to feed your empty stomach after a long day of walking or wanting to indulge in a few impulsive purchases.
It's one of the top shopping destinations in the area and a terrific place to spend a few morning, afternoon, or evening hours away from the frequently blustery California weather.
Popular national chain restaurants selling everything from classic steaks and burgers to pizza, salads, seafood, craft beers, and gourmet coffee are among the businesses at The Fountains, along with contemporary clothing stores like Chicos and Anthropologie.
Address: 1013 Galleria Blvd, Roseville, CA 95678, United States
2. Visit Maidu Museum & Historic Site
Especially for out-of-state visitors, learning about the Golden State's Native American cultures and history is a fun, educational, and engaging activity.
The Maidu Museum and Historic Site are two of the area's most prominent attractions. They include archaeological ruins and various items on display that give visitors interesting glimpses into the lives of Native Americans in centuries past.
Previous guests have noted that the museum's staff and docents were knowledgeable, enthusiastic, and helpful and that even children with short attention spans had a great time.
The facility is on Johnson Ranch Drive in Roseville and includes a one-mile outdoor loop interpretive trail.
Address: 1970 Johnson Ranch Dr, Roseville, CA 95661, United States
3. Have a Good Time at Crocker Art Museum
Over the years, the Crocker Art Museum in Sacramento has become one of the state's most impressive historic art collections.
It all began in the late 1860s when a wealthy local judge and his wife gathered individual pieces from all around the state, the nation, and the world.
It is a good idea to look at the museum's website's calendar of events before making the 30-minute journey from Roseville because it provides additional activities throughout the year in addition to its permanent collection.
Most visitors decide to take one of the often scheduled guided tours led by knowledgeable docents to experience the museum.
Address: 216 O St, Sacramento, CA 95814, United States
Also see: 27 Best & Fun Things To Do In Turlock (CA)
Things To Do In Roseville (CA) At Night
1. Explore the Black Chasm Cavern
Nestled in the charming Gold Country town of Volcano, Ca, Black Chasm Cavern is a breathtaking destination for all ages. A constant 58 degrees, the Cavern cools the heat of Summer or warms winter chills, providing year-round comfort.
Explore the exceptional crystal formations and intriguing large chambers, guided by their informative and fun Cavern Naturalist.
Black Chasm was declared a National Natural Landmark in 1976, recognizing the spectacular example of America's natural history and geological significance. Above ground awaits an alluring gift shop, gemstone mining, and fun activities!
On the stunning grounds of Black Chasm is a complimentary self-guided tour of the historic and mysterious Miners Nature Trail, available seasonally.
Address: 15701 Pioneer Volcano Rd, Volcano, CA 95689, United States
2. Game at the FireUp E-Sport Lounge
Have a swell time at the E-sport lounge, enjoy your night to the fullest with friends, and meet new people if you are the social bee.
The food is typical bar food with amazing food and pizzas. It's probably frozen, but the wings and giant pretzel are pretty good—again, standard, decent bar food.
The atmosphere is fun, the drinks are inventive, and the bartender/entire staff are all friendly and engaging, doing their best to ensure all the patrons are having a good time.
You can have video game competitions where a jello shot is a prize. Sounds good, yeah? Do well to check it out.
Address: 1601 Douglas Blvd Ste a, Roseville, CA 95661, United States
3. Go Bowling at the Round1 Bowling and Amusement
Round1 is a multi-entertainment activity complex company. The typical store is around 50,000 square footage as anchor tenants in shopping malls. In it, we offer bowling, arcade games, billiards, darts, ping pong, food, and drinks, a variation that other competitors do not match in the industry.
Round1 originated back in 1980 and, with the support from the fans and customers, has successfully grown into 113 stores in Japan.
The first overseas expansion was targeted to the United States as the company opened up its 1st store abroad in the City of Industry, California, back in August 2010
Enjoy your evening time out by bowling at this amazing complex with friends and feel the thrills, as this is one of the fun things to do in Roseville.
Address: 1191 Galleria Blvd Suite 1210, Roseville, CA 95678, United States
Things To Do In Roseville (CA) For Couples
1. Stop by Dutch Bros Coffee
Dutch Bros. Coffee, located on Baseline Road in Roseville, is a terrific choice for caffeine addicts who prefer to have their coffee on the go.
In many states in the country's west, Dutch Bros. has numerous locations. Their numerous menu options, hip, youthful staff, and speedy drive-thru service, which comprise most of their business, have earned them particular notoriety.
If you plan to spend time in the area, you should inquire about their loyal customer cards. In addition to juice, tea, soda, and smoothies, they have various non-coffee beverages.
A portion of every sale made by Dutch Bros., founded in 1992, was contributed to deserving charitable groups.
This would be a great spot to hang out with your partner while catching a break from the day's activities and away from the kids' disturbances for some time.
Address: 1225 Baseline Rd, Roseville, CA 95747, United States
2. Check out the Folsom Lake
Less than 10 miles from Roseville lies the sizable reservoir, Folsom Lake. It has long served as a means of flood control and recreational opportunities because the Folsom Dam blocked the American River.
With public access sites on practically every side, Folsom Lake State Recreation Area spans the whole body of water. Boating, fishing, and swimming at public beaches are regular activities at Folsom Lake.
The state recreation area also maintains over 90 miles of hiking, mountain biking, and horseback riding paths. Additionally, three campgrounds are available for tent or RV camping for overnight excursions.
The enormous lake is open to visitors and is a stunning location where you can also meet people who are cooling down with their partners.
Address: 7806 Auburn-Folsom Road, Folsom, CA 95630.
3. Visit the Carnegie Museum
Local historical society museums are fantastic places to spend an hour or two for anyone wishing to become acquainted with a new area's history, even though they frequently get overlooked in favor of more touristy sites.
On Lincoln Street, the Carnegie Museum of the Roseville Historical Society houses a remarkable collection of artifacts from Roseville's and Placer Counties' past.
There are old maps, pictures, and first-person tales of people who used to live, work, and die in the area on exhibit.
Address: 557 Lincoln St, Roseville, CA 95678, United States
Also see: 27 Best & Fun Things To Do In San Marcos (CA)
Things To Do In Roseville (CA) For Kids
1. Visit the Maidu Regional Park
The history and cultures of the Native Americans in the Golden State are fascinating, informative, and amusing to learn about, especially for out-of-state tourists.
Two of the area's most well-known attractions are the Maidu Museum and Historic Site. They contain historical artifacts and ruins, as well as numerous exhibits that offer fascinating glimpses into Native Americans' way of life in the past.
Previous visitors praised the museum's personnel and docents for their expertise, enthusiasm, and helpfulness and said that even kids with short attention spans enjoyed themselves.
A mile-long educational outdoor loop walk is part of the property, which is situated on Johnson Ranch Drive in Roseville.
Address: 1550 Maidu Dr, Roseville, CA 95661, United States
2. Let Them Play at Golfland Sunsplash
A little amusement complex in Roseville called Golfland Sunsplash is well-known for its water park and miniature golf. Bumper cars, laser tag, and an arcade are other attractions it offers.
Between the long weekends of Memorial Day and Labor Day, the Sunsplash water park is open. People seeking enormous waterslides are catered to at the park.
Giant bowls, G-force spins, and the seven-story-diameter "Double Dare" water slide are a few of the water park's hallmark rides.
Classic windmills and other large construction like western storefronts and California missions draw the eye. Additional obstacles like rotating doors, elevated greens, and water crossings make for a fun round 18.
Address: 1893 Taylor Rd, Roseville, CA 95661, United States
3. Take Them to Royer Park
Royer Park is a lovely place to visit for an afternoon playdate or a spare moment in the day. It's across Dry Creek from downtown and is connected via a scenic pedestrian bridge with gorgeous riparian views.
Within the park, open green lawns and a collection of playgrounds offer space to burn off some energy, especially for kids.
The park has a full basketball court, tennis courts, horseshoe pits, and bocce ball courts. Intramural field sports occasionally overtake the wide grassy space. With numerous individual tables and a picnic shelter that may be reserved, the park is a popular place for picnics.
Do well to check this out, as this is surely one of the fun things to do in Roseville (CA).
Address: 190 Park Dr, Roseville, CA 95678, United States
Indoor Activities To Do In Roseville (CA) For Adults
1. Chill out at Roseville Exploration Center
Anyone who loves nature needs to visit the Roseville Utility Exploration Center. The learning center features interesting and interactable displays covering different environmental preservation ways.
You can visit the center from Tuesday to Saturday, from 10 am – 4 pm; admission is free.
More than the exhibits that you interact with at the center, they also offer different programs and workshops as other options.
You can find the exploration center by heading to Mahany Park and searching for 1501 Pleasant Grove Blvd.
Address: 1501 Pleasant Grove Blvd, Roseville, CA 95747, United States
Also see: 27 Best & Fun Things To Do In Capitola (CA)
2. Skate at Skatetown Ice Arena
For any sports fan, the best place to visit would be Skatetown Ice Arena. Whether you want to watch a game or try some hockey, Skatetown Ice Arena has the best facilities for whatever you want in a skating rink.
Not interested in playing hockey? That's not a problem, as there are options to skate around the rink or do some tricks if you'd like.
If you are new to skating but want to learn, the rink also has teaching periods at different time slots.
Do you want to stay in the audience or enjoy some time with a group? The skating rink can accommodate a maximum of five hundred people for events.
Address: 1009 Orlando Ave, Roseville, CA 95661, United States
3. Stop By Shady Coffee and Tea
A cozy, brick-style coffee shop on Douglas Boulevard, Shady Coffee & Tea gives you assorted beverages and delicious food to enjoy.
They have been open since 2010; they offer fresh coffee, cold brews, and non-coffee drinks like hot tea and iced tea in Pure Black, Orange Blossom, Green, and Hibiscus flavors.
Try something refreshing like Raspberry and Mango lemonade, or go for their Tea Latte and Matcha on the menu.
Other drinks on their Bar Menu include Espresso, Cappuccino, Macchiato, Thai Latte or Dessert Hot Chocolate, and much more.
Address: 325 Douglas Blvd, Roseville, CA 95678, United States
Romantic Things To Do In Roseville (CA)
1. Go Shopping at Westfield Galleria
A major hub for upmarket shopping centers with beautifully landscaped plazas in Roseville. Several shopping centers are on the city's northern edge, close to Interstate 80 and Highway 65. Thousands of people come here daily to see locations like Westfield Galleria and Fountains at Roseville.
With more than 150 businesses, the 1.3 million square foot Westfield Galleria at Roseville is an indoor shopping center. Additionally, over 30 food options range from sit-down restaurants with extensive menus to hot pretzel stands.
The mall is home to several large merchants, regional fashion boutiques, toy stores, and home furnishings shops. Stop by here to give a romantic feel to your partner.
It is a beautiful piece of architecture; talking of the building, you and your partner can survey the whole landscape before proceeding to shop as you take in the beautiful scenery.
Address: 1151 Galleria Blvd, Roseville, CA 95678, United States
2. Take a Walk Through the Miners Ravine Trail Loop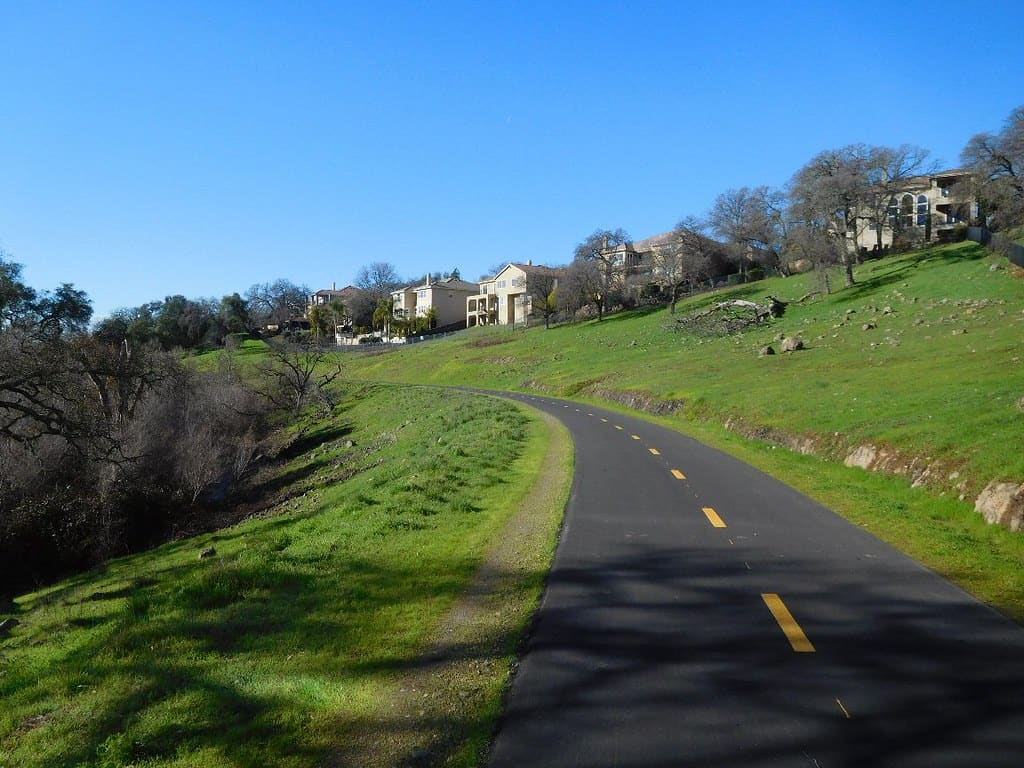 Local parks and hiking trails are fantastic possibilities for couples and travelers who enjoy outdoor activities but don't want to spend much to visit huge state and national parks in remote areas of the state.
The Miners Ravine Trail Loop is situated on Roseville's Sierra College Boulevard. It is flat enough to support walkers and baby strollers for most ages and physical abilities.
Despite its handy urban location, visitors to the route frequently witness various birds and other wildlife. First-timers should not worry about getting lost because it is a loop.
Hike here to ease yourself off after a long day with your partner. It's worth some time out, as a hike here is relaxing and beautiful too.
Address: 7500 Sierra College Blvd., Roseville, CA 95661
3. Visit My Thai Kitchen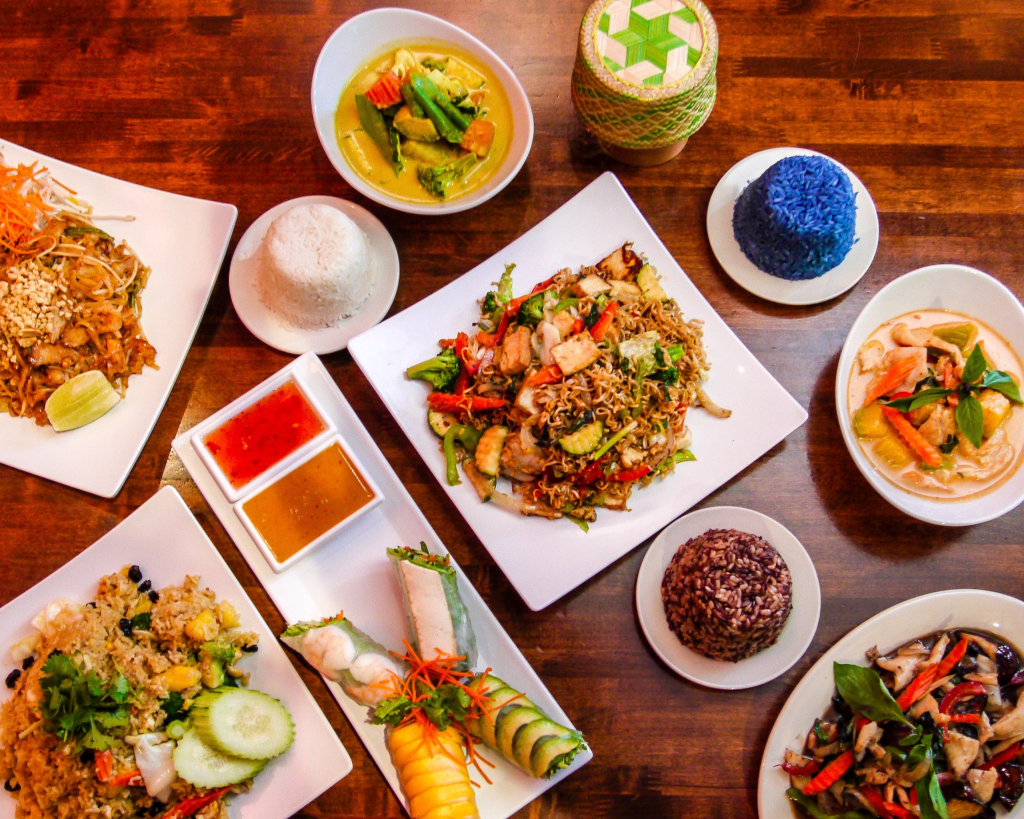 California is the pinnacle of the American Dream for immigrants from all around the world. A staggering variety of cultures and races can be found in the Golden State. Restaurants serving unique cuisine from far-flung regions are frequently found, even in rural settings.
On Roseville's Eureka Road, you may find My Thai Kitchen. It offers an exquisite variety of dishes with Southeast Asian and Thai influences that are prepared using local, seasonal ingredients.
Expect to be amazed by bright meals fusing traditional and modern ingredients because the restaurant's executive chef has experience working in upscale restaurants in Thailand and India.
Address: 1465 Eureka Rd Suite 100, Roseville, CA 95661, United States
Also see: 27 Best & Fun Things To Do In Merced (CA)
Free Things To Do In Roseville (CA)
1. Golf at the Diamond Oaks Golf Course
Unlike its conventional 18-hole competitors, Diamond Oaks Golf Course has two unique courses well-liked by amateur and seasoned golfers of all ages.
The 18 picturesque holes on the Timber Creek course blend the breathtaking natural splendor of the surroundings with sand and water hazards, treed areas, and immaculate fairways and greens.
A more recent 9-hole addition is ideal for seniors, families, and devoted golfers who don't have the time to play a full round, which generally takes three to four hours.
Address: 349 Diamond Oaks Rd, Roseville, CA 95678, United States
2. Visit the Railroad Museum
Railroads were crucial to California's development in the late 19th and early 20th centuries
The state now has the greatest economy in the nation, and the railroads continue to transport a sizable percentage of its freight, which includes anything from locally grown fruit to millions of tons of imported commodities that pass through its busy ports every year.
About 25 minutes southwest of Roseville, on I Street in Sacramento, is the California State Railroad Museum. The exhibit space is more than 200,000 square feet.
There are also interactive exhibitions, Old West artifacts from when the state was still completely unexplored, and rebuilt locomotives and rolling stock.
Address: Roseville, CA 95678, United States
3. Have Fun at Beat the Room
Beat the Room in Rocklin is just what you're looking for if you're searching for a special and entertaining activity where you can utilize your collaboration, problem-solving abilities, and amateur sleuthing techniques to solve crimes.
Teams of up to nine players may participate in Beat the Room, although bigger groups may require specific accommodations.
Less than five kilometers from Roseville, the facility has several specifically themed rooms, one of which is a recreation of Sherlock Holmes' famous London residence on Baker Street.
Sessions last an hour on average. They work well as team-building exercises, birthday celebrations, bachelor and bachelorette parties, and multiple date nights.
Address: 6840 Five Star Blvd #100, Rocklin, CA 95677, United States
Cheap Things To Do In Roseville (CA)
1. Check out the Roseville Telephone Museum
This unique museum in Roseville houses one of the nation's largest collections of antique telephones. The collection spans over a hundred years of phone technology, including popular exhibits like mid-century and novelty phones.
The museum also has several pieces of memorabilia, like switchboards and collectible insulators. You can explore the museum with knowledgeable staff to guide you to have the best of times here.
The museum's hours are limited. In the past, it was only open on the second Saturday of each month, always with free admission. Consult the official website for current operating hours.
It is a great place to relive medieval times as you get first-hand information about how generations of old lived; it's exciting here to stop by.
Address: 106 Vernon St, Roseville, CA 95678, United States
2. Tour Down and Old Town
Festivals and events keep downtown Roseville hopping. For Friday Flicks, Saturday Movie Night Sing-Alongs, and Concerts on the Square, visit Vernon Street Town Square.
An excellent indication of Roseville's expanding food industry, Vernon Square is also well-known as a gathering area for its Food Truck Mania.
With its distinct flavor and flare, Roseville's Old Town, located over the train lines, offers a distinctive viewpoint.
The Monk's Cellar is a top dining establishment in the neighborhood. This lively public house gives Roseville's downtown taste of Belgium. The brewery has a strong sense of community and offers specialty brews, mixed drinks, and imaginative, seasonally appropriate cuisine.
Despite being only a few blocks long, the storied McRae Block is home to many old structures.
Address: Roseville, California USA
3. Get Some Fresh Supplies at Denios Farmers Market
The Denio's Farmers Market and Swap Meet is an iconic tradition that dates back more than 70 years. It is one of the best things to do in Roseville, California, with kids or as a lone tourist. 
Denio's is located on Vineyard Road in Roseville and is a fun, family-friendly activity that draws thousands of visitors each weekend looking for one-of-a-kind and affordable things.
The market also attracts vendors selling kitchen appliances, garden furniture, salvage décor, tools, and various discounted items. You may find a few historical musical instruments or guitars if you look hard enough.
The market is also home to a handful of food trucks and vendors offering street tacos, sandwiches, and wood-fired pizza. The Market & Swap Meet occurs on Saturdays and Sundays, with a smaller Friday market.
Address: 1551 Vineyard Rd, Roseville, CA 95678, United States
Cool Places To Visit In Roseville (CA)
1. Olympus Pointe Sculpture Park
Get to Olympus Pointe Sculpture Park to see more art sights at Roseville. Olympus Pointe Sculpture Park features a towering sculpture over eighty feet in height known as the Cosmos Tower.
If large sculptures are not enough, it also features different small sculptures of wildlife you can admire.
Another plus you'll find with the park is that it grants easy access to the bike and hike trail. You can find the park behind the Home Depot once you head to North Sun Avenue.
You can stay as long as an hour after sunset and come back to see more of the park once it opens at sunrise.
Address: 350 N Sunrise Ave, Roseville, CA 95661, United States
2. Four Sisters Cafe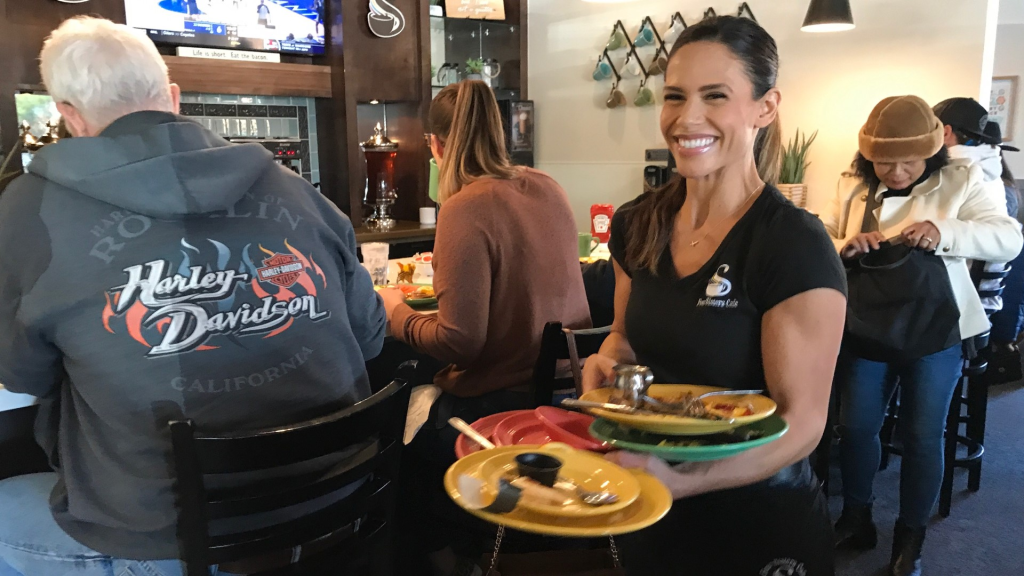 If you are looking into local favorites to dine in, stop at the Four Sisters Cafe for breakfast or brunch.
Featuring classic American dishes that star local and fresh ingredients, the Four Sisters Cafe is the best diner to visit if you're craving a homemade-style meal.
You can find the diner near the Galleria Mall and visit any day for breakfast and lunch hours. The Four Sisters Cafe has a wide selection of sweet and savory meals for you to enjoy, no matter the cravings.
Address: 9050 Fairway Dr #165, Roseville, CA 95678, United States
3. Antique Trove
Given the numerous places, you can shop in Roseville, deciding where and what to shop can be daunting.
For something unique to the city, try heading for the Antique Trove.
This shopping location is located within the downtown area and has hundreds of shop owners with a huge lot size.
Whether you want retro furniture or to decorate your home with an antique piece, Antique Trove can provide it. Open from 10 am to 6 am.
Address: 236 Harding Blvd, Roseville, CA 95678, United States
Also see: 27 Best & Fun Things To Do In Yuba City (CA)
Conclusion
This article details the best things to do in Roseville on arrival. It is a perfectly curated and comprehensive list with which you are sure to have the best of time in the bustling city of Roseville.
From parks and green spaces to historical sites, shopping malls, cinemas, pubs, and nightclubs, whatever time of the day it is, Roseville has something to keep you going.
Do not miss out on all these; pin this post, and it makes it your guide as you explore this city. Let us know all about your vacation via the comment below.
Happy vacation!
Join us on Telegram
If you loved this content, do well to like us on Facebook and follow us on Twitter to get updates and engage with other people like you who wish to immigrate to Canada or just immigrated to Canada.