For an employer in the US to hire an international professional in a specialty occupation, such an employer needs the H1B visa. This visa also applies to hiring international students to work in the US.
However, there is a specified period of time to which this Visa can be used to hire these professionals., which is a period of six years.
The H1B visa is also known as a "dual intent" visa, this means that one cannot be denied a visa even if they have the intent to become a permanent resident. H1b is a "dual intent" visa.
What is Specialty Occupation?
There are occupations and or disciplines that are regarded as specialty occupations. They are occupations that require both theoretical and technical knowledge, with an equivalent degree on it.
They include but are not limited to Engineering, Accounting, Law, theology, Mathematics, physical and social sciences, architecture and also other arts. This H1B visa is only accessible to one who works in any of the specialty occupations.
Duration
Although the normal duration is three years, it is, however, extendable to six years but only in special circumstances can the length of stay be increased.
Despite the length of stay, one cannot stay beyond the duration for which the visa was originally issued. In the event where the Employer-Employee relationship had been terminated, the H1B visa will also be terminated and there's no stipulated grace period.
What Letter is attached to the H1B Visa
Upon the issuance of the H1B visa, there is always a cover letter attached. The sole aim of a cover letter is to describe the terms and conditions of employment.
It describes the nature of the job, what and what to be done I'm the job, the necessary qualifications and requirements that make the employee qualified for the job.
The cover letter also demonstrates to the USCIS that the position requires experienced personnel who can apply their knowledge both theoretically and practically.
It further tells that the beneficiary is qualified for the job with both Bachelor's degree and its equivalent.
USA Client Letter Format for H1B Visa Sample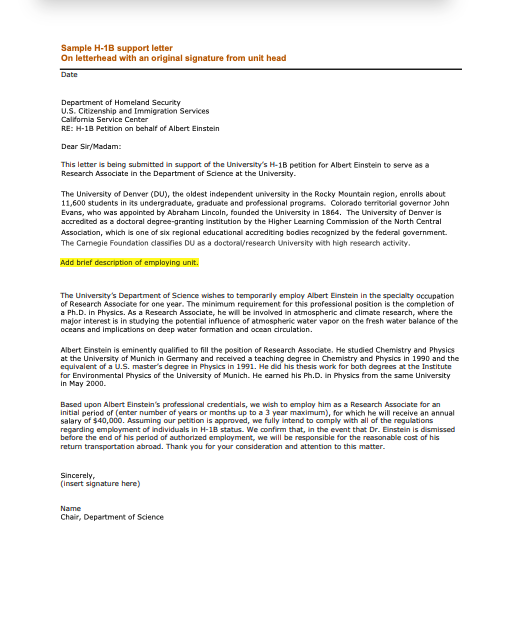 Use the above button to download a PDF sample of the H1B support letter.
Join us on Telegram
If you loved this content, do well to like us on Facebook and follow us on Twitter to get updates and engage with other people like you who wish to immigrate to Canada or just immigrated to Canada.