Despite the location, there are lots of exciting things to do in Gainesville (GA) if you know where to look, as this city offers visitors numerous attractions to make your trip worthwhile.
Gainesville is located in northern Georgia in Hall County, roughly 55 miles northeast of Atlanta.
The "Poultry Capital of the World" was founded by European-American settlers in the early 19th century as a mule camp.
Gainesville has been attracting tourists since time immemorial and even more so since the creation of Lake Sidney Lanier. It draws tourists from far and near.
In addition to the natural sights, the city has several other attractions within easy reach, so let's look at the best things to do in Gainesville for a memorable vacation.
Fun Things To Do In Gainesville (GA)
1. Try Outdoor Sports at Longwood Park
Longwood Park is your best bet for the perfect relaxation and comfort. Get away from everyday activities and soak up the natural ambiance.
You should go with your hiking boots as there are hiking trails available at the park, wide along the shores of Lake Lanier. It also has a fishing pier and a boat harbor. You could try fishing here; many people do.
Longwood has several well-lit tennis courts and swings. It is perfect for some good sport.
It also has two pavilions, grill stands, great conveniences, and much more. You should visit.
Address: 20 Pearl Nix Pkwy, Gainesville, GA 30501, United States
2. Go On a Boat Ride on Paradise Rental Boats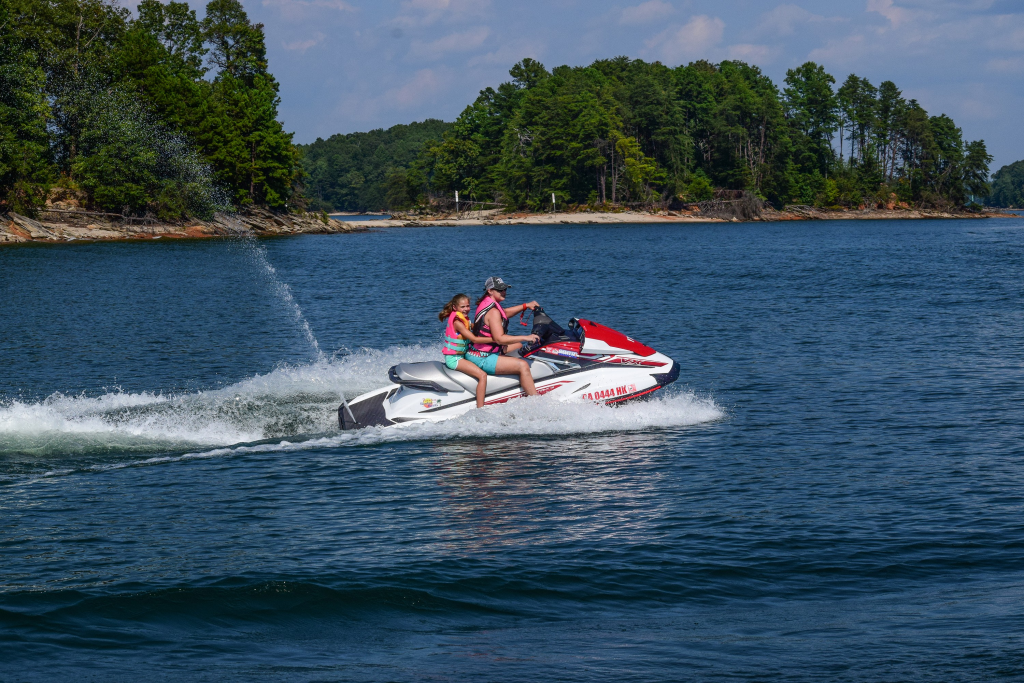 Sometimes a cool and soothing cruise is all you need. Check out Paradise Rentals; it is your best bet. They offer affordable rides that fit your budget. They just recently procured about 70 new boats for charter.
There are different types of boats to choose from, such as pontoons, wakeboards, houseboats, party boats, swells, and runabouts.
It is just perfect for skiing, swimming, tubing, fishing, or relaxing in the sun. It could also be a venue for birthday parties, company picnics, reunions, and family outings.
Address: 8800 Port Royale Dr, Gainesville, GA 30506, United States
Also see: 27 Best & Fun Things To Do In Carrollton (GA)
3. Make a stop at City Park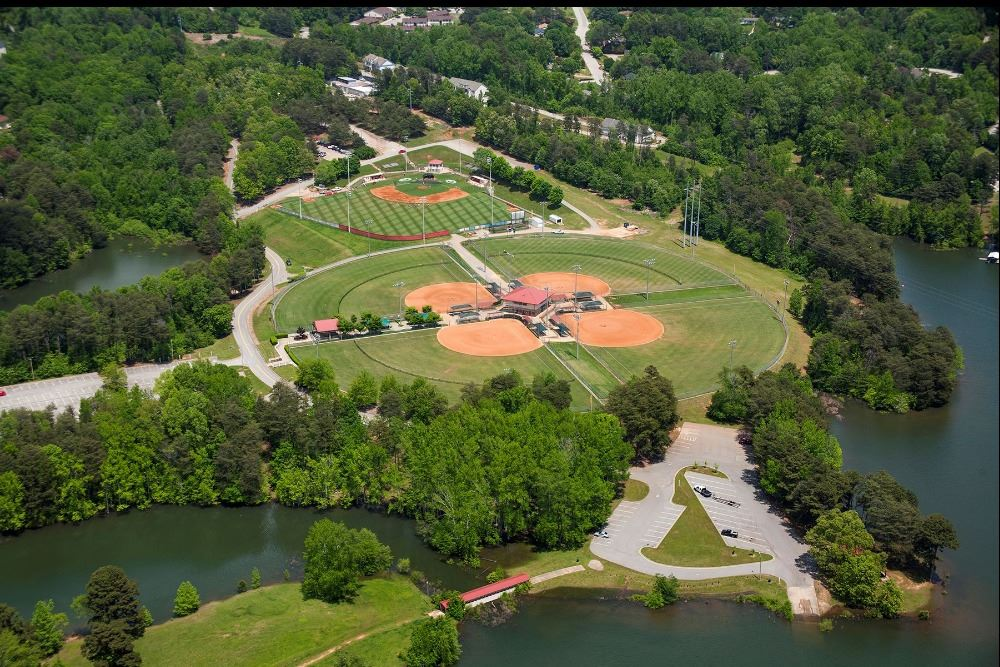 Come out and make new friends while enjoying the fascinating natural setting here.
The park features four tennis courts, a concession building with restrooms, two baseball and softball fields, picnic tables, and much more.
The park is full of excitement. You will love it. You should try visiting this amazing park while you're here.
Address: Gainesville, GA 30501, USA
Things To Do In Gainesville (GA) At Night
1. Visit Piedmont Hotel
The Piedmont Hotel is a historic building that has hosted distinguished names in post-Civil War history. The hotel was owned by a politician and was mainly used for political activities.
Many notable names to have stayed the night here include Generals Joseph Johnston and Daniel Sickles, author and editor Henry Grady, and US President Woodrow Wilson.
Piedmont houses many artifacts that tell the history of the hotel. It might interest you to note that President Wilson's daughter Jessie gave birth on the ground floor. You should visit, it holds a lot of stories.
The setting is nice, too, with lush green fields.
Address: 827 Maple St, Gainesville, GA 30501, United States
2. Check Out Ancient Relics at Beulah Rucker Museum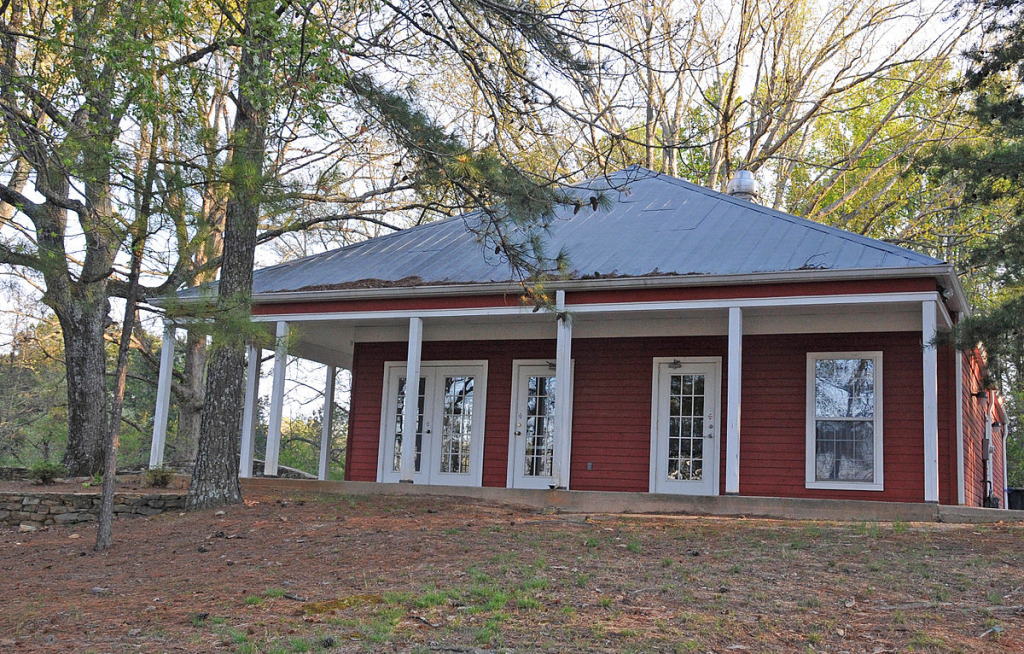 Visiting a city's museum is a great way to learn about the city's history, and Beulah Rucker is just the place to go.
The gallery space is well-decorated with beautiful and recent furniture, pictures, and artifacts. The founder, Beulah Tucker Oliver, was a teacher passionate about empowering African-American children in her community through education.
Part of its goal is to showcase the history of Beulah Rucker and her impact on the society in which she lived. This is the first museum dedicated to African American history in the region.
Lots of exhibitions and community-based programs are always organized at intervals. Tours are allowed too. You should visit.
Address: 2101 Athens Hwy, Gainesville, GA 30507, United States
3. Learn Regional History at Northeast Georgia History Center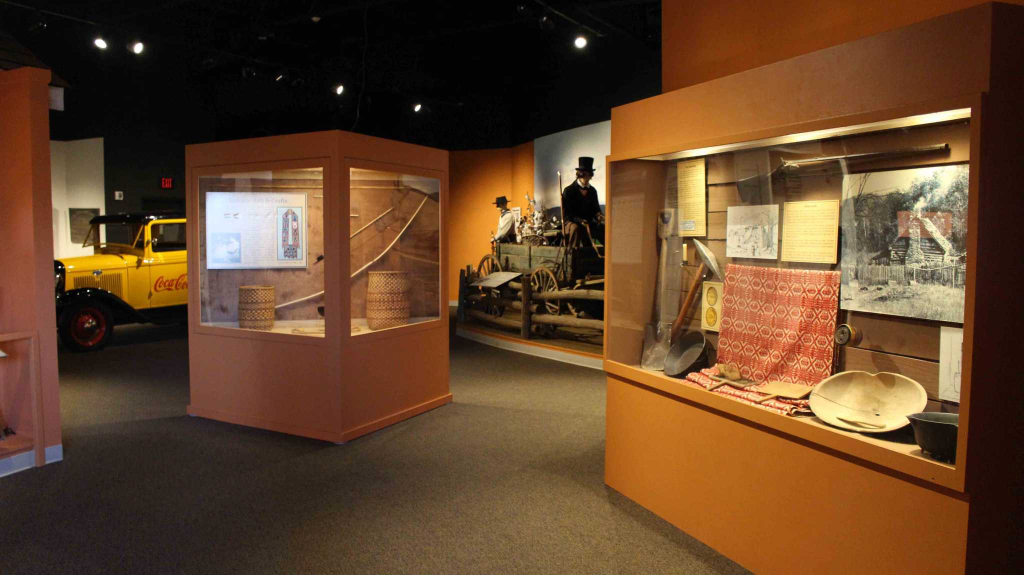 This is a center dedicated to preserving and educating people about the history of this region in Georgia.
Galleries containing artifacts and paintings of historical monuments dating back 11,000 years are housed here, together with an 18th-century log cabin that served as the home of White Trail, an influential leader of the Cherokee Nation.
The center usually carries out an exhibition called "The Promised Land," which presents the story of the region and its people from the earliest times recorded in history to the present day. It is one you don't want to miss.
It offers a chance for you to socialize and make acquaintances. The center Folk Art Gallery and the Northeast Georgia Sports Hall of Fame. You should come with a camera to take beautiful pictures too.
Address: 322 Academy St NE, Gainesville, GA 30501, United States
Things To Do In Gainesville (GA) For Couples
1. Appreciate Art at Quinlan Visual Arts Center
The Quinlan Visual Art Center is one of the oldest arts organizations around. It has provided a vast array of artistic opportunities to emerging talents. Making Gainesville a culturally rich region.
The Art Center has about five different galleries that can host seven exhibitions a year, including two- and three-dimensional artworks covering folk art, abstraction, portraiture, landscape, photography, realism, and still life.
This is the perfect venue to admire art and the dexterity of various local acts.
Address: 514 Green St, Gainesville, GA 30501, United States
Also see: 27 Best & Fun Things To Do In Roswell (GA)
2. Camp at Cool Springs Blueberry Farm
Cool Springs Blueberry Farm is a five-acre green space. It hosts several activities throughout the year, such as the You-Pick summer blueberry season, parties, festivals, and family events. You should attend a few.
Blueberries here are so tasty and affordable; you should try some. Outdoor activities are allowed here, so you could camp, picnic, set up a movie night, or do some other things.
It is just a beautiful place to be.
Address: 5975 Smith Mill Rd, Gainesville, GA 30506, United States
3. Make Memory at Kinsey Family Farm
The Kinsey Family Farm is best visited in the autumn months. Children are engaged in playful activities such as feeding the fish and feeding the animals.
It also has a garden too with beautiful flowers around. You can even choose and cut down a tree for yourself for Christmas during winter.
Afterward, you can warm your body with hot chocolate available in the shed. The farm is available for visitors from Monday to Saturday.
Address: 7140 Jot Em Down Rd, Gainesville, GA 30506, United States
Things To Do In Gainesville (GA) For Kids
1. Take a Splash at the Frances Meadows Aquatic Center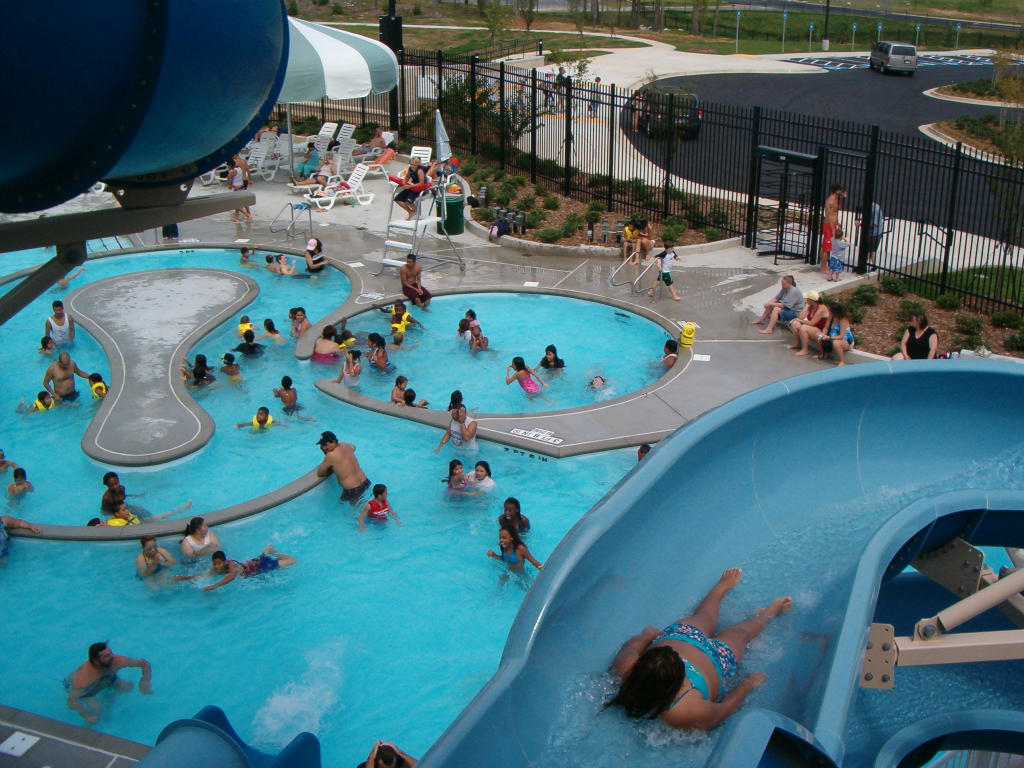 Coming along with kids? No worries, Frances Meadows Aquatic Center offers a safe and fun environment for kids to play.
The thrill here is out of this world! There are high slides for kids to slide down right into the water.
It also has whirlpools, competition pools, and indoor warm water pools. It is equipped with fitness and wellness centers, locker rooms, a large terrace, a lounge, and chairs and umbrellas for you to use.
Feel free to bring the kids along. They will love it.
Address: 1545 Community Way, Gainesville, GA 30501, United States
2. Let Them Play at Laurel Park
Laurel Park is quite popular among locals and tourists. It has a large fishing ramp. Pets are allowed, so you can come along with your buddies, but they should be on a leash at all times.
They organize fishing tournaments at intervals. You could try your hand at this. It has a ski jump zone, playground, grills, picnic areas, and much more.
The park is a perfect place to make fond memories with your kids. You should take them here.
Address: 3100 Old Cleveland Hwy, Gainesville, GA 30506, United States
3. Visit Ink Interactive Neighborhood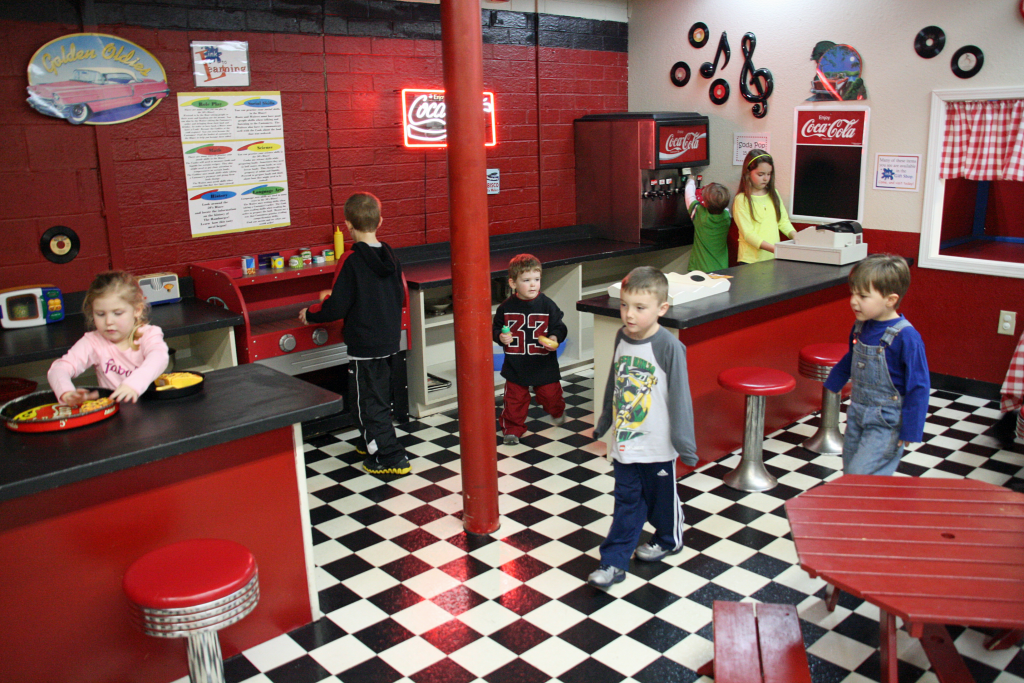 Gainesville has many attractions that will perfectly satisfy children, and Ink Interactive Neighborhood is one of them.
Here your kids can play and learn all at the same time. It encourages kids to use and develop their imaginations.
It features exhibits that everyone can enjoy, from toddlers to young children.
Here, your kids can also have fun and role-play while learning about the many different facilities they can find in the community.
Address: 999 Chestnut St SE, Gainesville, GA 30501, United States
Also see: 27 Best & Fun Things To Do In Macon (GA)
Indoor Activities To Do In Gainesville (GA) For Adults
1. Visit Smithgall Arts Center
Smithgall Arts Center is an indigenous non-profit organization in downtown Gainesville.
It supports more than 30 artistic collaborators and provides a wide range of theatrical and literary arts, plays, and other visual elements.
Their arts programs include Summer MusicFest, Intimate Jazz Series, Films on Screen, Arts Council Pearce Series, Independent Makers Series, and many more.
The art center is a good venue for corporate meetings, weddings, parties, and receptions held at the Smithgall Arts Center.
Address: 331 Spring St SW, Gainesville, GA 30501, United States
2. Have a Drink at Downtown Drafts
Want some good local beer? Head out to Downtown Drafts. It is a unique brand in the city that offers local beer.
It has a welcoming, cozy atmosphere and ample space for tasting beers from mostly local breweries.
A beer menu rotates at intervals, where you're sure to find anything you want, from milk stouts to IPAs.
You can also choose to binge on some snacks and gourmet sauces if you don't fancy beers.
Address: 115 Bradford St NE, Gainesville, GA 30501, United States
3. Watch a Stage Performance at Gainesville Theater Alliance
What could be better than relaxing in front of a hilarious performance in a cozy theater? Gainesville Theater Alliance's productions offer you all of these experiences and more.
The theater is formed by an understanding between students, professionals, and community members to promote education and the community's growth.
Gainesville Theater organizes plays and musicals you will love.
Address: UNG Performing Arts Building, 2900 Landrum Education Dr, Oakwood, GA 30566, United States
Romantic Things To Do In Gainesville (GA)
1. Try out Delicious Meals at Scott's Downtown
Scott's Downtown is the city's most visited and offers the best meals. Their staff gives you the best dining experience you will get for miles around.
They promote local content by preparing every meal with locally sourced ingredients.
Their menu includes seafood dishes, including Chilean Sea Bass and Butter Poached Lobster, Prime Angus Beef, and more.
They also have a great menu of wines, spirits, and beers.
Address: 131 Bradford St NE, Gainesville, GA 30501, United States
2. Visit Crawford W. Long Museum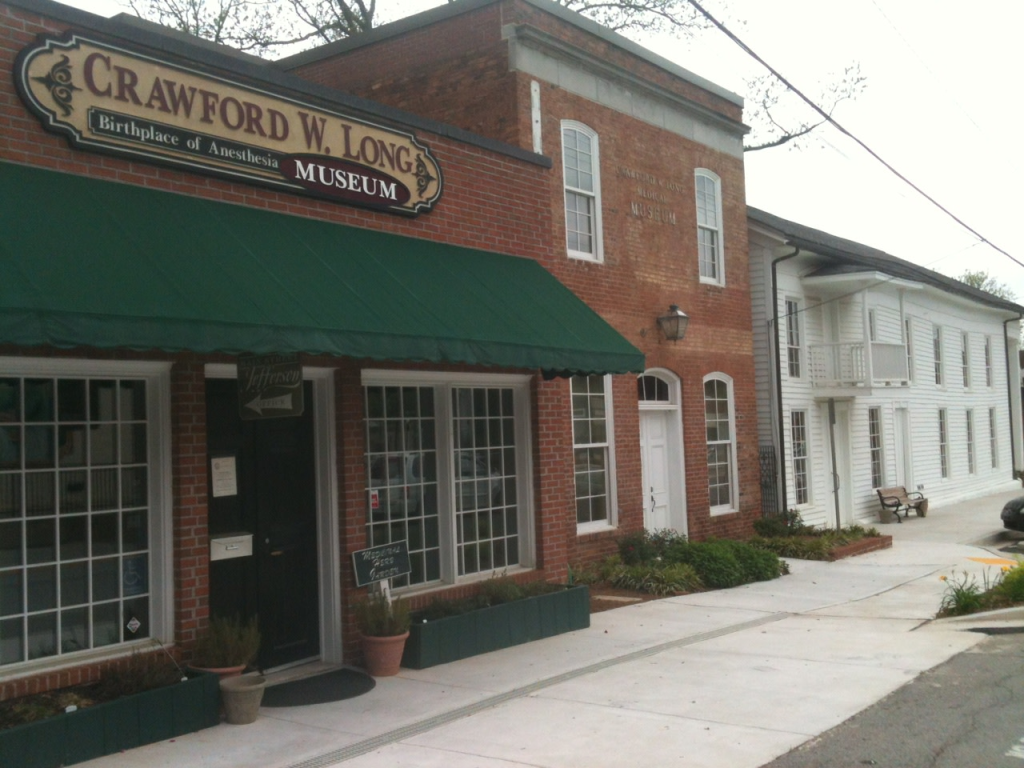 Many of the exhibits in this museum space focus on the exploits of one man you may not have heard of – a doctor named Crawford W. Long.
However, his medical discovery (anesthetic) at the museum in 1842 revolutionized medicine forever.
The museum, with many of his personal items, also serves as a great introduction to life in the southern states of the US in the period just before the Civil War.
It also includes the Pendergrass General Store, the only surviving antebellum business structure in Jefferson, half an hour from Gainesville.
Address: 28 College St, Jefferson, GA 30549, United States
Also see: 27 Best & Fun Things To Do In Cumming (GA)
3. Enjoy the Beautiful Scenery at the Poultry Capital of the World Monument
The monument is quite tall, with a large standing chicken at its top. It was built in honor of chickens to limit the way they are being killed.
There are parks and gardens nearby, making it beautiful. It serves as the backdrop for good pictures. There are benches nearby, too, if you want to sit for a while.
Come with a camera to capture the moment.
Address: 444 Jesse Jewell Pkwy, Gainesville, GA 30501, United States
Free Things To Do In Gainesville (GA)
1. Explore Nature at Atlanta Botanical Garden
A visit to the Atlanta Botanical Gardens will be the best you've ever seen. The scenery is simply fascinating!
You will find numerous species of beautiful plants here in the garden, green and colorful flowers; they look and smell nice.
There is also a beautiful flower waterlily-covered 'Forest Pond,' which is just amazing. There are seat-outs around as well.
Address: 1911 Sweetbay Dr, Gainesville, GA 30501, United States
2. Make a Visit to Chattahoochee-Oconee National Forest
Chattahoochee-Oconee is quite a large forest spanning over 867,000 acres of land. It has a stretch of trails perfect for hiking, picnicking, camping, beautiful streams and rivers, and many other recreational opportunities.
The forest is home to many plants and animal species like black bears and bobcats. It also houses the Brasstown Bald, the cascading waters of Anna Ruby Falls, and Georgia's highest point.
The forest is just beautiful. It has an interactive map to guide you all through.
Address: Suches, GA 30572, United States
Also see: 27 Best & Fun Things To Do In Dalton (GA)
3. Have Fun at Historic Green Street Walking Tour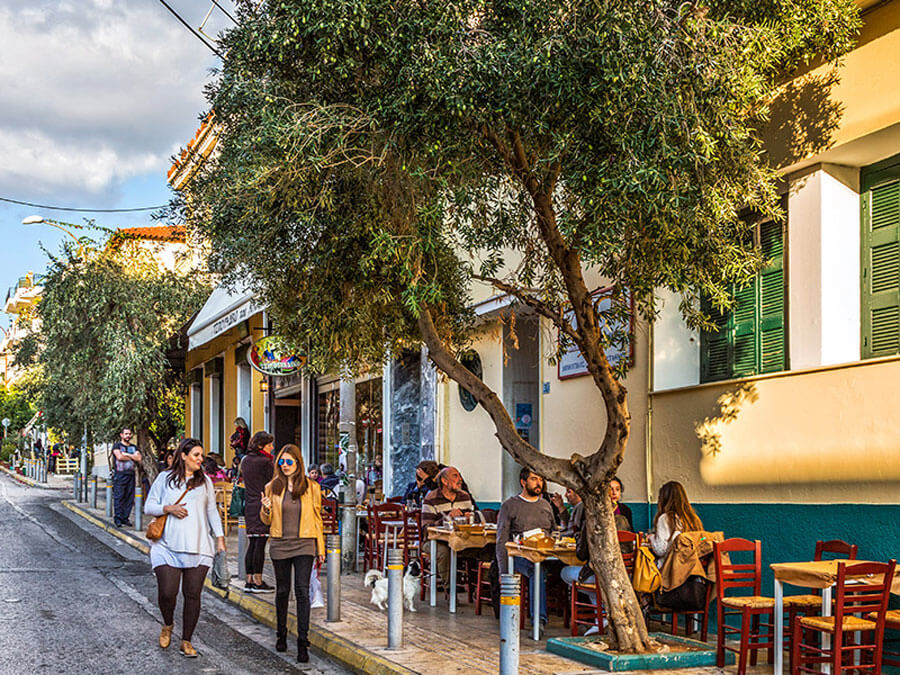 Due to the city's rich history, there are walking tours in many different areas of Gainesville.
One activity you may want to try while in town is a walking tour of historic Green Street. It takes you back in time to what it was like in the 1800s and 1900s.
During the tour, you get to learn more about the area, the buildings, and the houses lining its streets.
Address: 643 SW 40th St, Gainesville, FL 32607, United States
Cheap Things To Do In Gainesville (GA)
1. Relax at the Don Carter State Park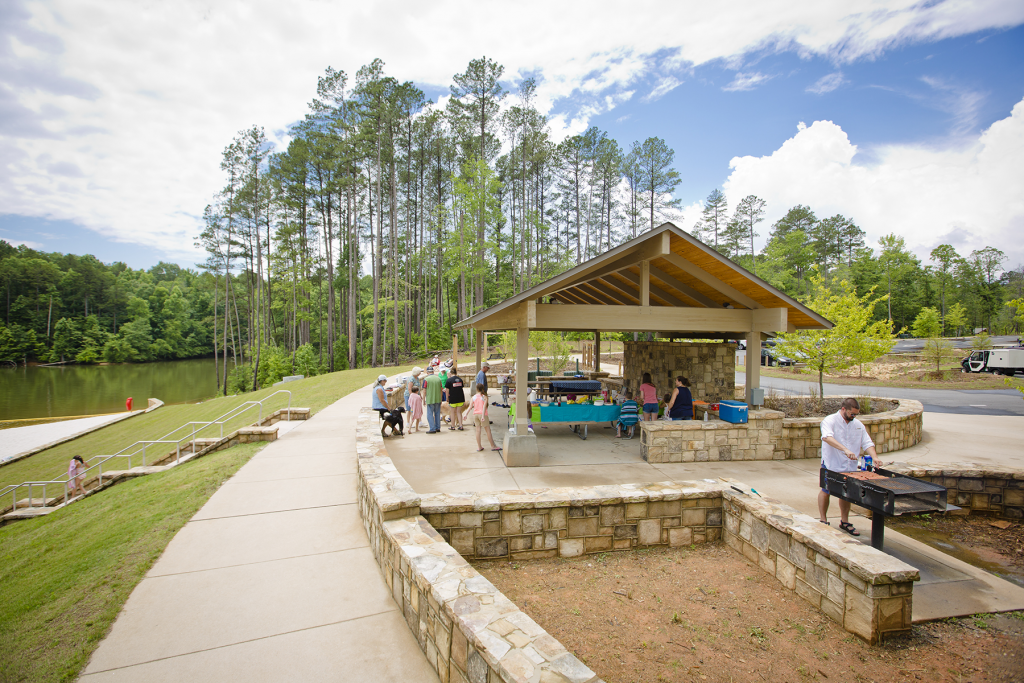 We're sure you want to experience some relaxation and fun during your trip. You should check out Don Carter State Park.
The park offers you the chance to try different types of water sports. It also has a sandy beach and a spa where you can cool off.
The park also features boat ramps that provide quick access to the water for tourists.
If you prefer to explore the area's beauty on land, you can hike or bike the multi-use trail toward the hardwood forest.
Address: 5000 N Browning Bridge Rd, Gainesville, GA 30506, United States
2. Discover Facts About Space at the Gainesville Solar Walk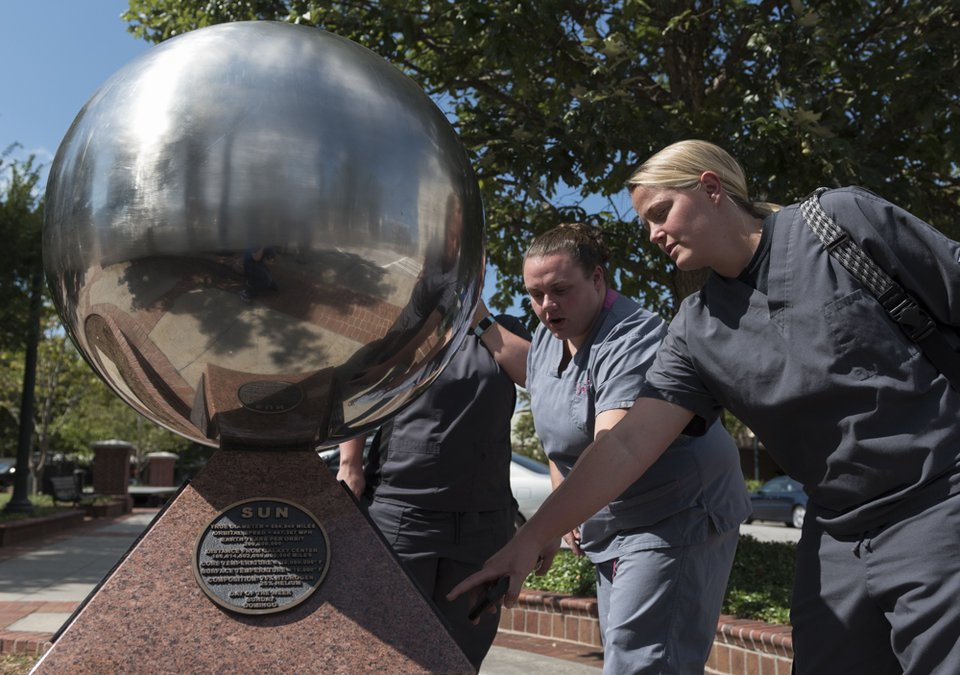 From the heart of the city to the end of Lake Lanier's Longwood Park, you can find a 1 to 2,000,000,000 scale model of the solar system.
This model spans about 1.8 miles (3.6 miles round trip), and you can take a walking tour to learn new facts about Earth's immediate region in space.
The North Georgia Astronomers created a scale model and tour for their "Millennium Project." It gives you a chance to learn about the solar system and other celestial members.
It's a fun and exciting activity you should try while in town. Come with a camera to capture the moment.
Address: 3349-3399 NW 8th Ave, Gainesville, FL 32605, United States
Also see: 27 Best & Fun Things To Do In Tifton (GA)
3. Make a Stop at Elachee Nature Science Center
Elachee is a Cherokee word meaning New Green Land. The Nature Center provides educating environmental and conservation classes.
It also has beautiful and neat trails that will make you enjoy hiking. Children are not excluded from the fun as they can participate in camp activities.
Elachee is located right in the Upper Walnut Watershed. It is a delight to visit.
Address: 2125 Elachee Drive, Gainesville, GA 30504, United States
Cool Places To Visit In Gainesville (GA)
1. Lake Sidney Lanier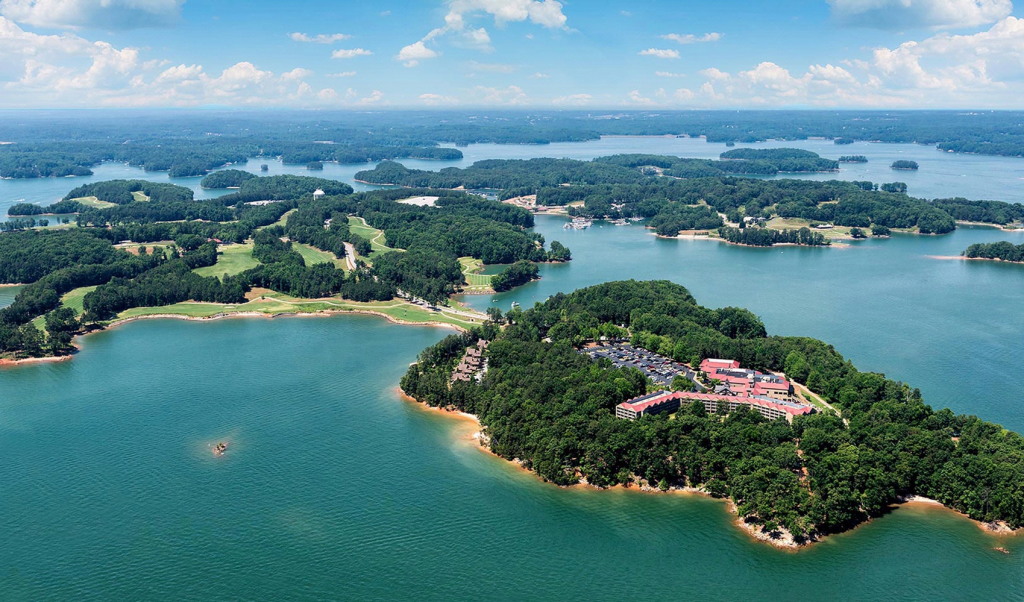 Lake Sidney Lanier has a beautiful beach that attracts everyone, from locals to tourists.
It offers various recreational activities such as rowing, kayaking, boating, jet skiing, fishing, open-water swimming, etc.
It is a famous fishing spot and attracts many professional fishermen from different parts of the world. It is an excellent site for spotted bass fishing.
Gaining access to the lake is never a problem as there are various connection points using boat ramps and park complexes that can host a huge crowd.
The lake also hosted the 1996 Olympics and is also a good training ground for athletes.
Address: Georgia, USA
Also see: 27 Best & Fun Things To Do In Buford (GA)
2. Chattahoochee Golf Club
What better place to play golf while in town than the Chattahoochee Golf Club? It is a great place to play golf for both amateurs and pro golfers.
The golf course has a 1,000-square-foot full-service pro shop, Chattahoochee Grill, a driving range, and a practice area with a chipping green and sand bunker.
There is a restaurant nearby if you are hungry after hours of golfing. Don't miss this opportunity!
Address: 301 Tommy Aaron Dr, Gainesville, GA 30506, United States
3. North Georgia Garden Trail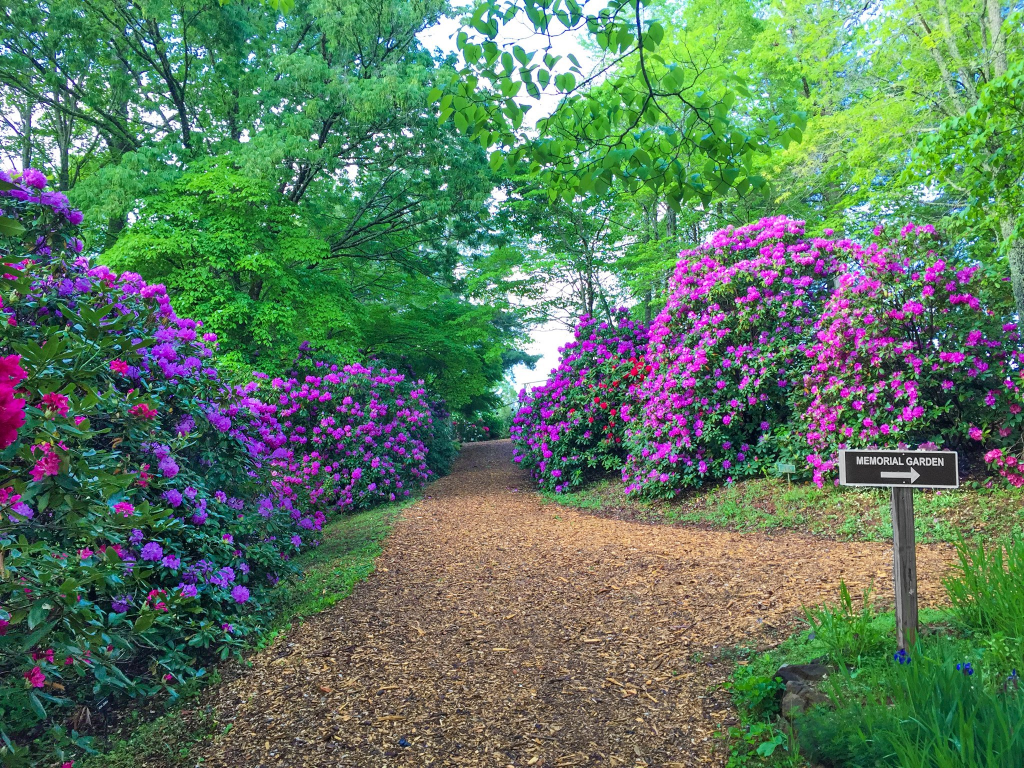 The North Georgia Garden Trail has a route that takes you to 26 different public gardens in and around Gainesville.
Chosen for its natural beauty and historical significance, the North Georgia Garden trail includes mature forests, gently flowing streams, and flower beds bursting with color.
Among them are Gainesville's Linwood Nature Preserve, a 13-acre wildlife refuge and old-growth forest with miles of hiking trails.
Other locations include the Monarch Mountain Stop Pollinator Garden at Amicalola Falls State Park.
This garden is a vital feeding station for monarch butterflies as they complete their annual migration from the Canadian border to Mexico.
Address: 1911 Sweetbay Dr, Gainesville, GA 30501, United States
Also see: 27 Best & Fun Things To Do In Lagrange (GA)
Conclusion
Gainesville is a must-visit destination for tourists, with loads of fun things to do for maximum pleasure.
The fascinating city offers plenty to keep you busy all year long, no matter when you visit.
We've detailed in this article those fun things to do in Gainesville (GA), and we hope it helps you settle in fast.
Which one would you try out first on arrival? Kindly let us know in the comments below. Happy vacation!